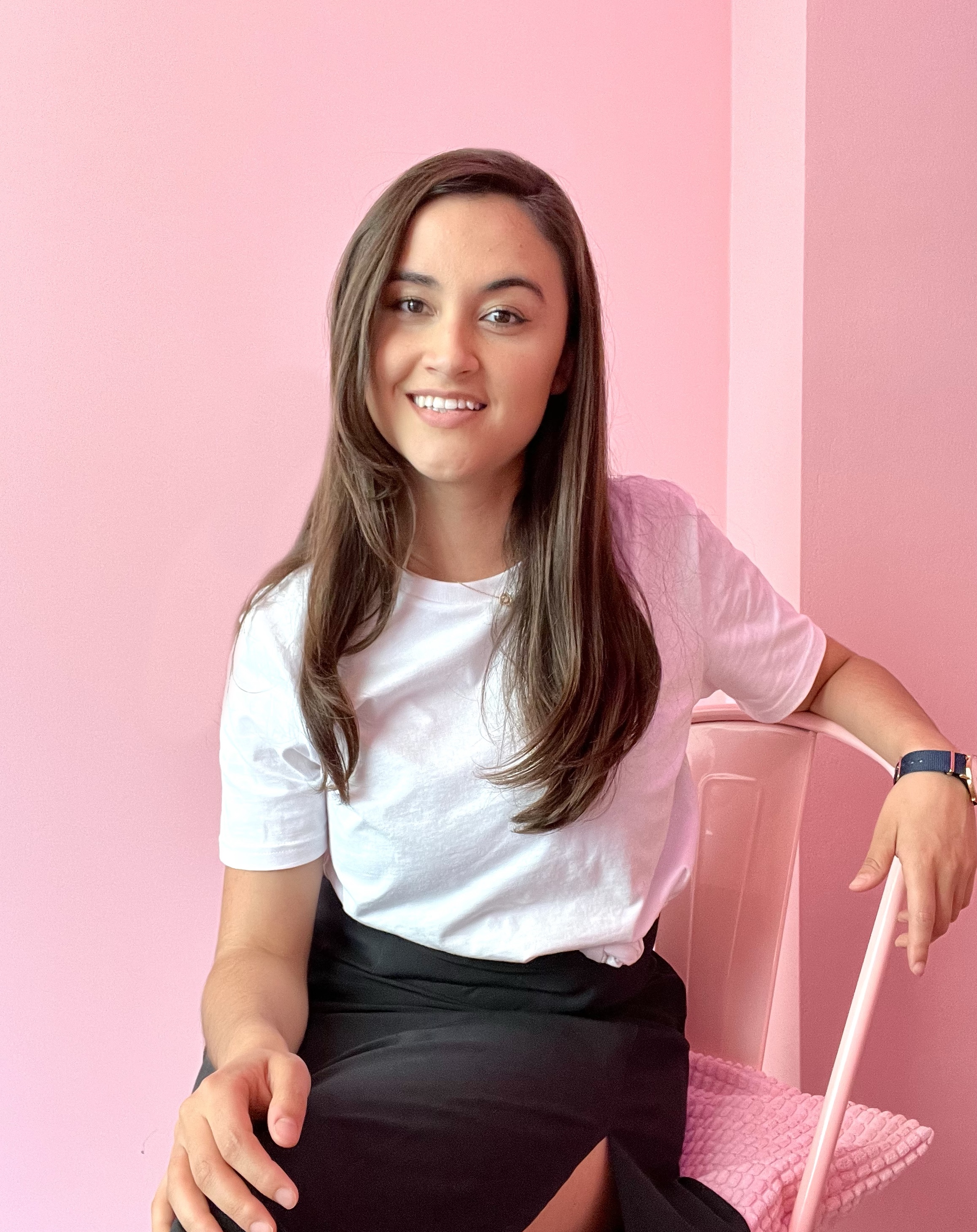 7NOW Delivery
Delivery in under 30 minutes.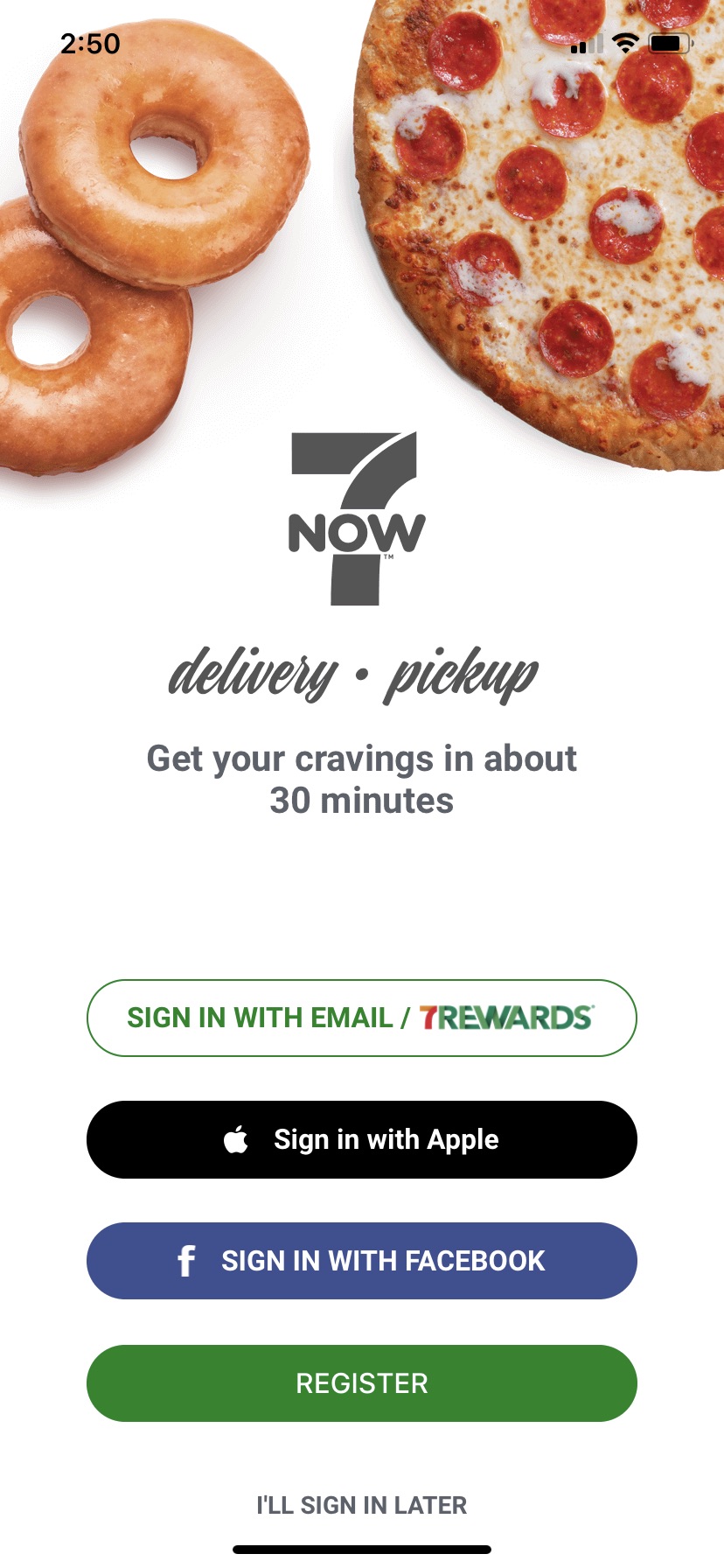 My time at 7-Eleven
I worked at 7-Eleven from 2018 to 2021 in which I grew from collaborator to team lead for 7Now Delivery, this is a collection of some select Mini case studies and feature development anecdotes about initiatives that I led for 7NOW.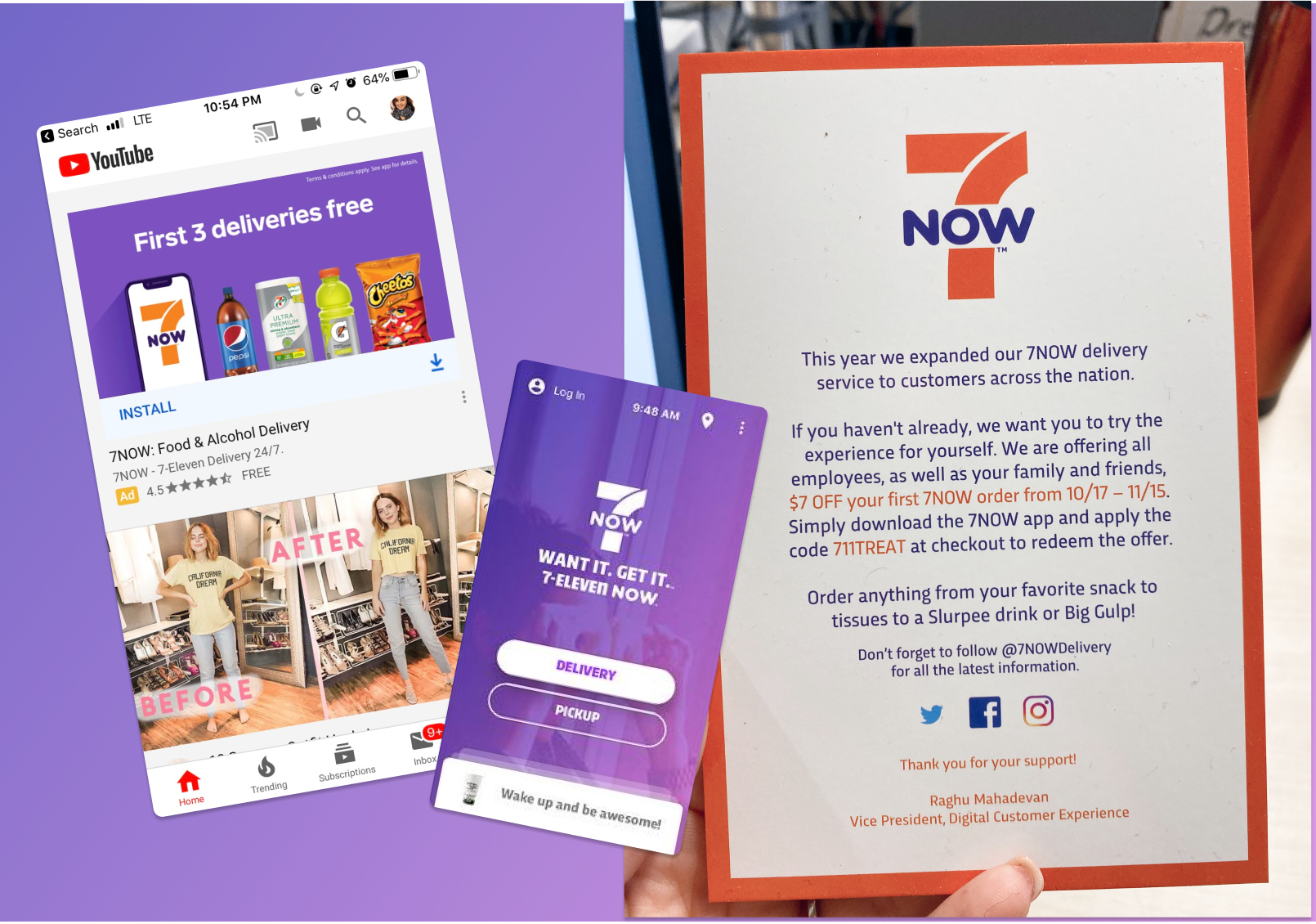 About 7NOW
7NOW started as a pilot program at 7-Eleven in 2017 with the unique value proposition of delivering customers their favorite 7-Eleven products in under 30 minutes 24/7, including alcohol and tobacco. Made possible thanks to store distribution and footprint across the US and later Canada.
The MVP for 7now was designed by an external agency in 2017 to be rolled out only in a few stores in DFW, based on the initial success.
Later when the internal design team was formed, we took over the initiative for:
Product expansion support

Optimization for design quality

Brand alignment to 7-Eleven

New features based on customer feedback and the competitive landscape.
Why was the app purple? 🤷🏻‍♀️
Below some examples of the MVP - designed as a Proof of Concept by an external agency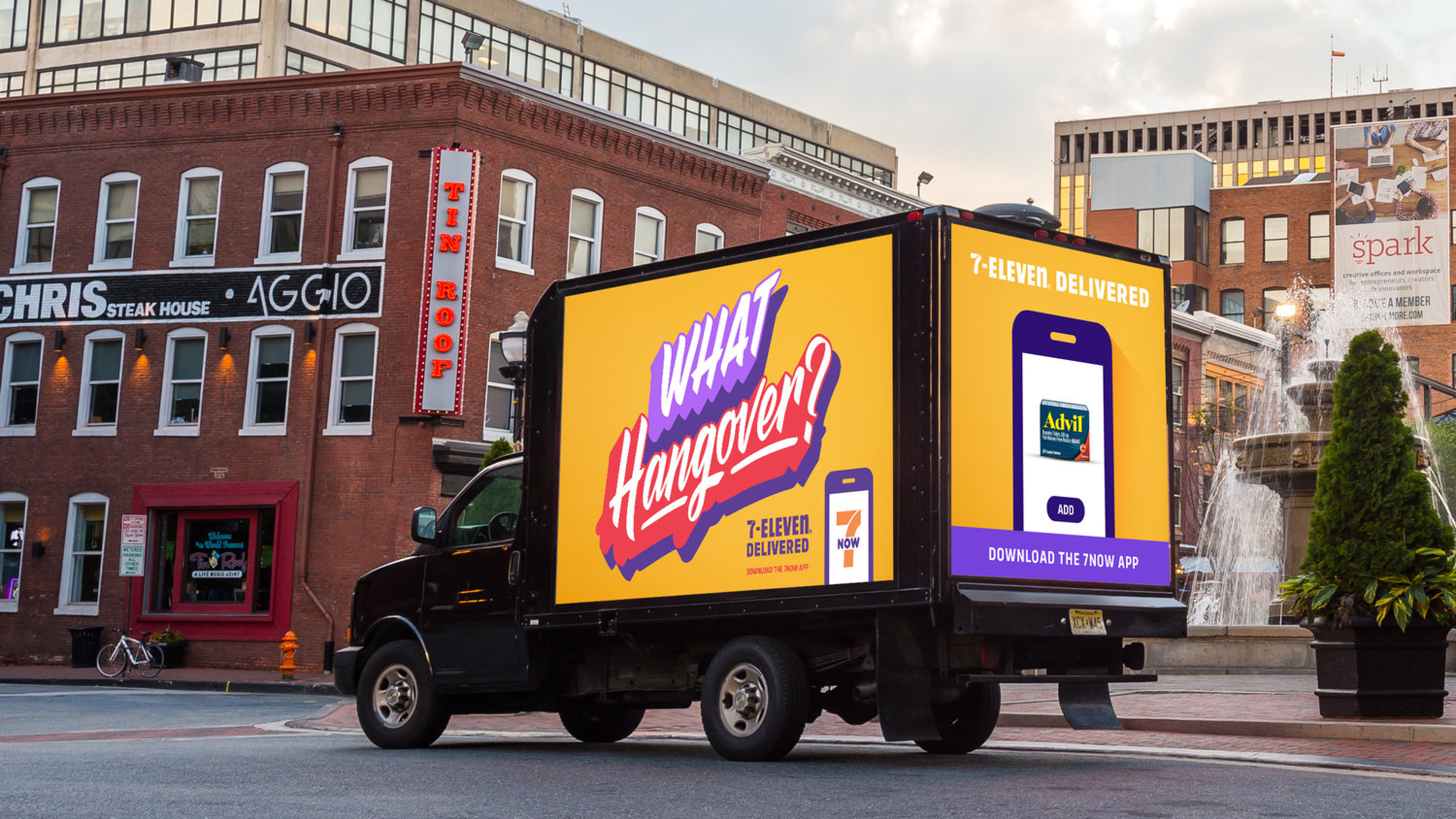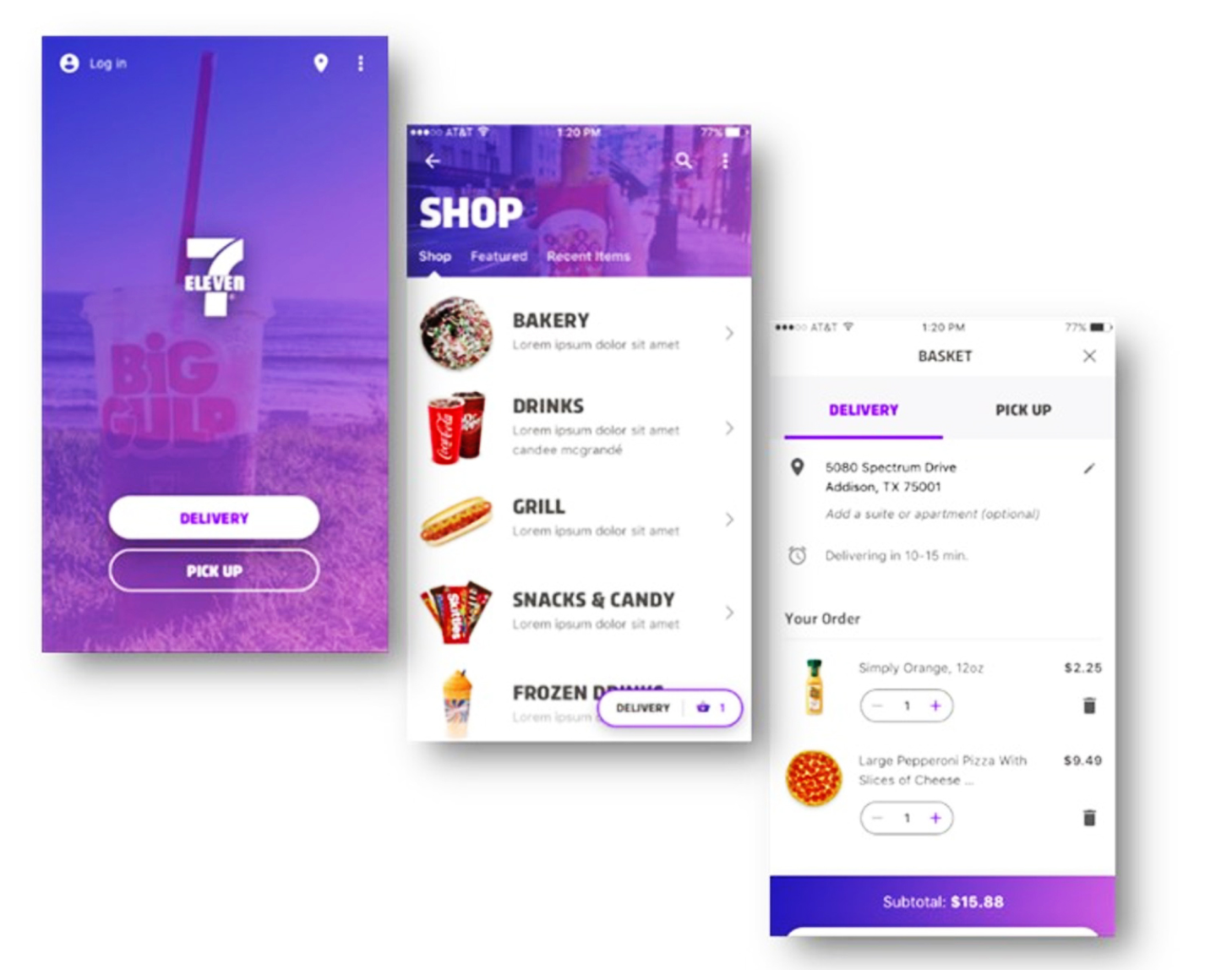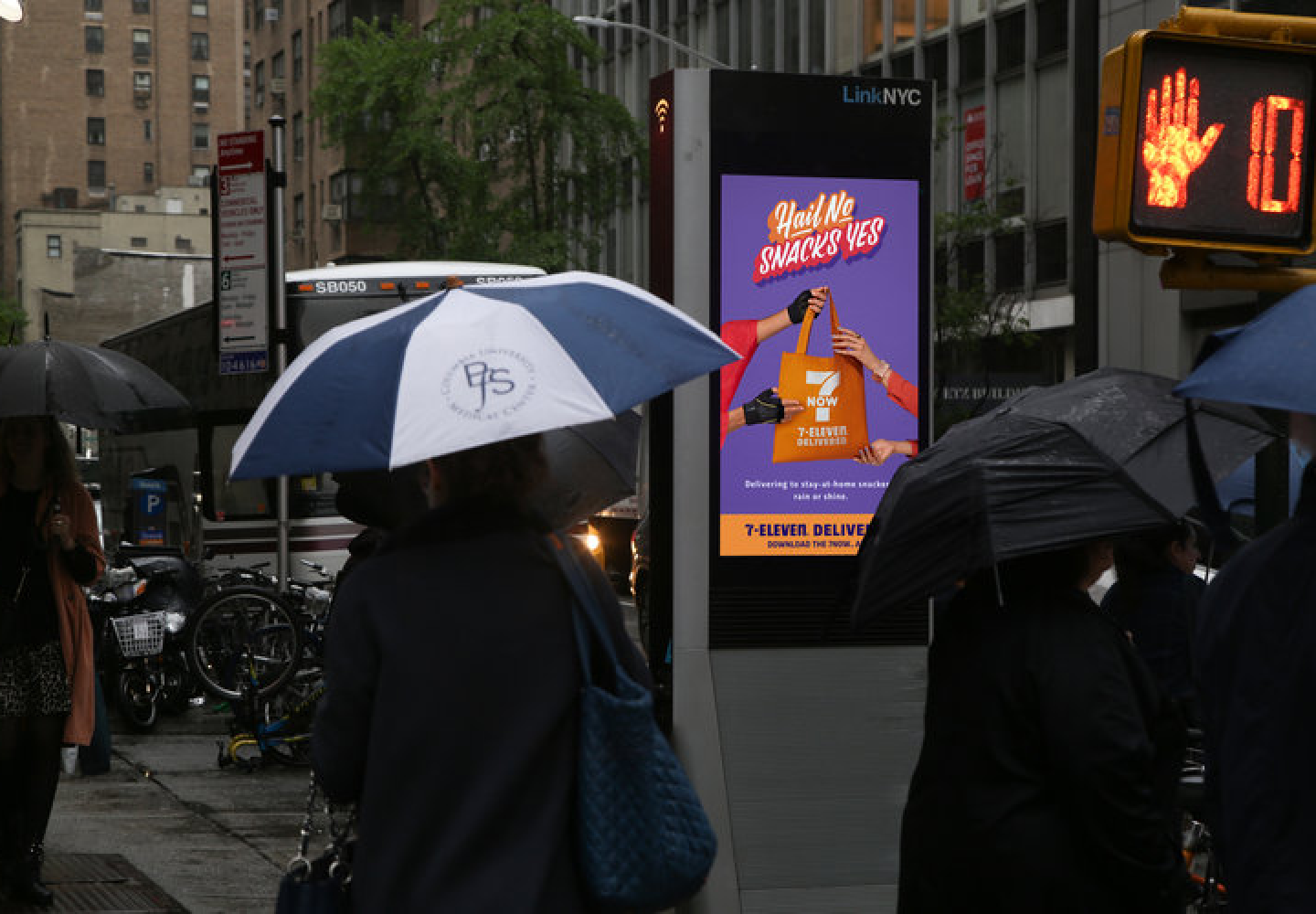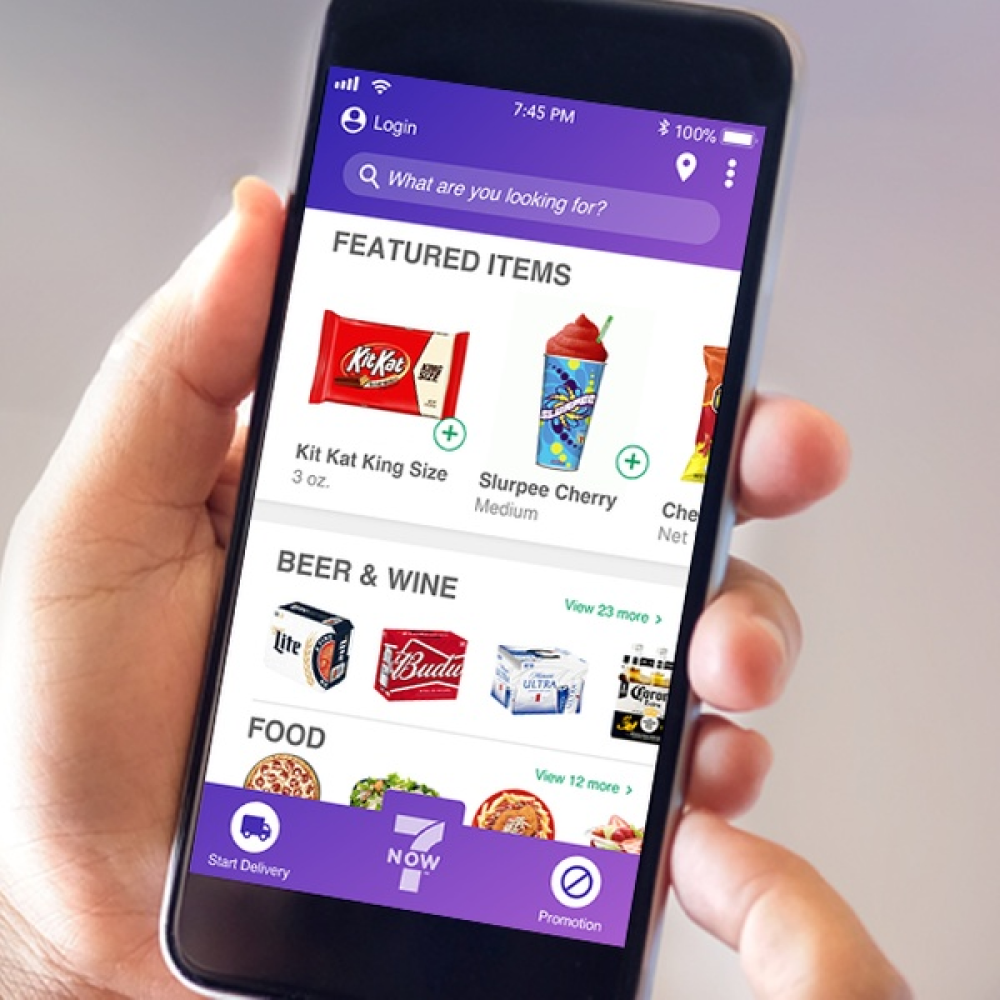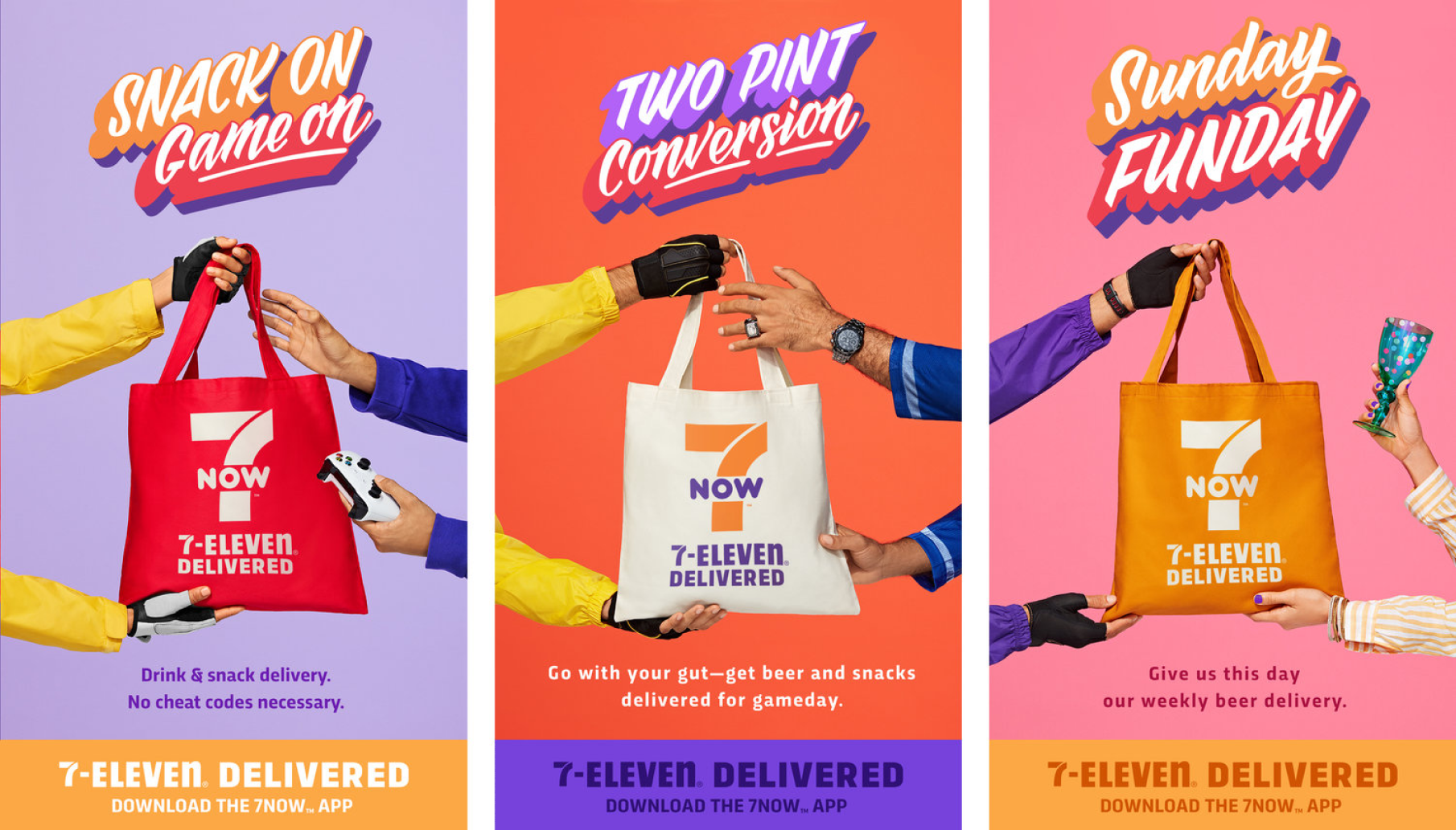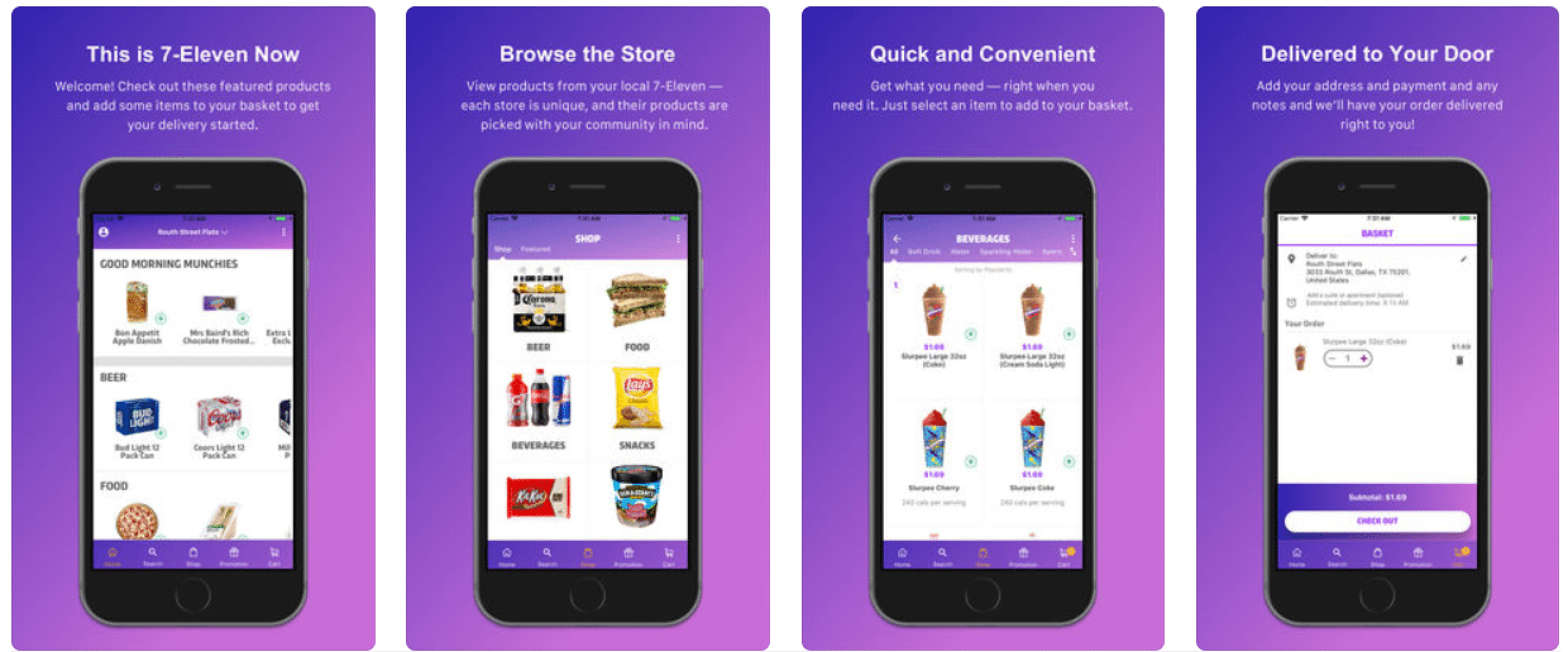 Click on the name of the initiative to read the case study.
(If you don't have a lot of time, read #2, Substitutions 😉)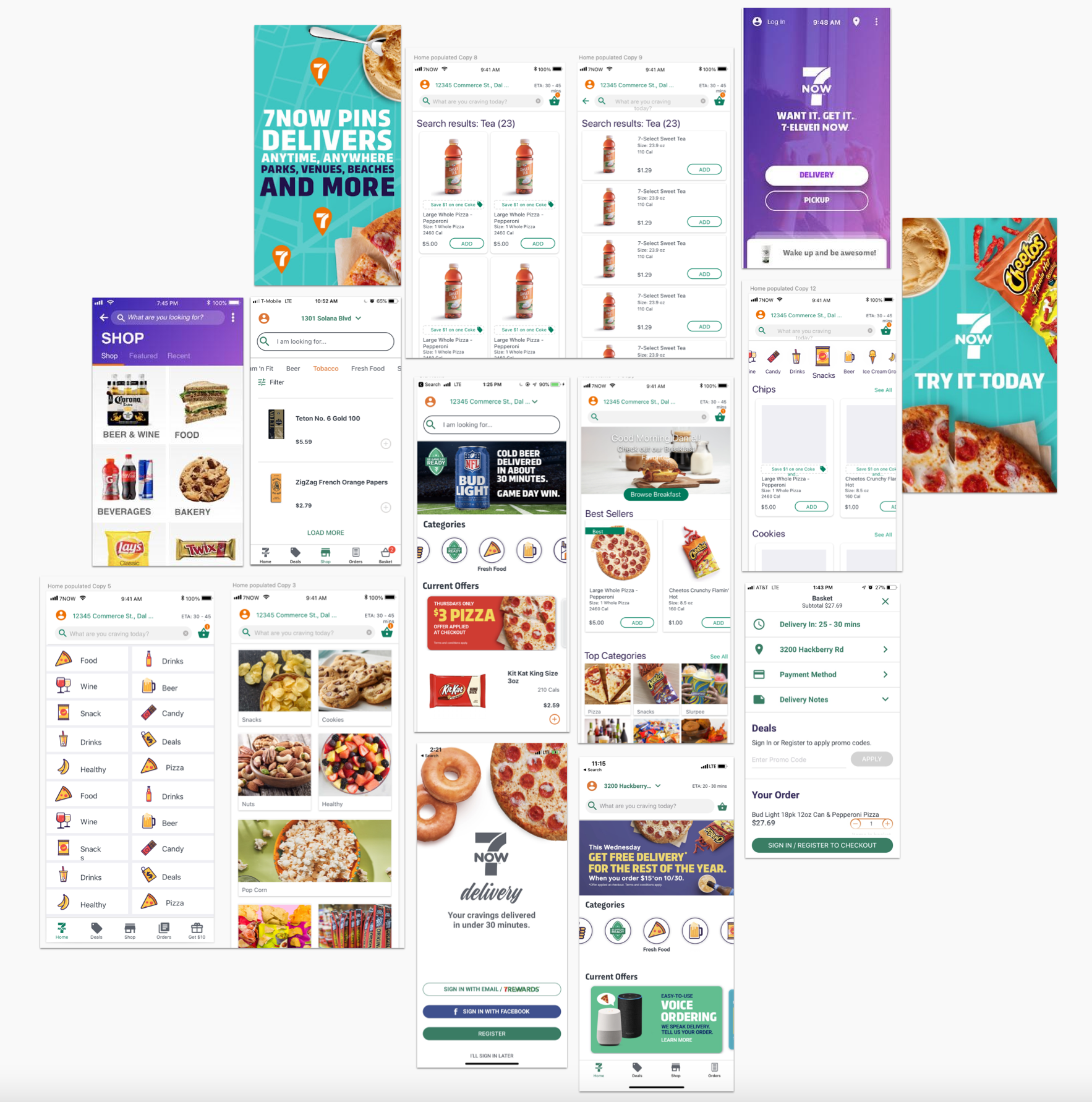 UI Refresh
The problem: because of the fast paced feature roll outs and externally inherited designs, the app lacked consistency in components and looked different from the parent brand of 7-Eleven. There was no focus on accessibility and the feature roadmap was ambitious, making it hard to come up with a UI redesign plan.
Approach: First we conducted a UI audit and did a Journey Mapping exercise of the experience, with an added focus on accessibility and brand guidelines we set a new tone for the application and we made a list of most critical components to update. The plan was to roll out enhancements horizontally and incrementally. One example was colors in which we introduced a new shade of green that was bright, accessible and FRESH.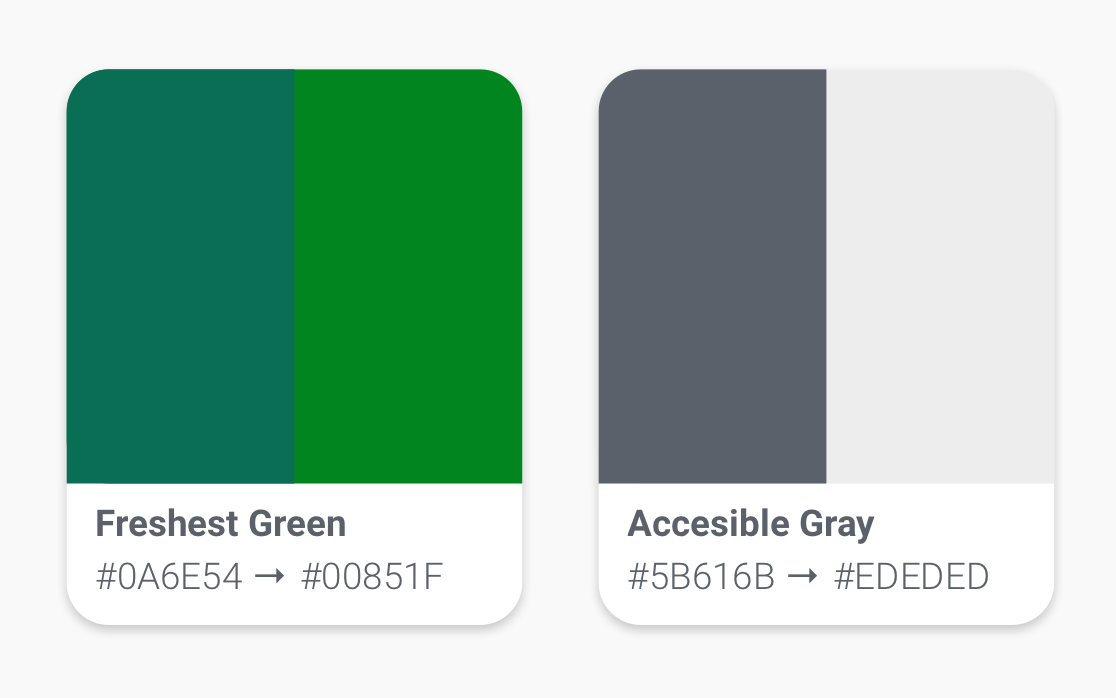 What our solution was
Identify components that were used the most across the application.

Accessibility guidelines to comply with AA standards.

Create a project plan for the tech team to take UI enhancements incrementally on every sprint along with the main feature work.

Adopt a 'Do this, Not That' approach where we replaced all instances of a color, component, or font style with another one.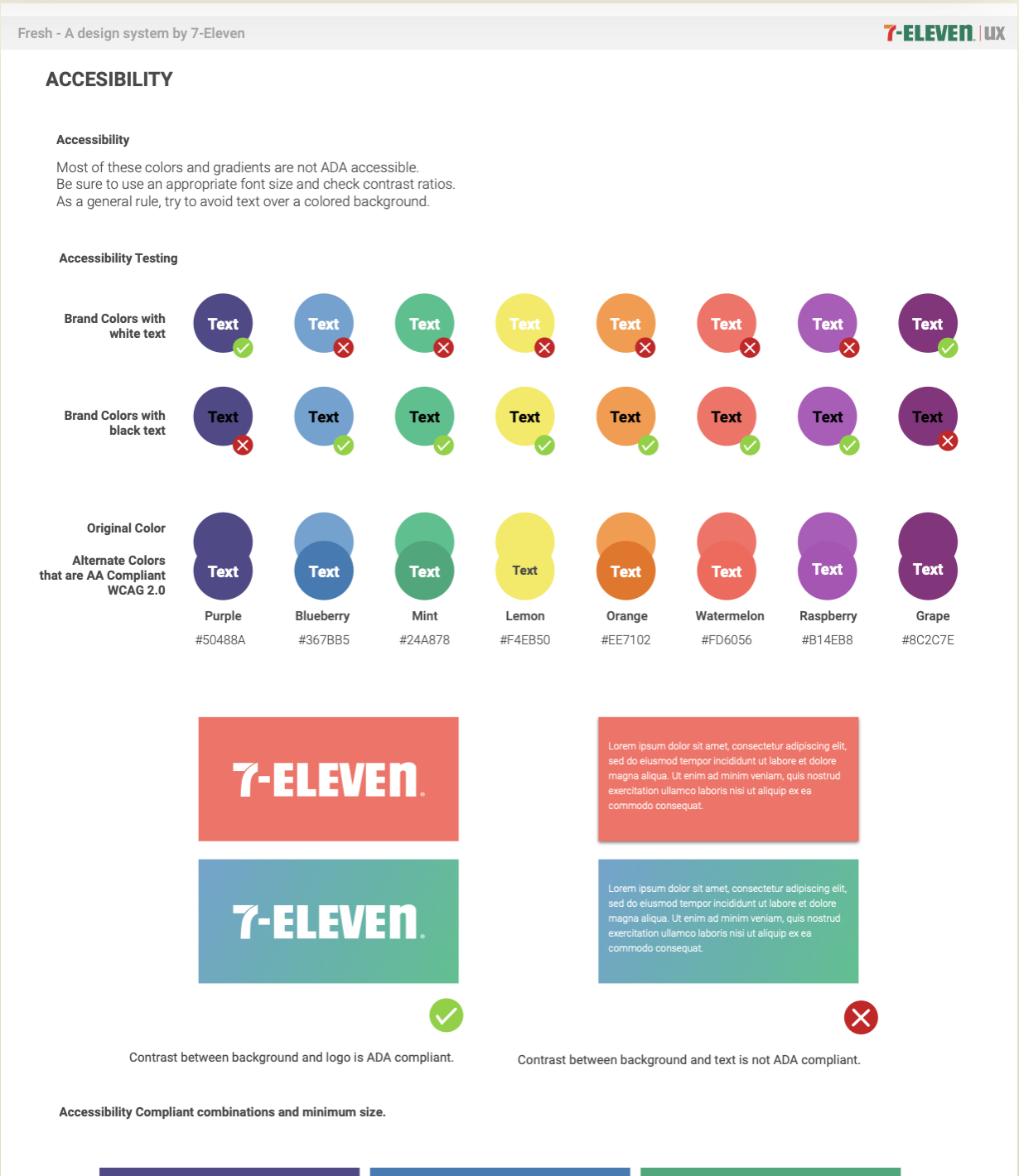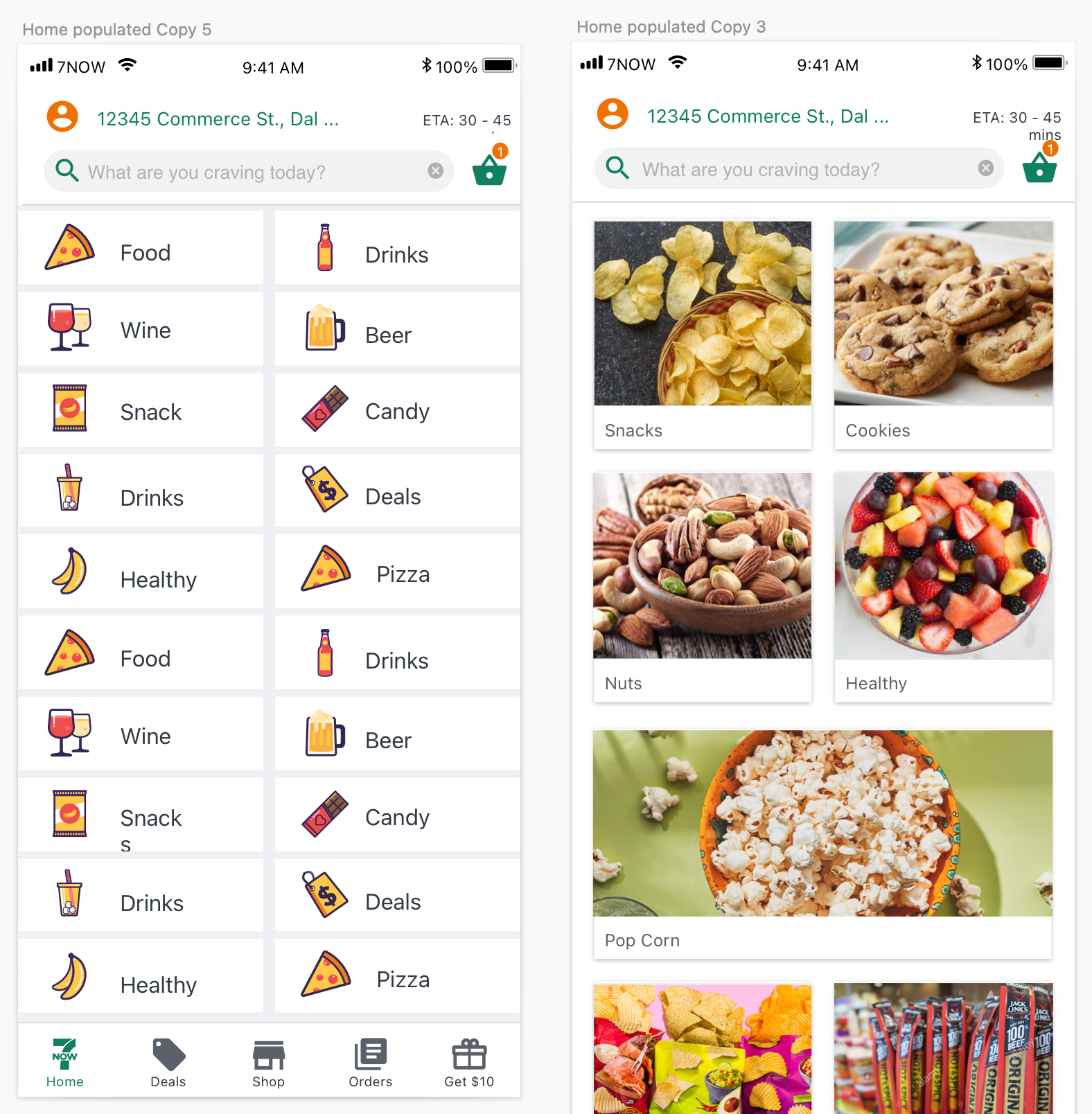 Creating standards for the entire application made it possible to launch V3 in just about three months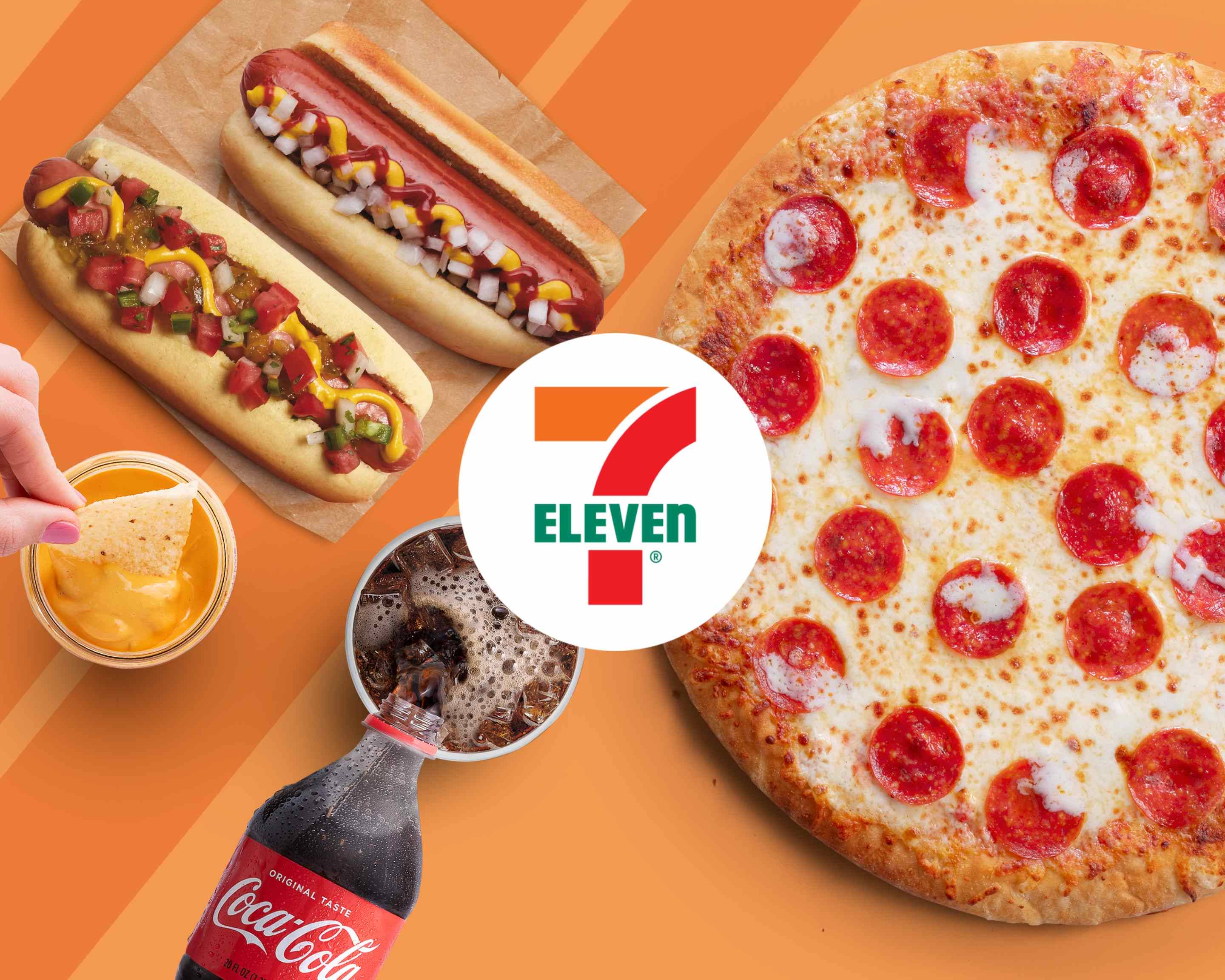 CASE STUDY 2:
Product Substitutions
The problem: Because it was hard to ensure accurate inventory at the stores, very often there were fulfilment issues, like customers getting the incorrect products or having items removed from their order.
Our initial logic of removing an item from the order when it was available caused unfortunate (and sometimes funny) customer issues examples of why we needed to evolve this logic.
Example one. Customer ordered a Pizza and a ranch cup (don't ask me about this combo... Americans), the Pizza was unavailable and therefore removed from the order. Customer still received a cup of ranch. 👎🏼
Example two. Customer ordered Hostess donettes powdered (Donuts), Store Associate doesn't recognize this product (most likely not an English native speaker) but trying to prevent a removal and acting in good will, replaces it with Johnson's baby powder. 👎🏼👎🏼
The challenge: store operations were complicated and Store app rollouts were hard to roll out, we needed to come up with a customer facing solution.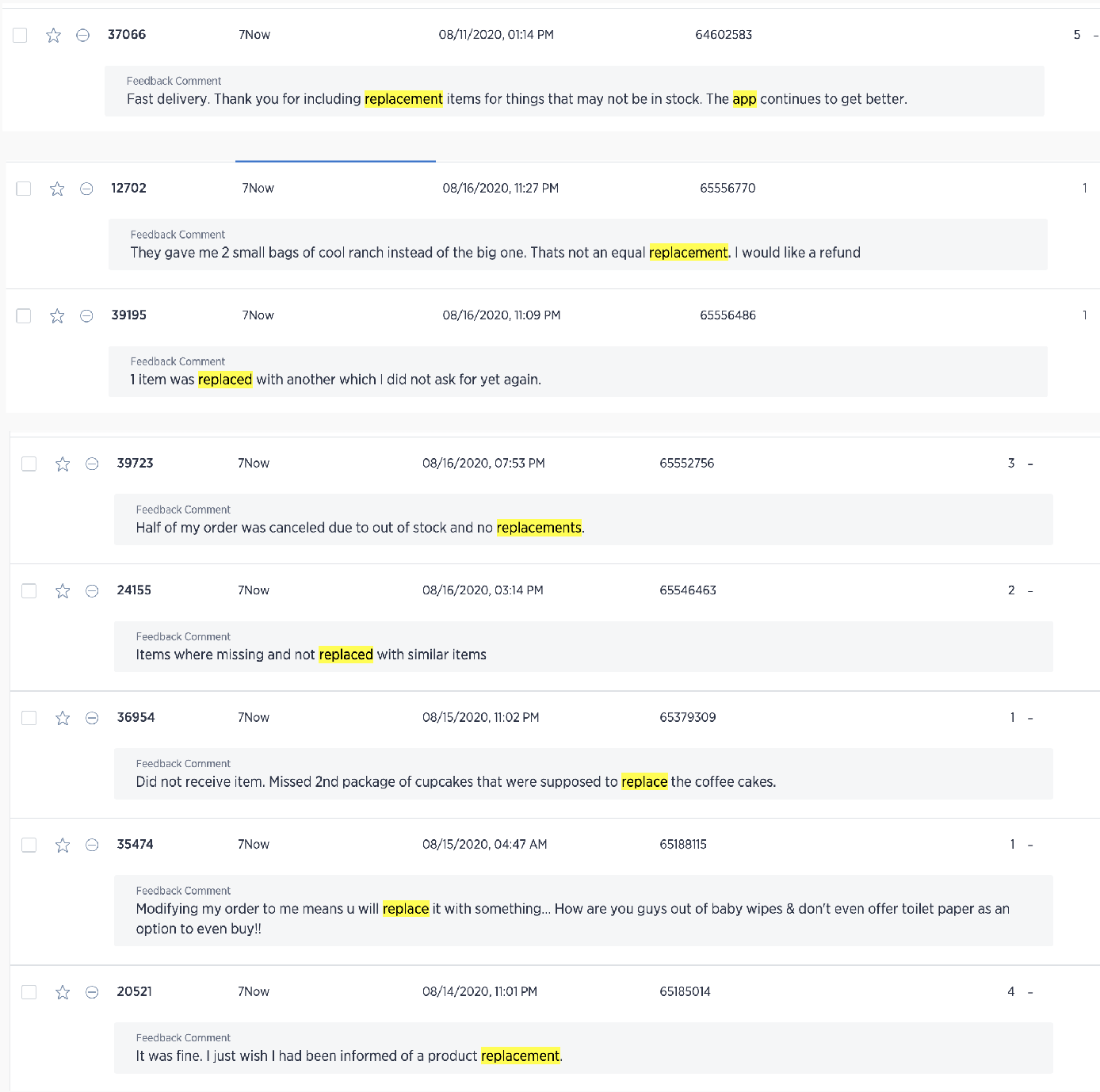 But what to customers really want?
Do they want us to choose a reasonable substitution for unavailable products? Or did they want it removed from the order...
Well as always in life, we found out It Depends.
Depending on the type of customer and the type of product, sometimes customers are okay receiving a substitution, maybe they're just hungry and don't mind receiving a Cheese Pizza instead of a Pepperoni Pizza.
In some other cases, customers don't want a substitution because they wanted a specific product or flavor.
And sometimes, there were instances where if a key product wasn't available, the customer would rather have their orders cancelled.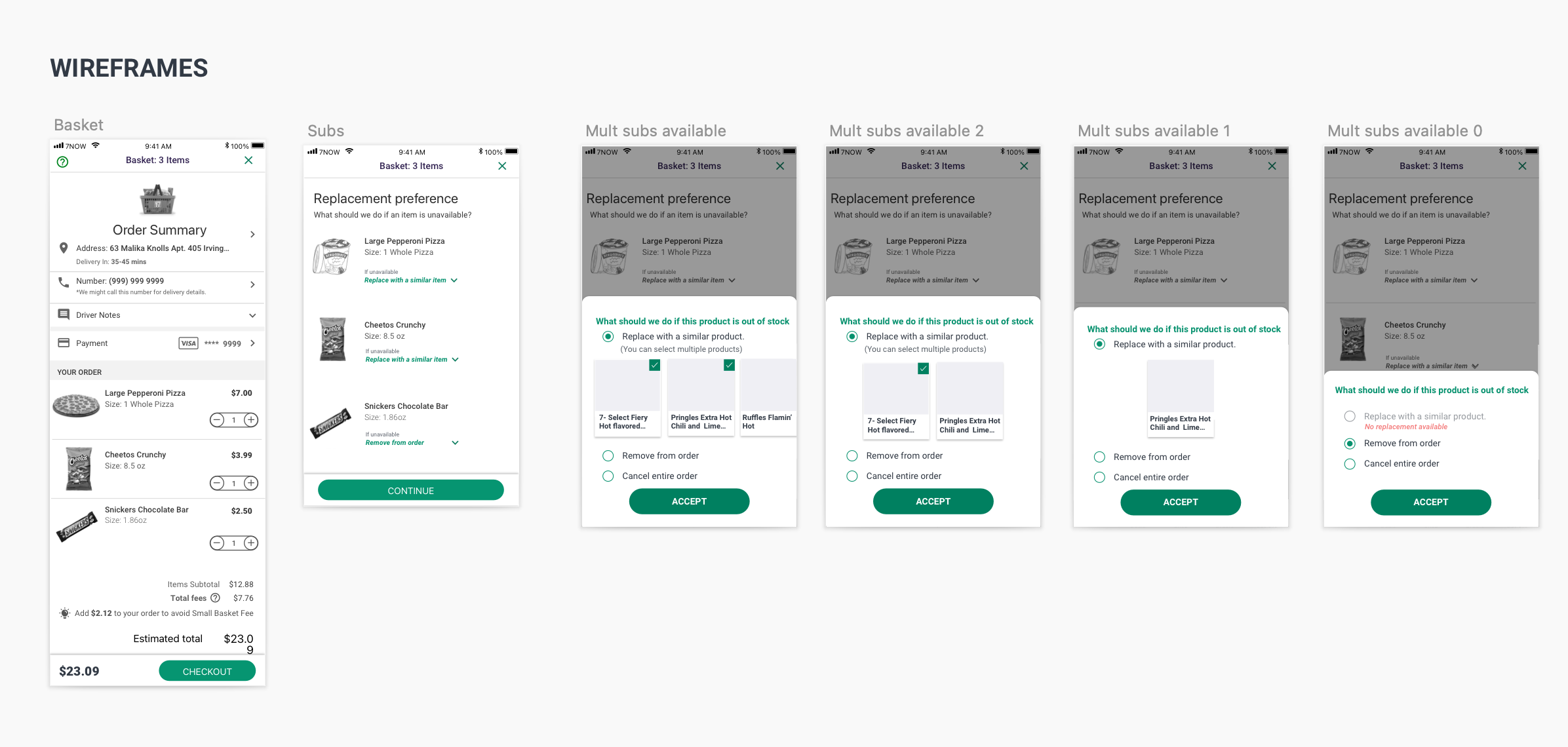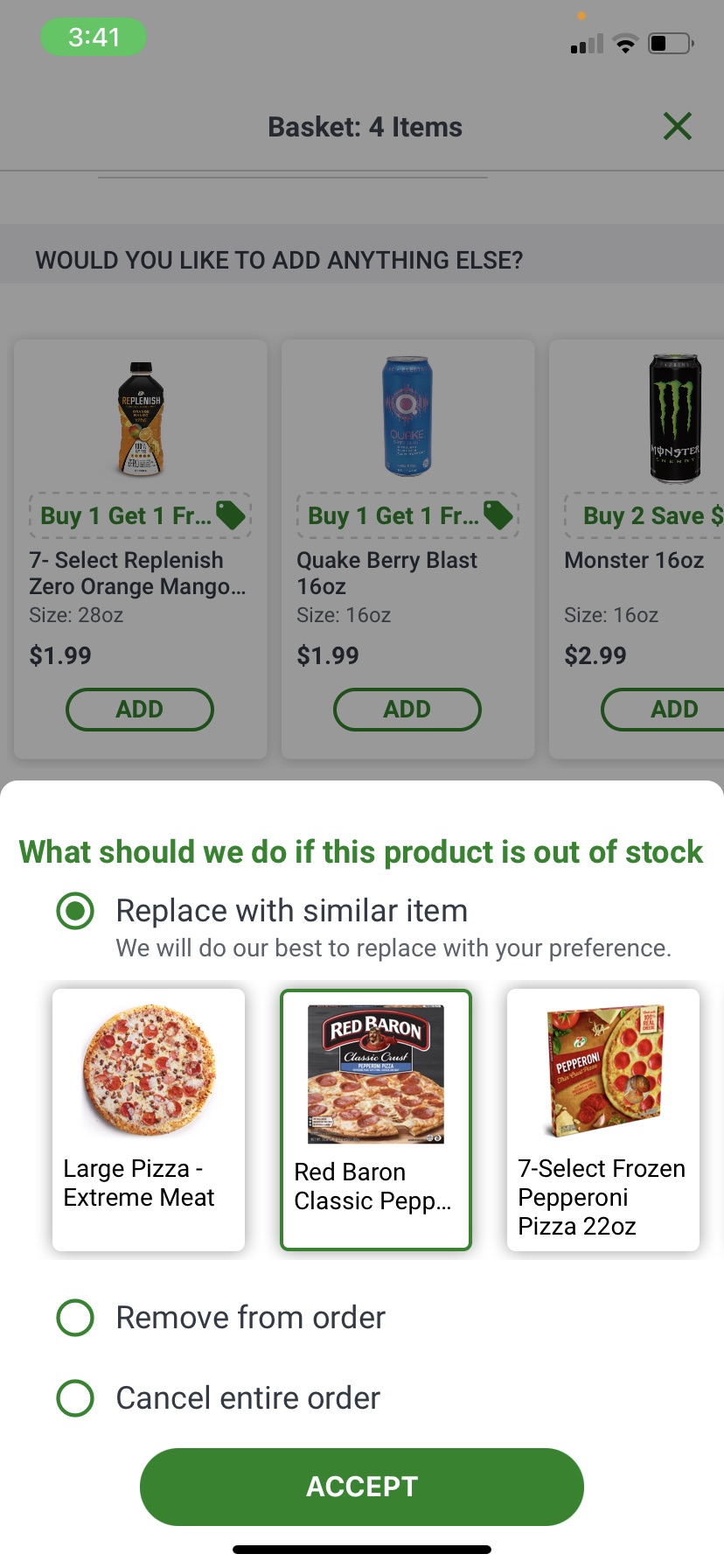 The Result
Substitution engine. A smart substitution system that would assign product substitutes to all our products.

A default logic that would prioritize substitution over removal or cancellation as long as a substitute was available and in stock.

Refund logic in which a customer would never pay additional for a substitution. (Even if the substitution was more expensivee)

Panel with preferences per product. That would save customers preference per product.
Customer satisfaction metrics:
Decrease in complaint rate and refund requests

Increase basket size that would otherwise been removed from orders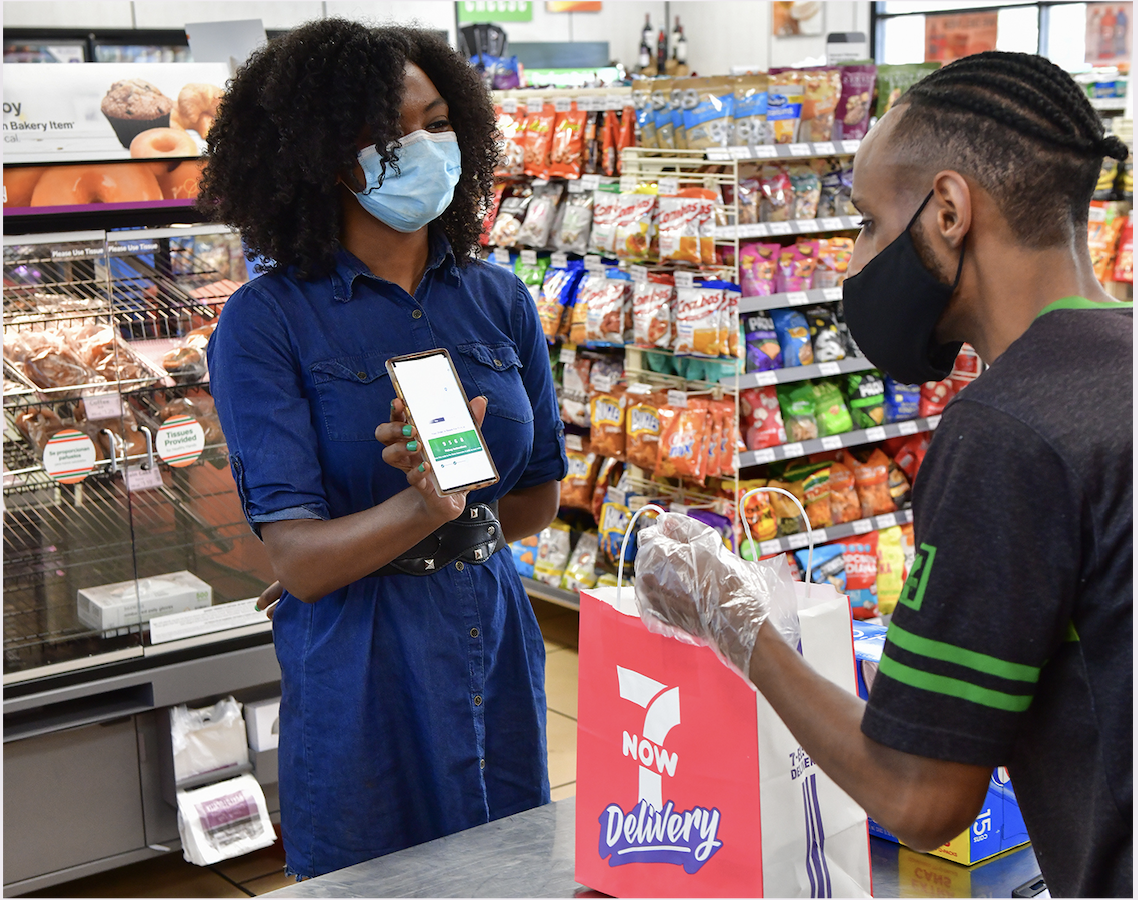 CASE STUDY 3:
Help Center
The problem: with the expansion of the service to more markets there was a growth in call volume with customers inquiring information about current and past orders, and all kinds of inquiries.
There were a lot of repetitive issues that could be automated and we saw the opportunity to optimize resources here and help our Customer Support team who was understaffed and very busy.
Calls are also expensive to the business, and take time causing customers to sometimes have to wait for over 10 minutes to talk to a representative.
The challenge: Different priorities of issues, with different level of priority.
Our discovery approach
First we had to get involved with the Customer Care team and understand what kind of issues they were dealing with on a daily basis.
We listened in to live and recorded customer calls to understand customer sentiment

We read a TON of customer reviews to identify pattern

We became best friends with the Customer Care team, who really do an extraordinary work. (Shoutout Darnell & Marie from the Customer Support team ❤️)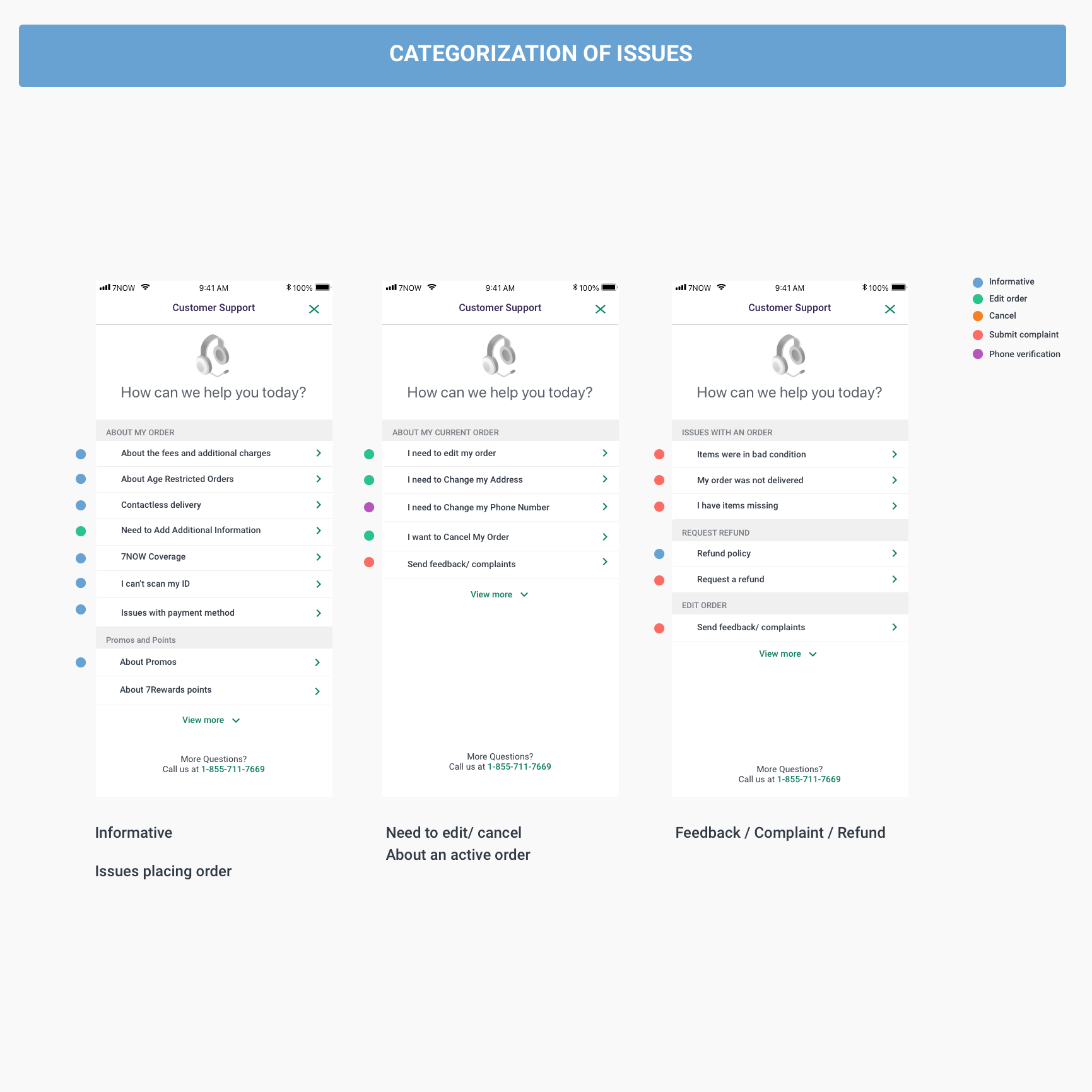 Categorization of Items
We separated customer inquiries by priority and by resolution type in categories to be shown in different parts of the experience.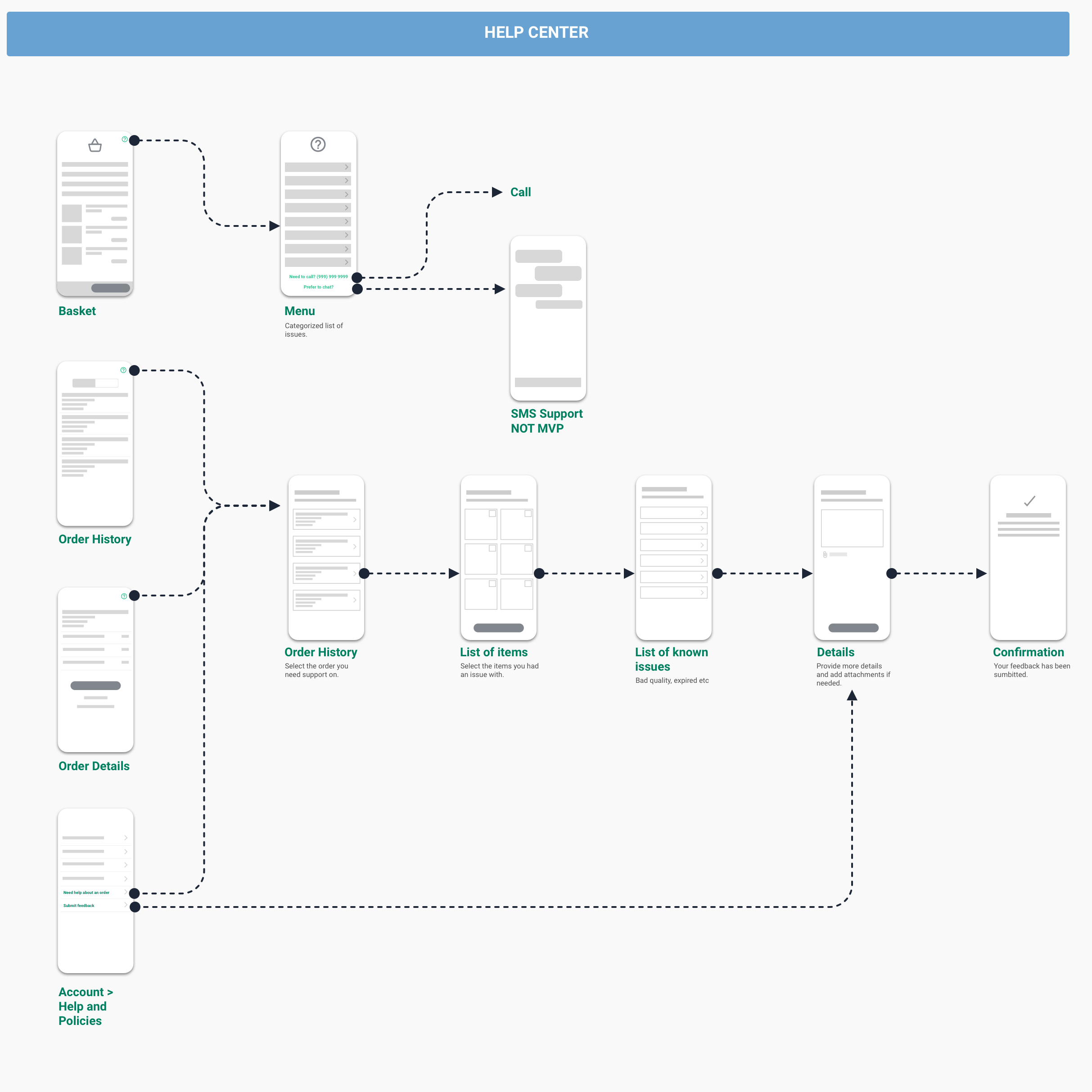 Entry points and Reporting Flows
Depending on what stage of the experience you are, the type of help you need, that's why different entry flows led you to different areas of the Help center experience.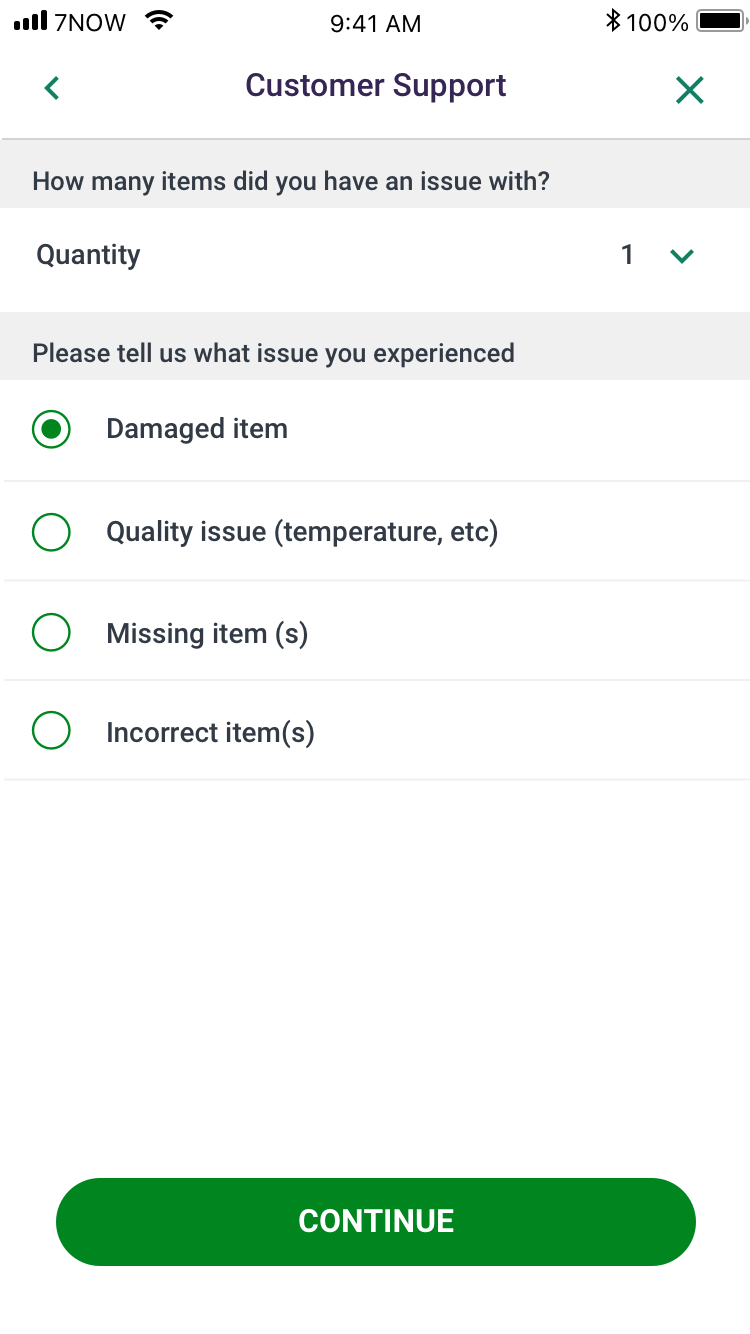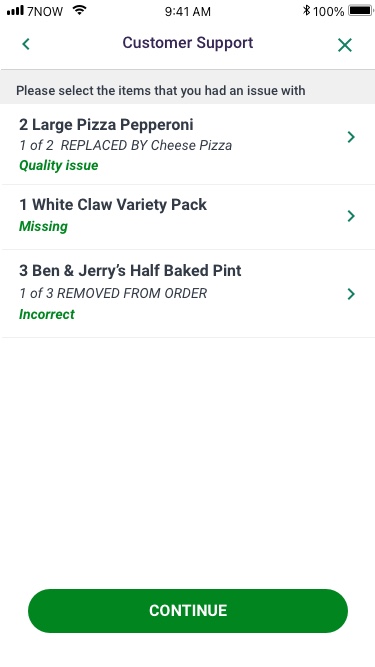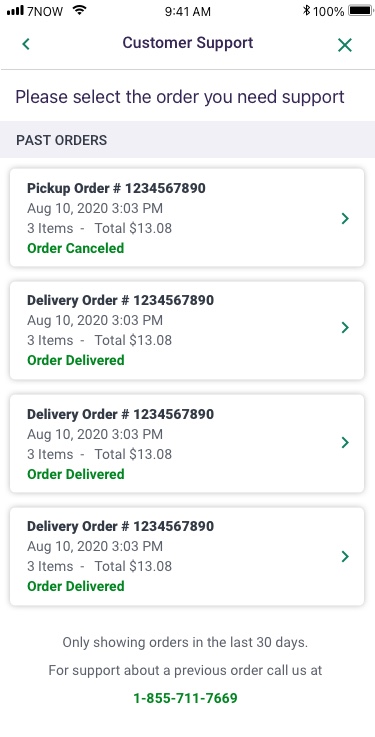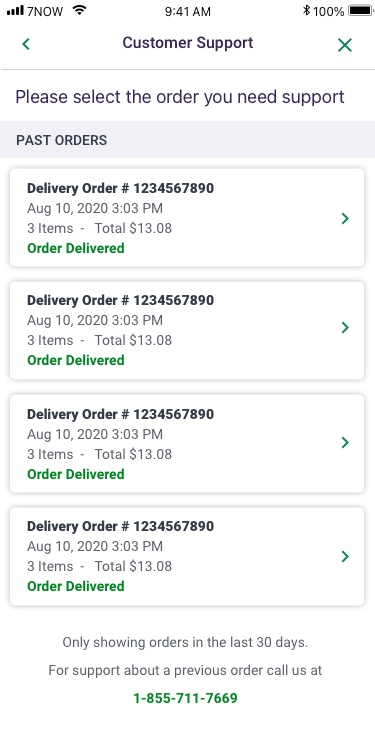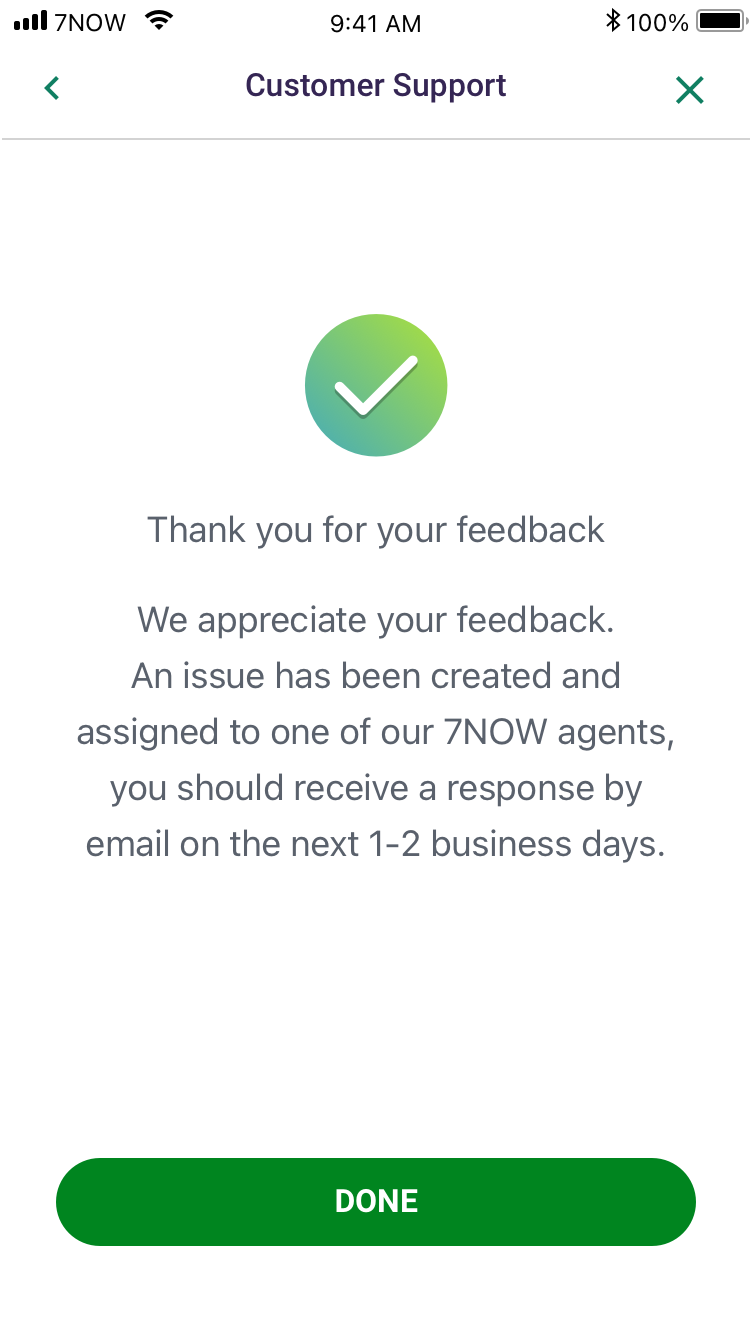 Result
Decrease in call volume by ~60%
Faster issue resolution and less time on the phone
Enabled representative ability to handle multiple tasks at once.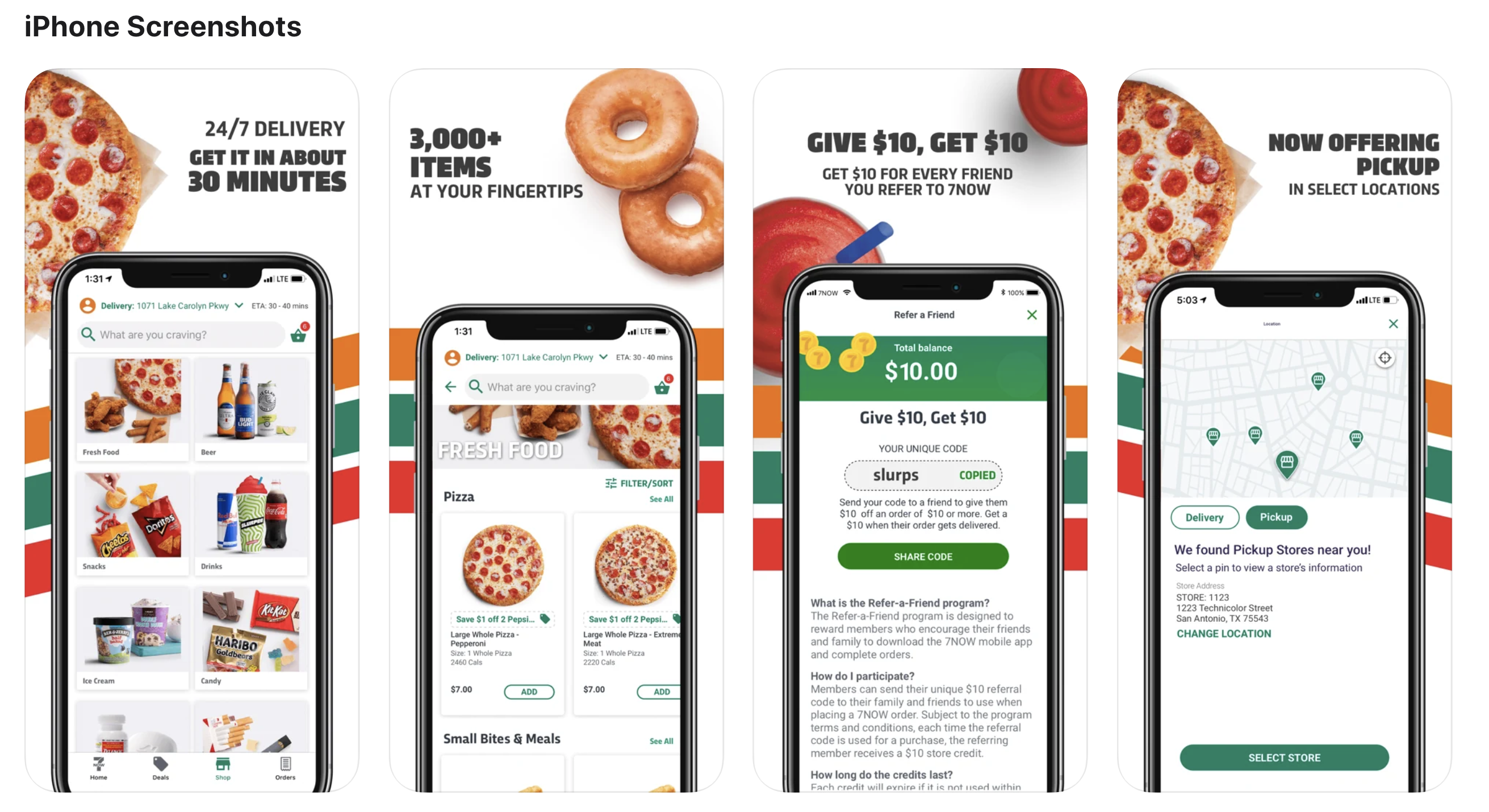 CASE STUDY 3:
App Store listing - Individual initiative
The problem. The App Store and Google Play store are very competitive spaces, without a good strategy we could potentially be missing out on organic awareness and discoverability.
I personally started getting really interested in the App Store optimization best practices and alongside the product team we set up some experiments to be run on the Google Play Store to increase visibility and ranking.
Challenge: With so many initiatives going on, it was hard to dedicate a lot of time to this, so we took it as a side project. Additionally iOS has some specific guidelines that could get your app submission rejected (cough... that never happened to us...)
Approach: We set up weekly experiments on the Google Console portal to track and test App Icon, Featured images, tags, short description, long description, etc.
More on this topic coming soon on a separate Case Study.
4.7
Star rating in the
App Store
💌
My wonderful team
7NOW wouldn't be where it is today at Millions of users without the contribution, passion and leadership from all the people in my team.
Although the case studies I mentioned were led and executed by me, it was only possible thanks to the people that worked on 7NOW before me and alongside me.
I truly believe that good design is a result of collaboration and building on top of what smart people did before you.
Shout out to all of them, all my dear friends.
(they don't like to be called unicorns but they are ❤️🦄⭐️)