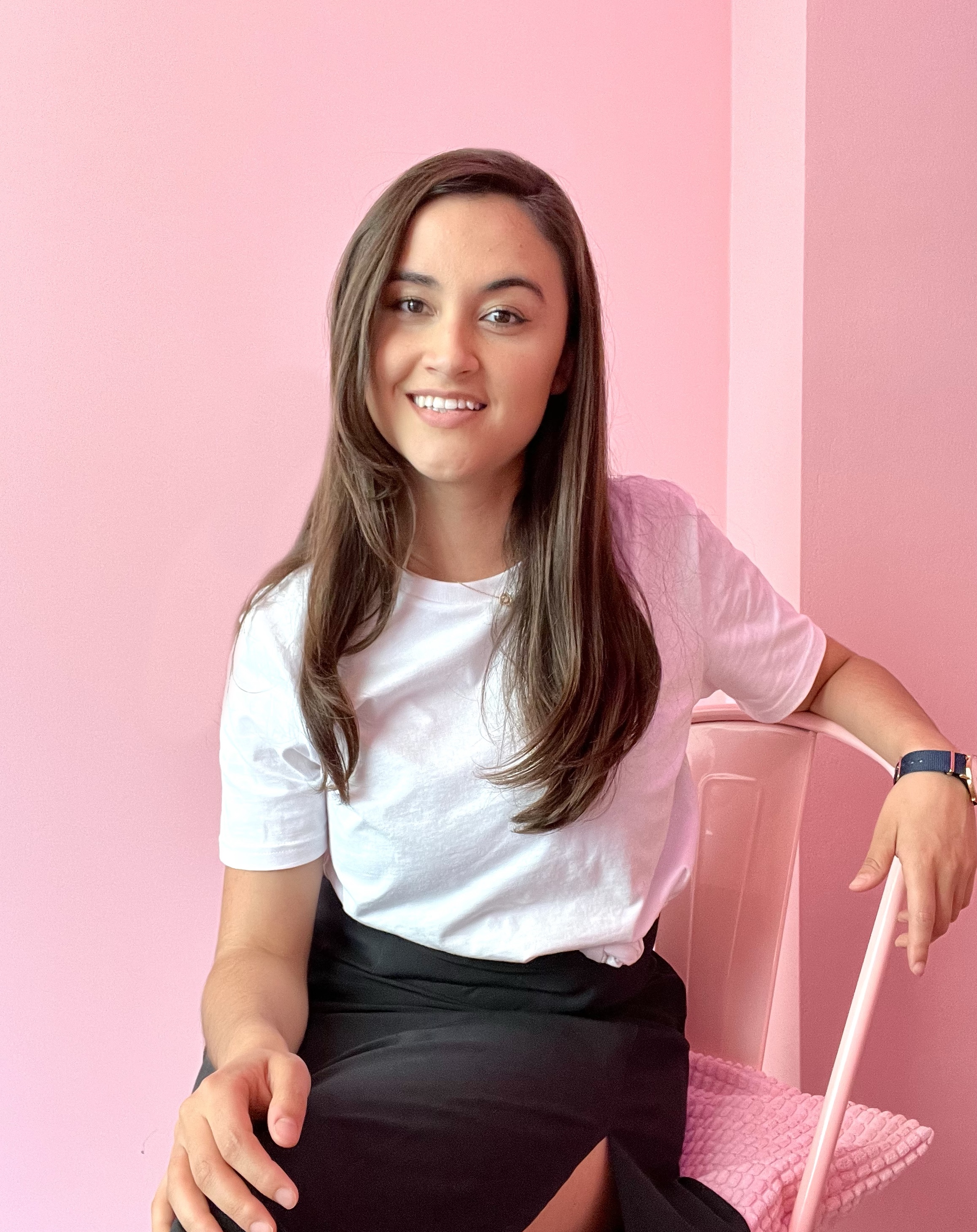 My watercolor journey
Landscape nature and urban watercolor painting
Summer 2021
Amidst the second and third wave of covid in the United States I decided to take on a new hobby to keep my creativity active and get some time outside the house. I picked up watercolor as a new artistic path to explore, specifically landscape painting.
I would go to parks around DFW and find the best locations to paint.

Watercolor, sketchbook and pencil in hand, I would spend the evening listening to music and painting.

Sometimes the weather would change while I was painting a picture so sketches had to be done quickly.

Learned about the structure of trees and clouds and their three dimensional characteristics.
This was an activity that brought me a lot of peace and happiness at a difficult time.
On warm Texan days the challenge was to not let the painting dry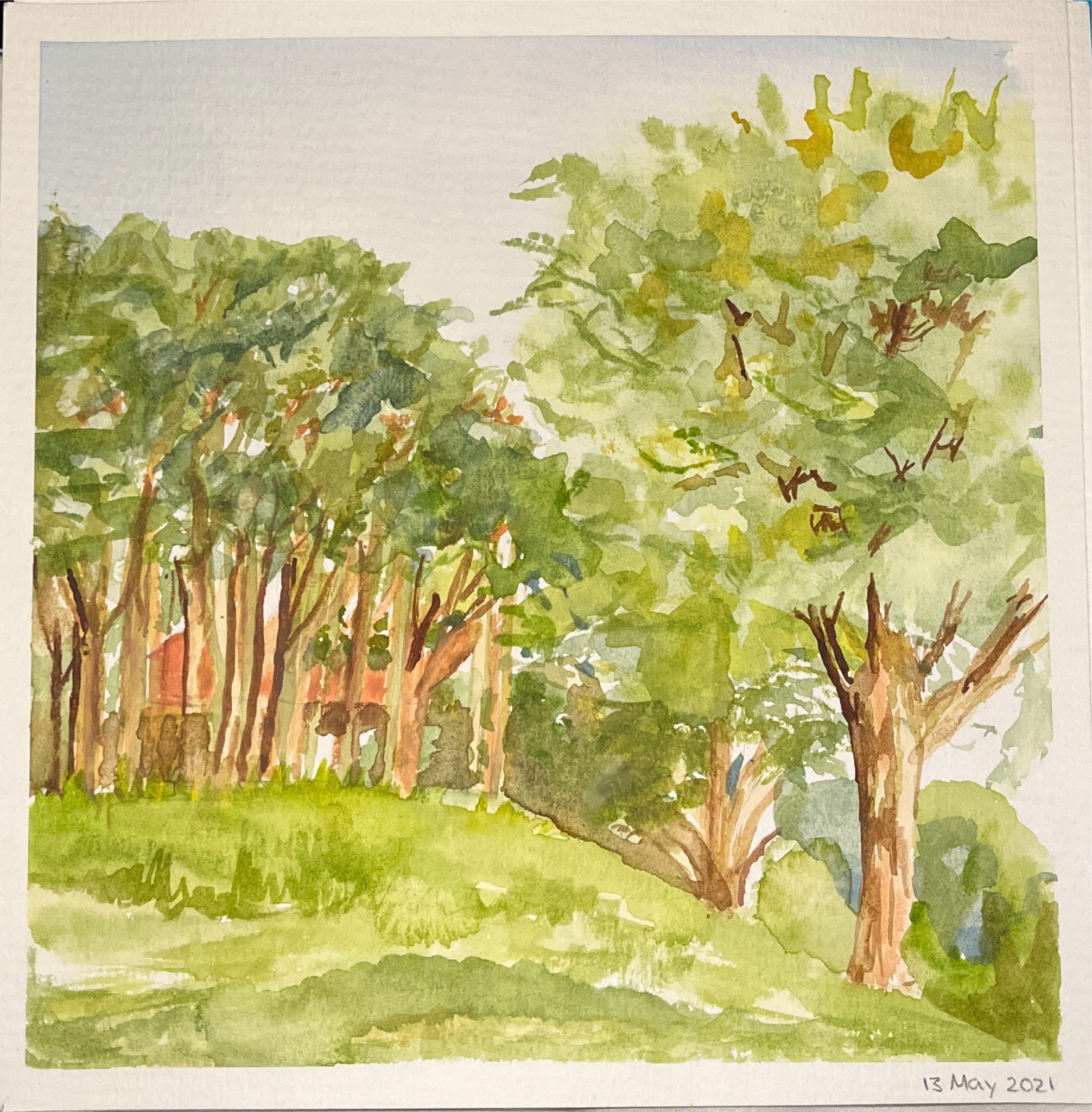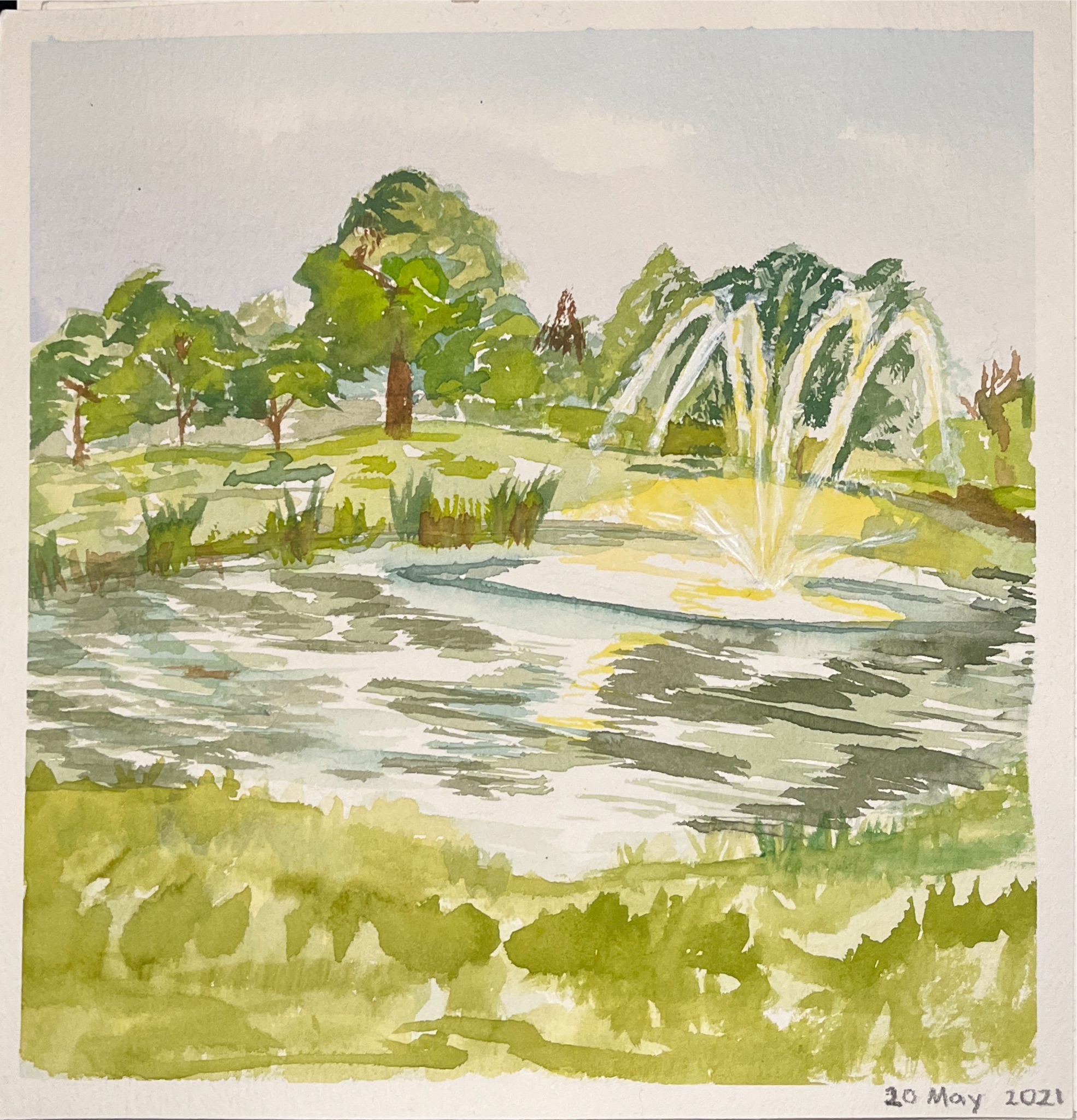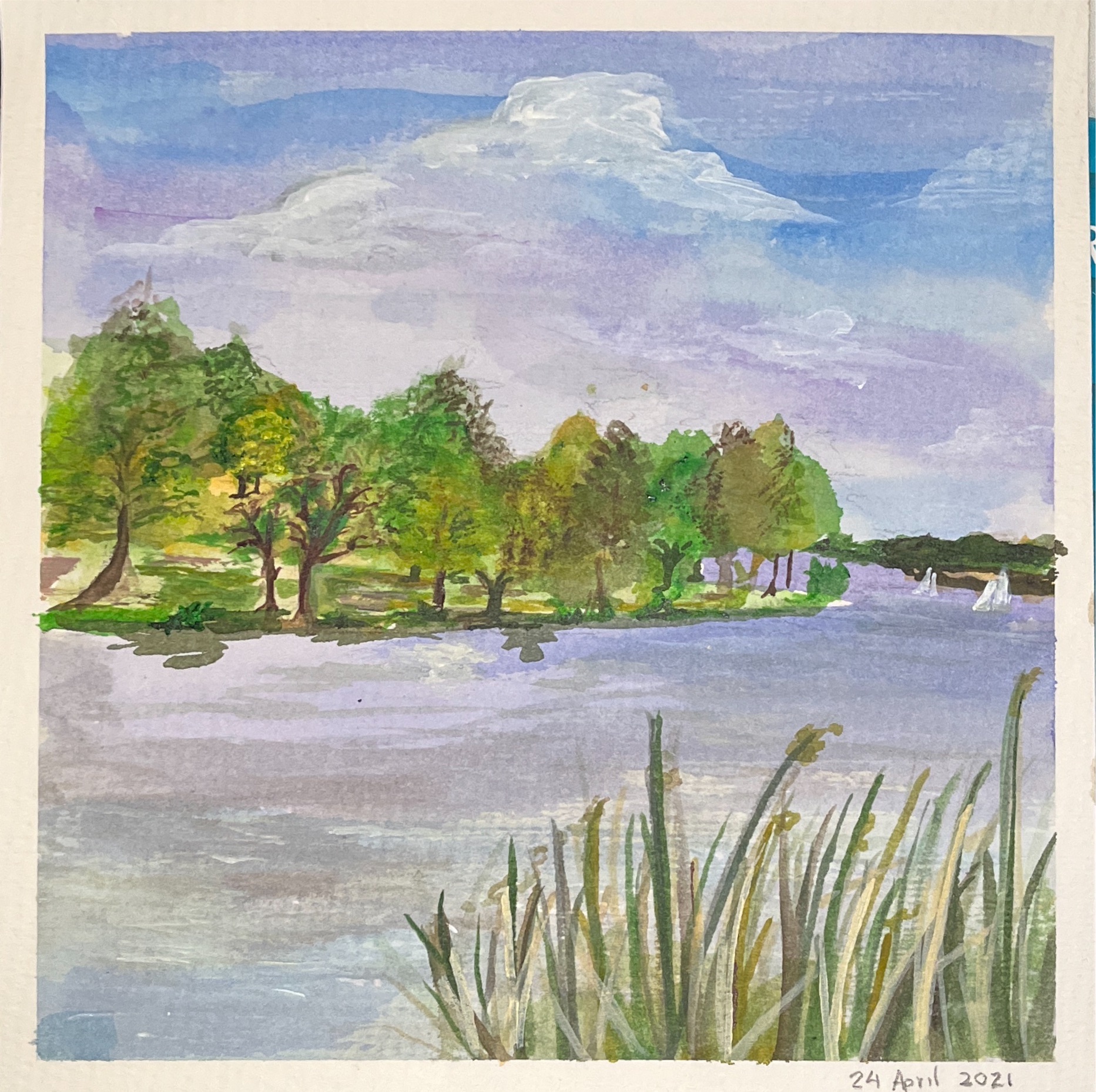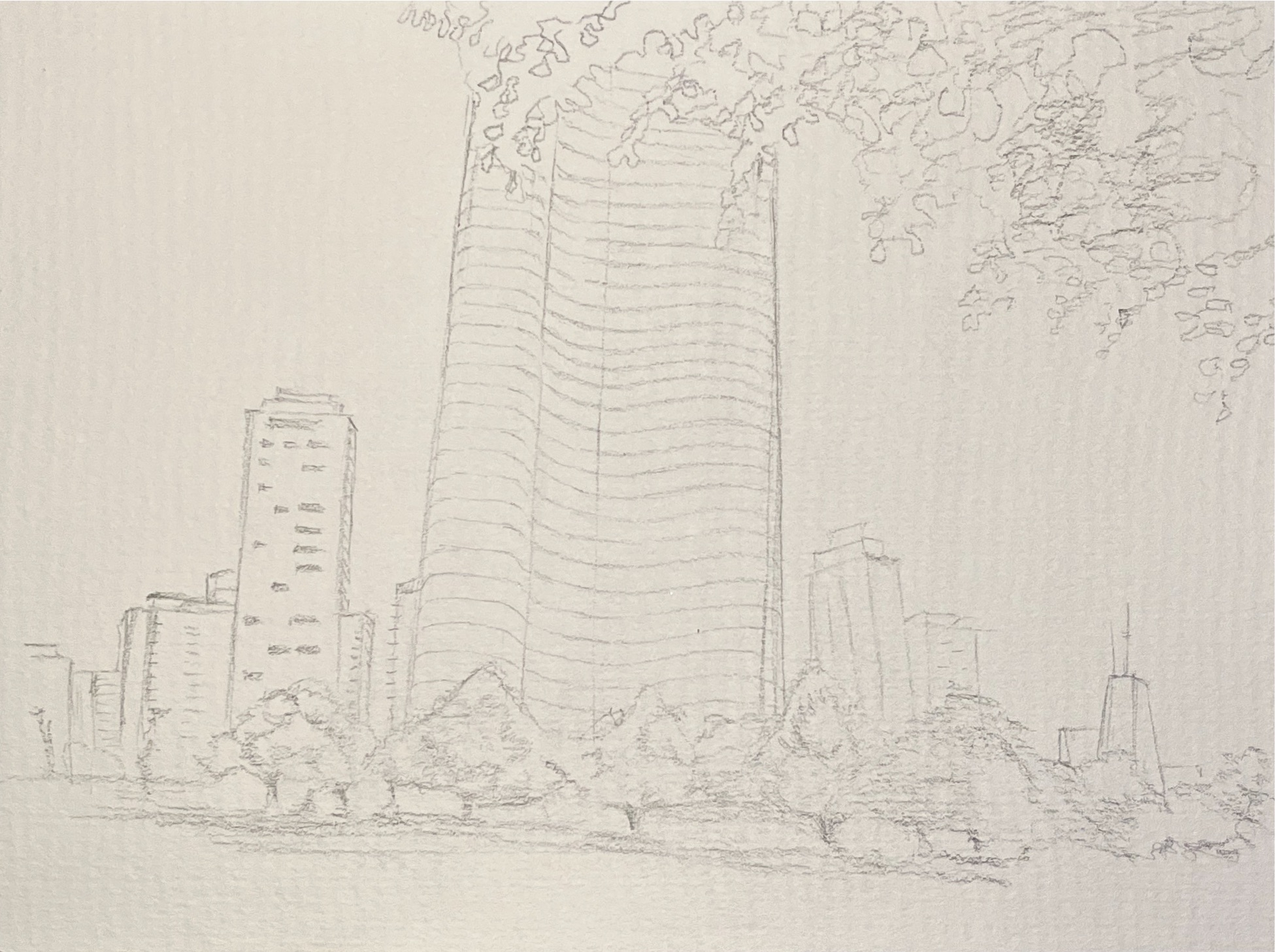 Getting started
Quick sketches
After picking the perfect place which typically was flat and in the shade I would start by drawing a quick sketch of the frame. This helped me in calculating proportions and adjust accordingly.
This was just a guide before I started mixing the colors, always going from light to dark, another trick was to start by painting the background first and then proceeded to the elements that were closest to me.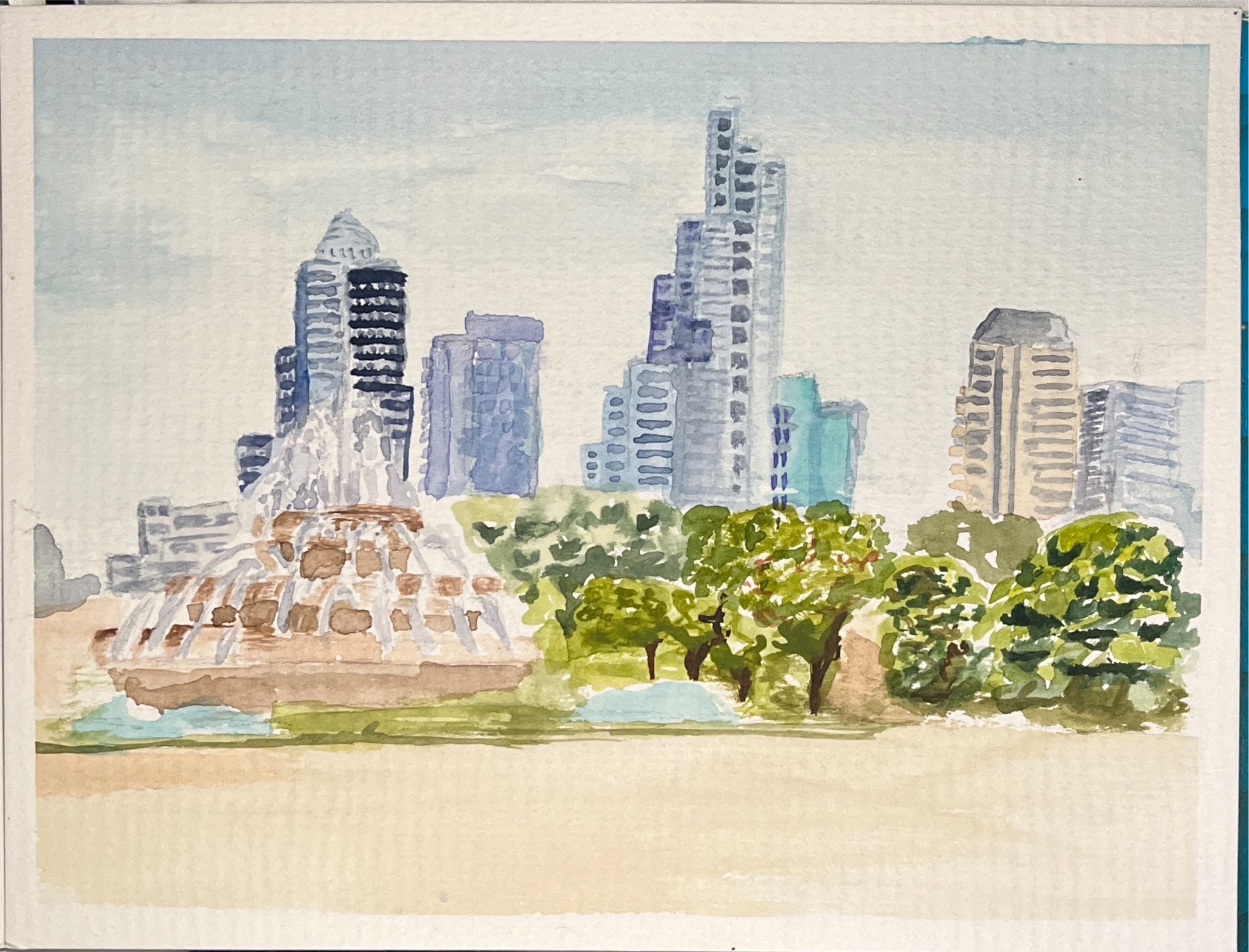 Chicago
I went on a trip for Memorial Day to spend a week in Chicago, where I was able to practice now a combination of organic elements with urban figures.
Chicago has beautiful weather and great sightings where I was able to experiment even more with depth and colors, also drawing buildings turned out to be a lot more challenging than I initially thought.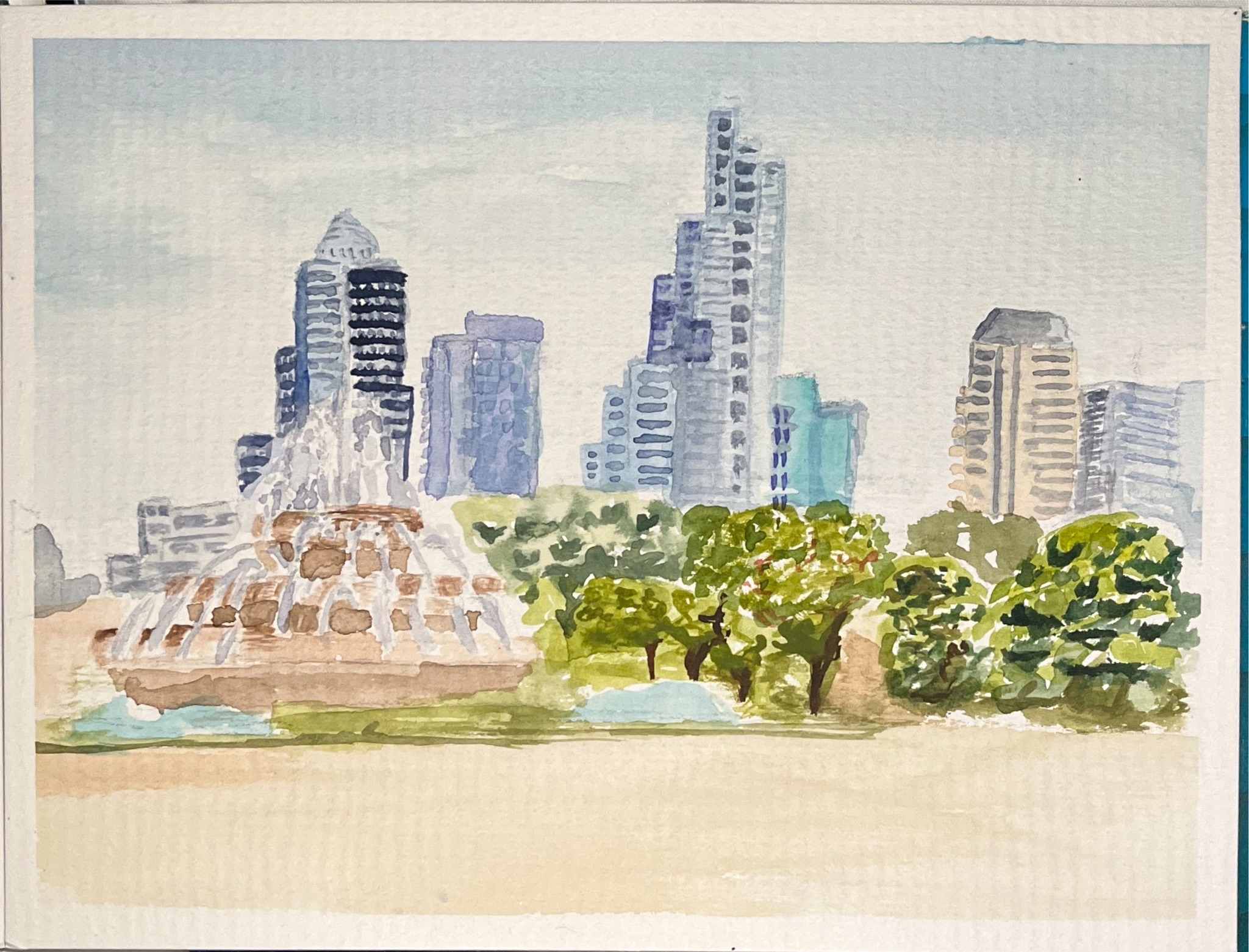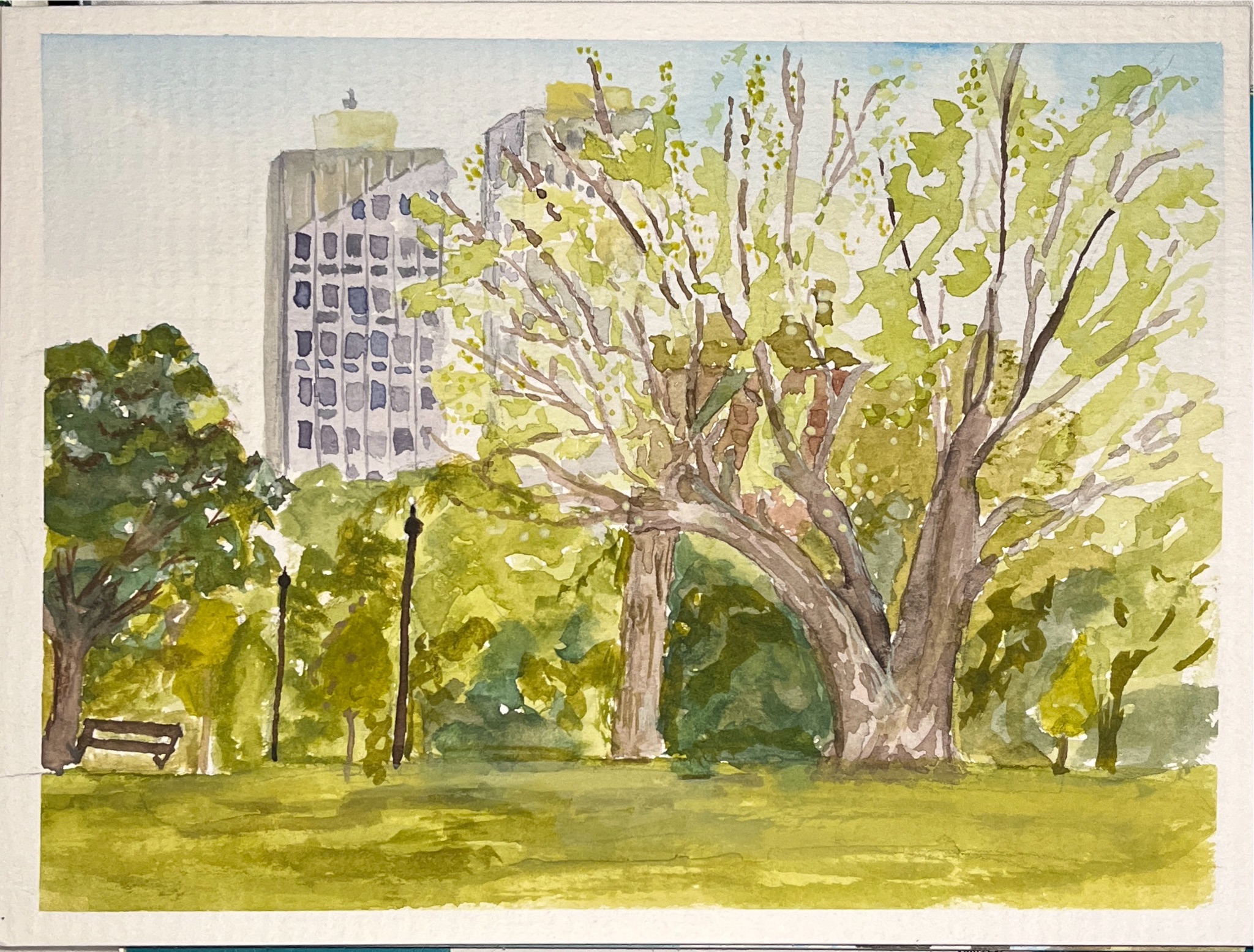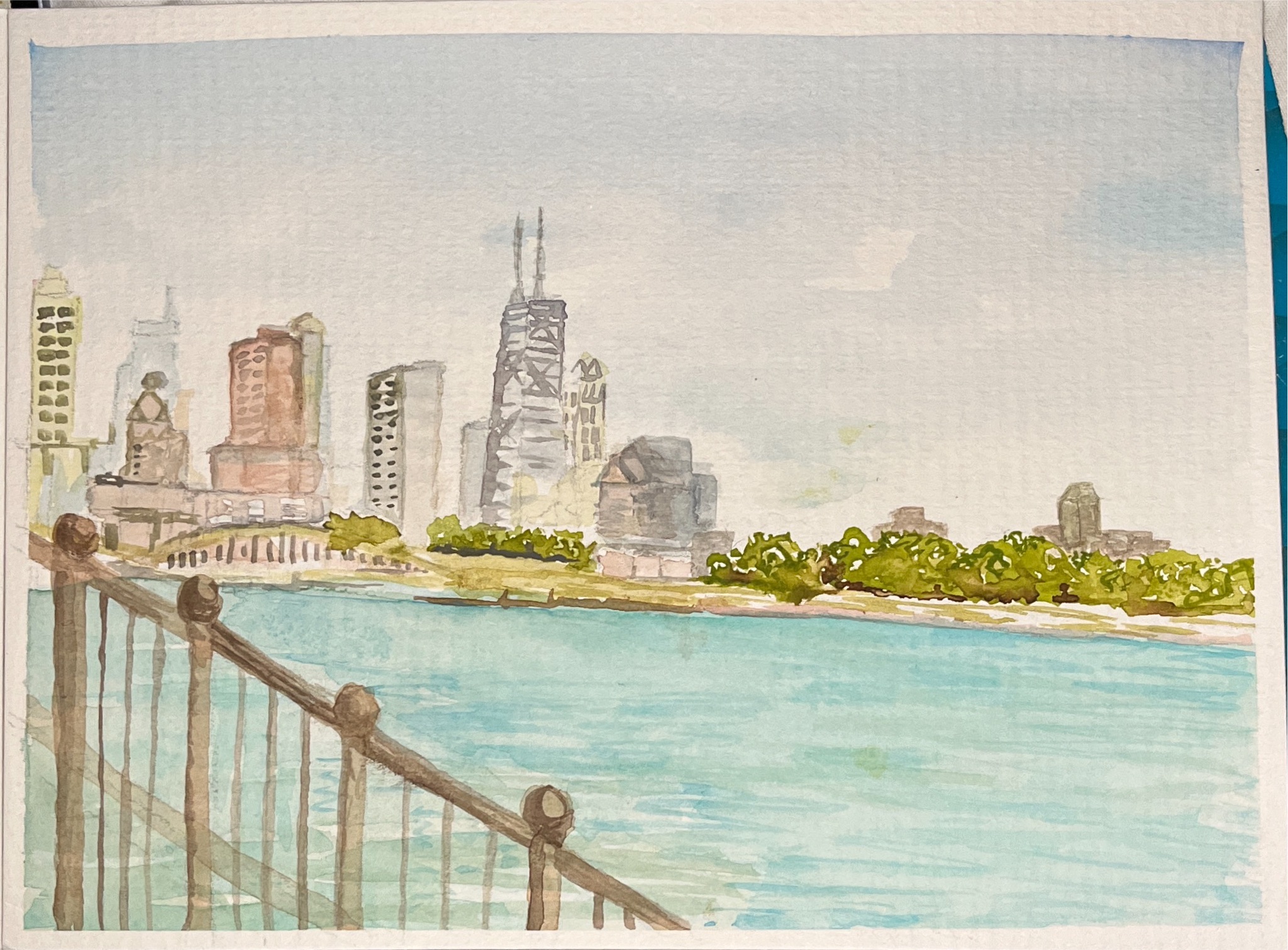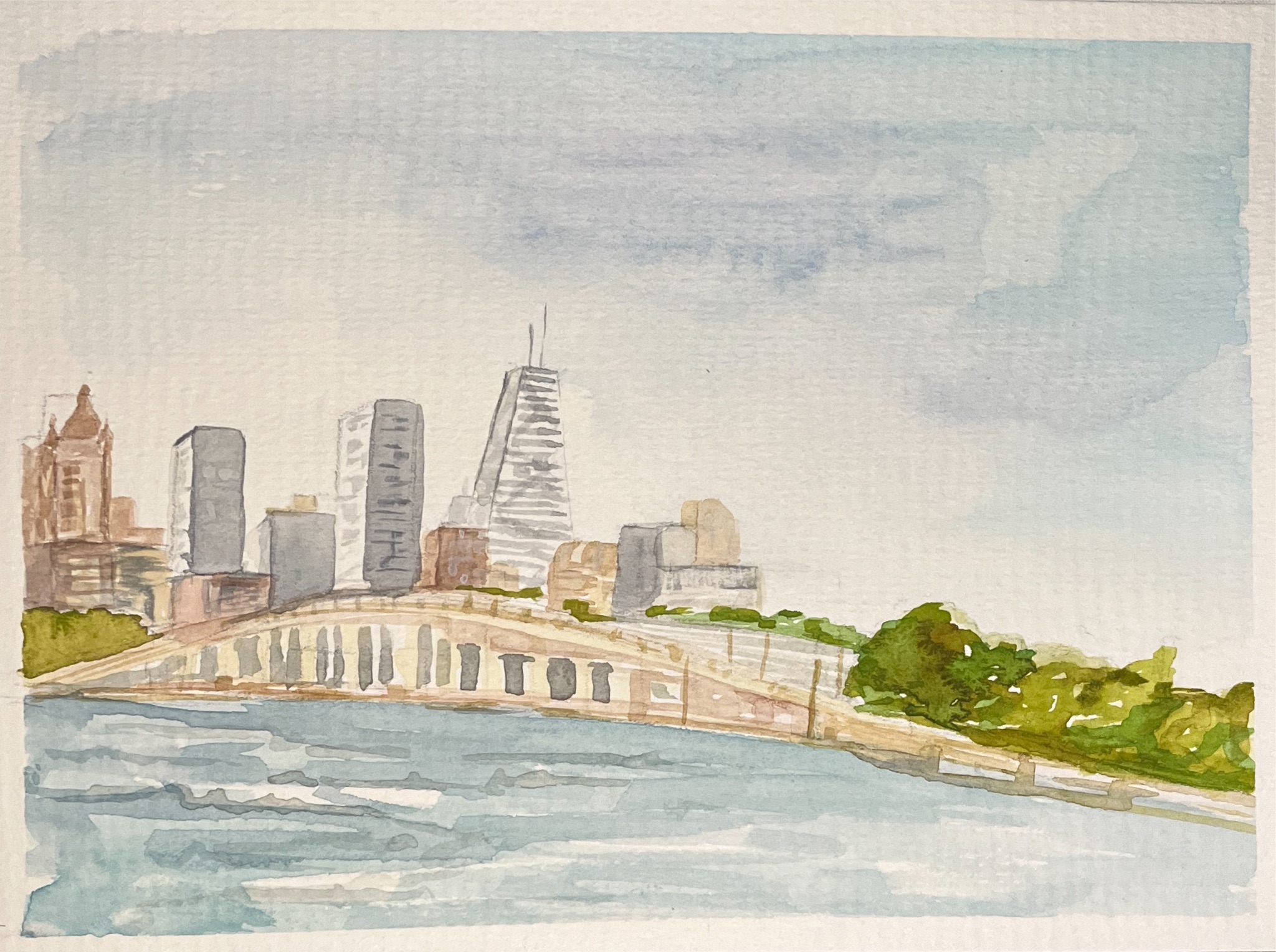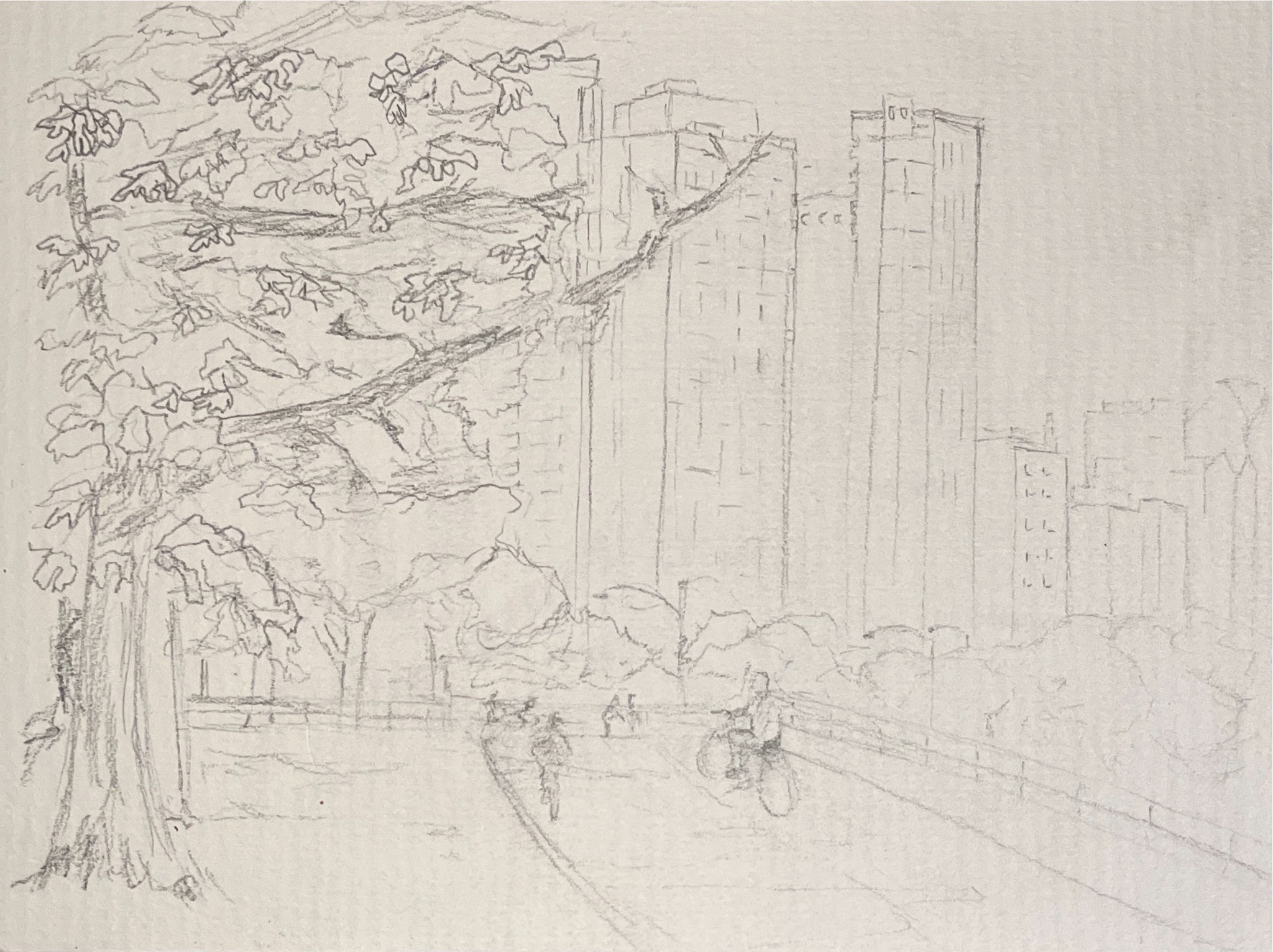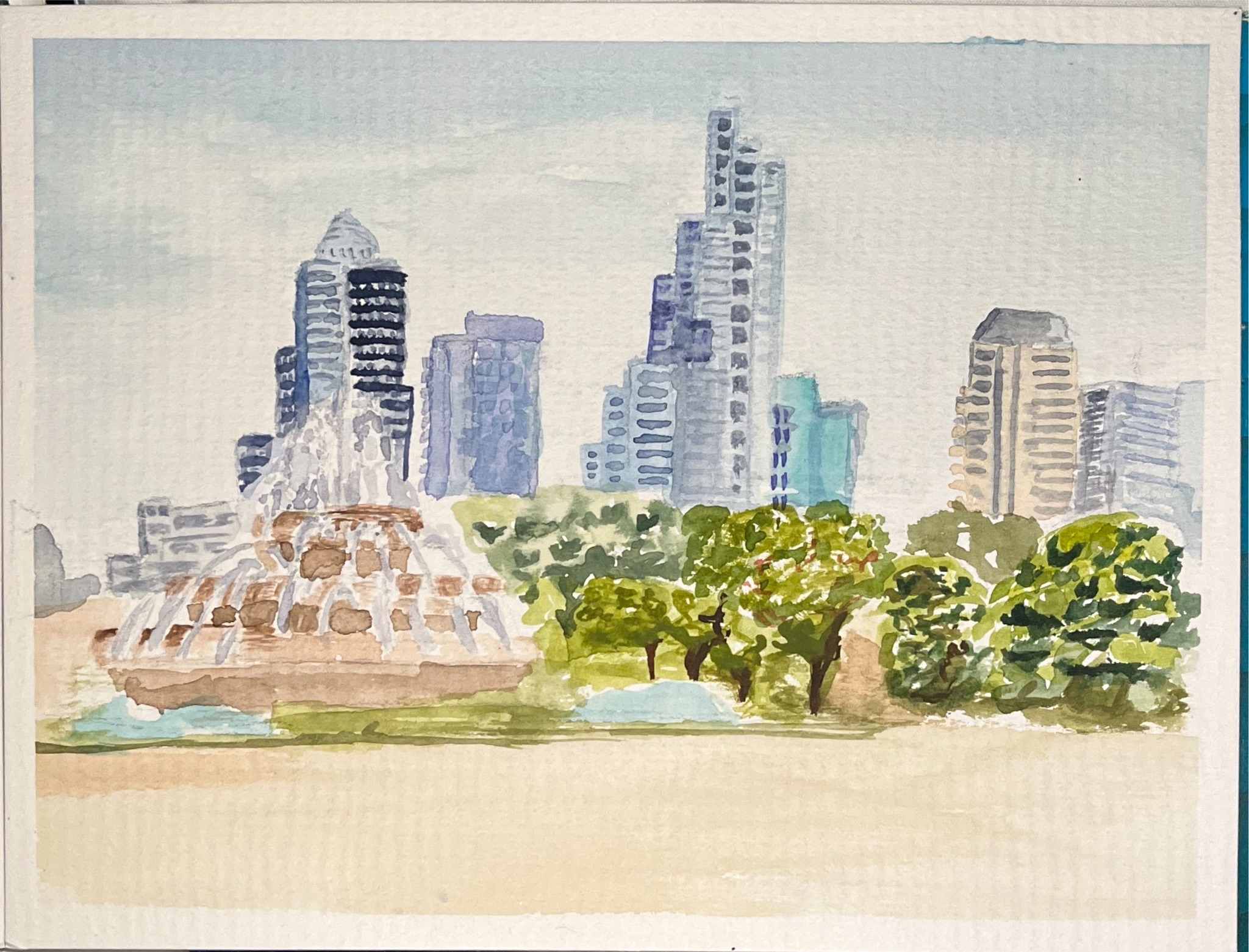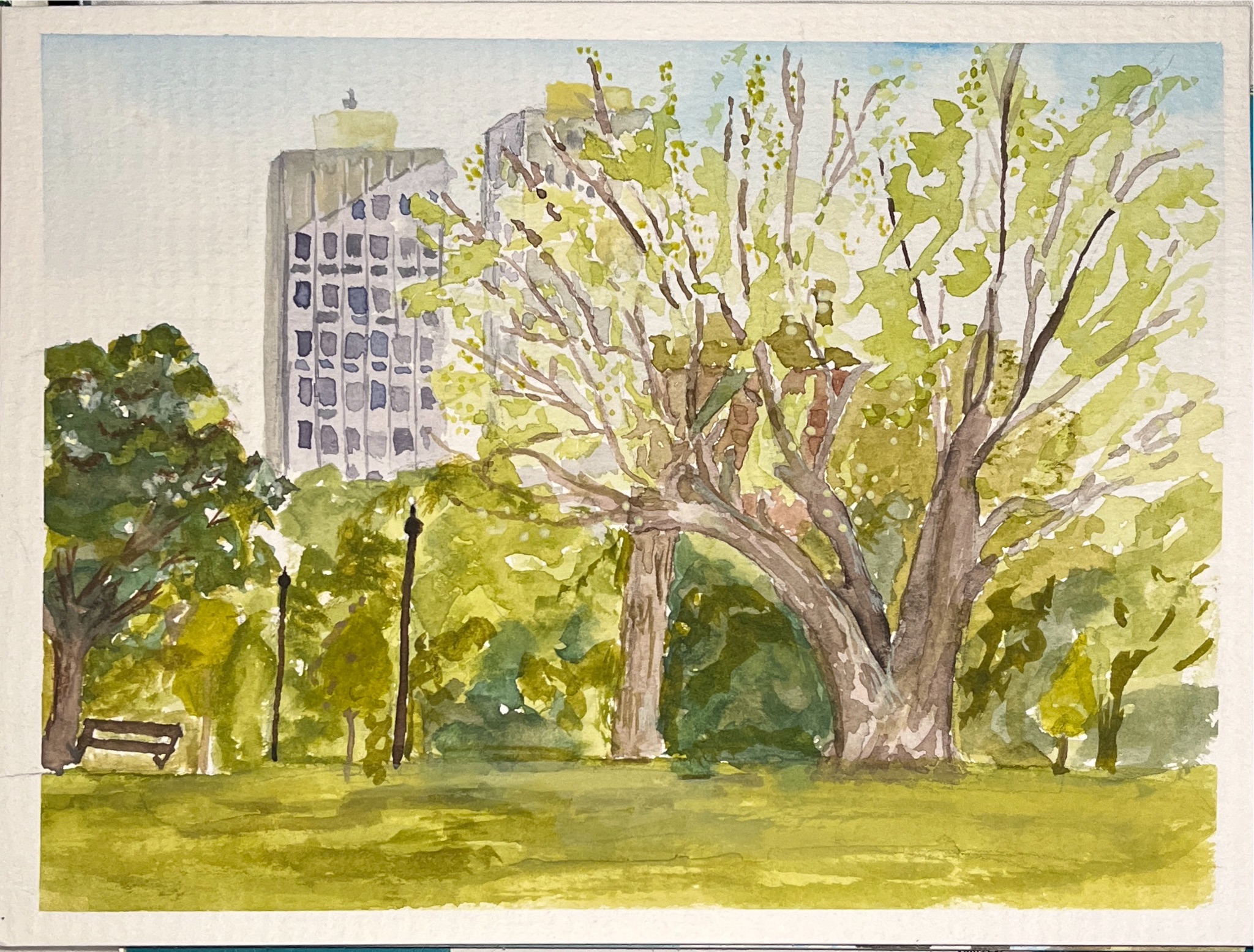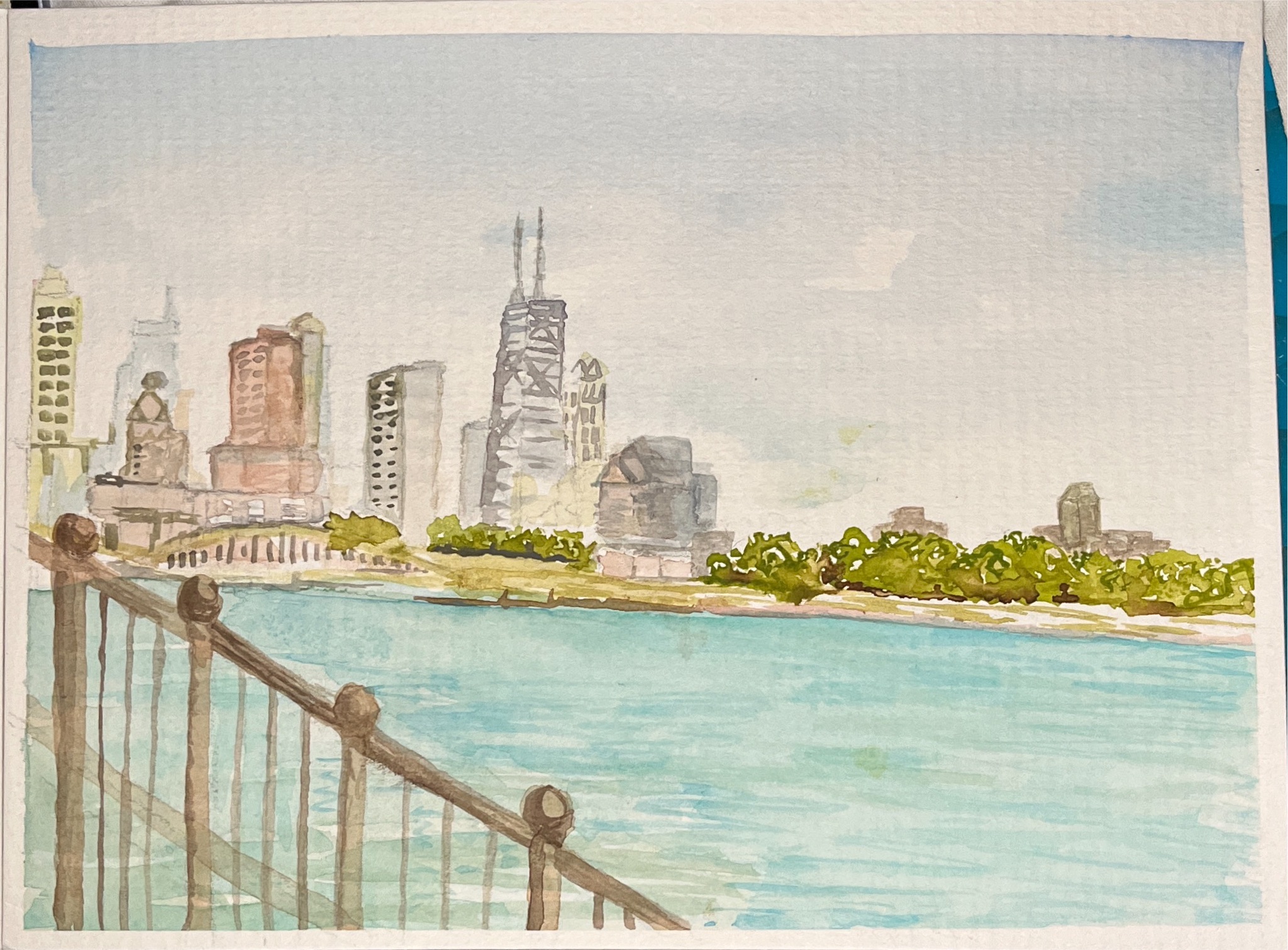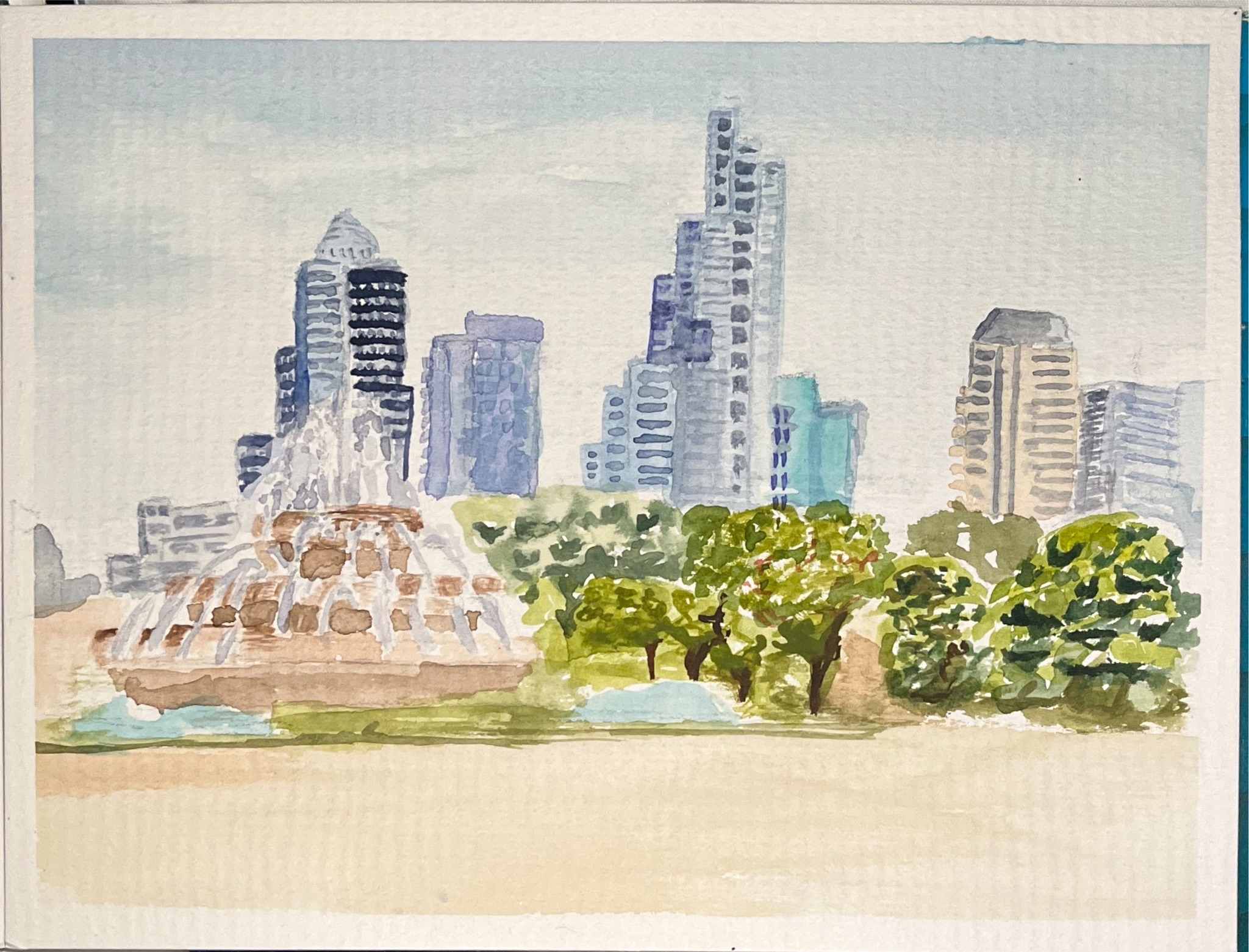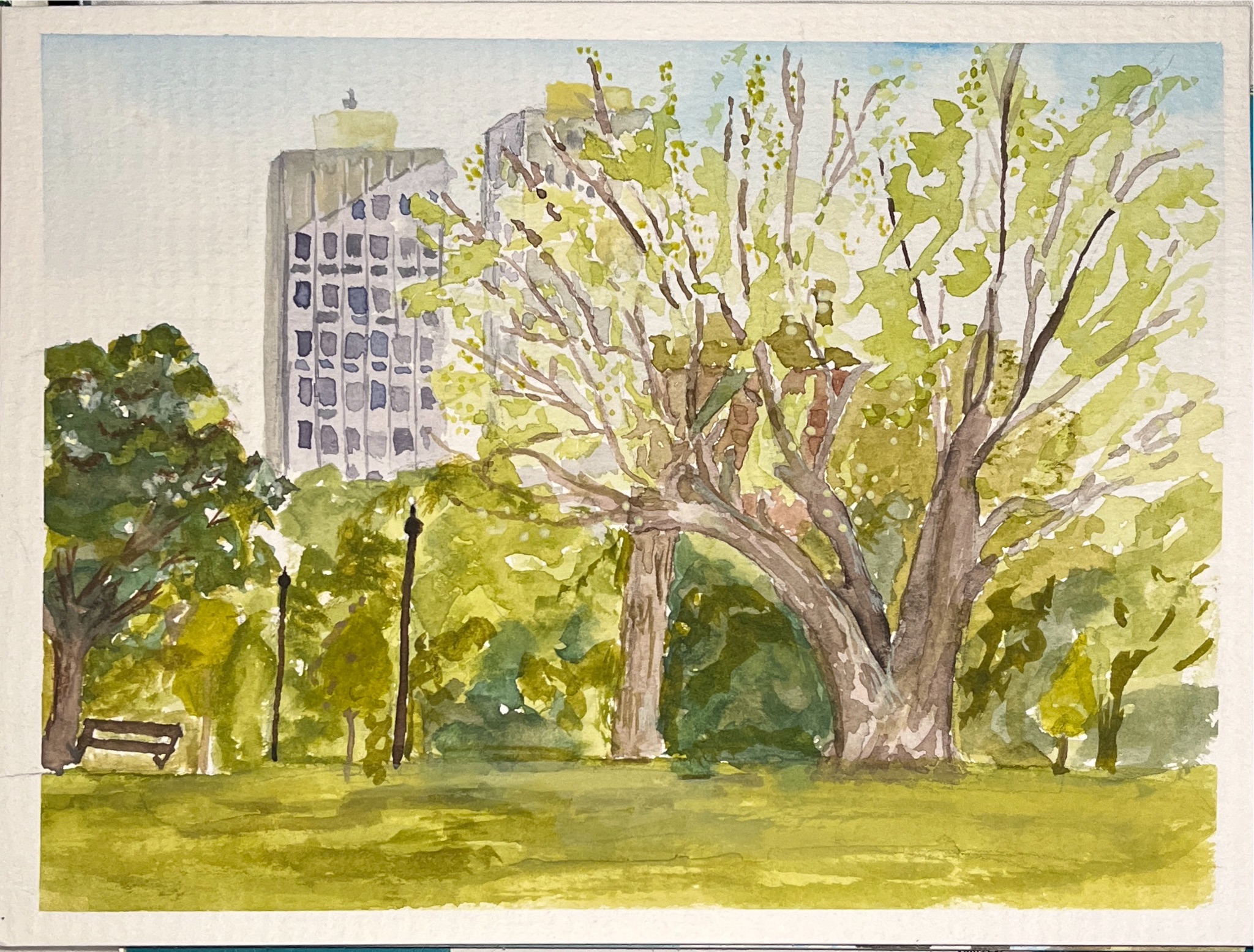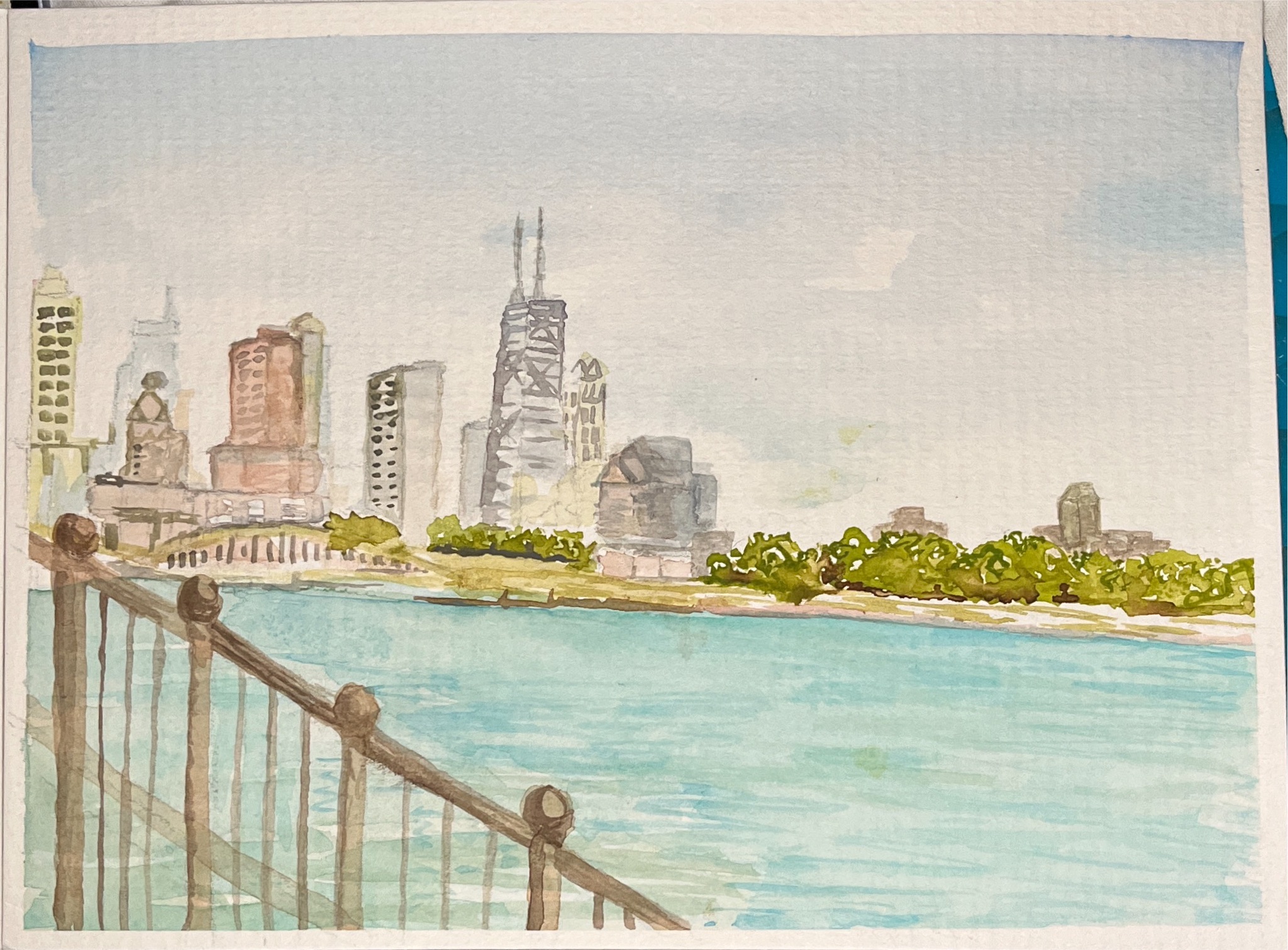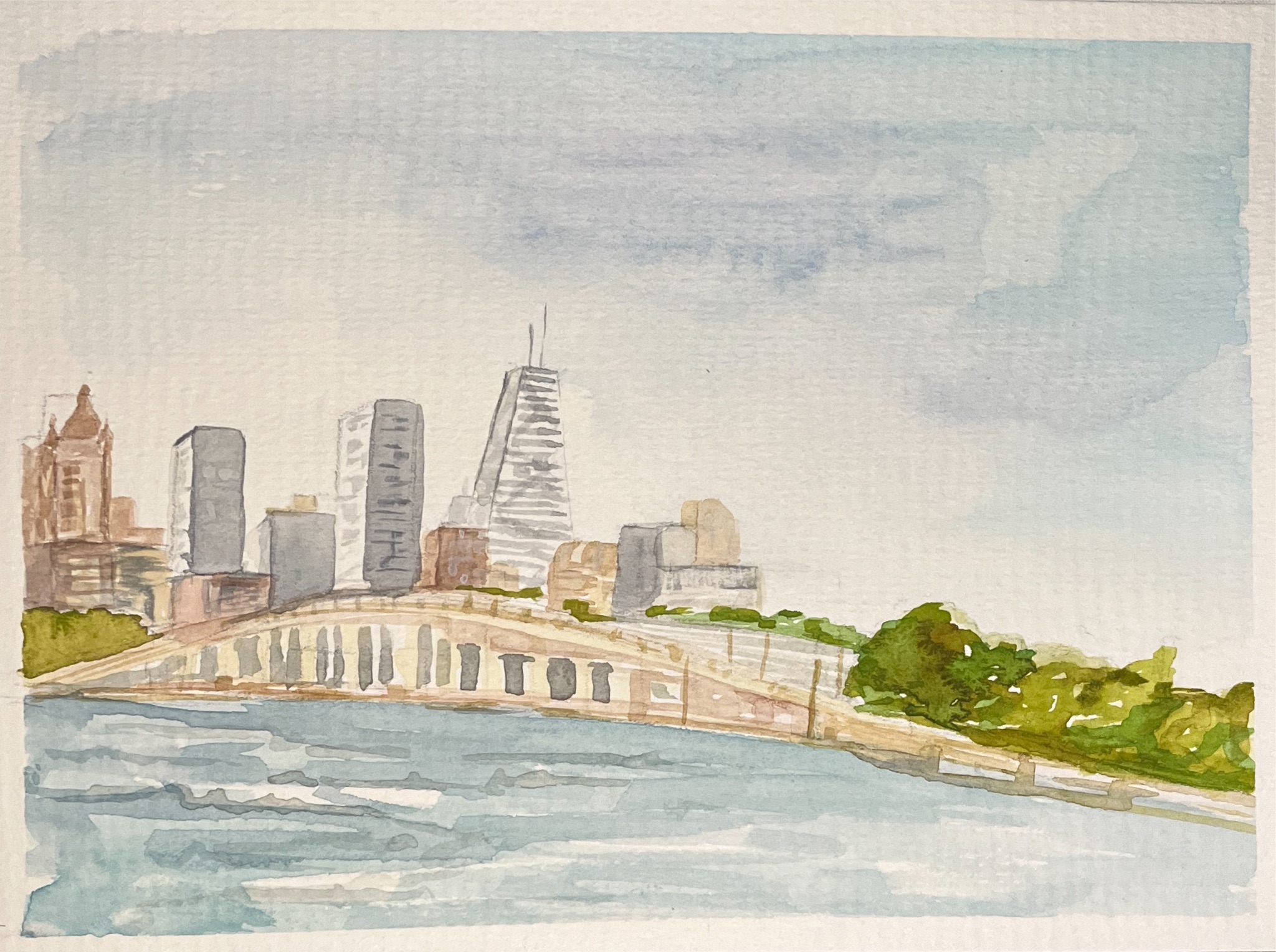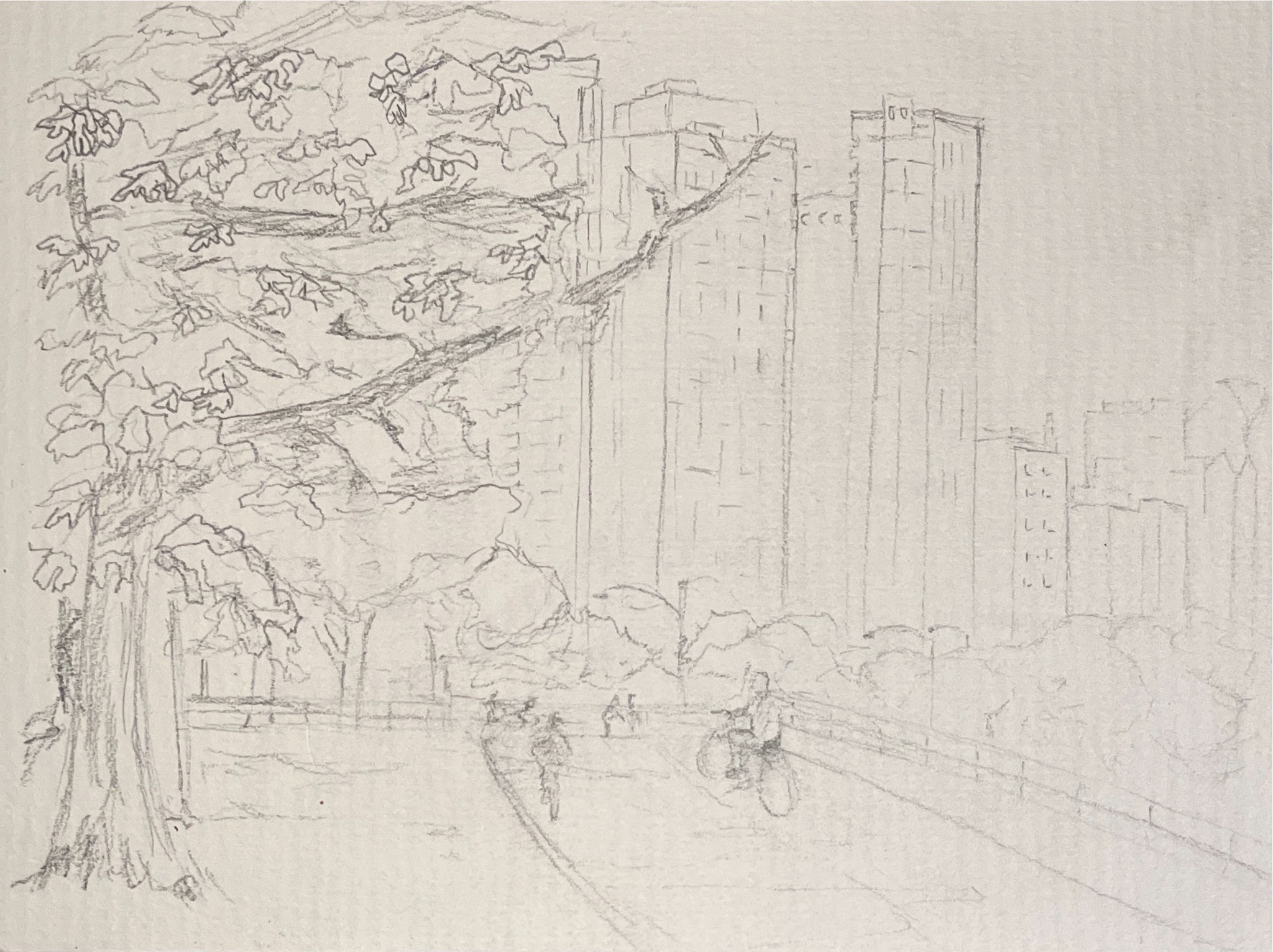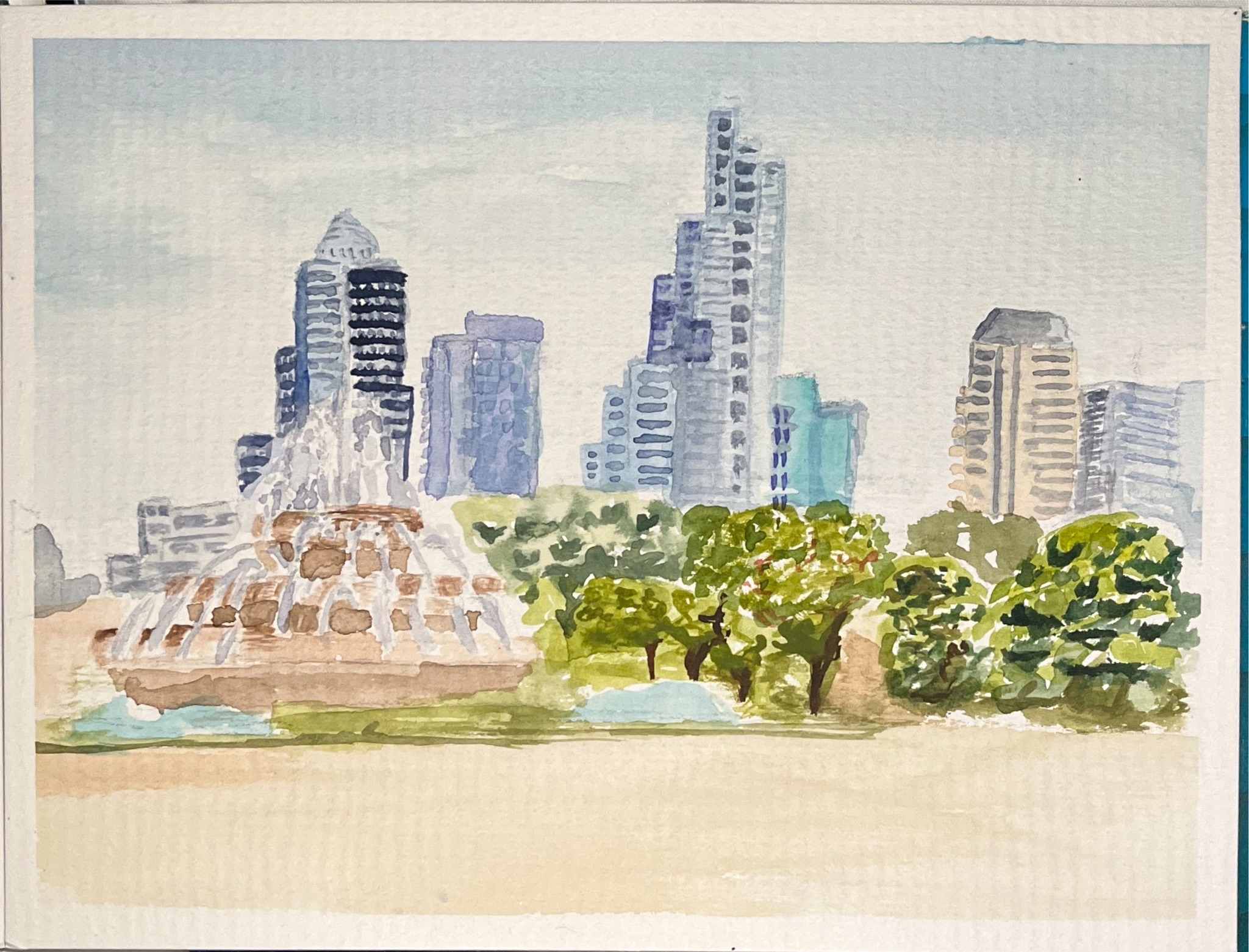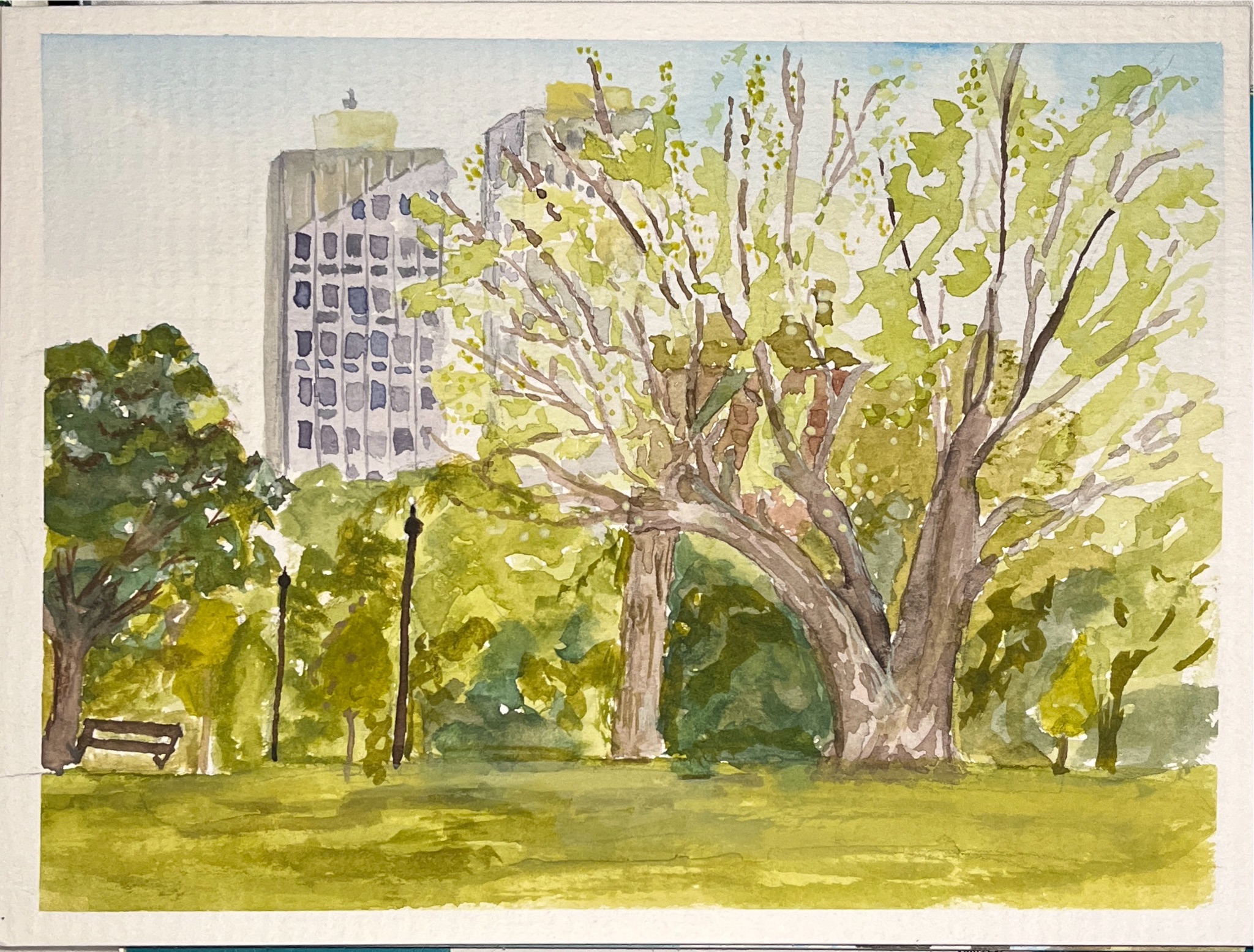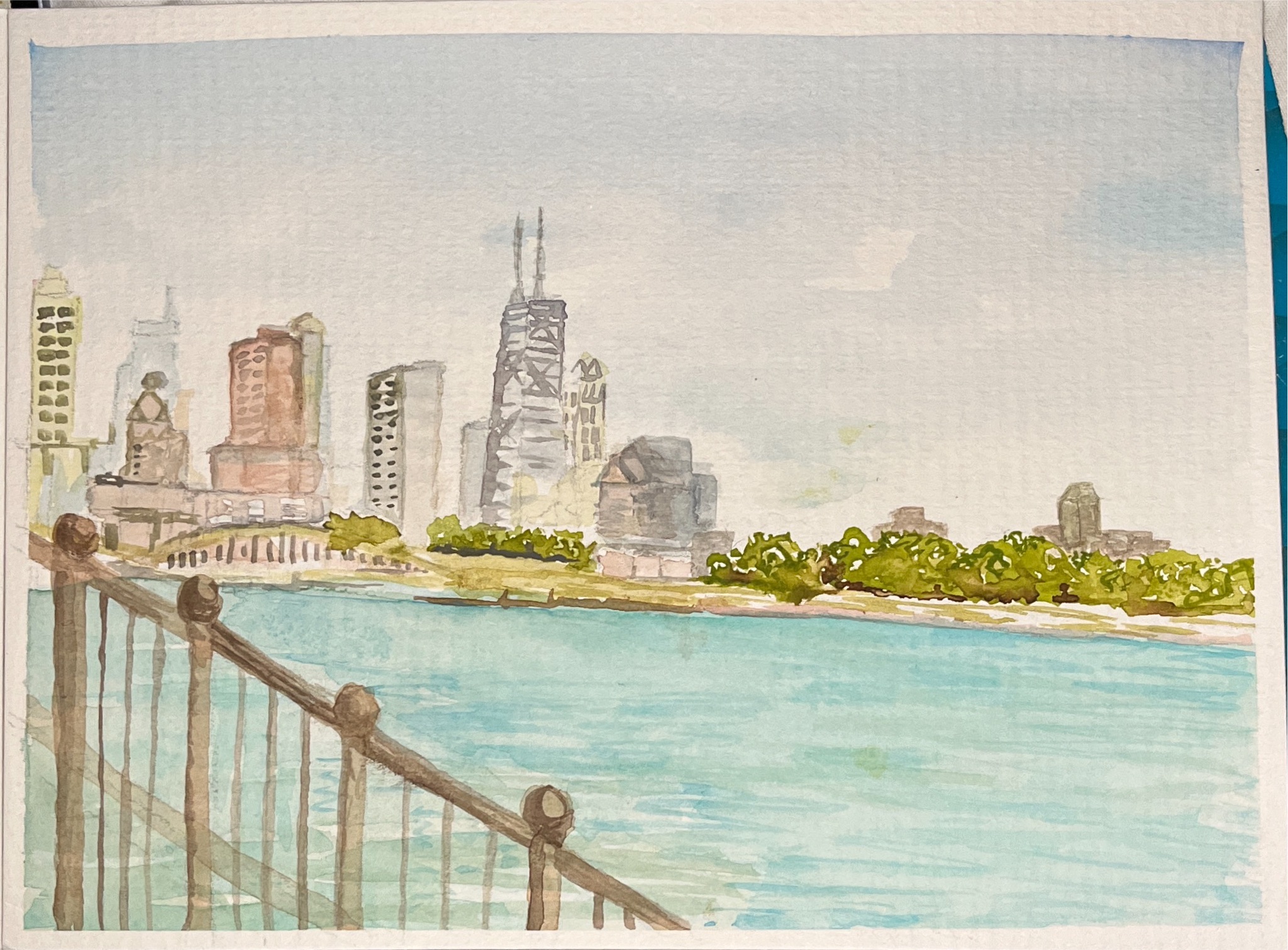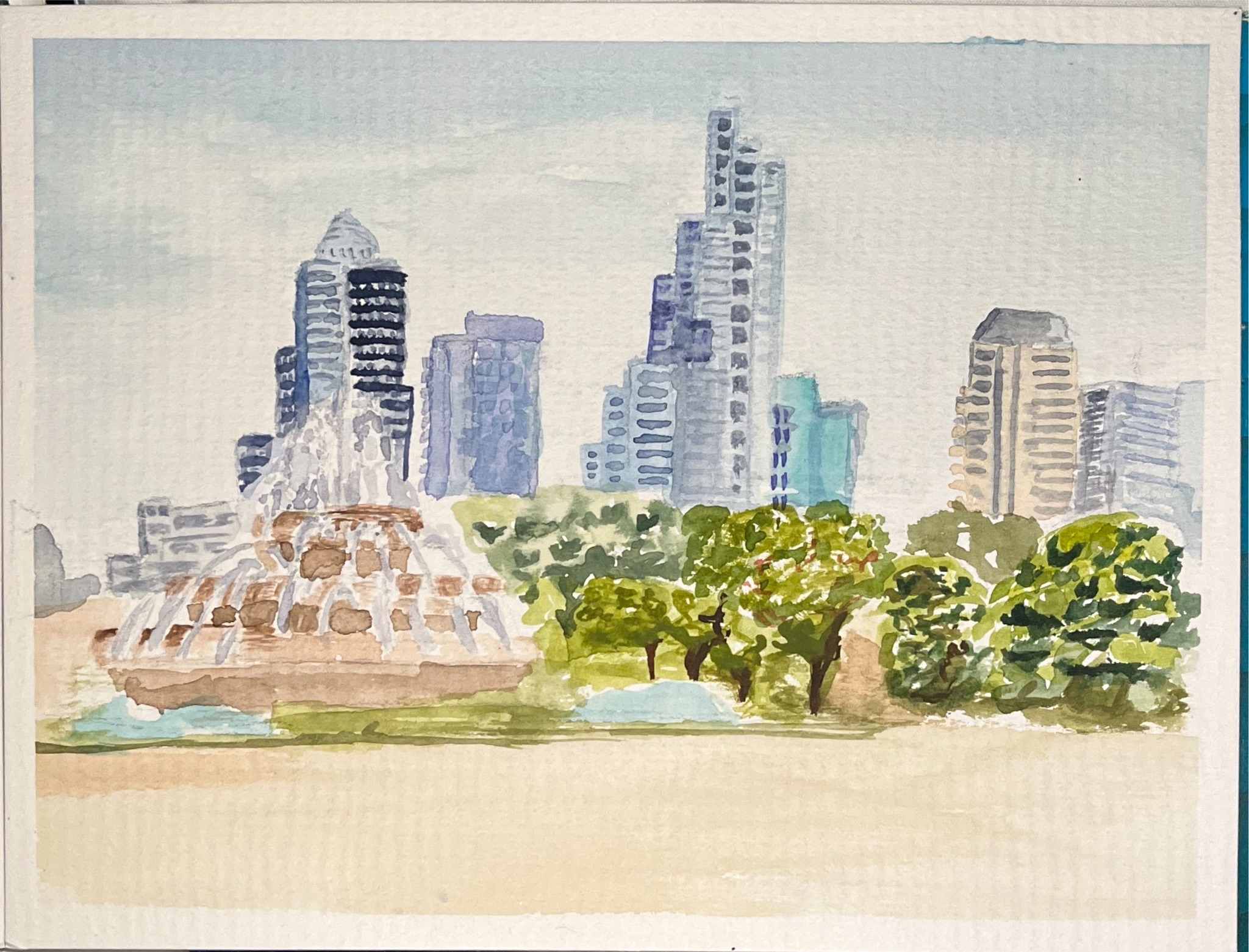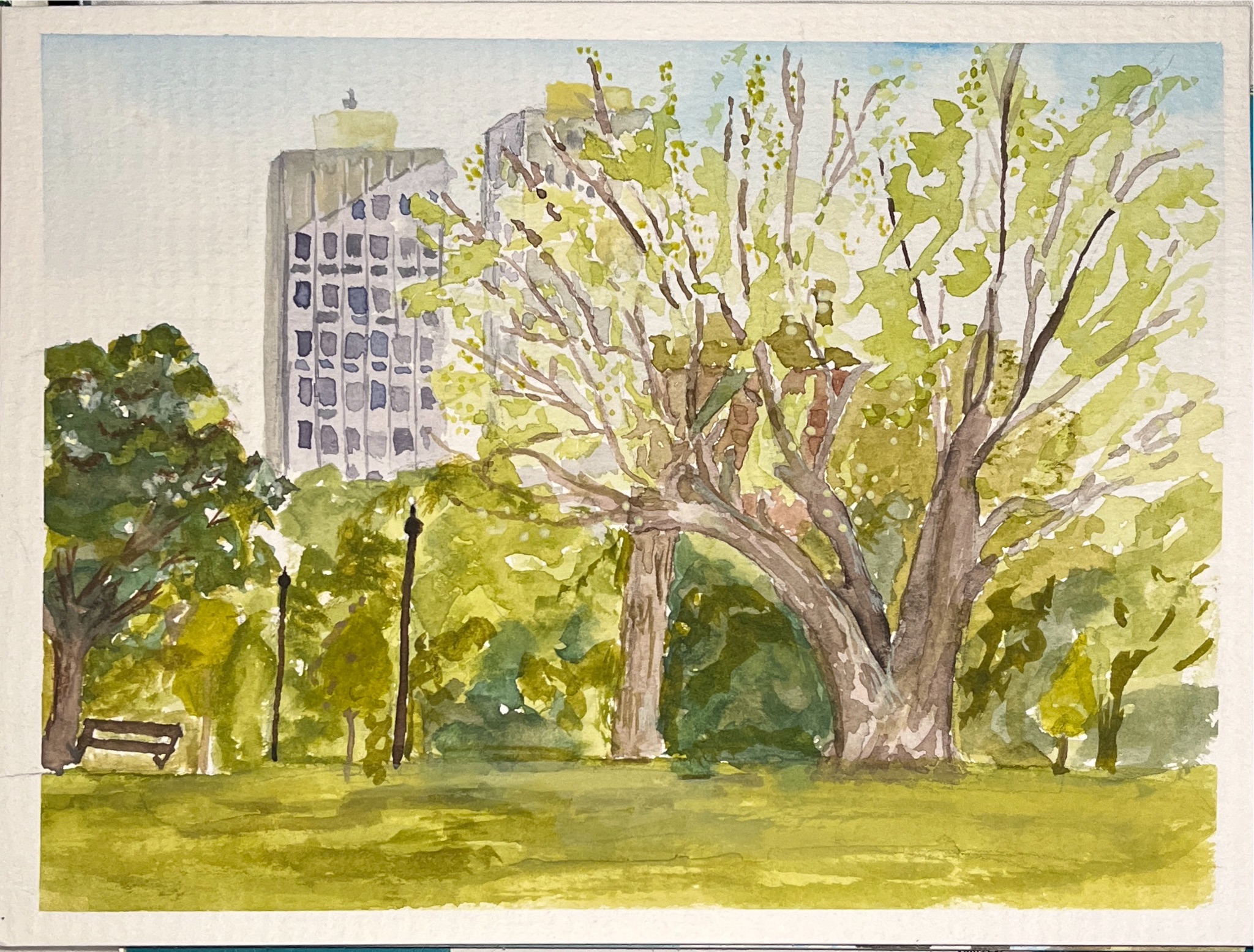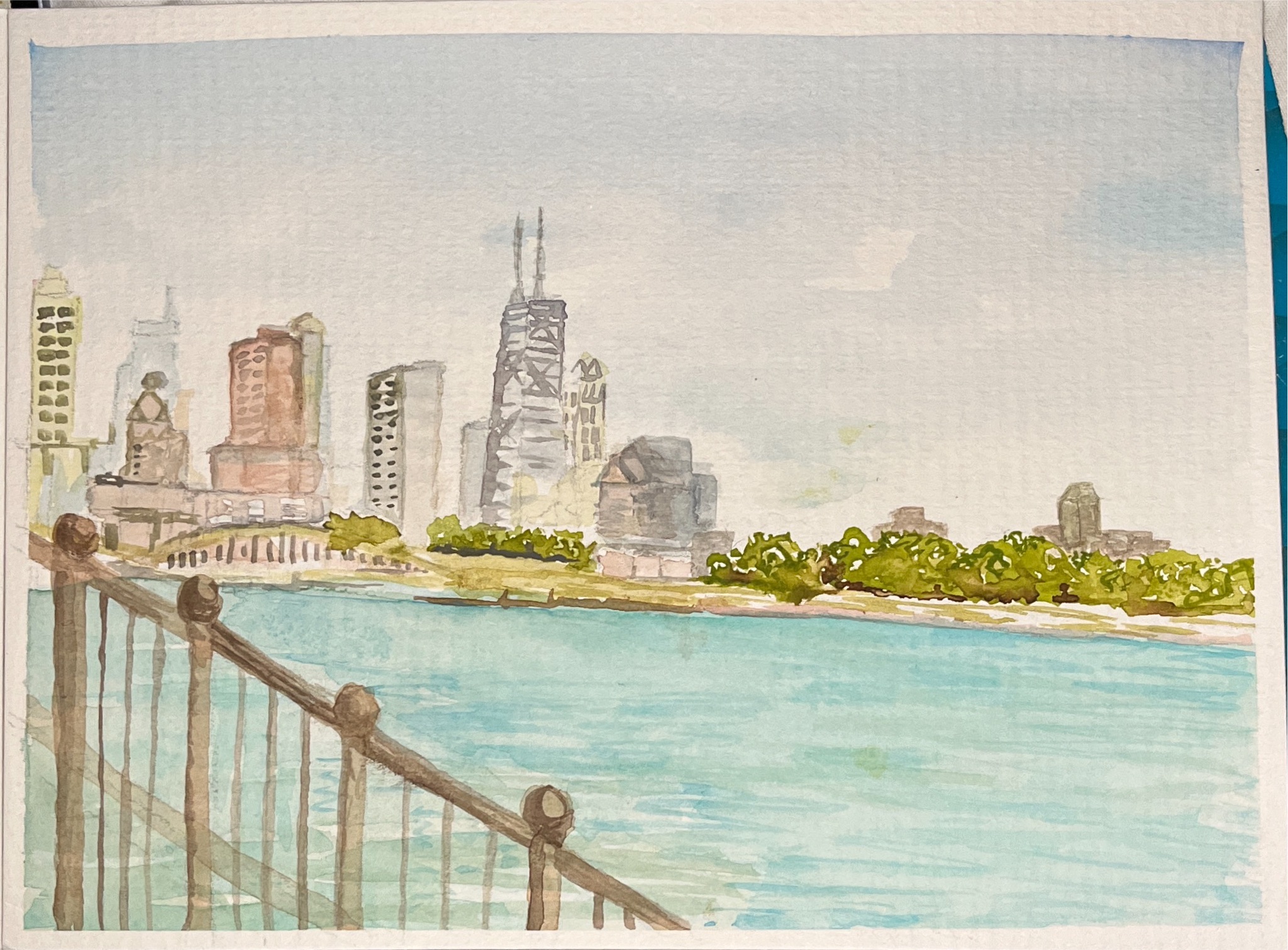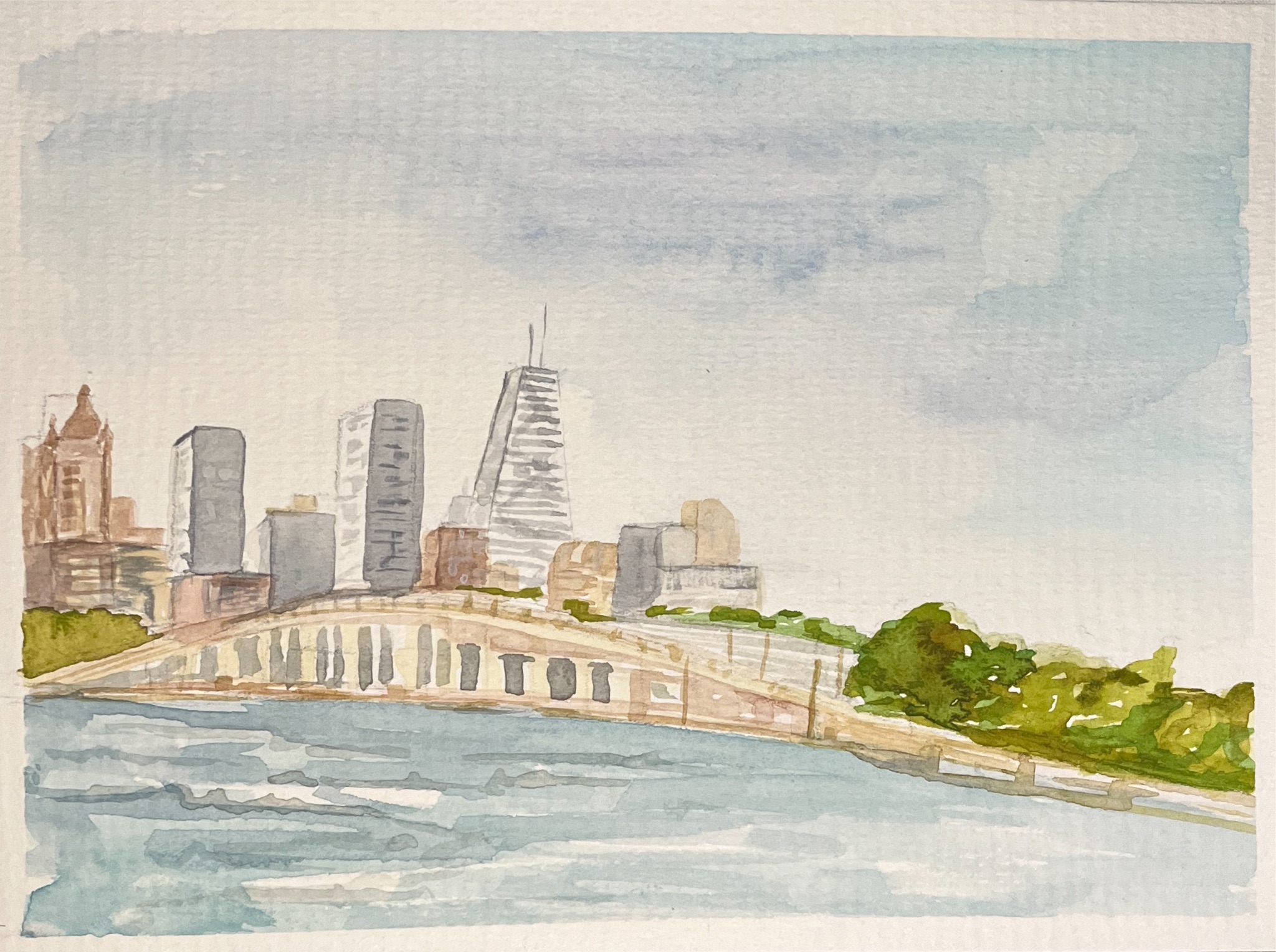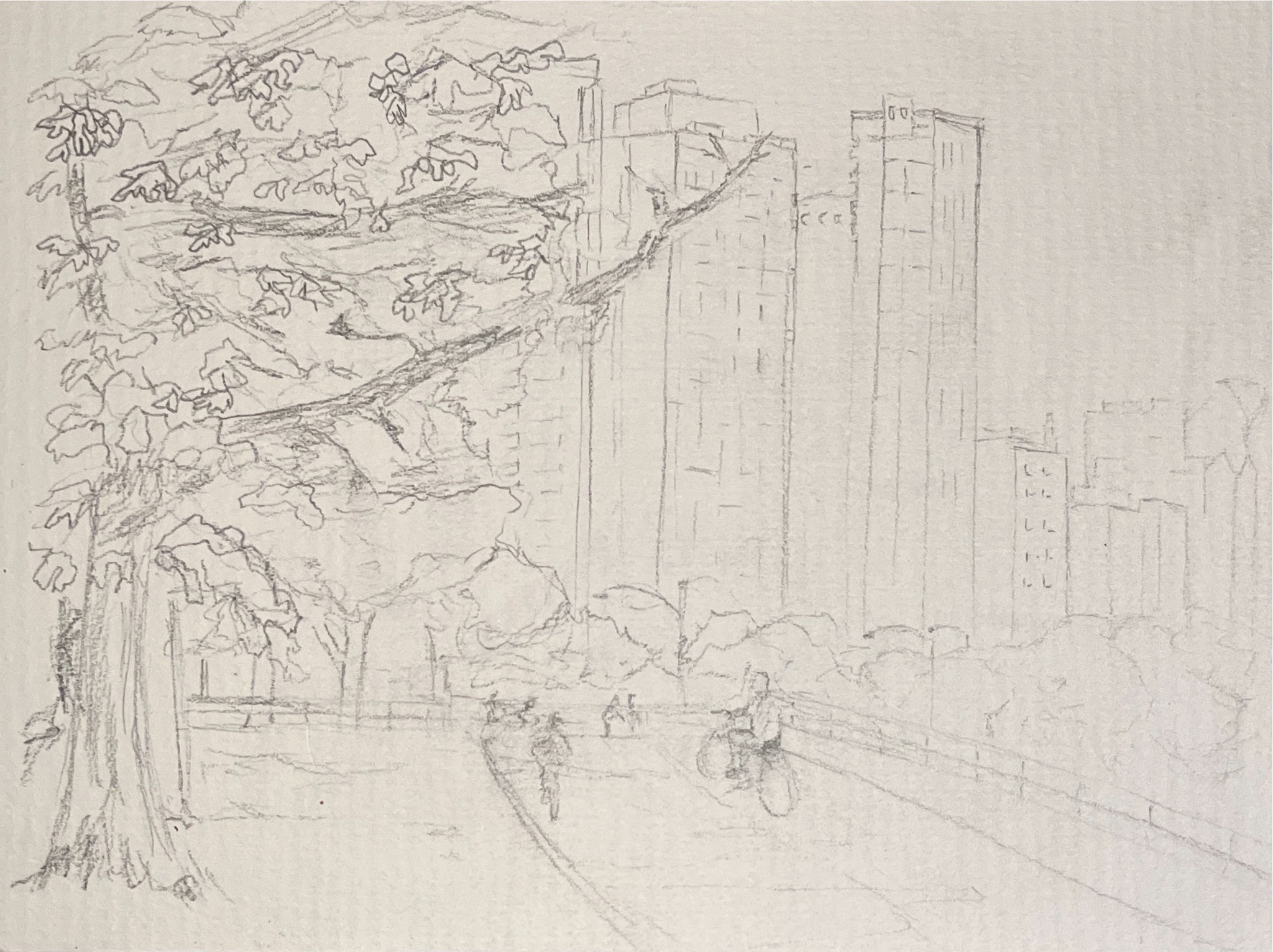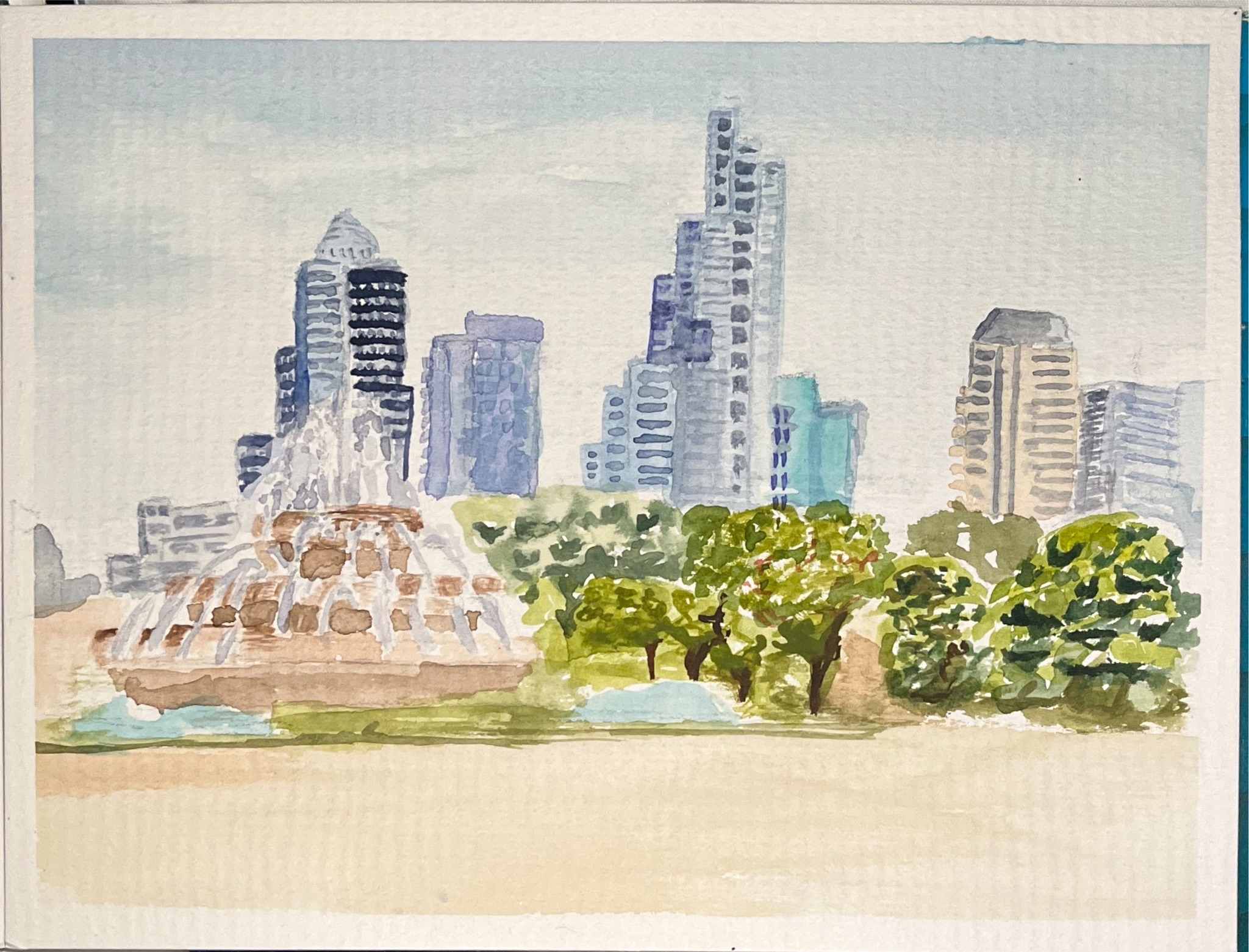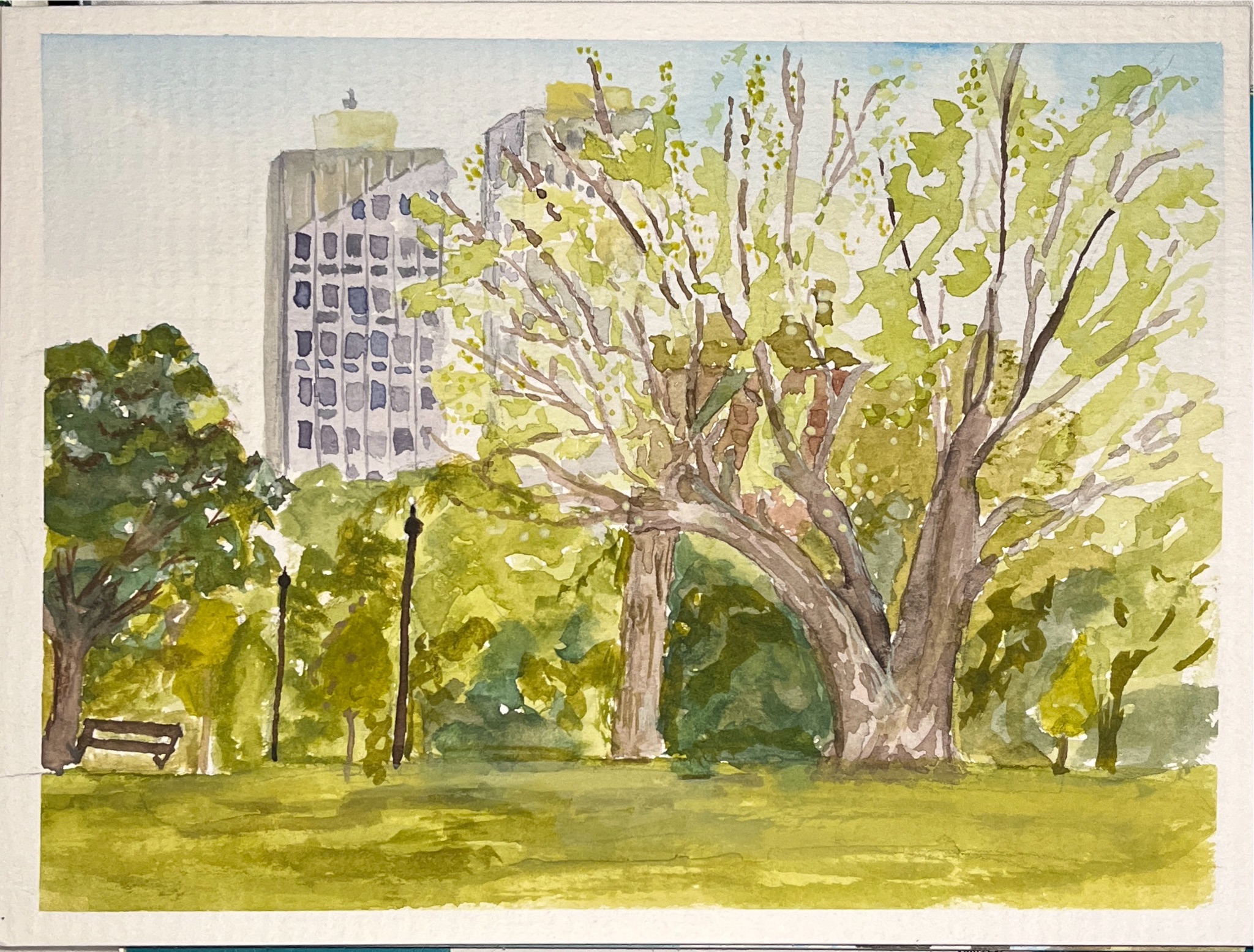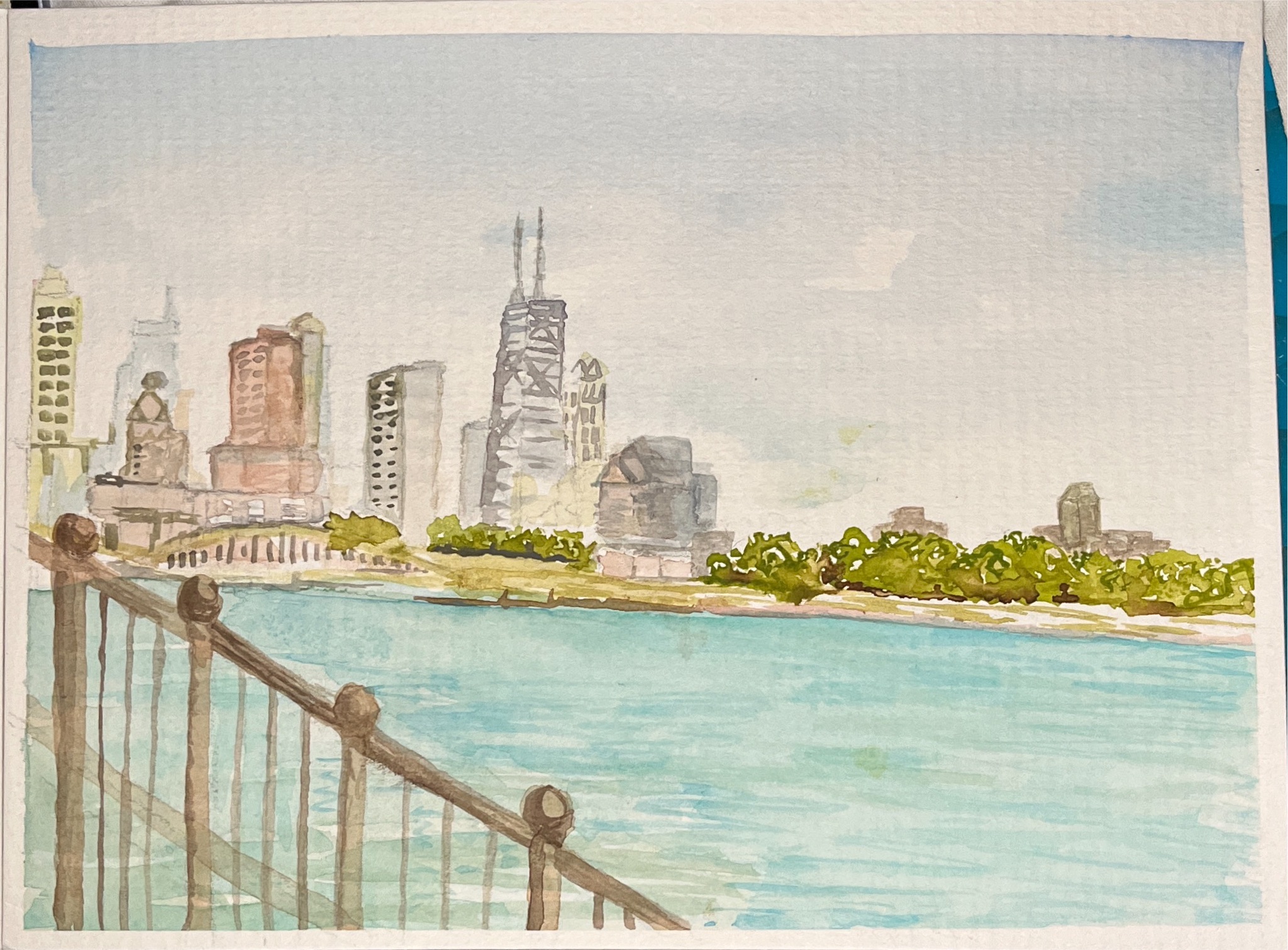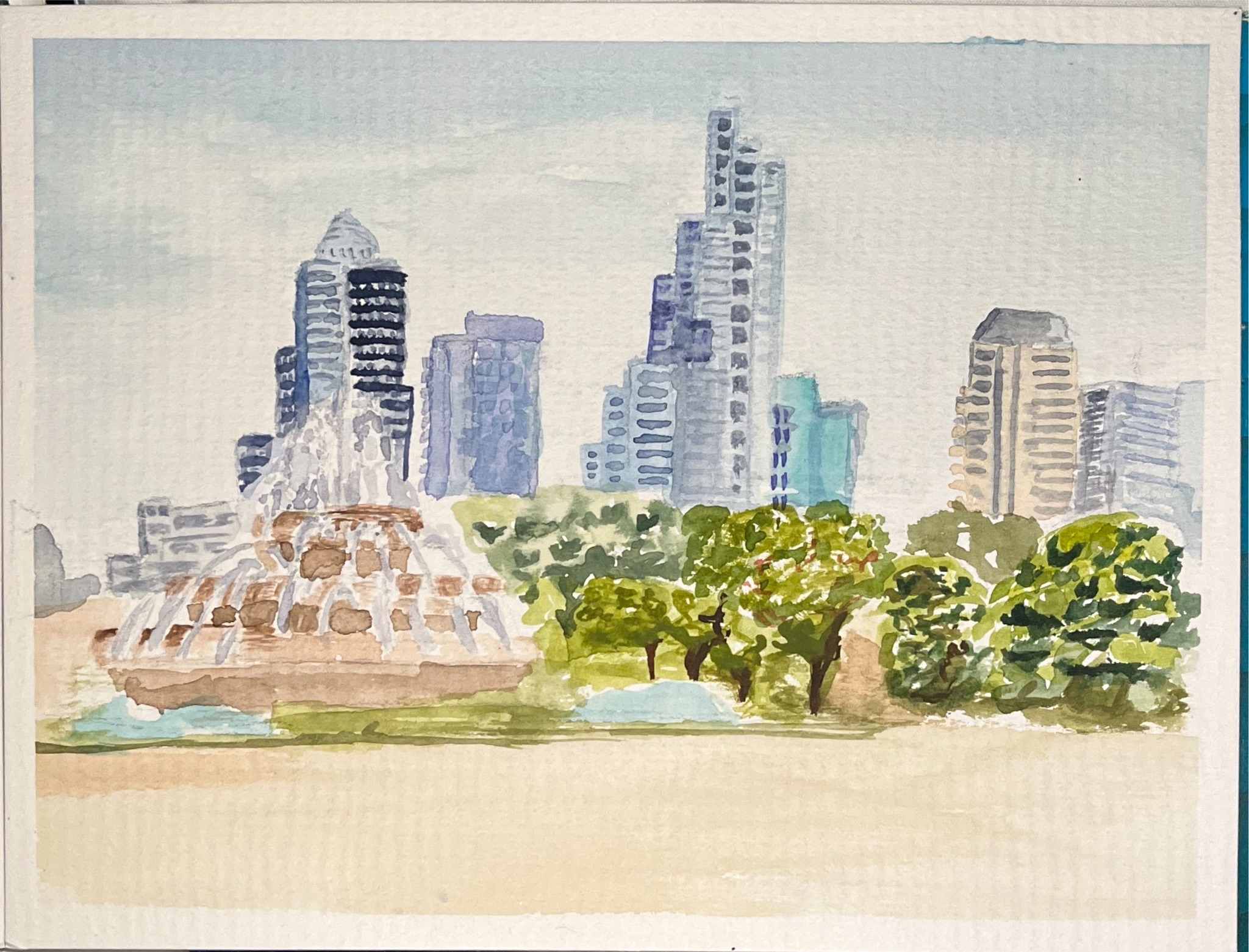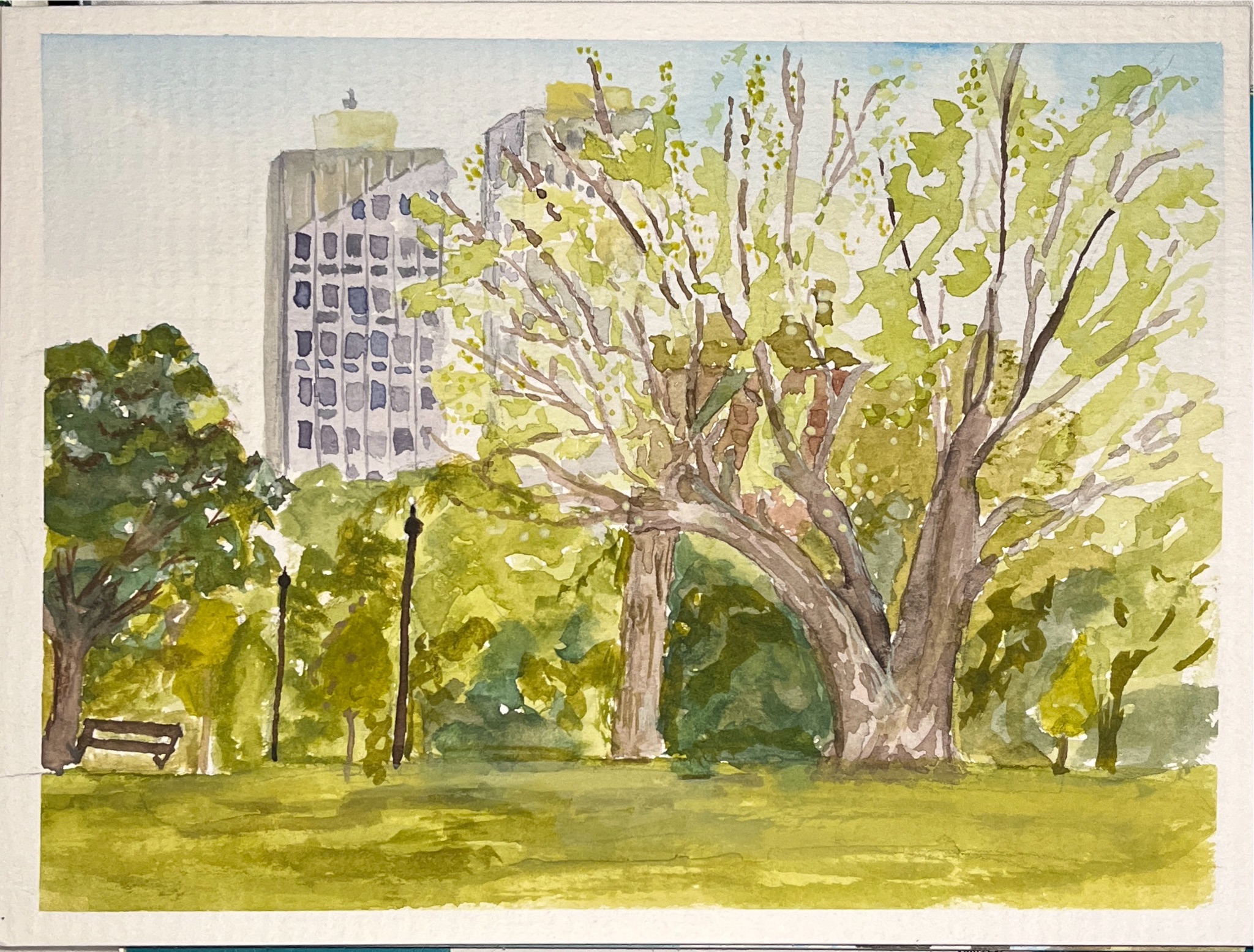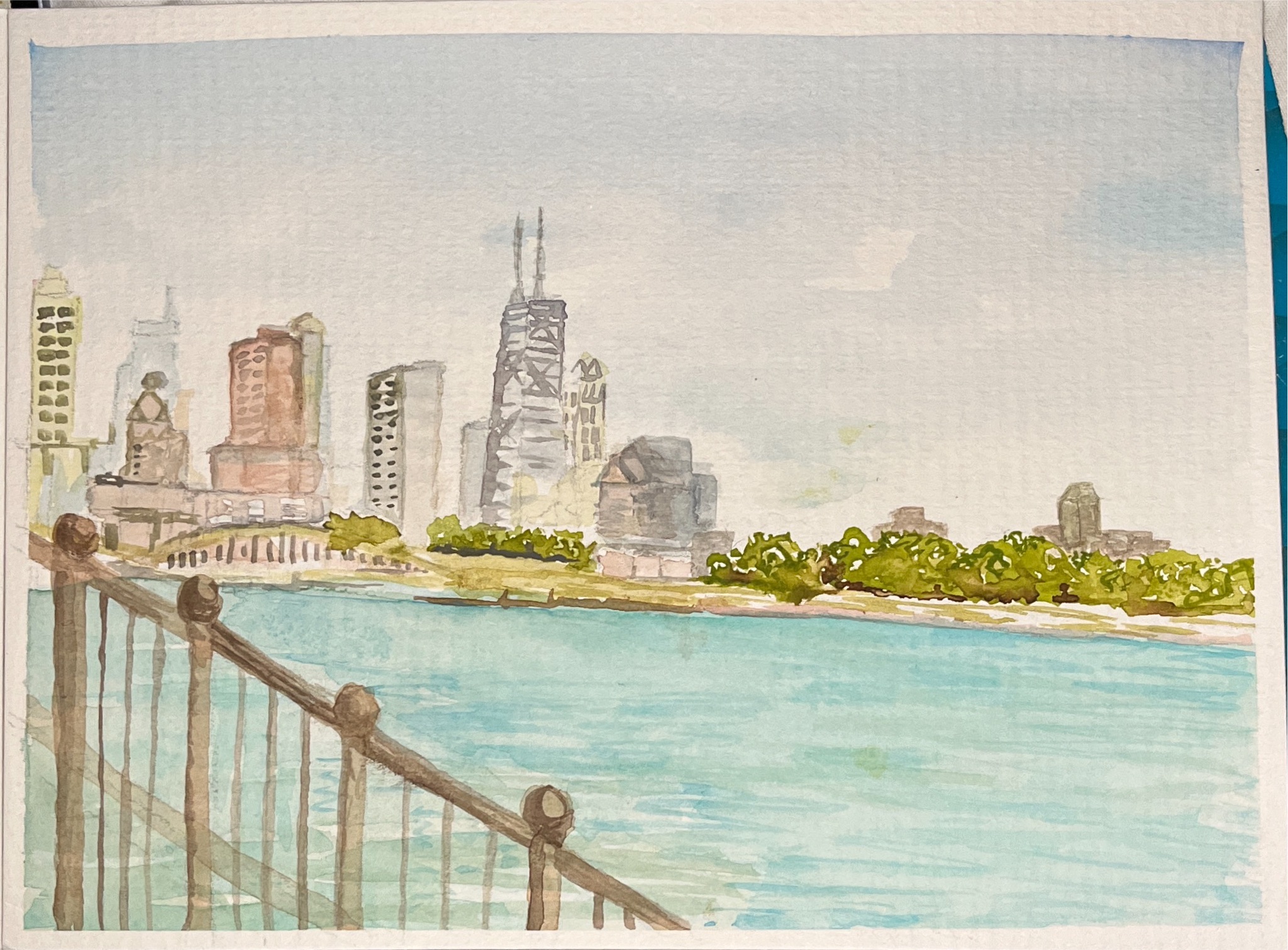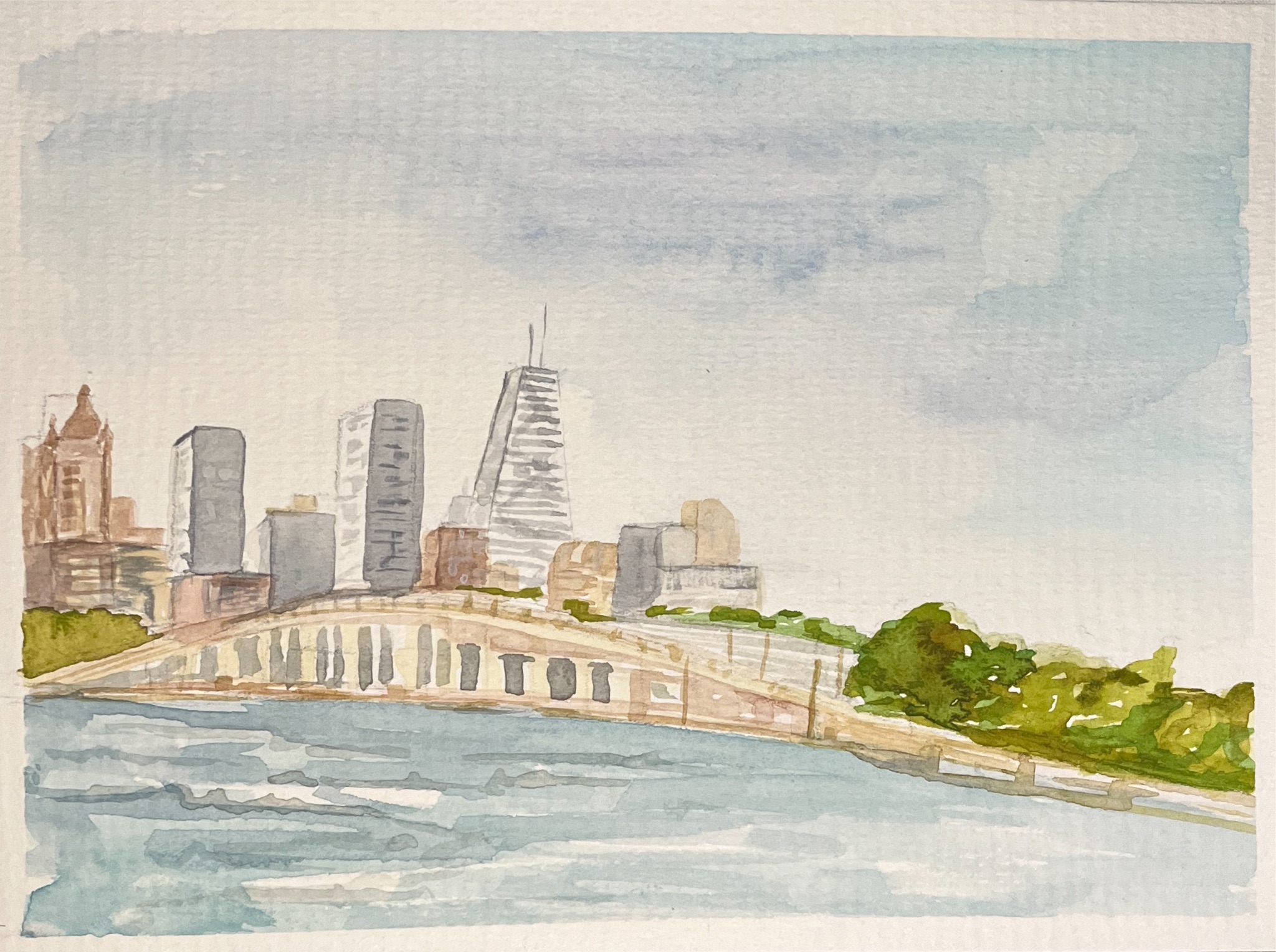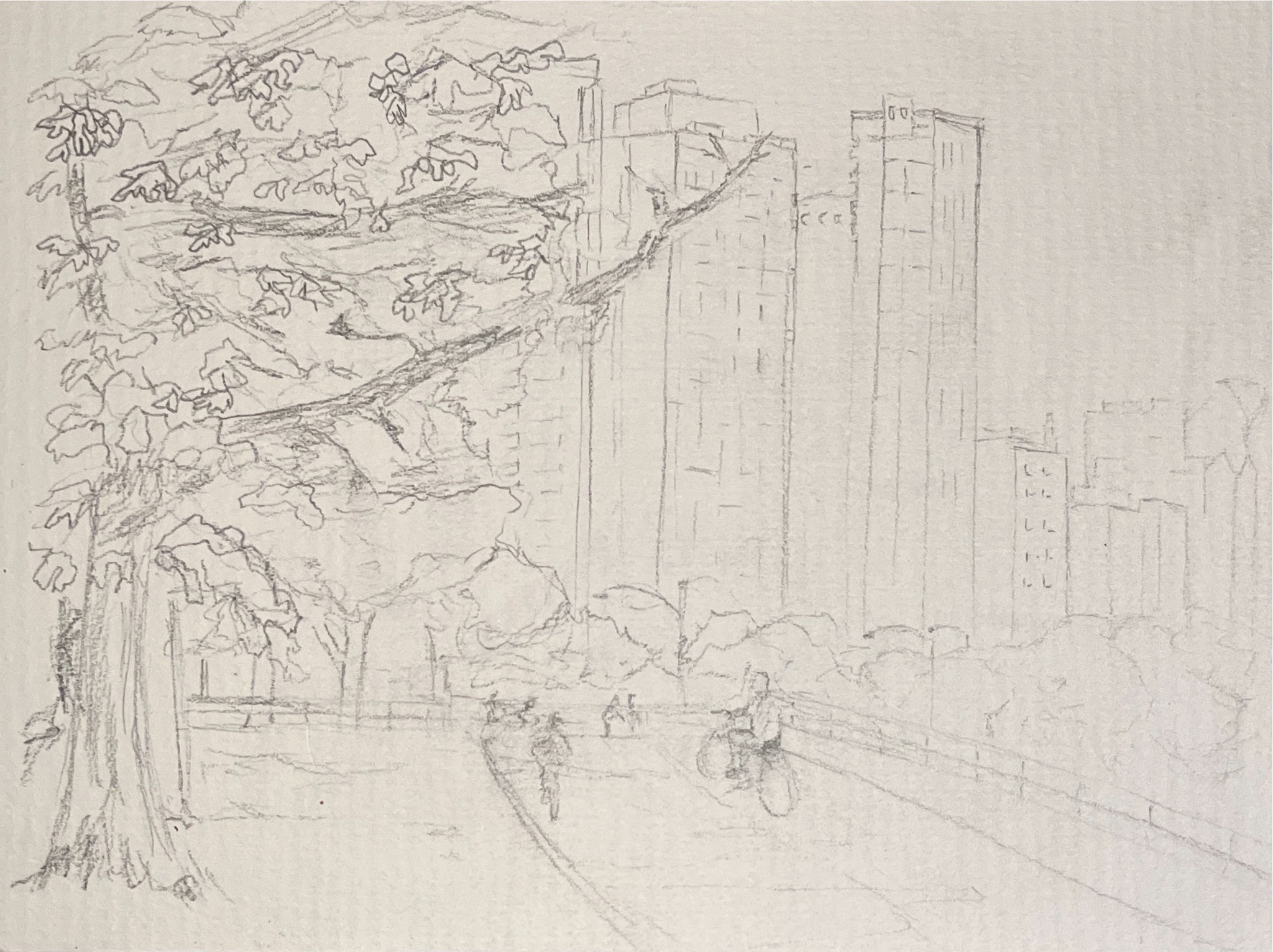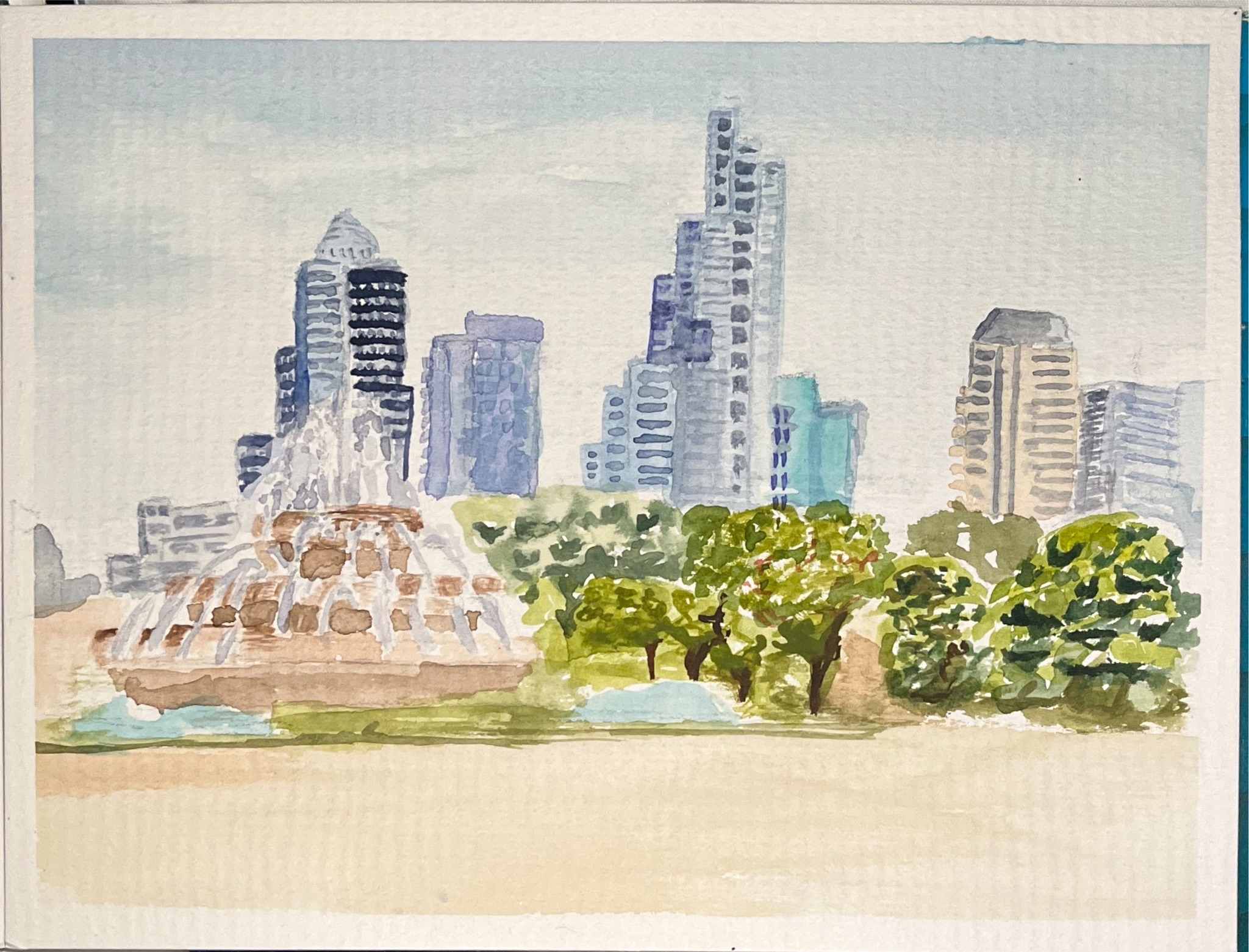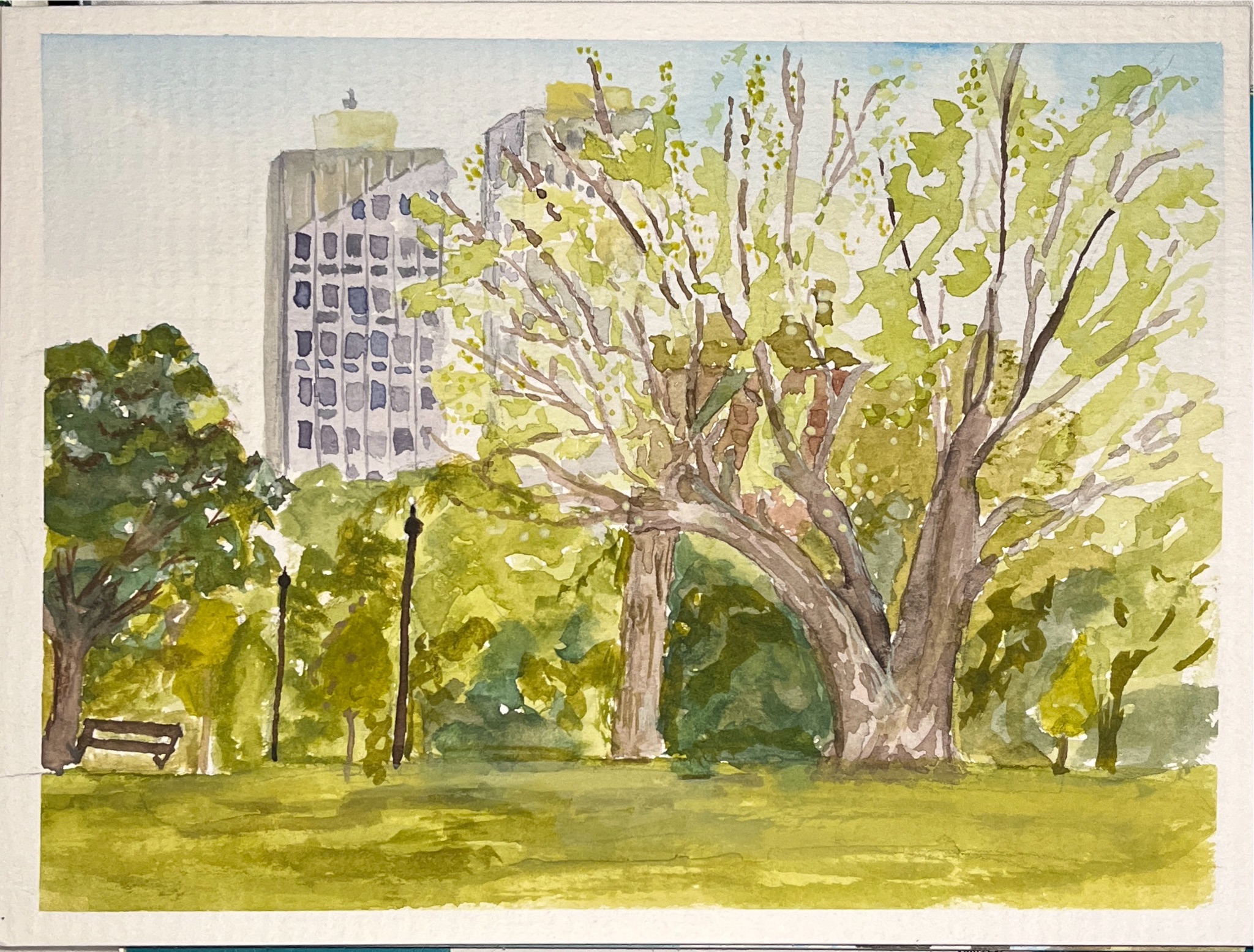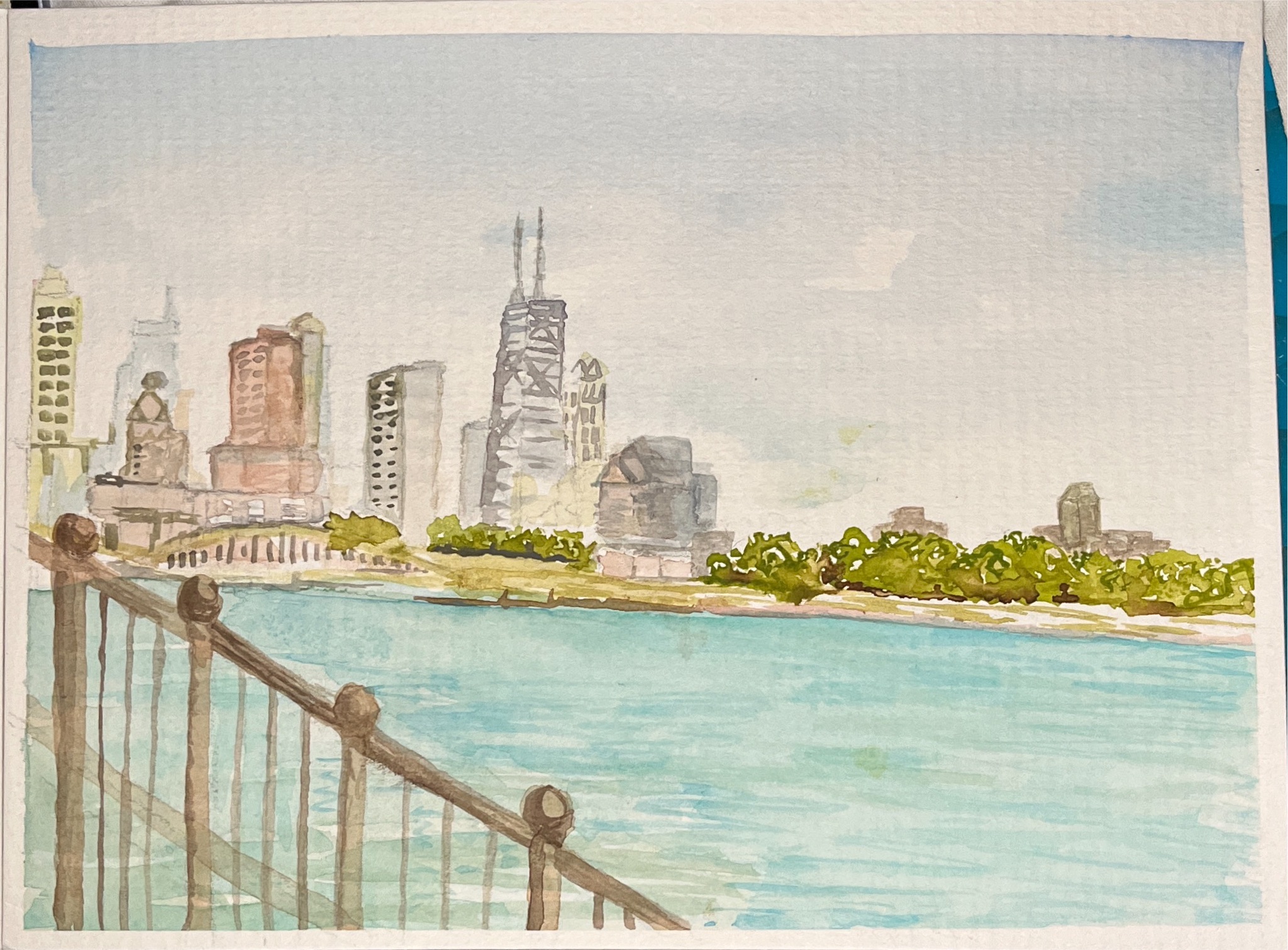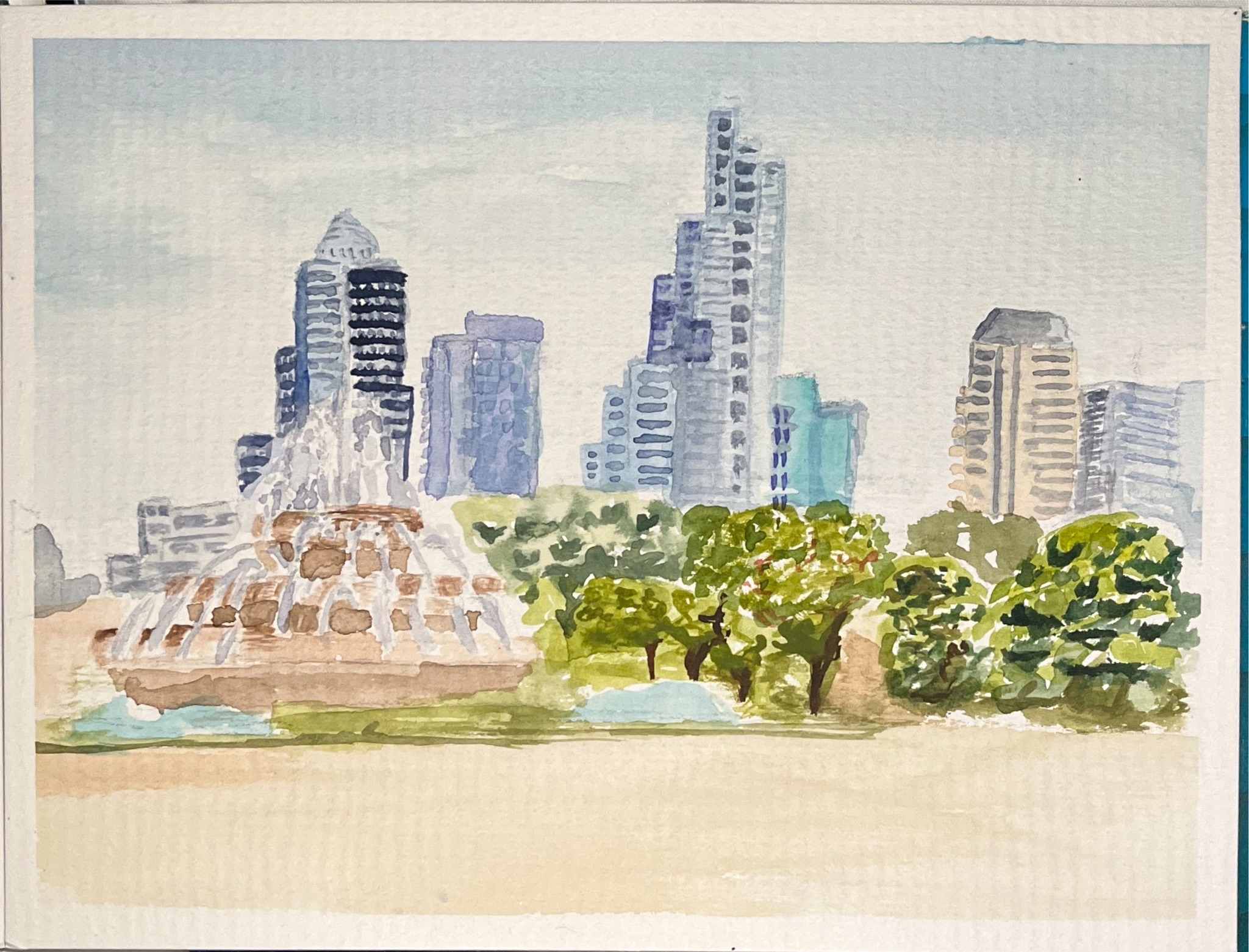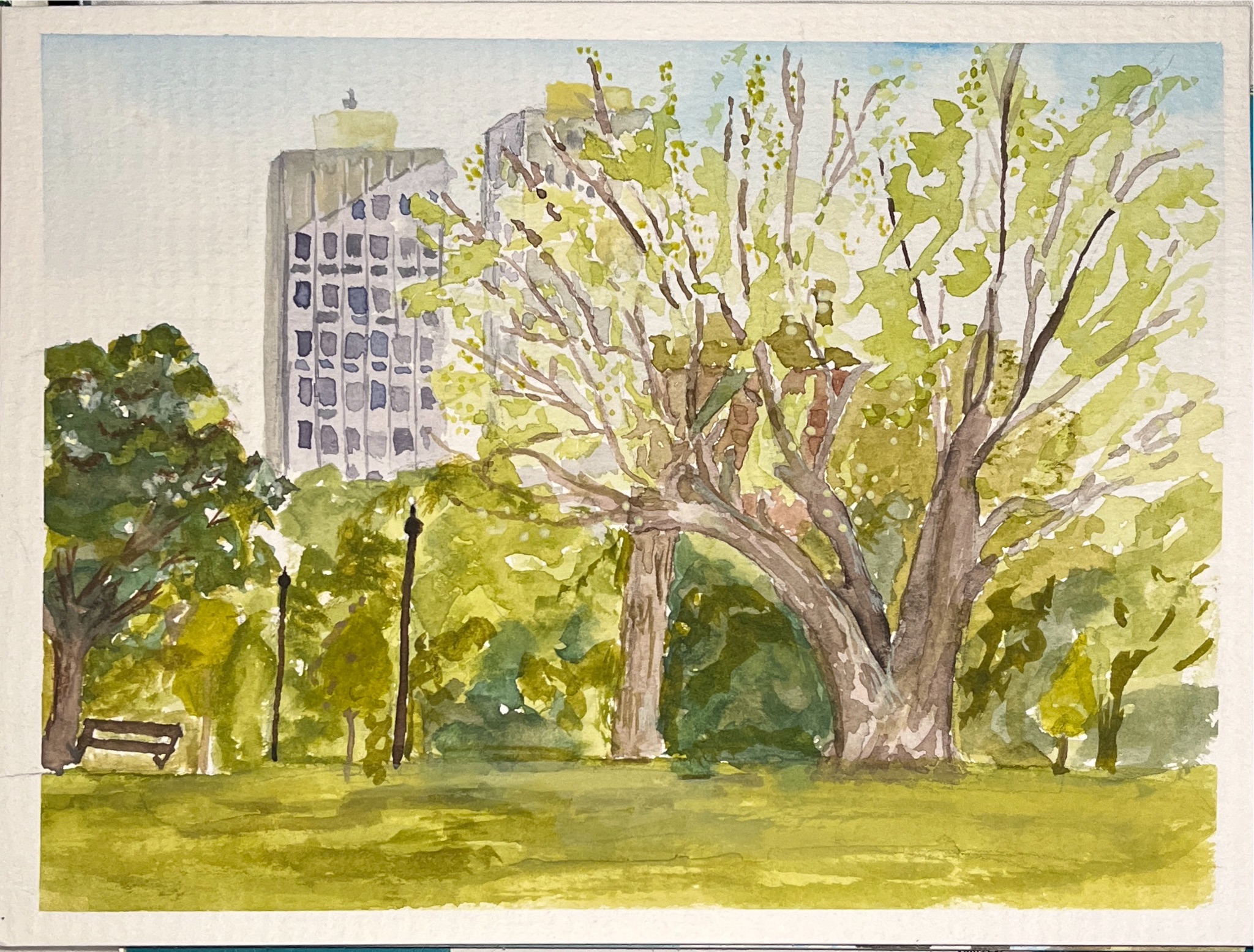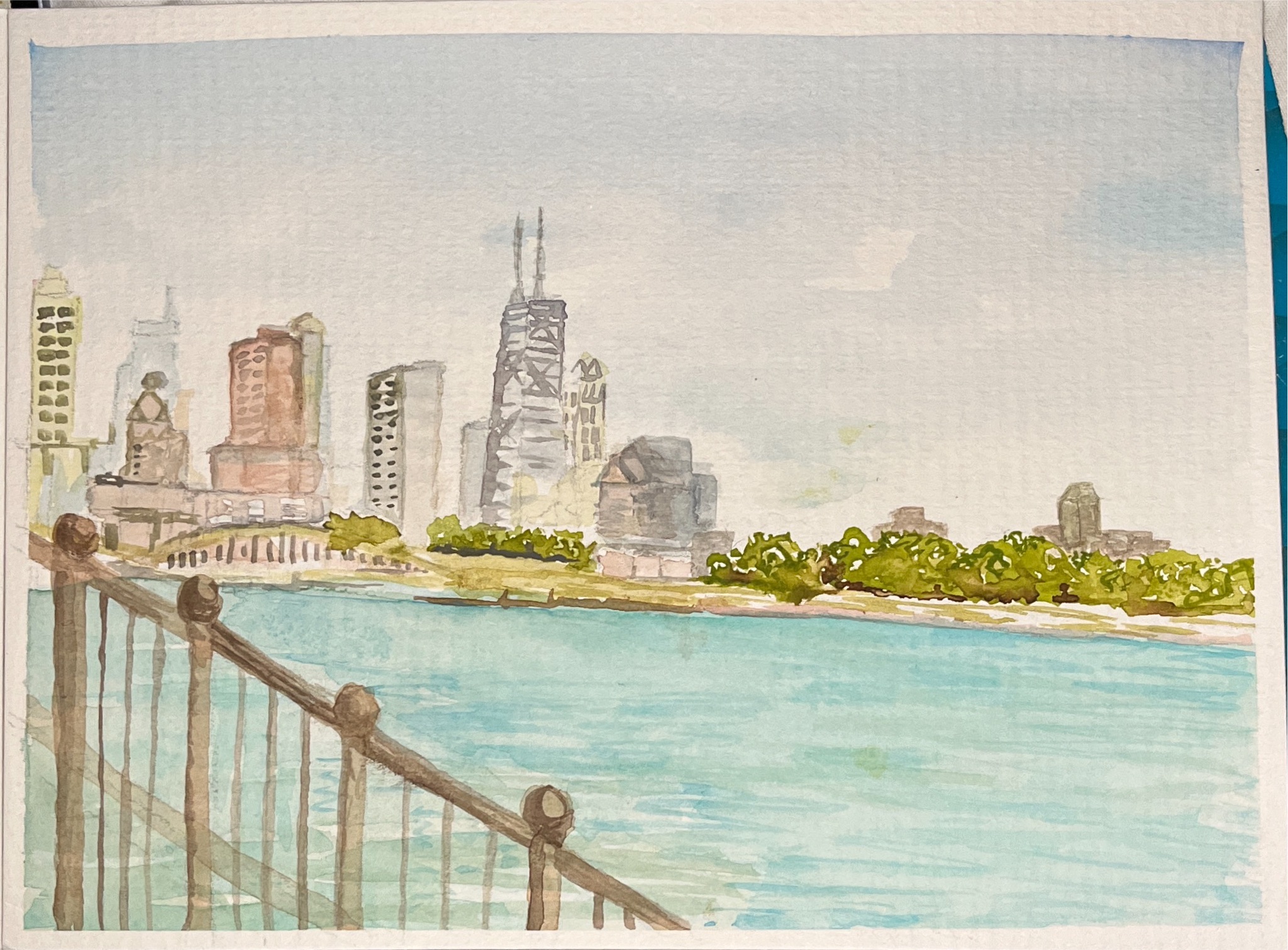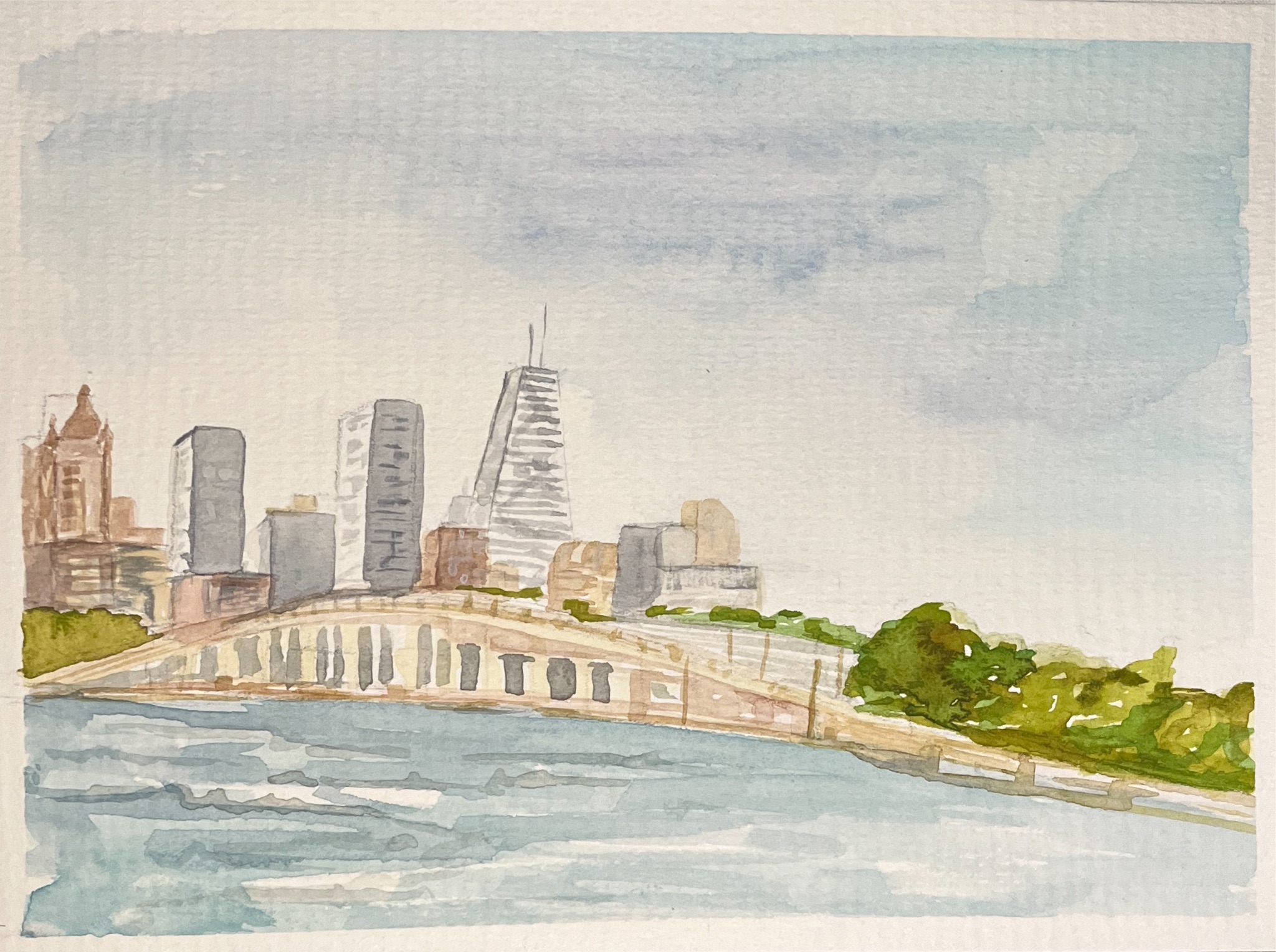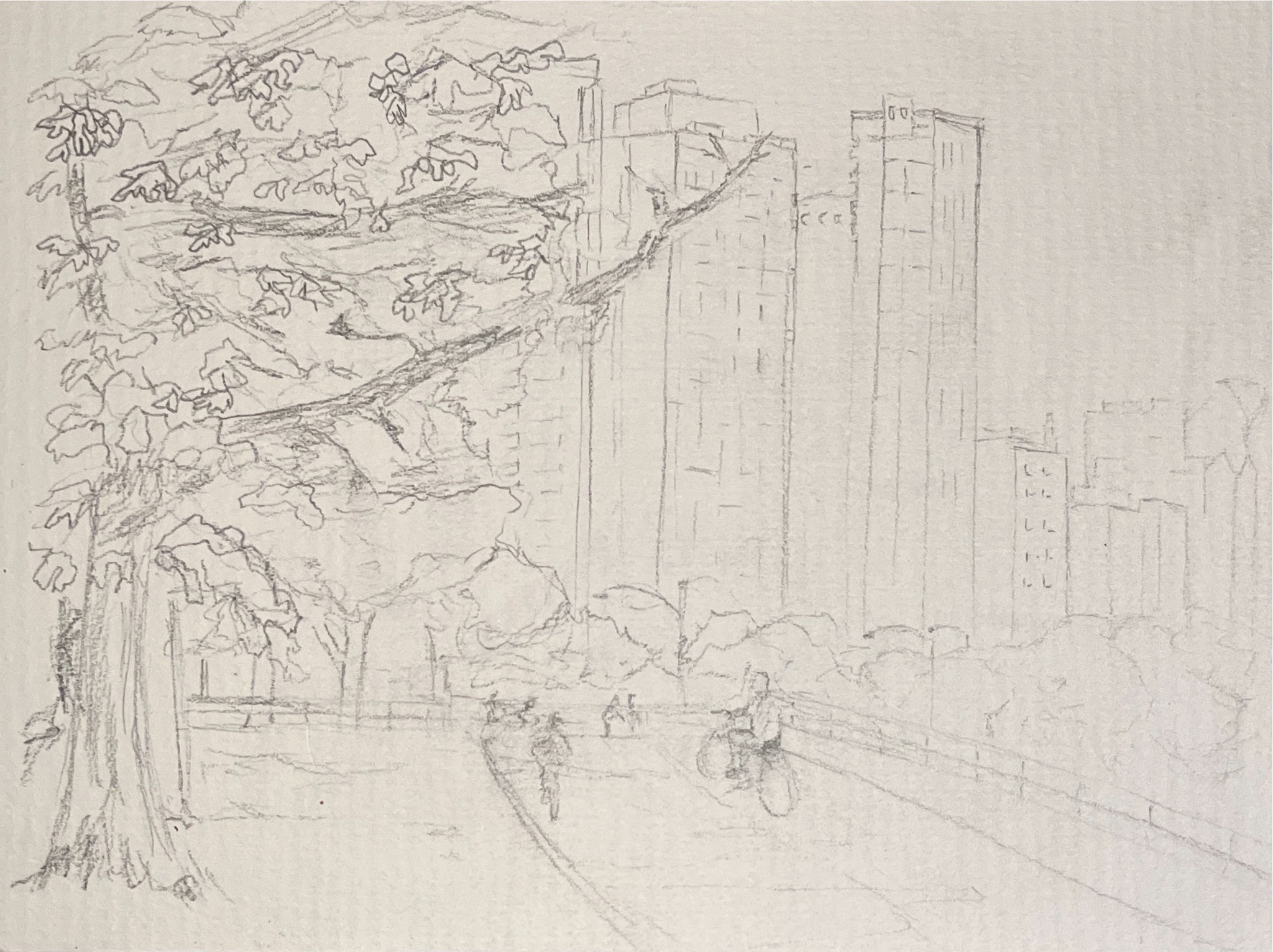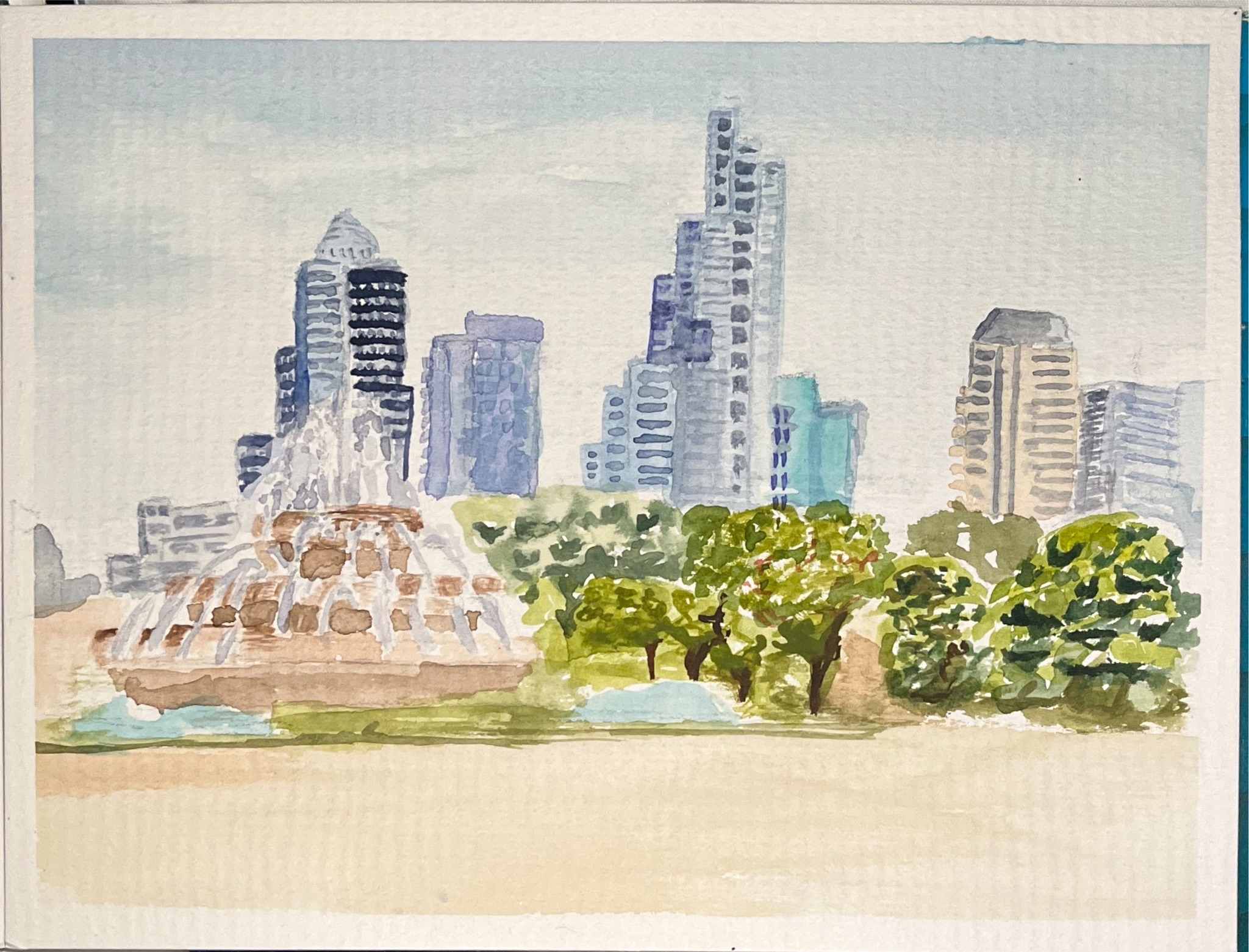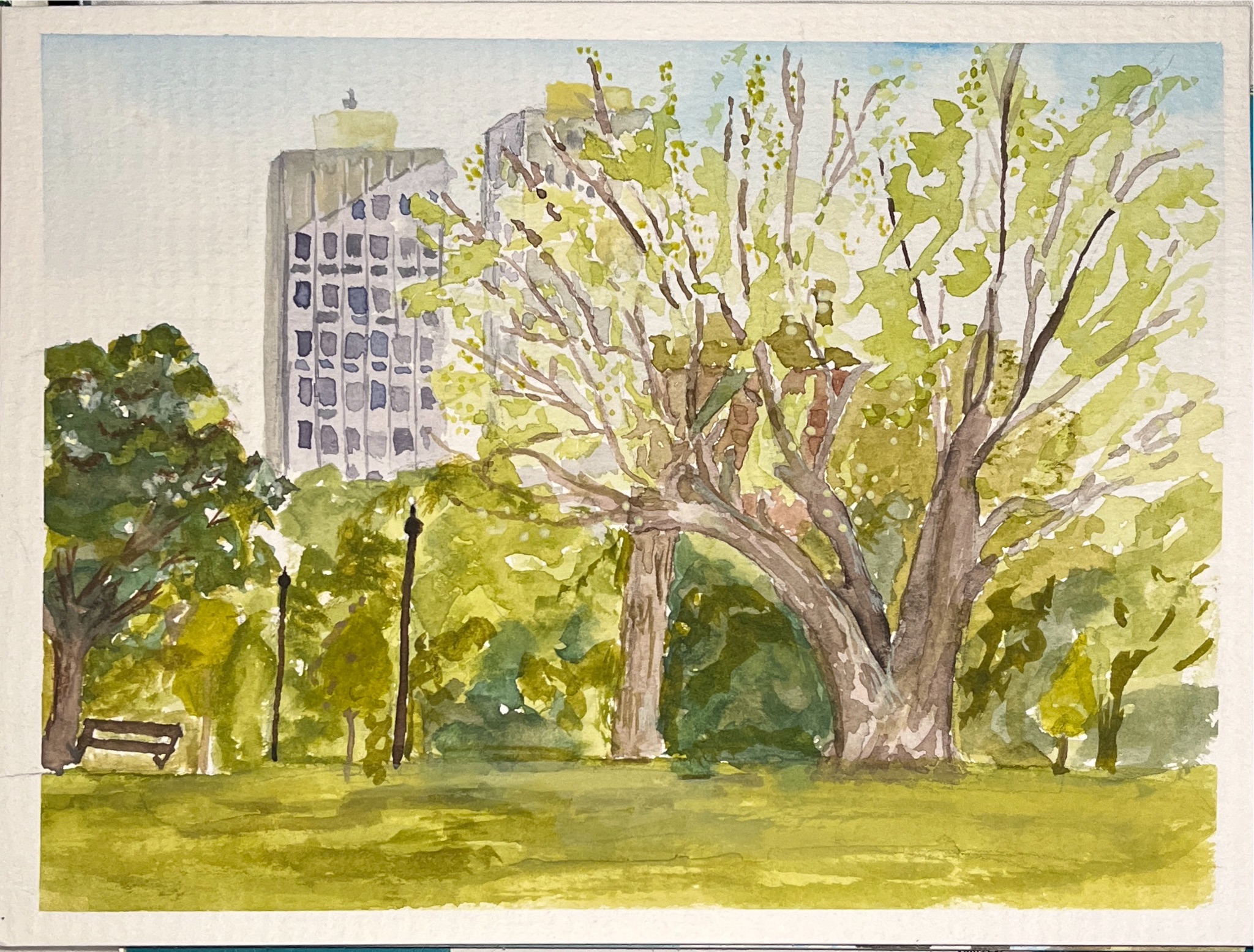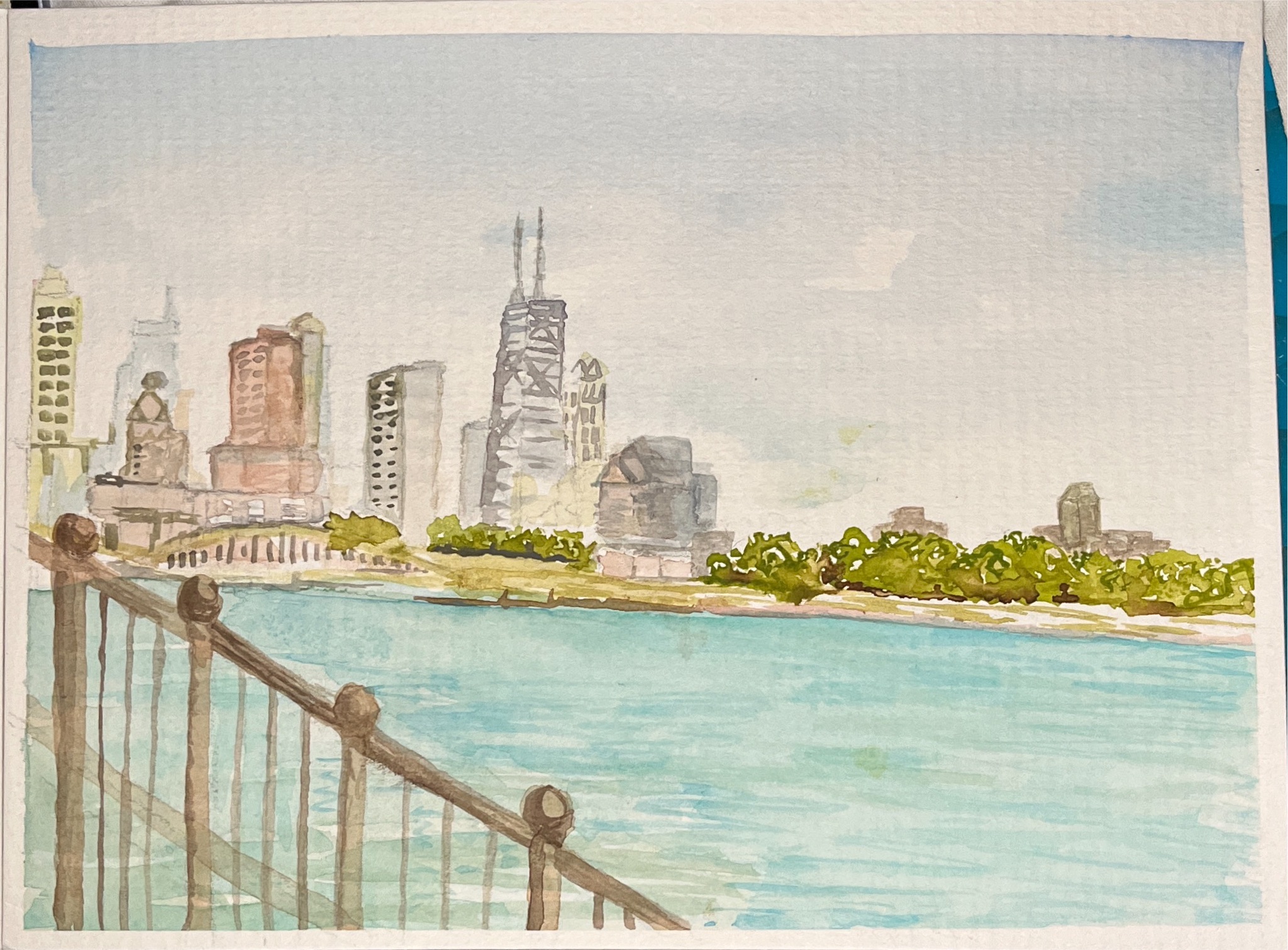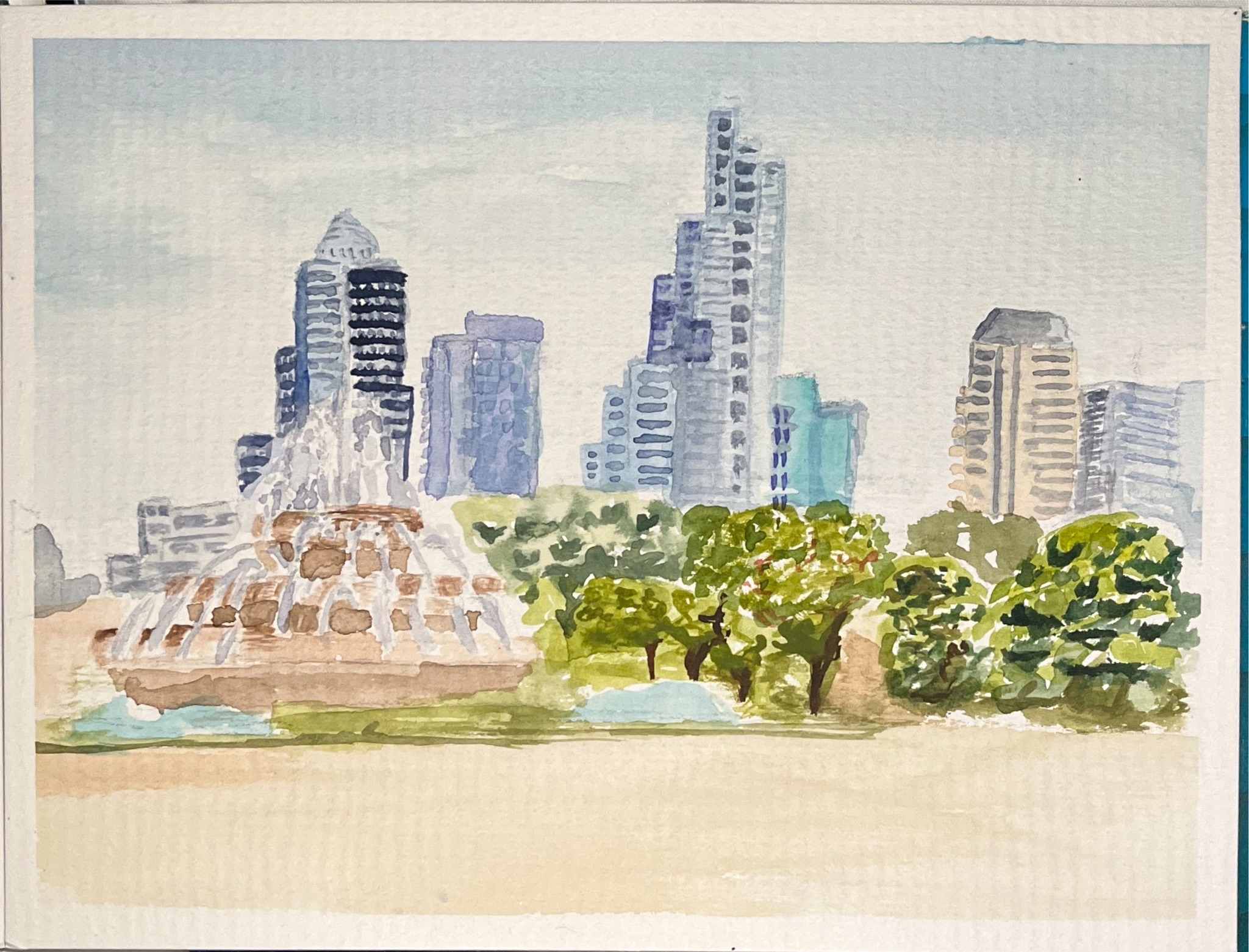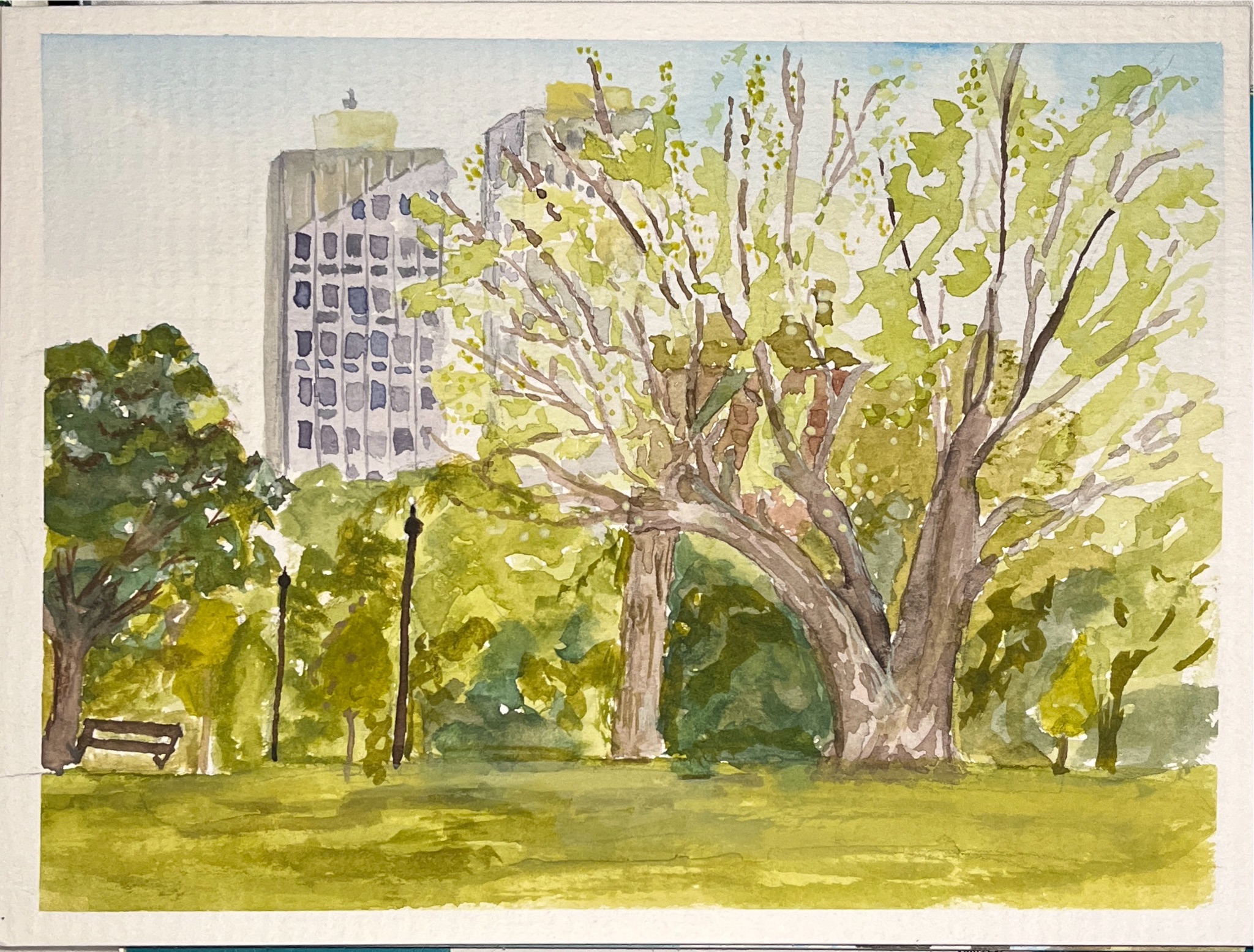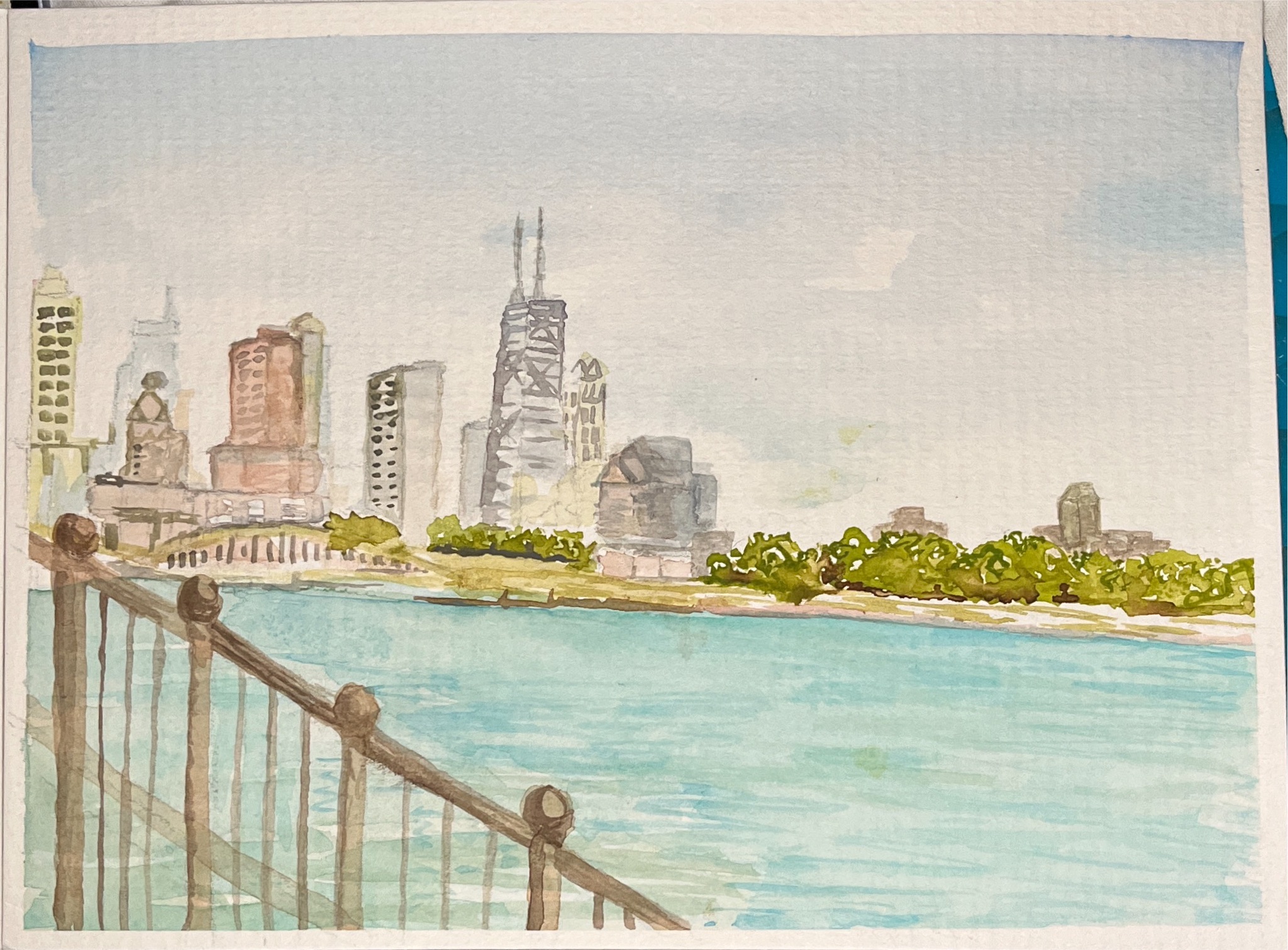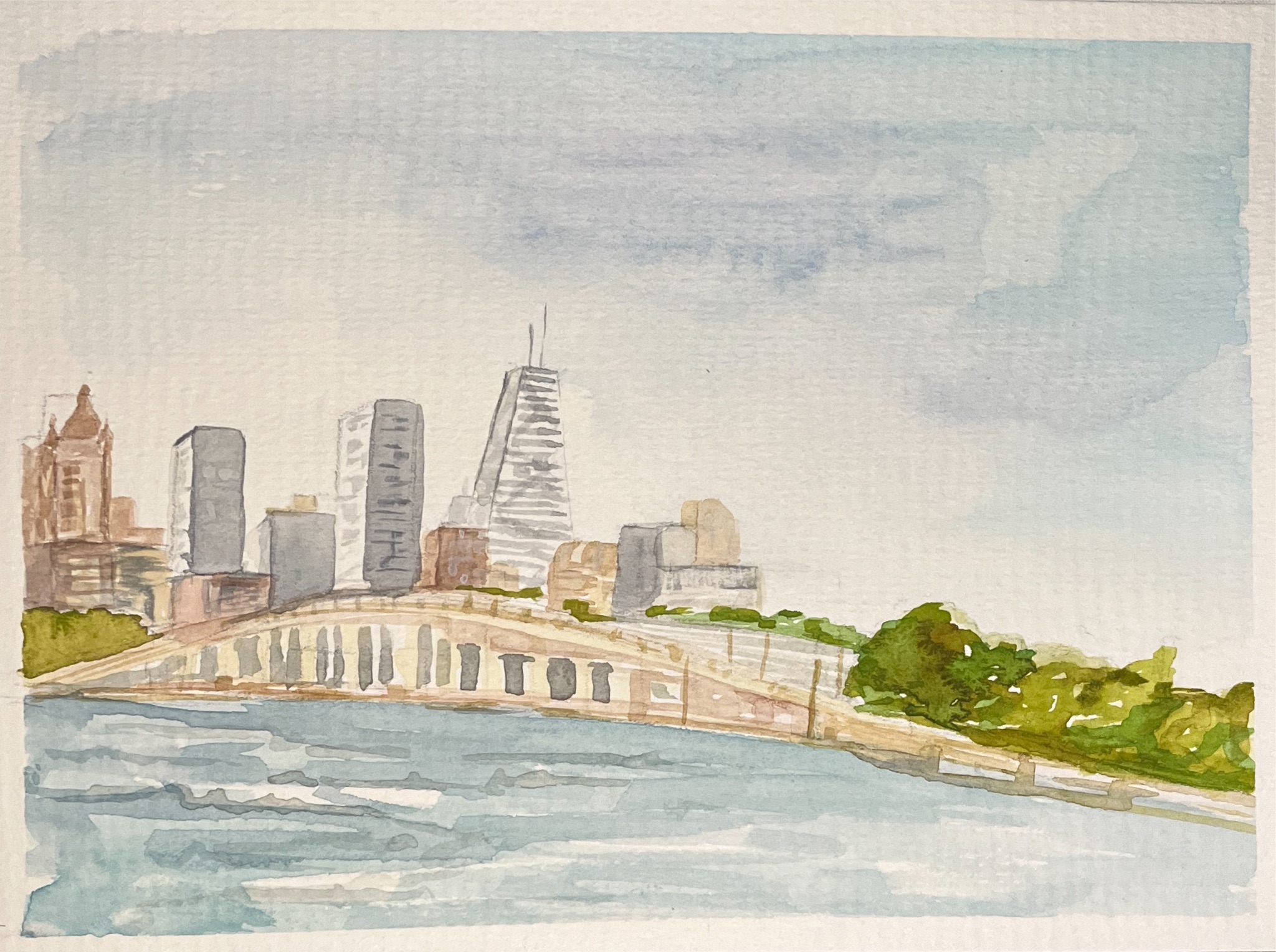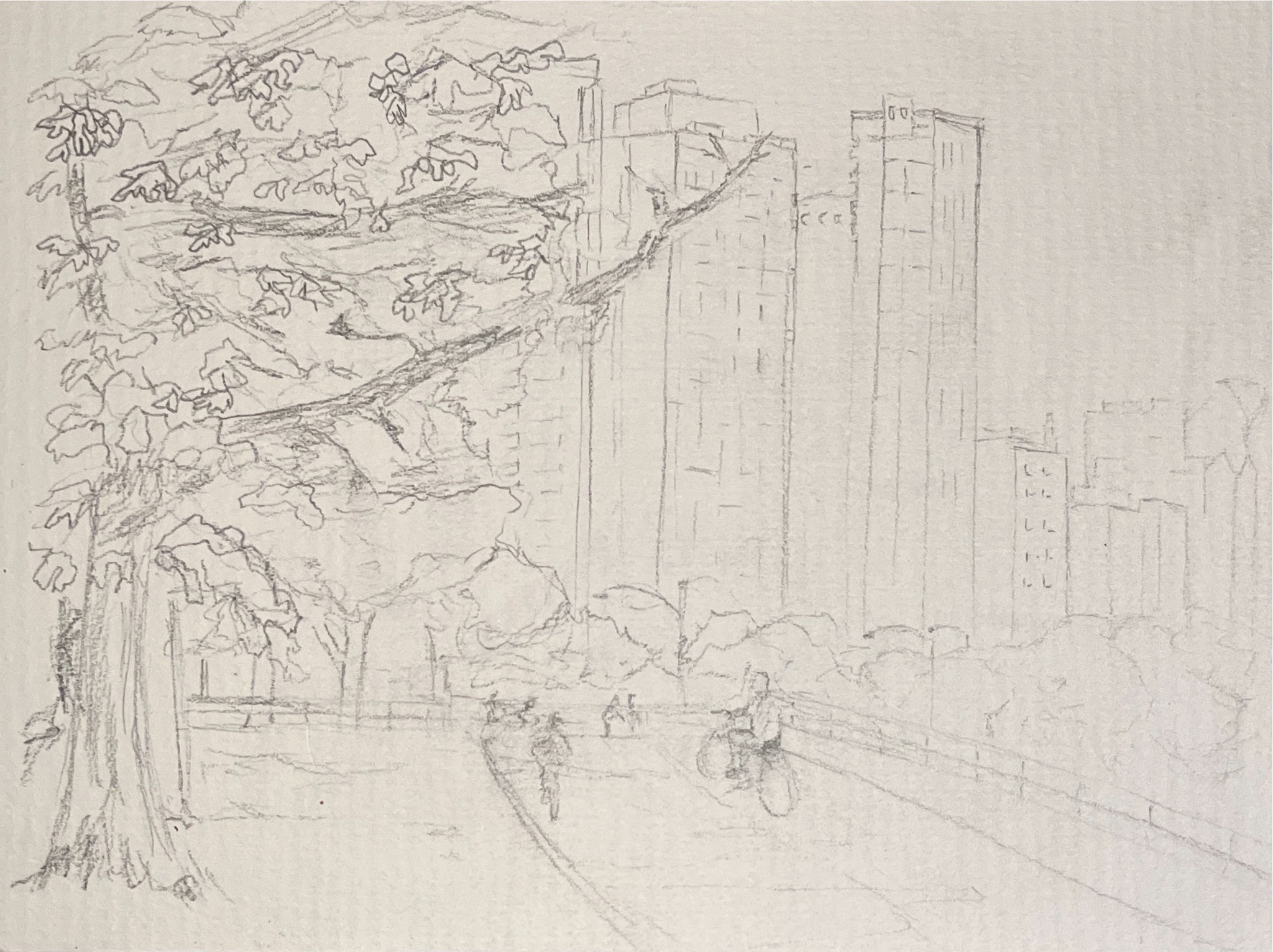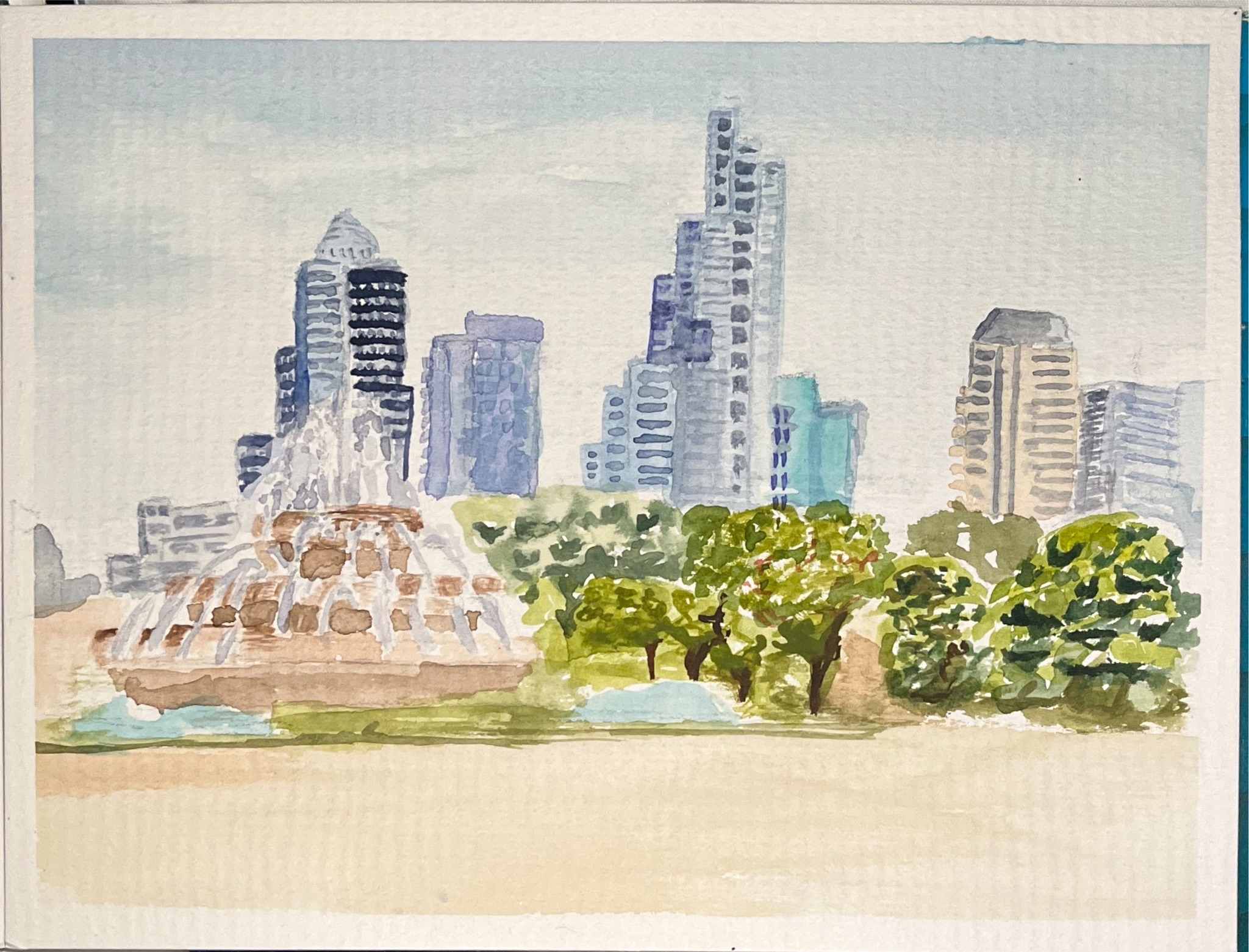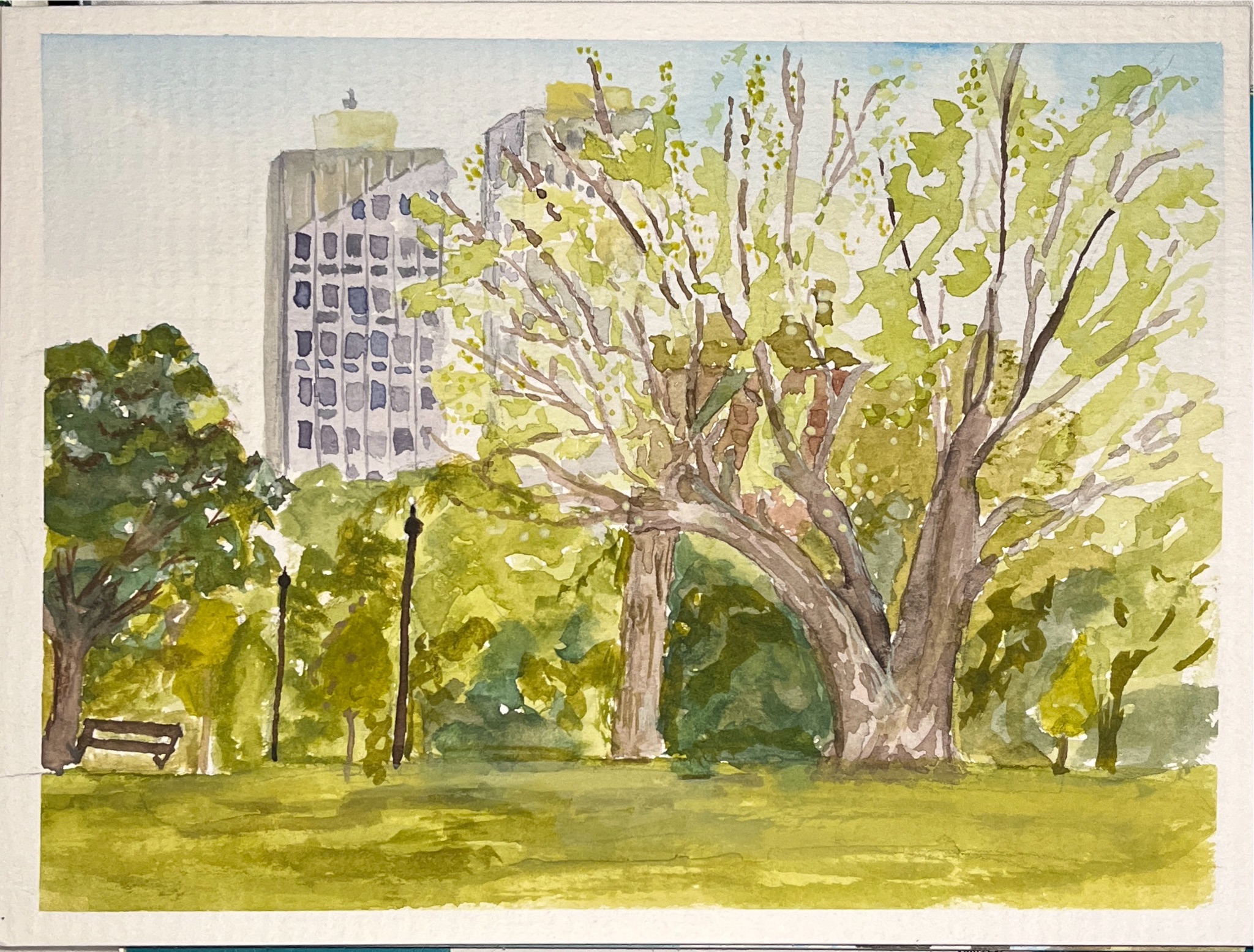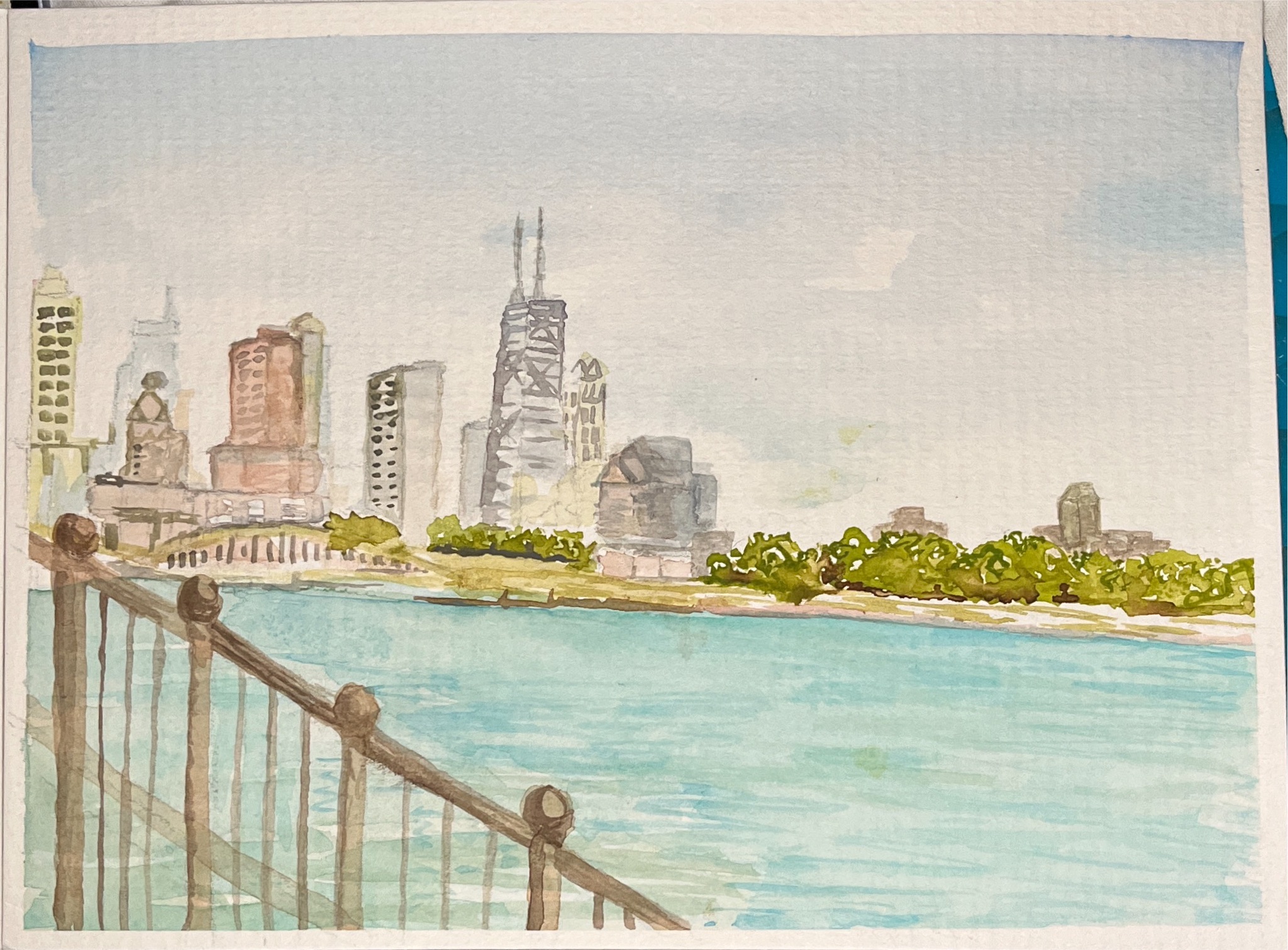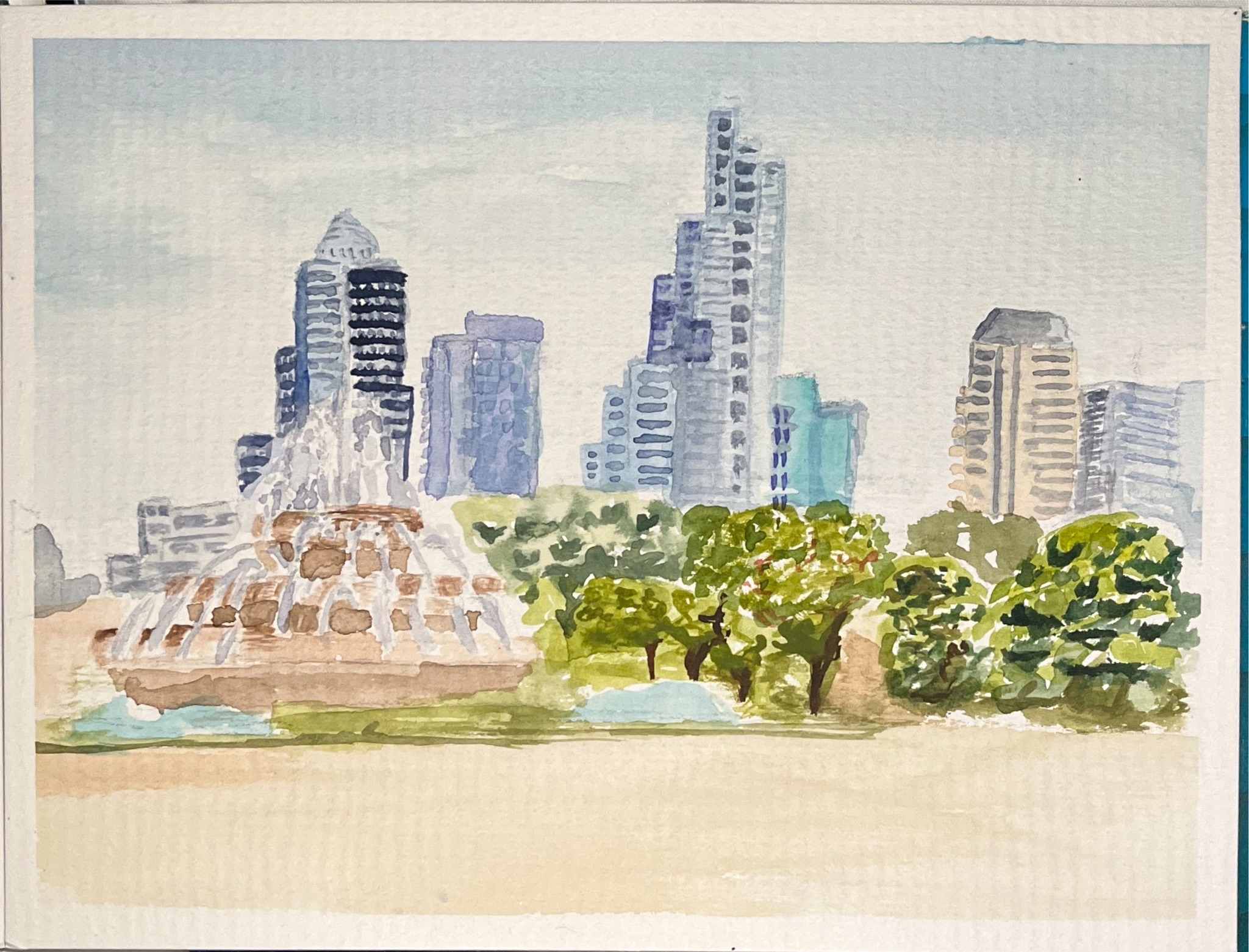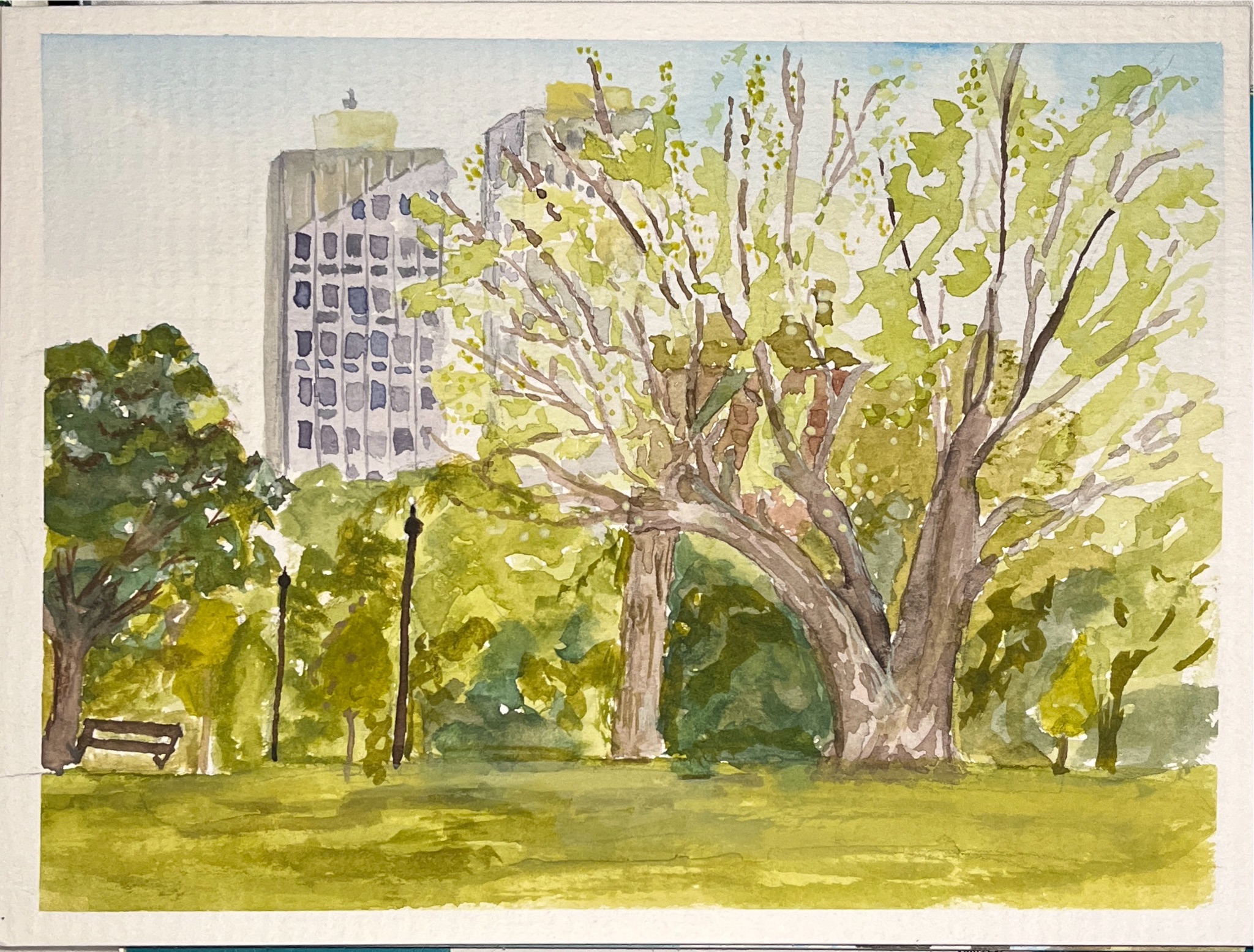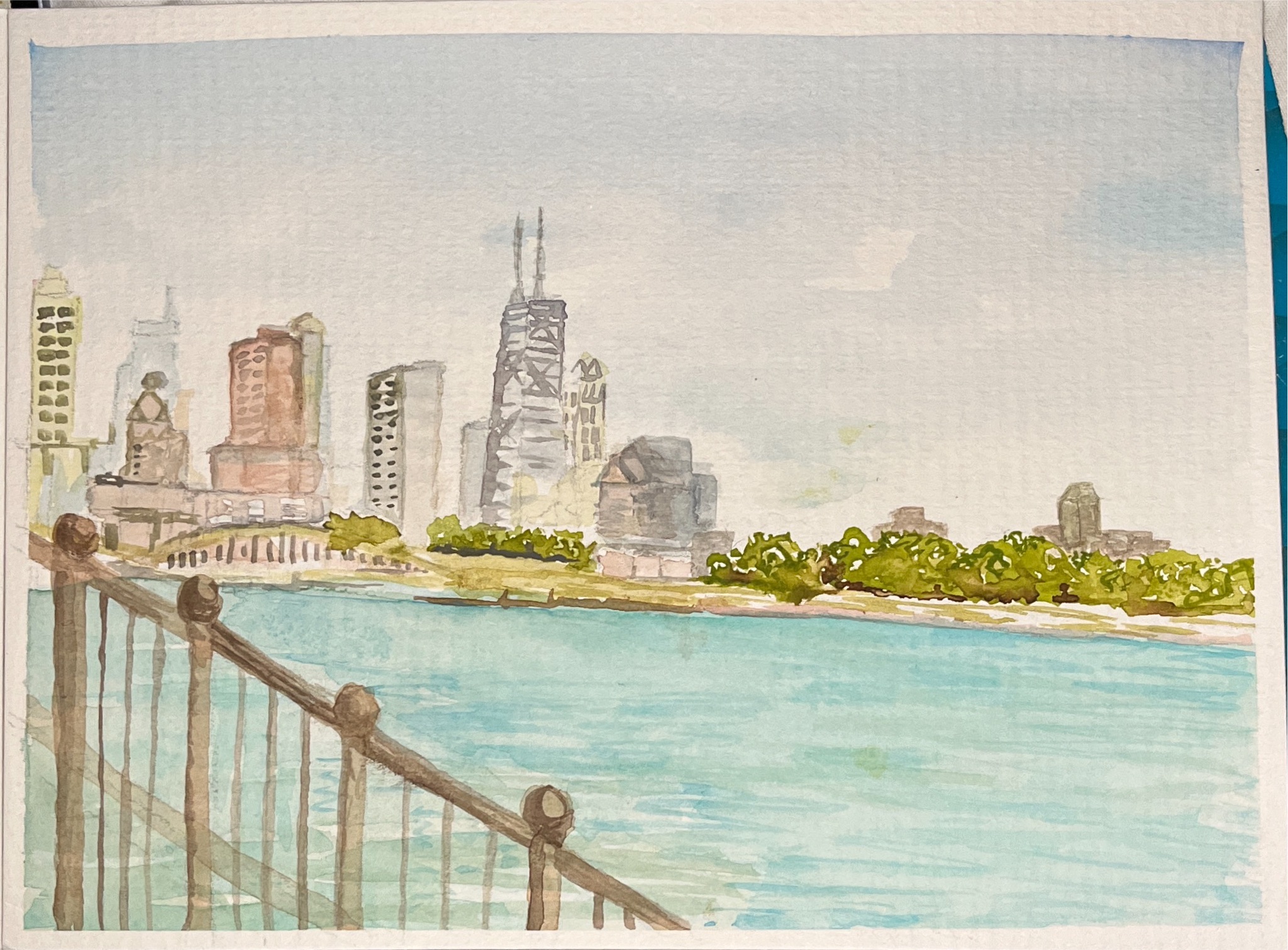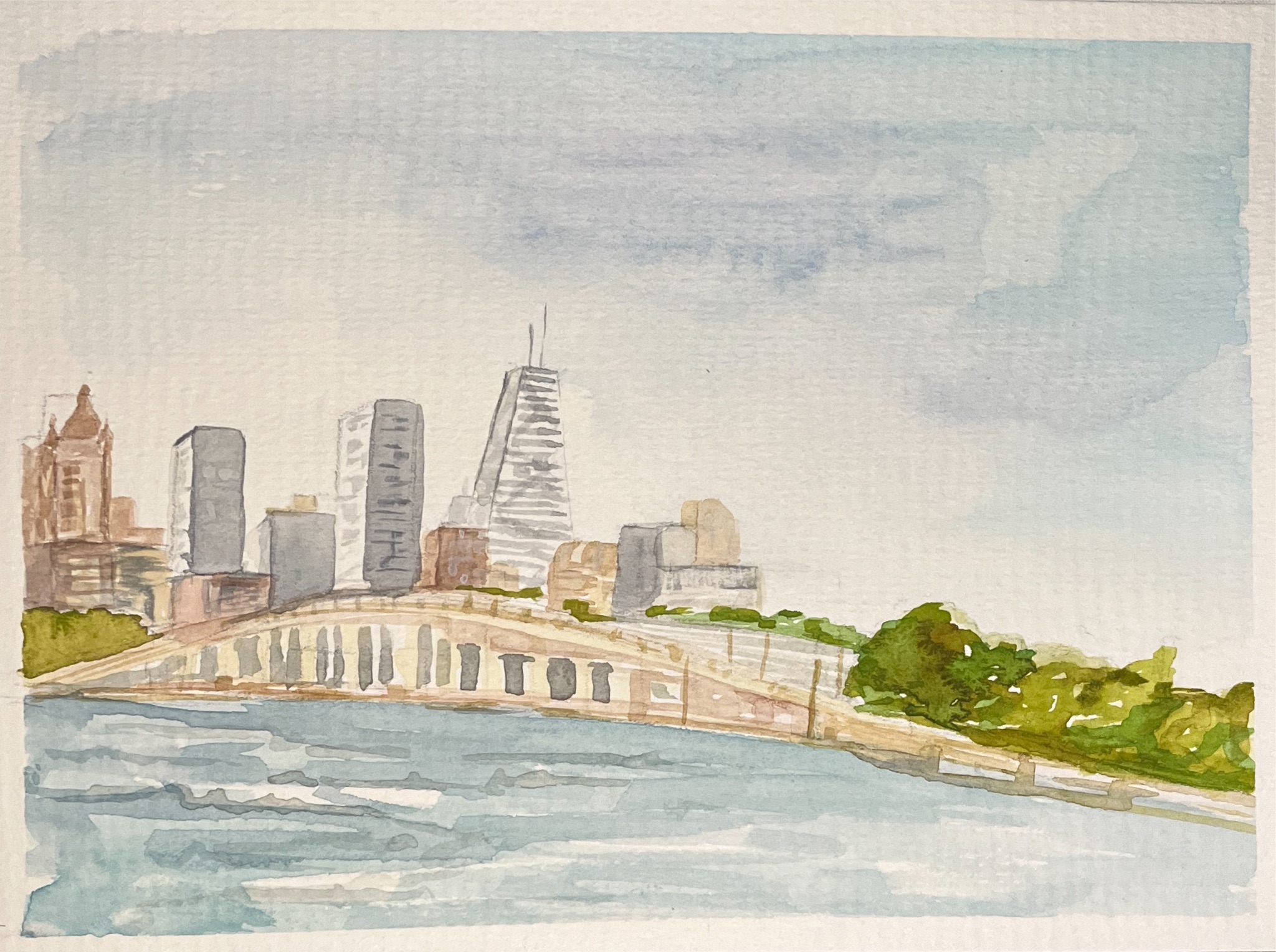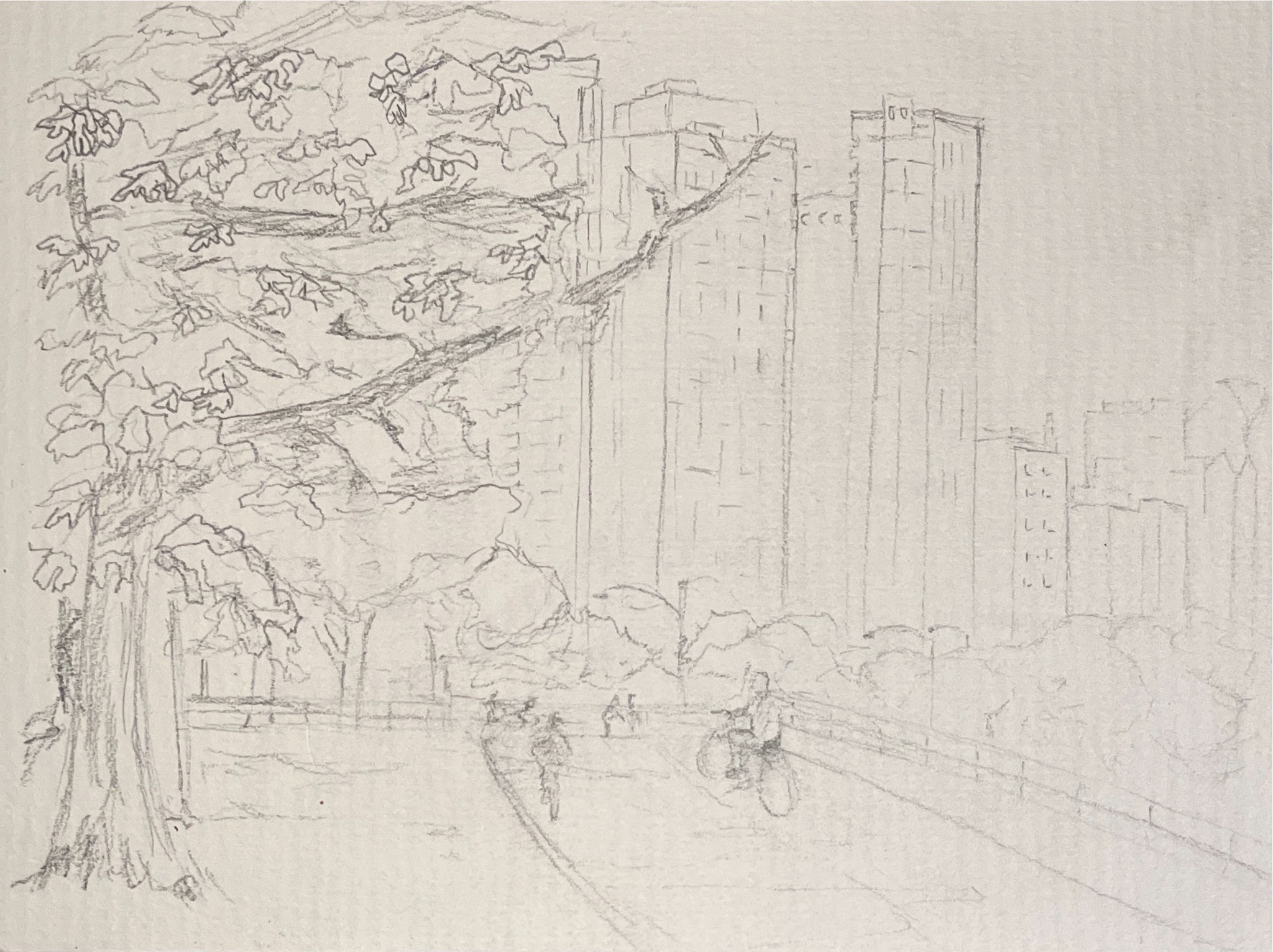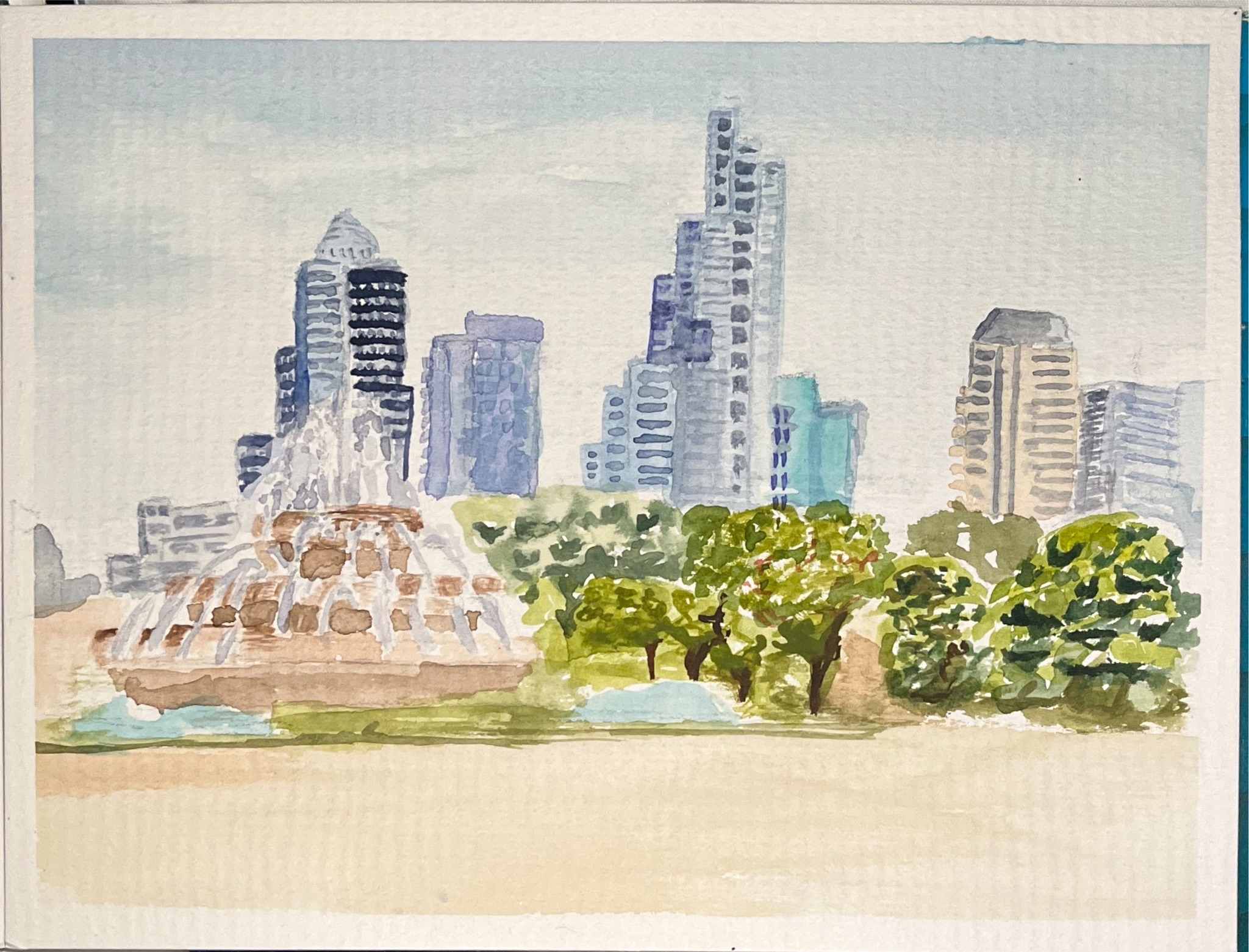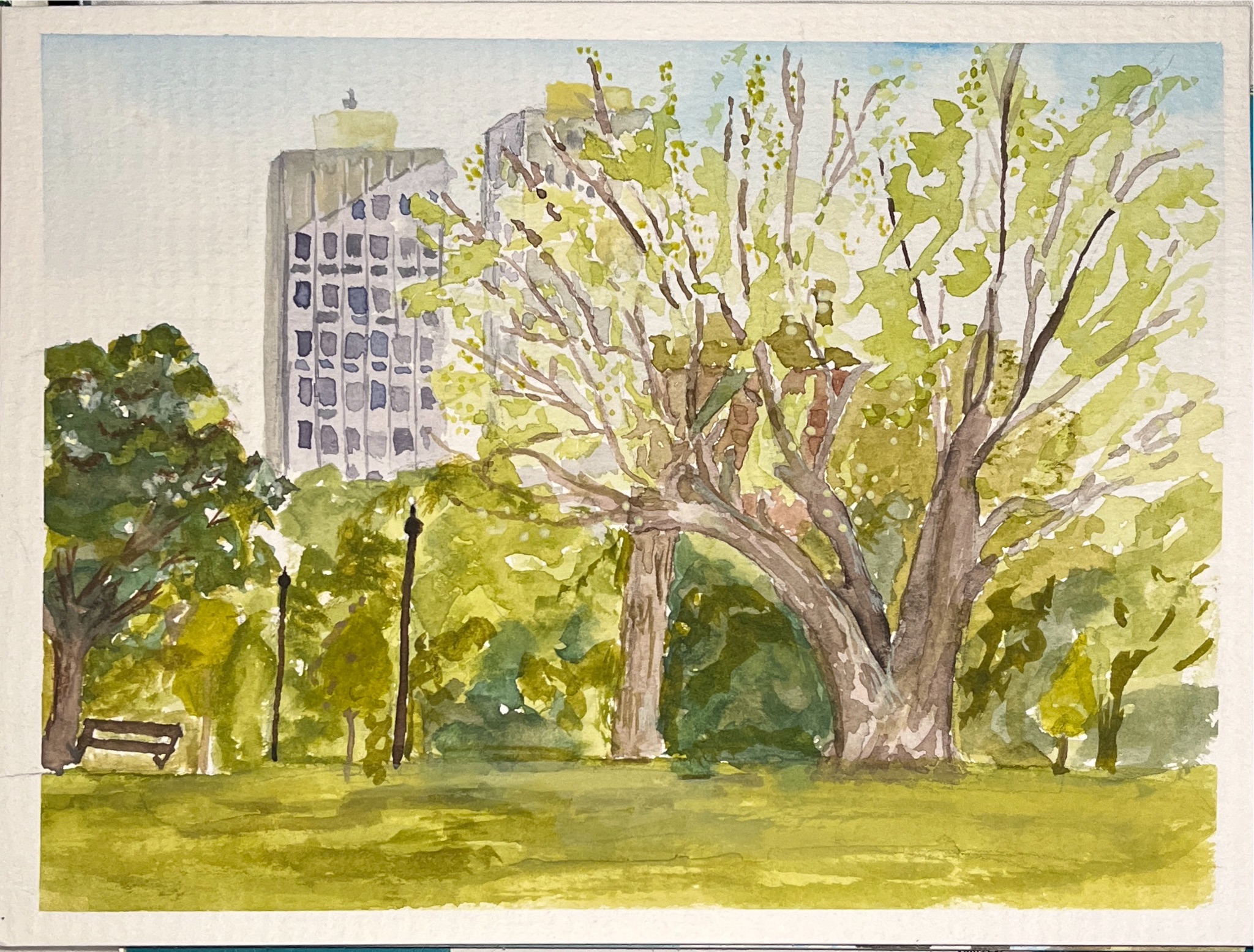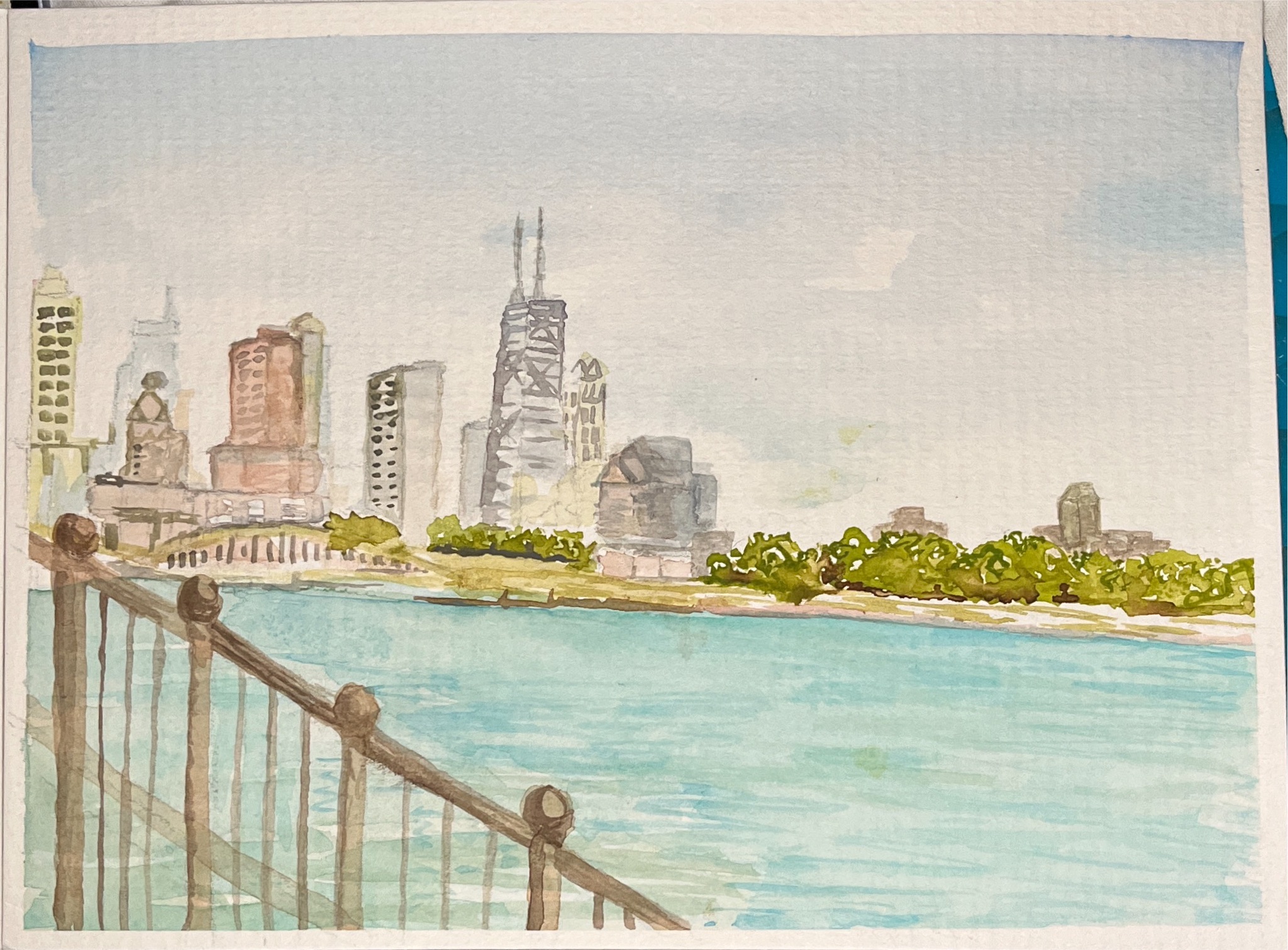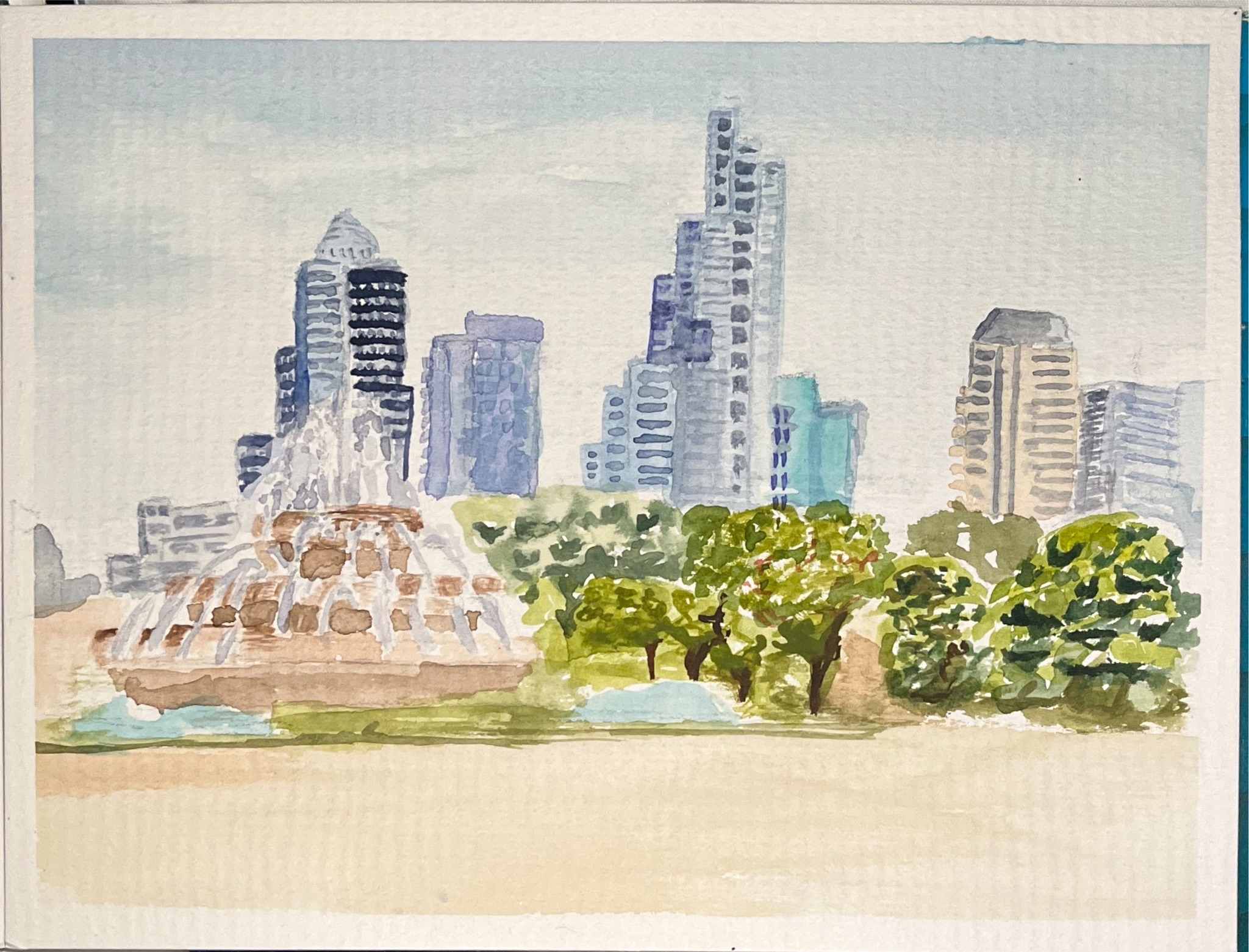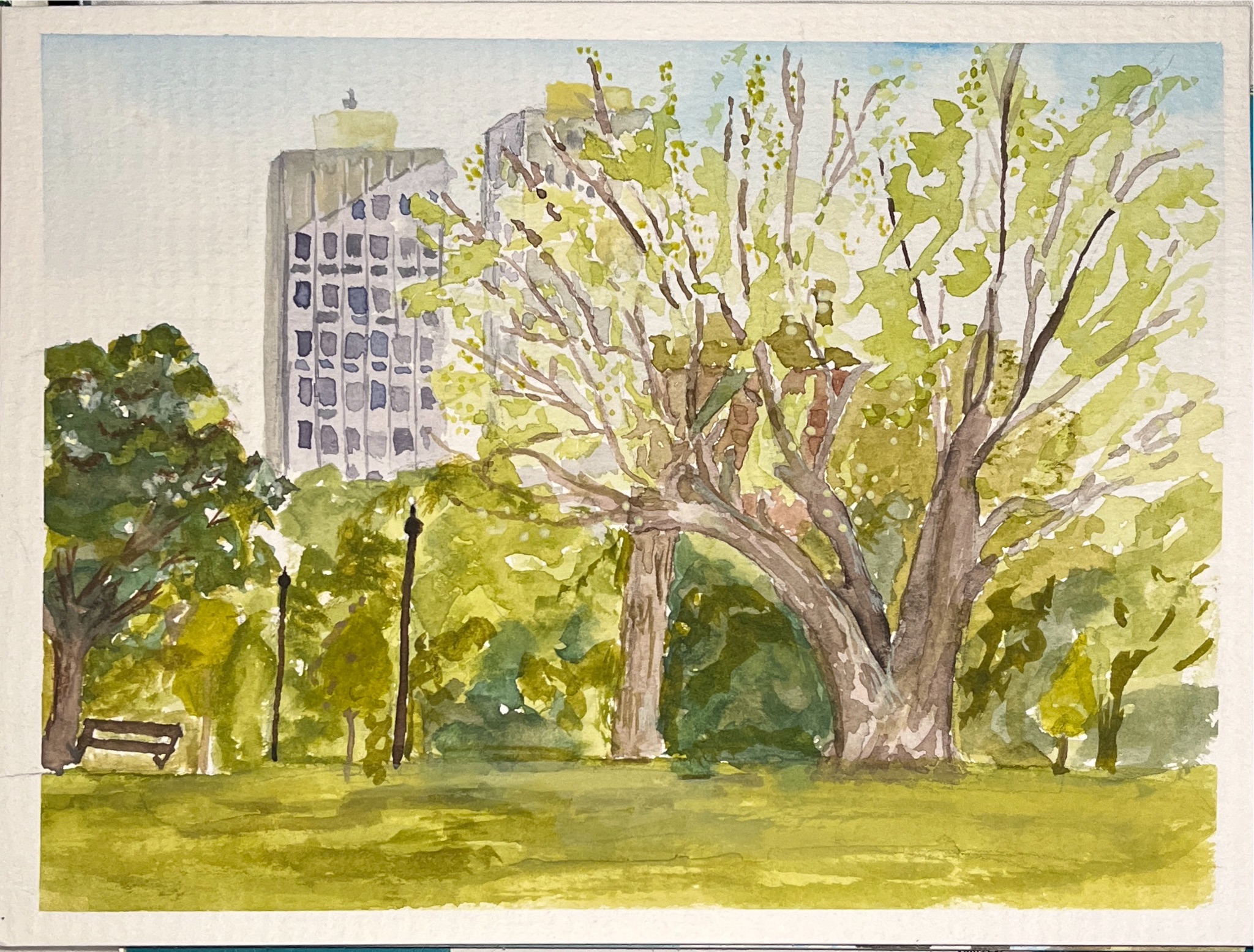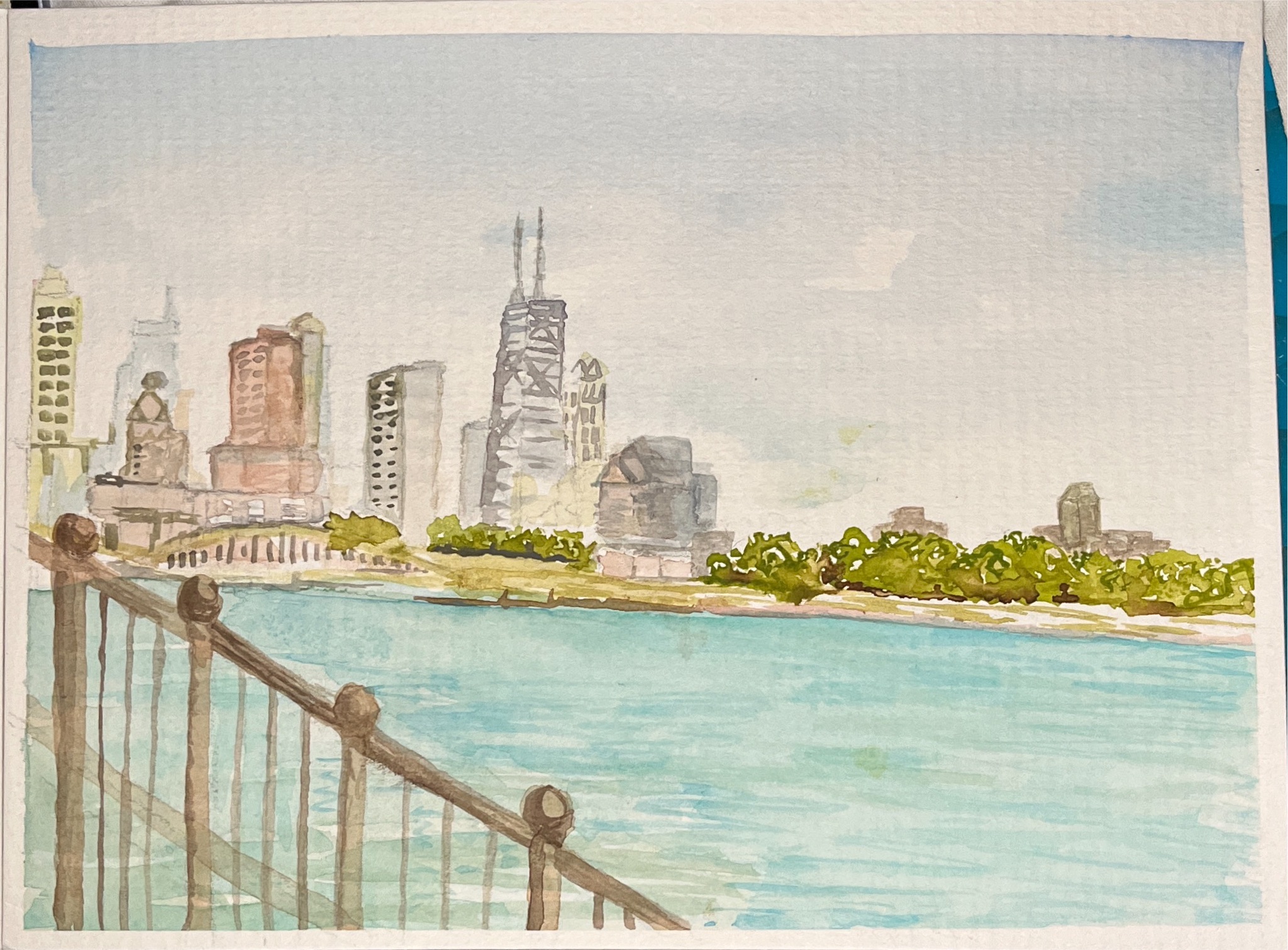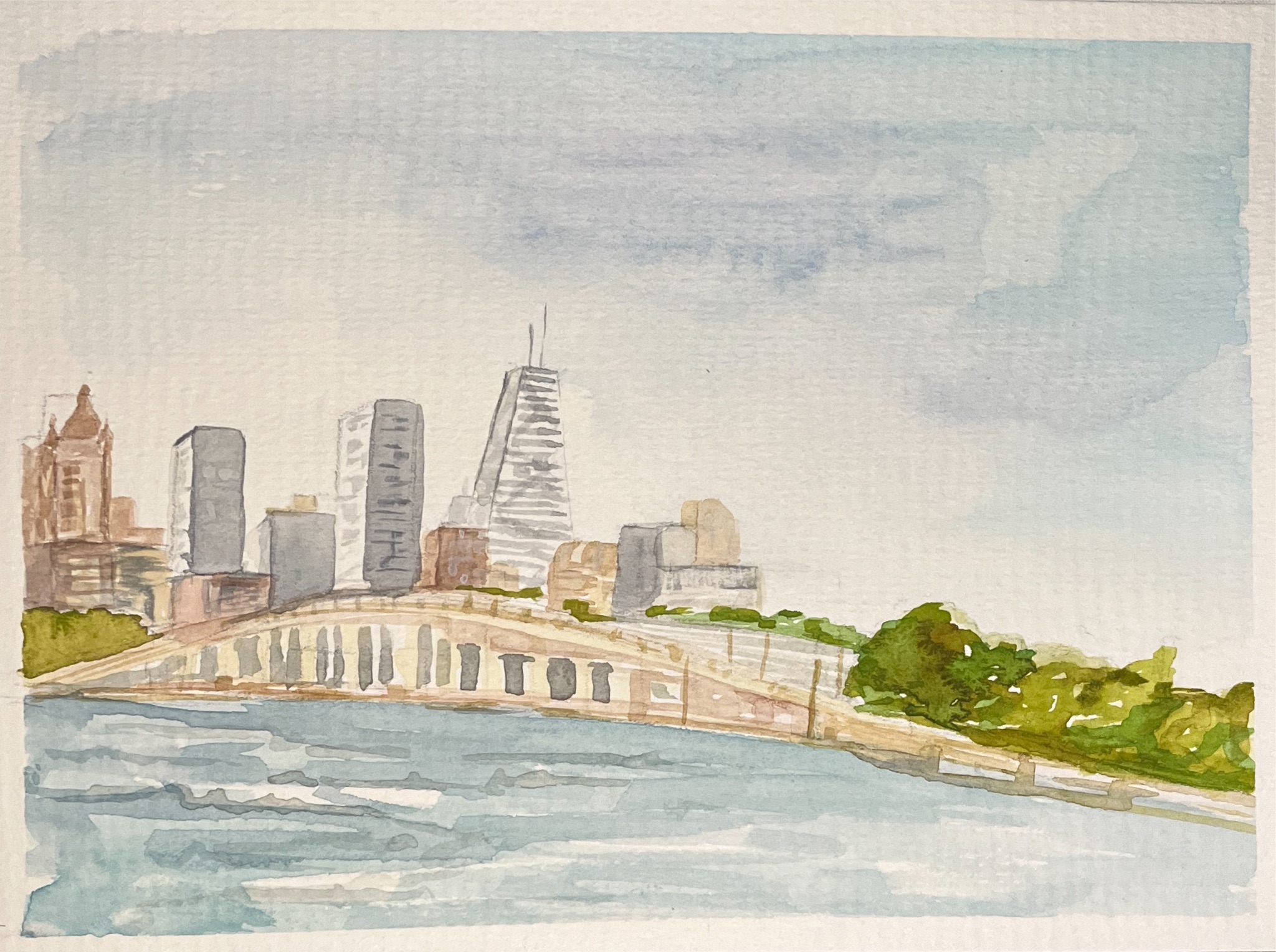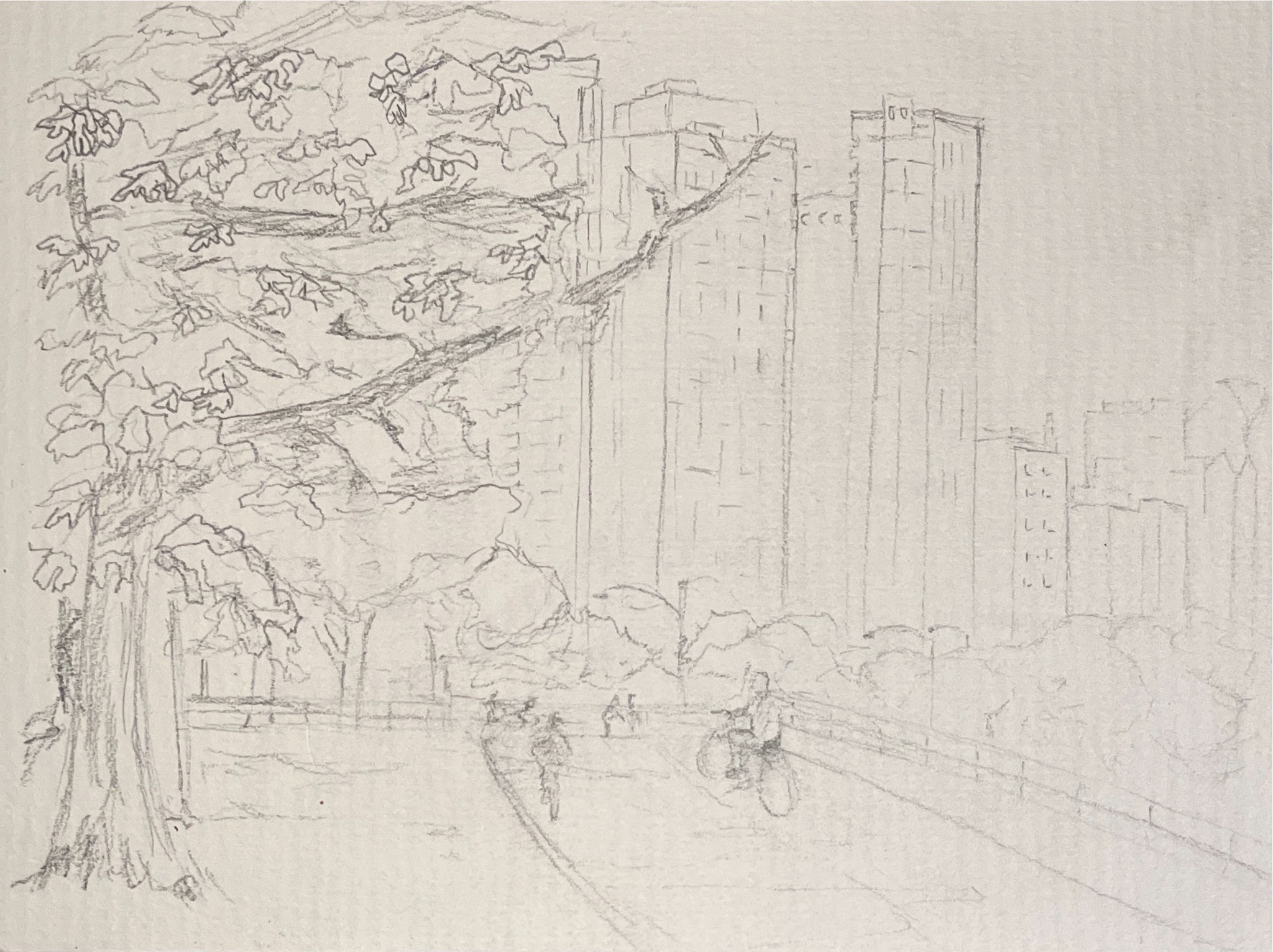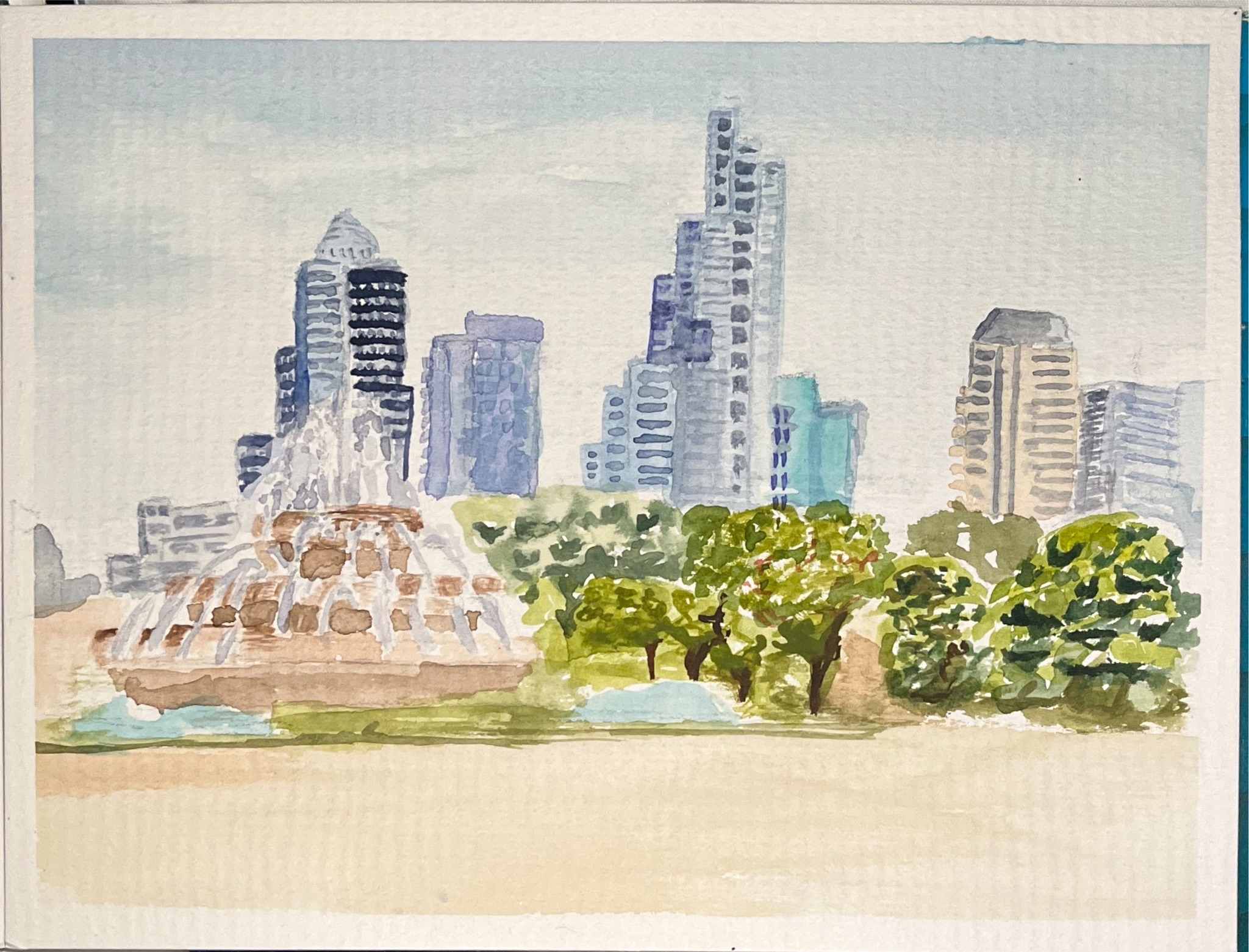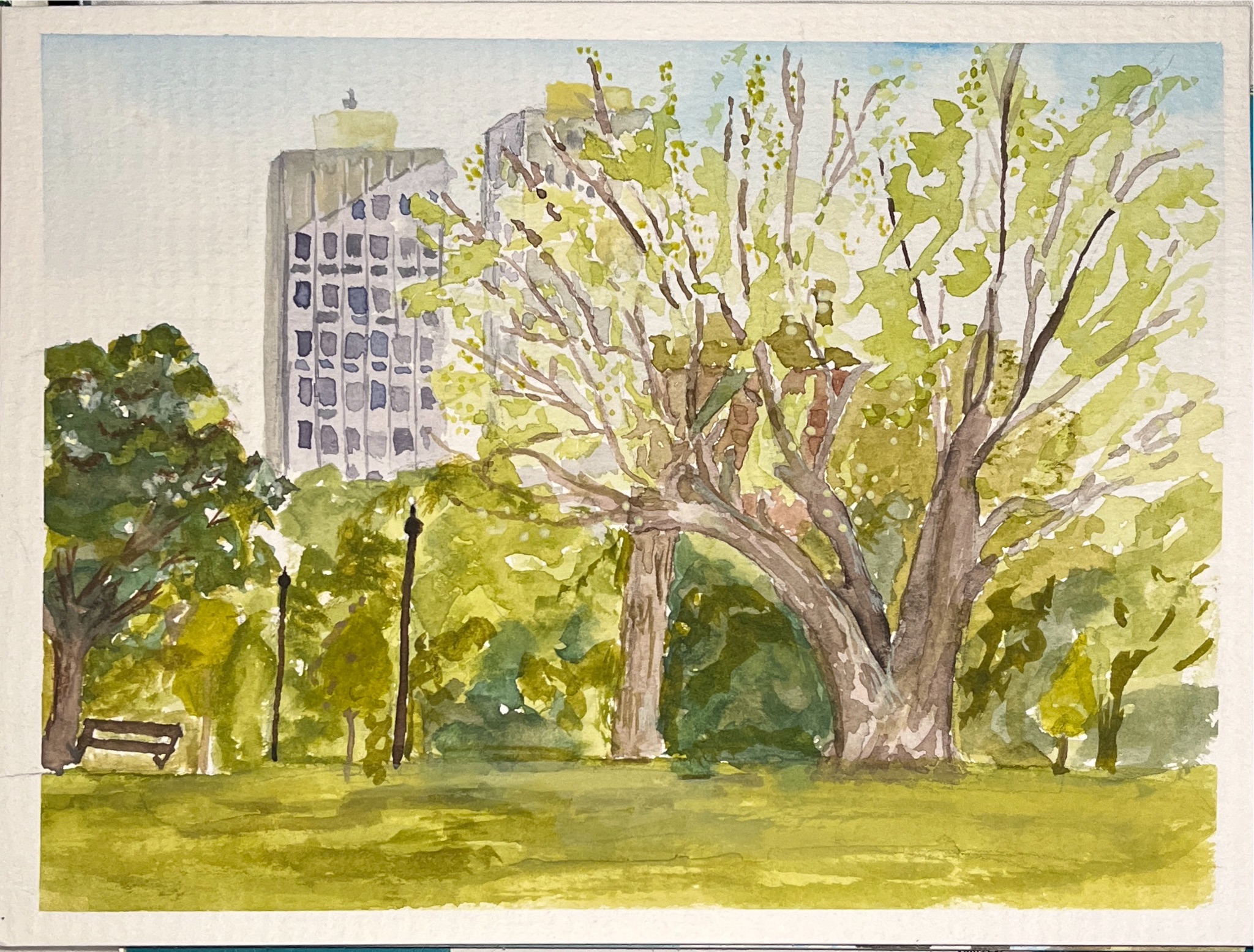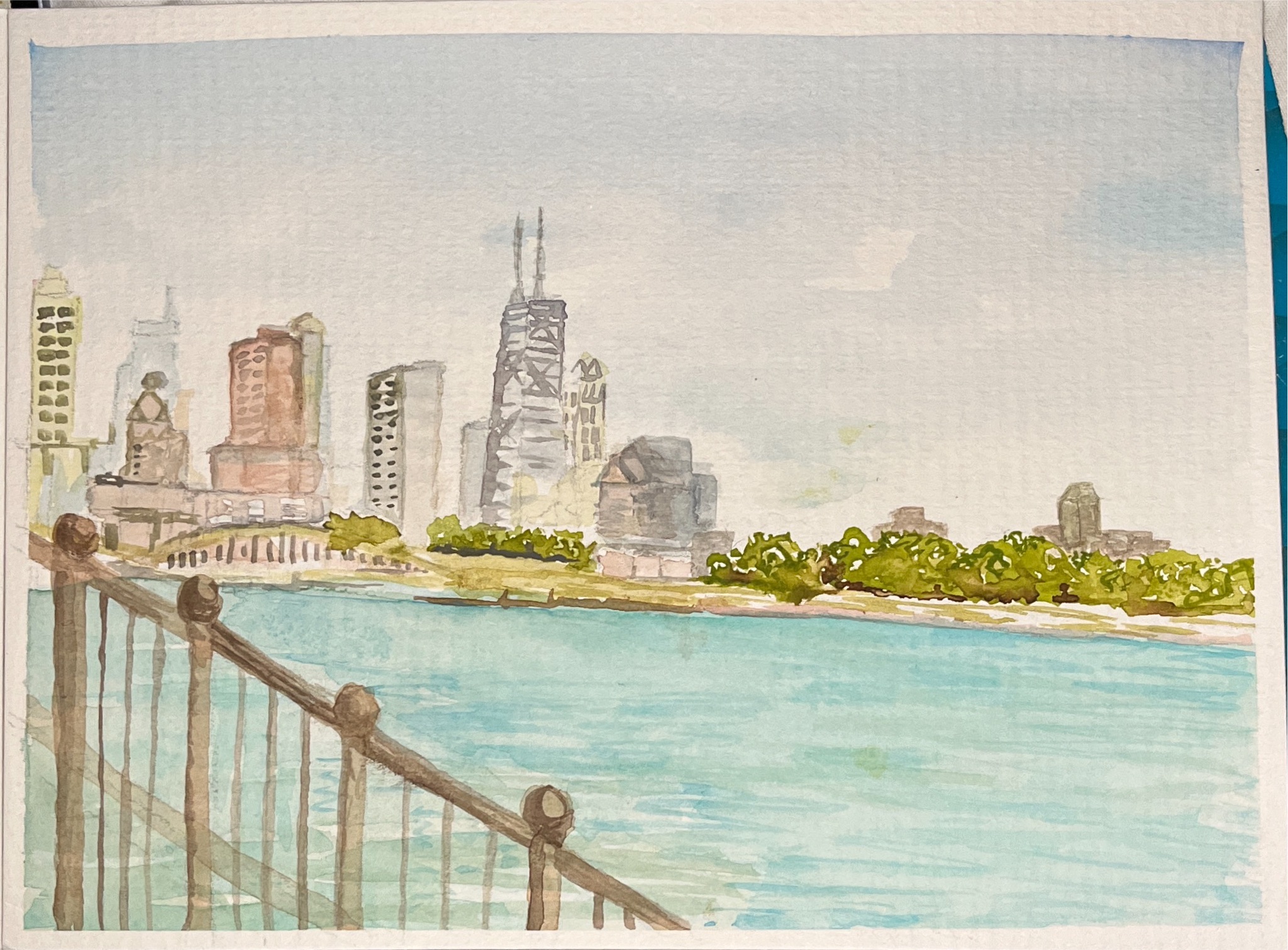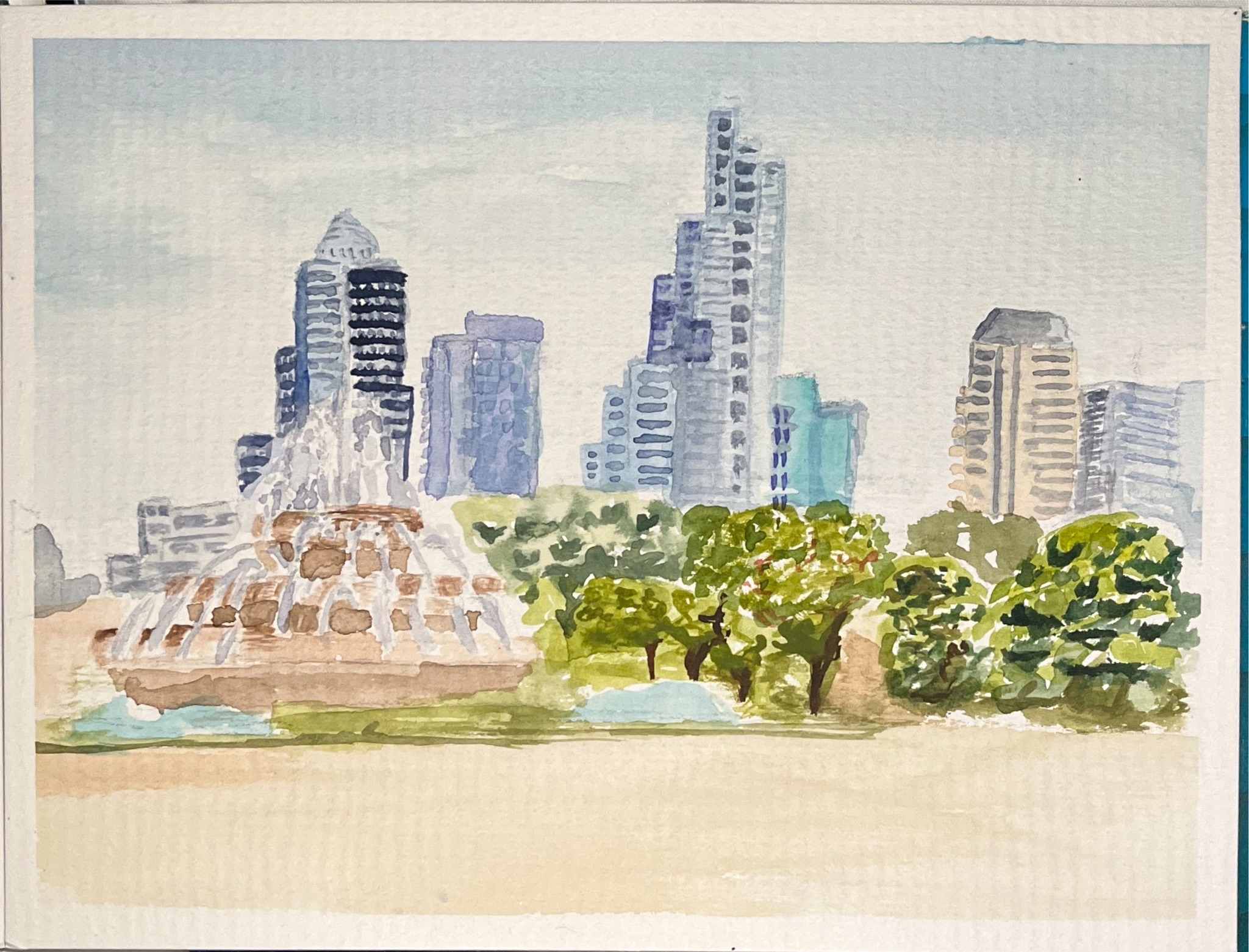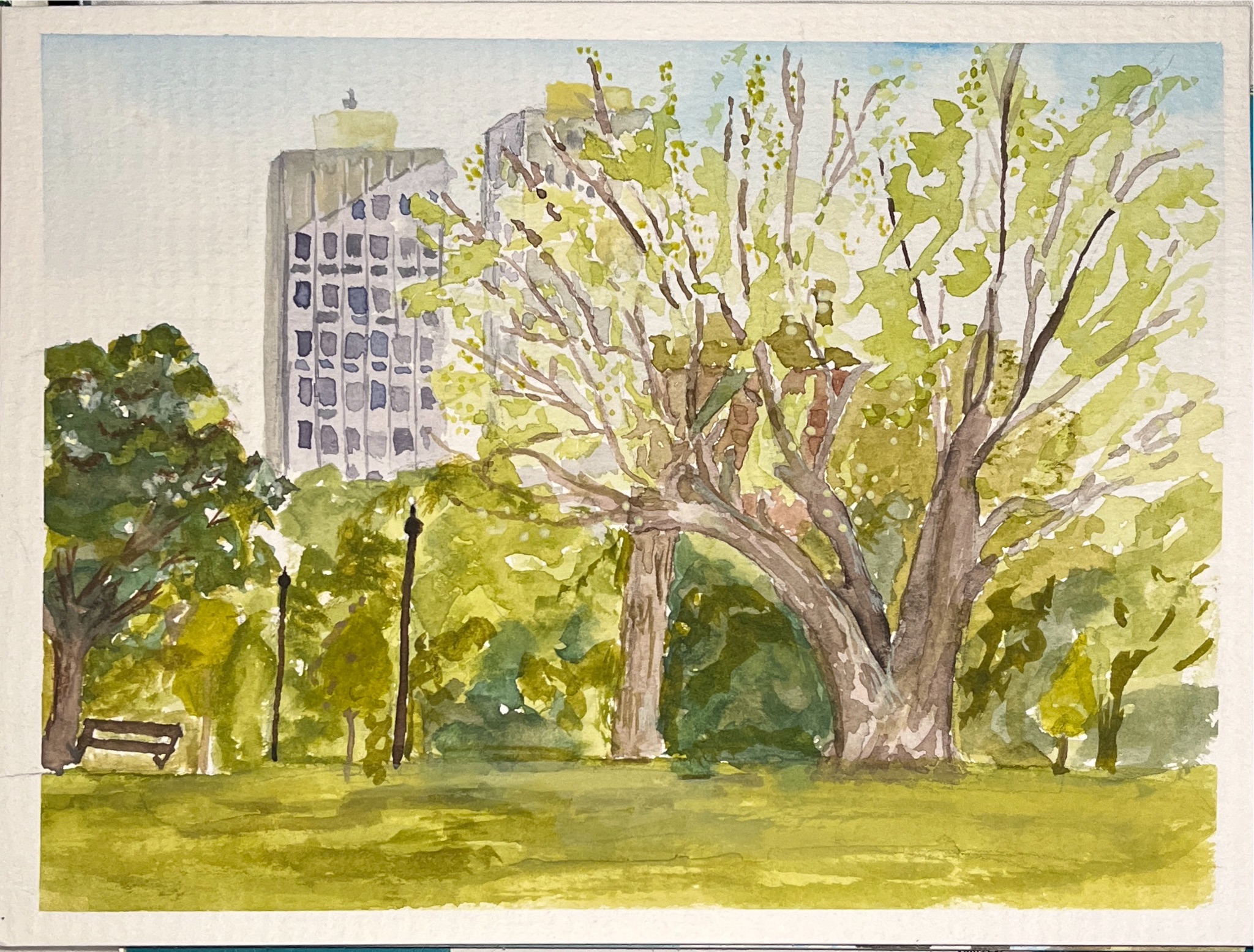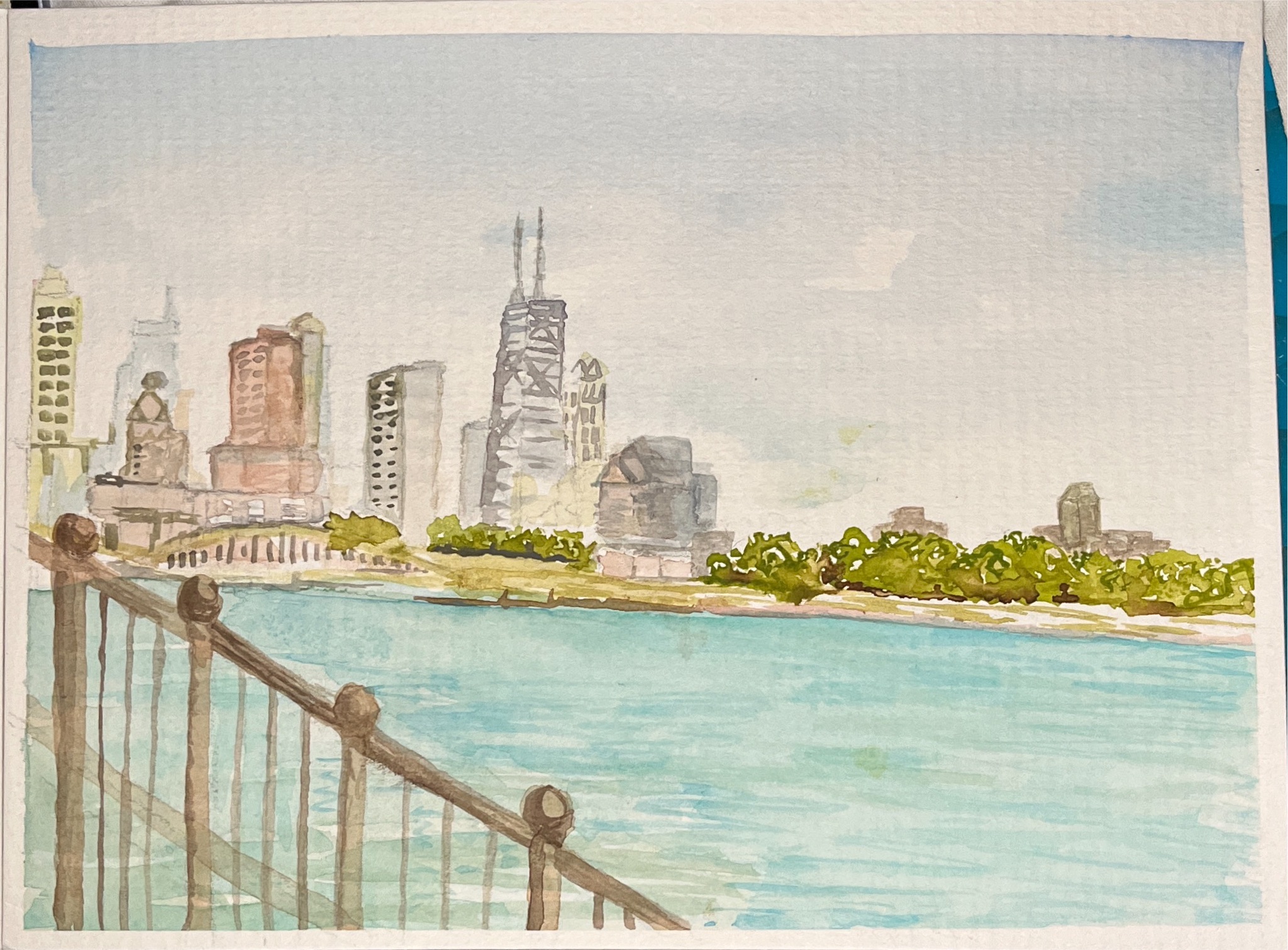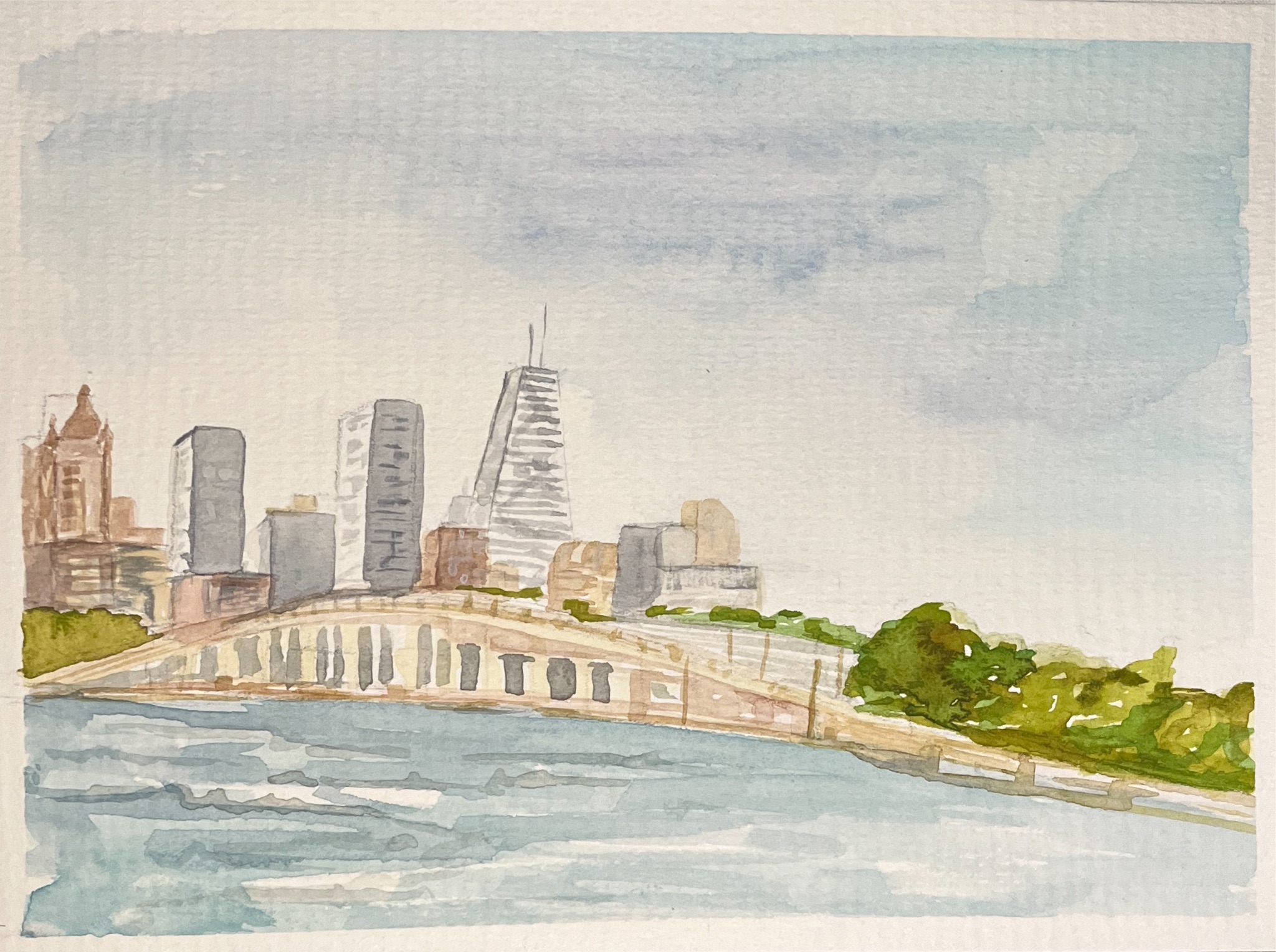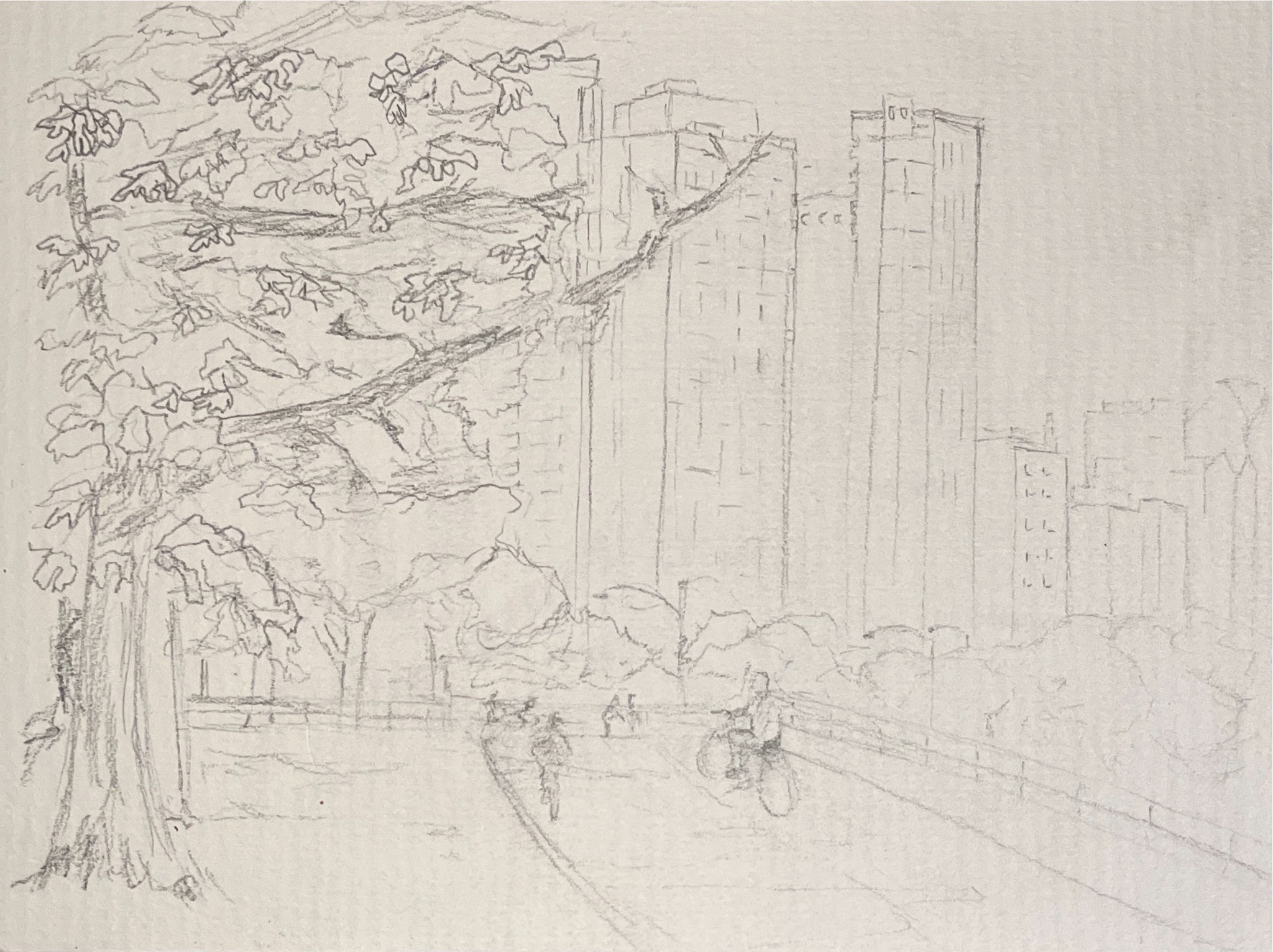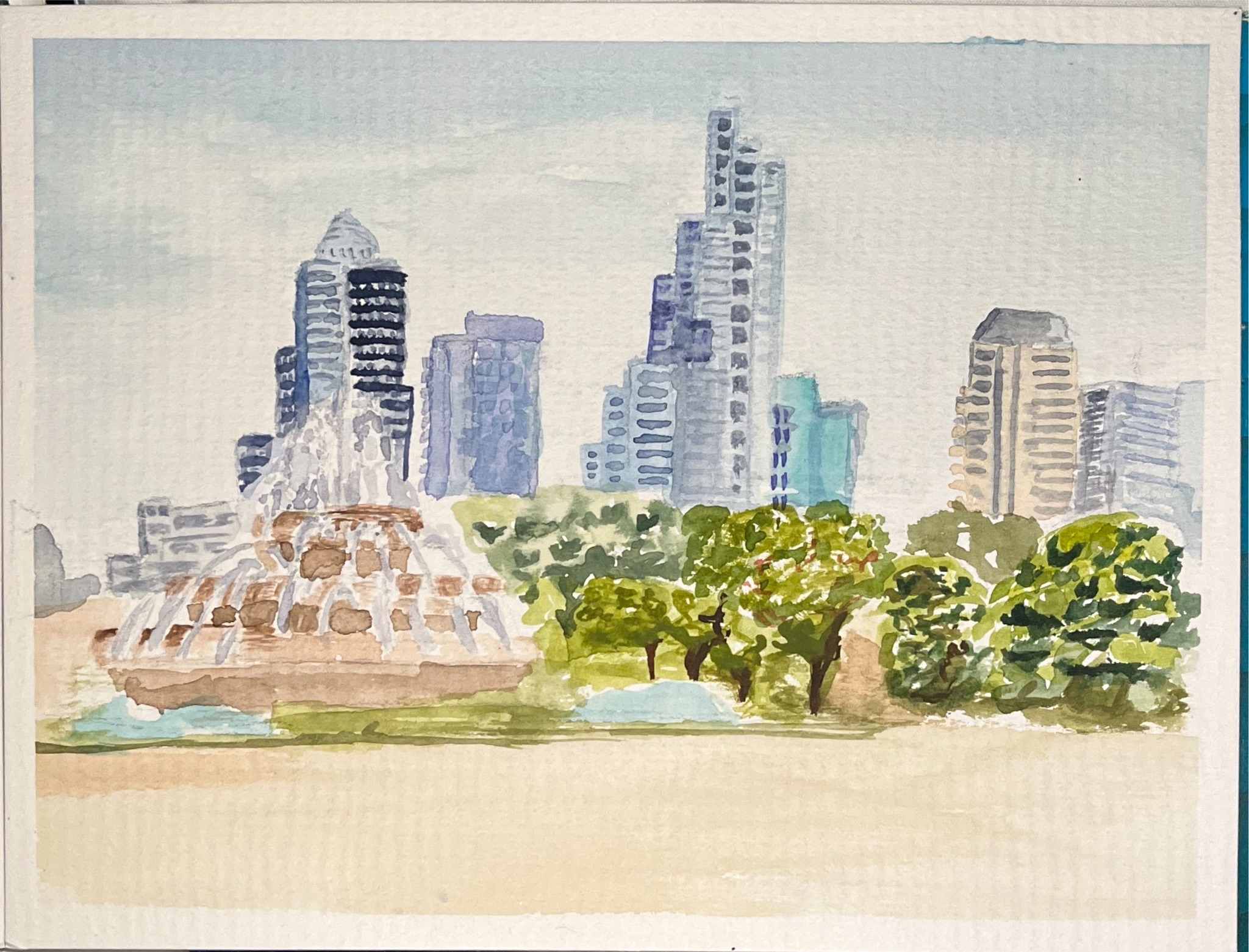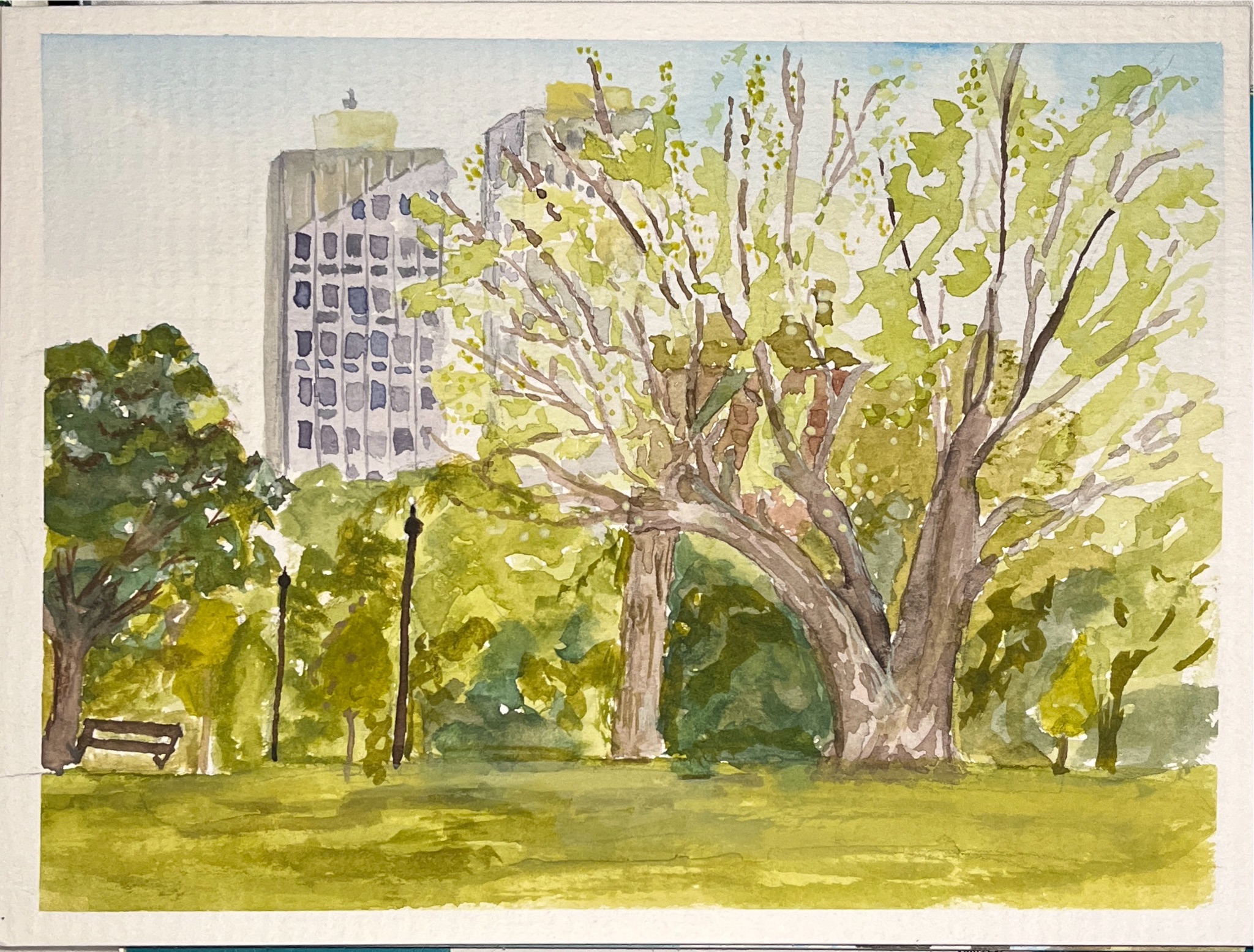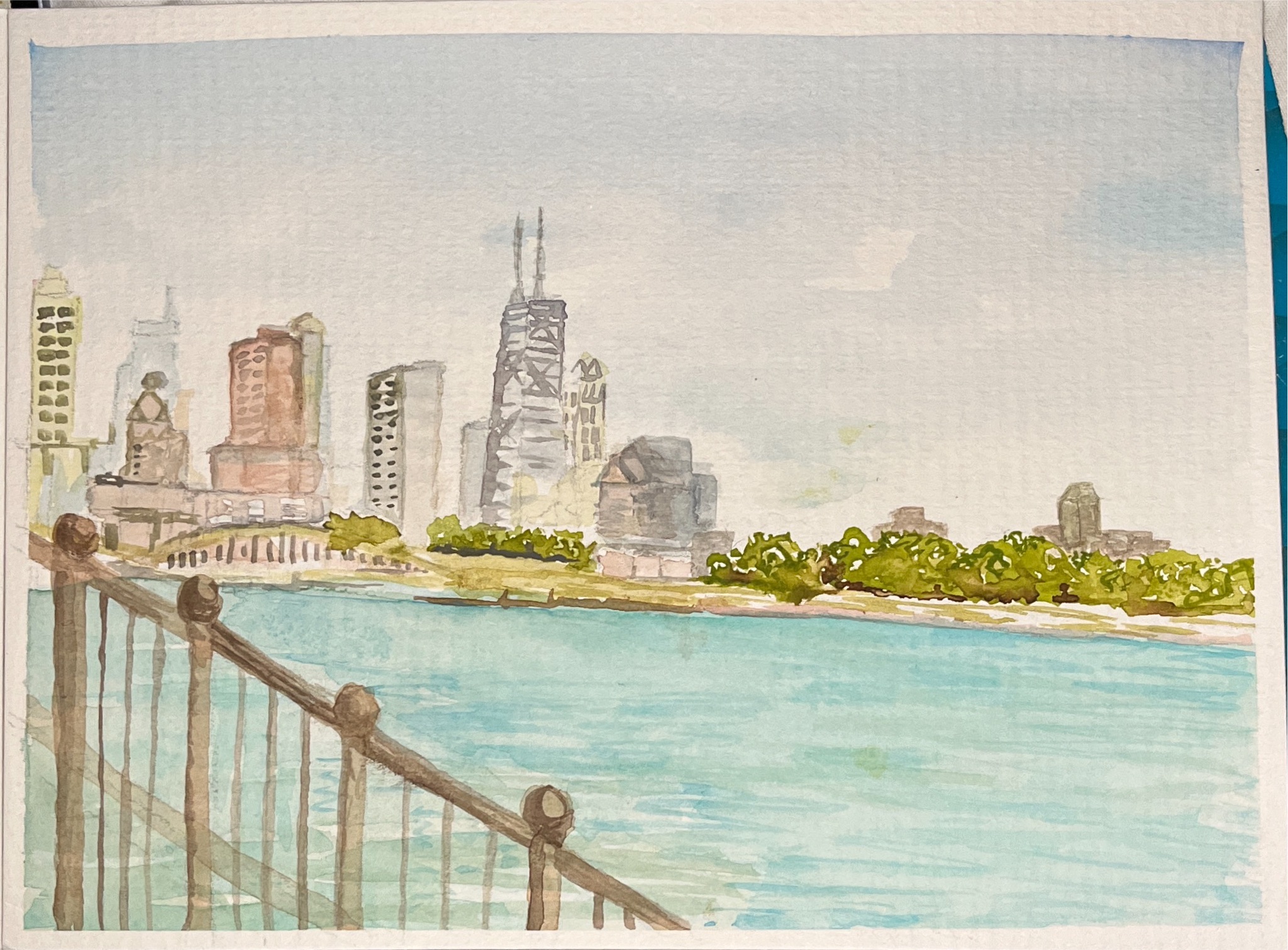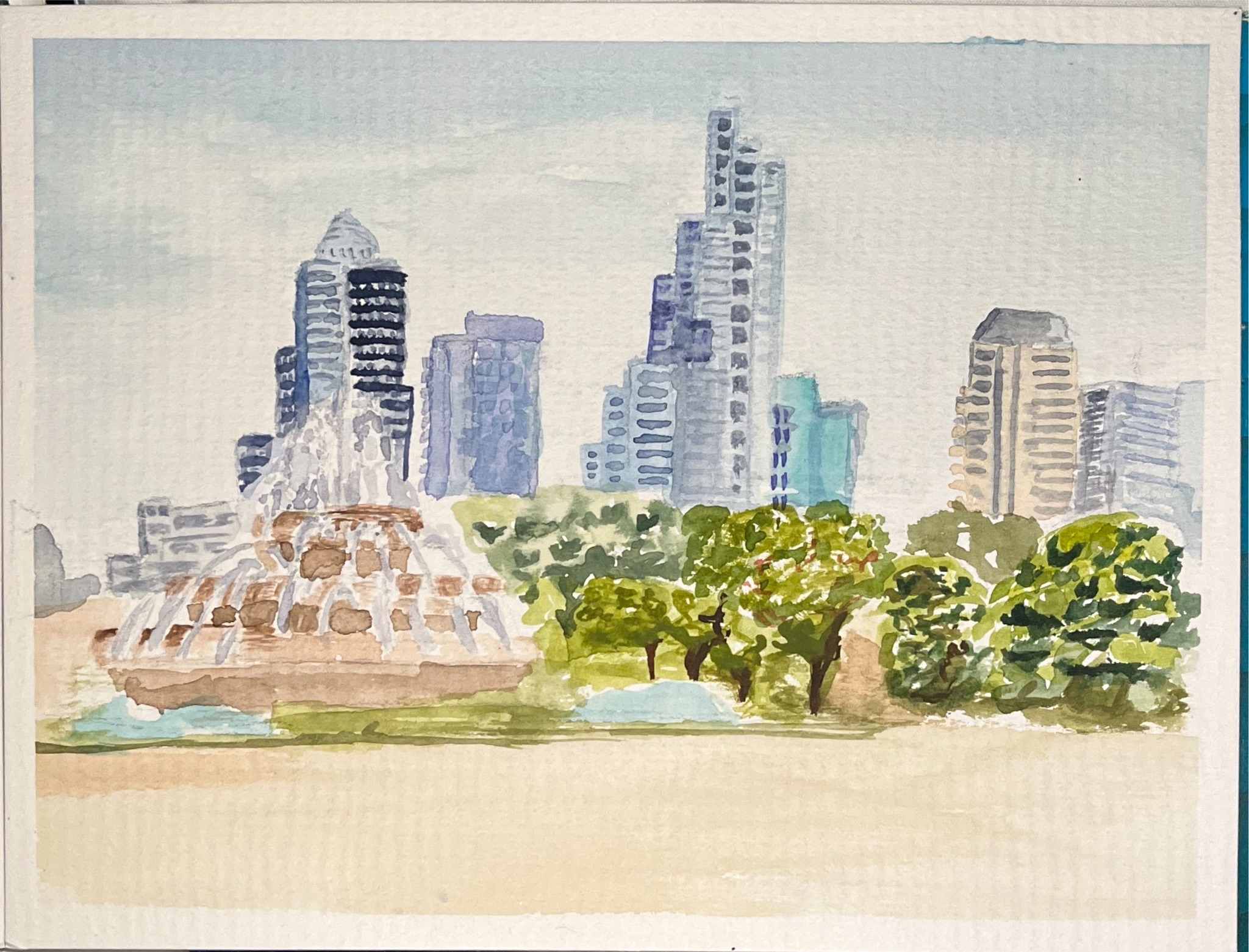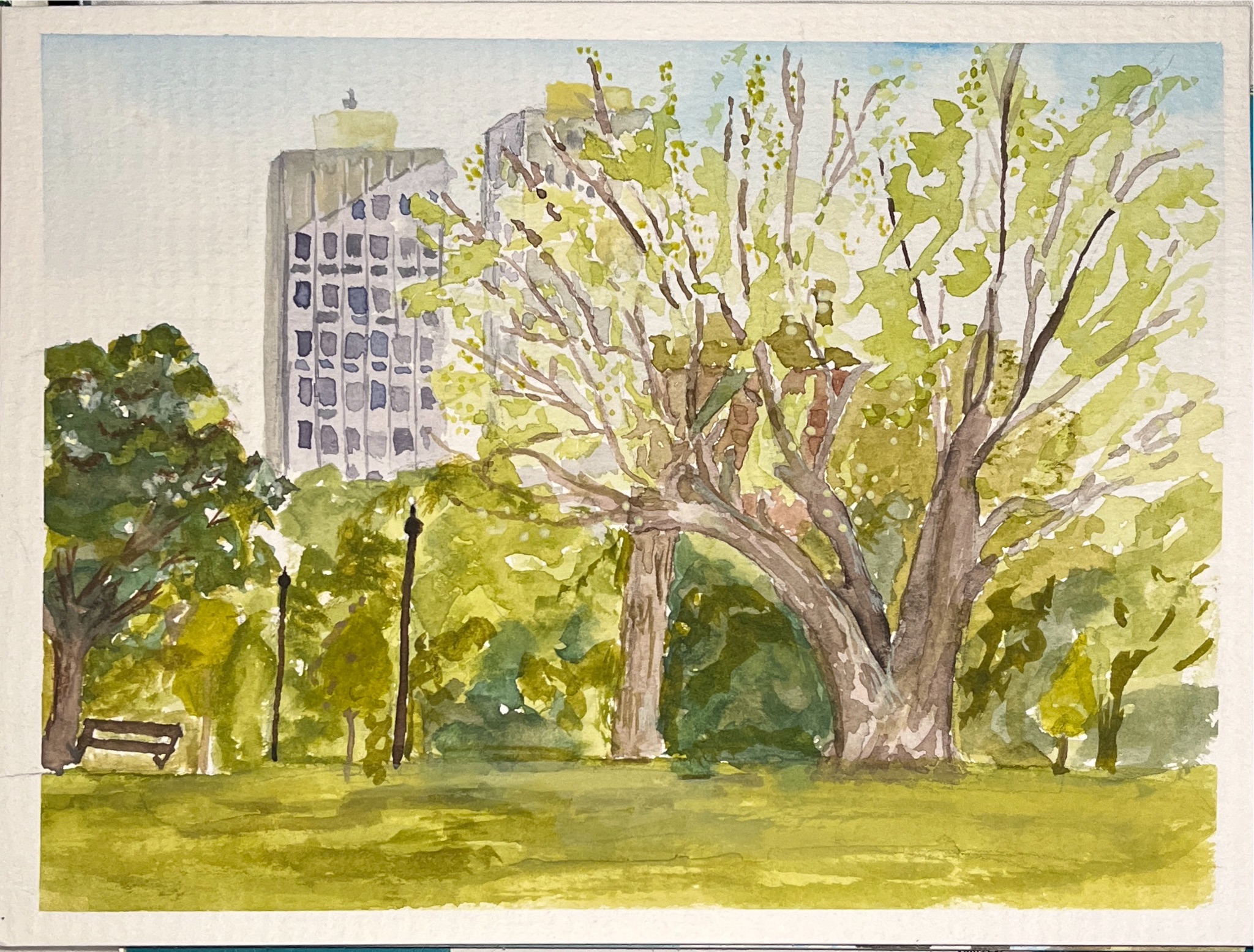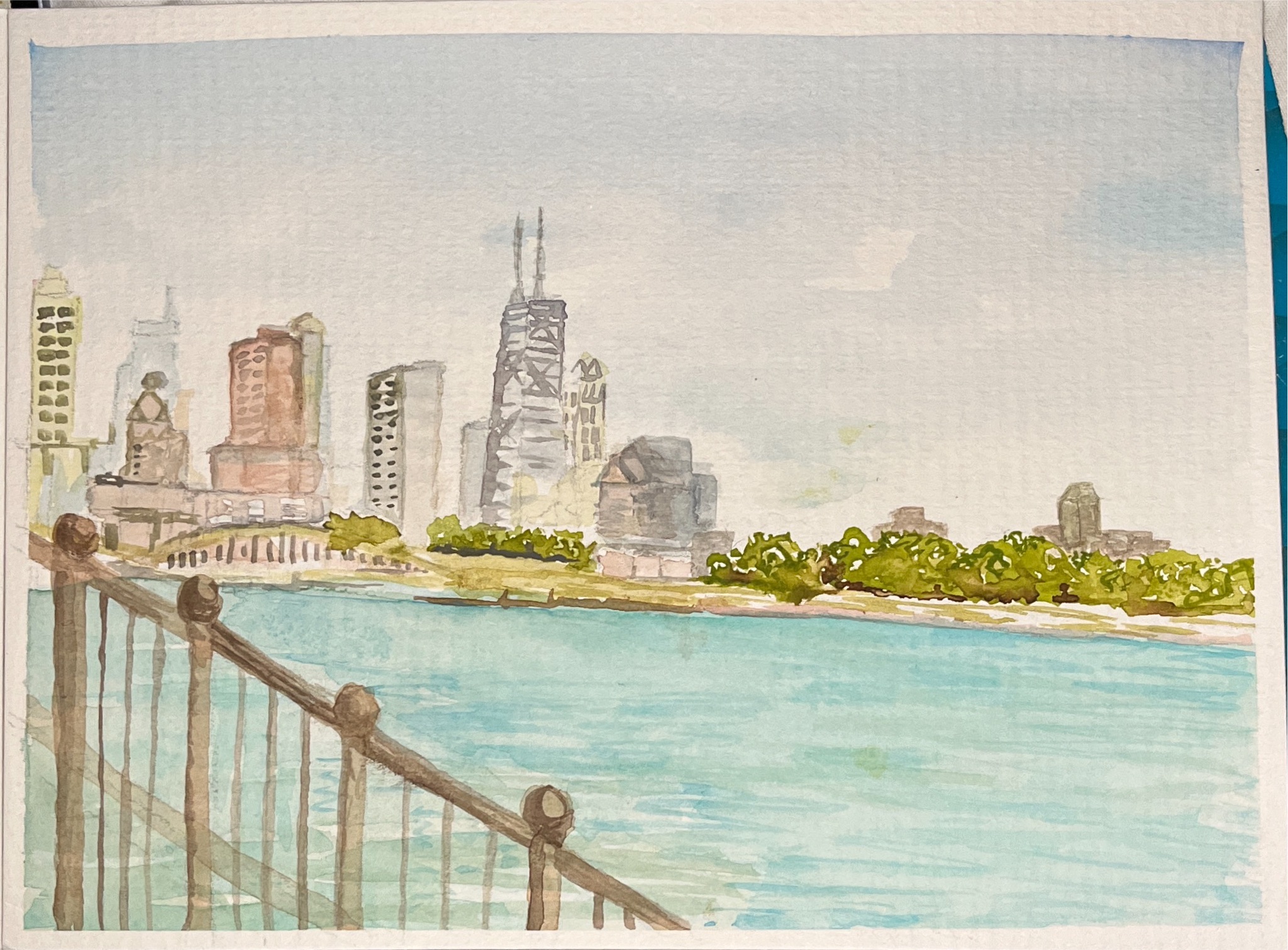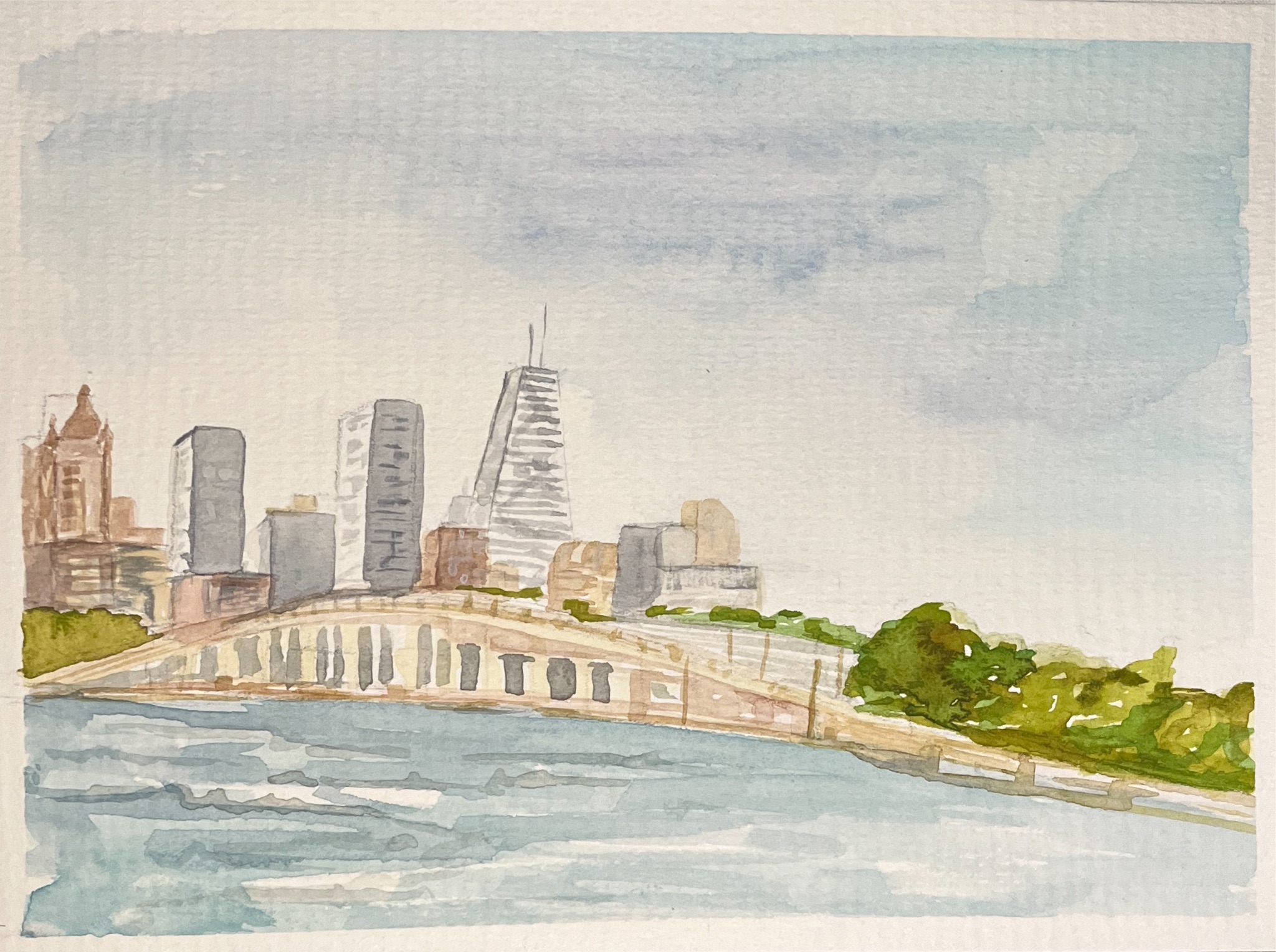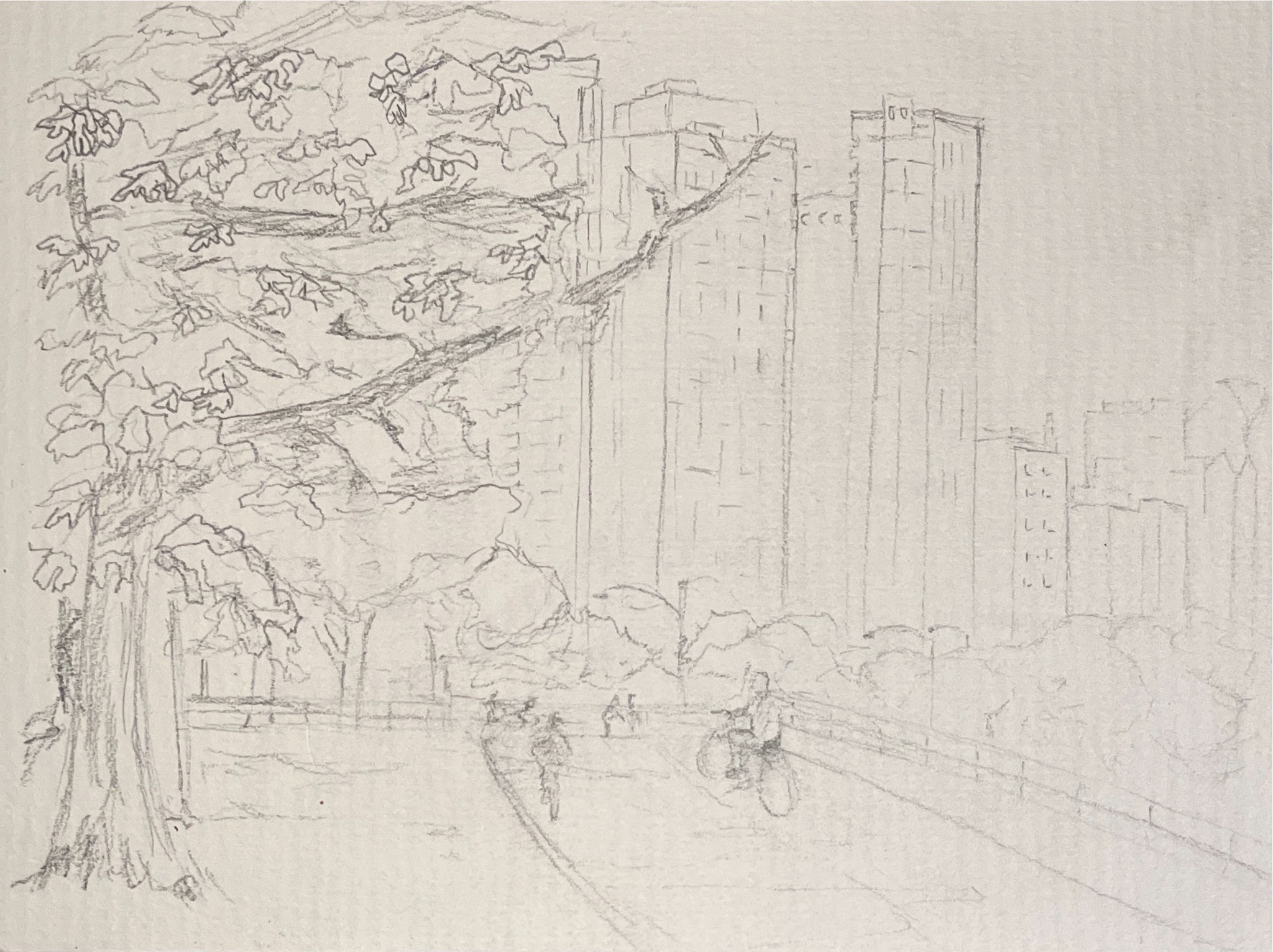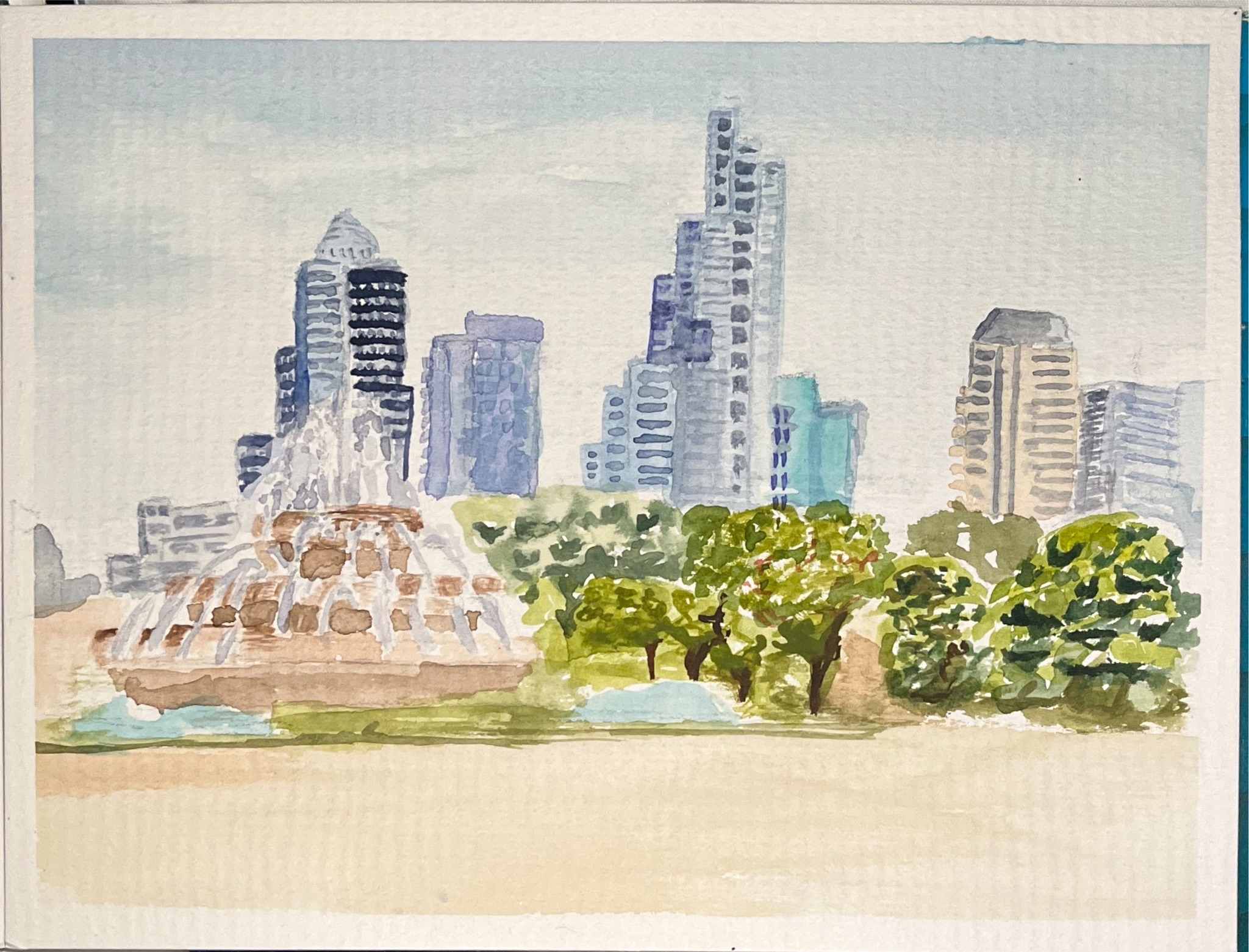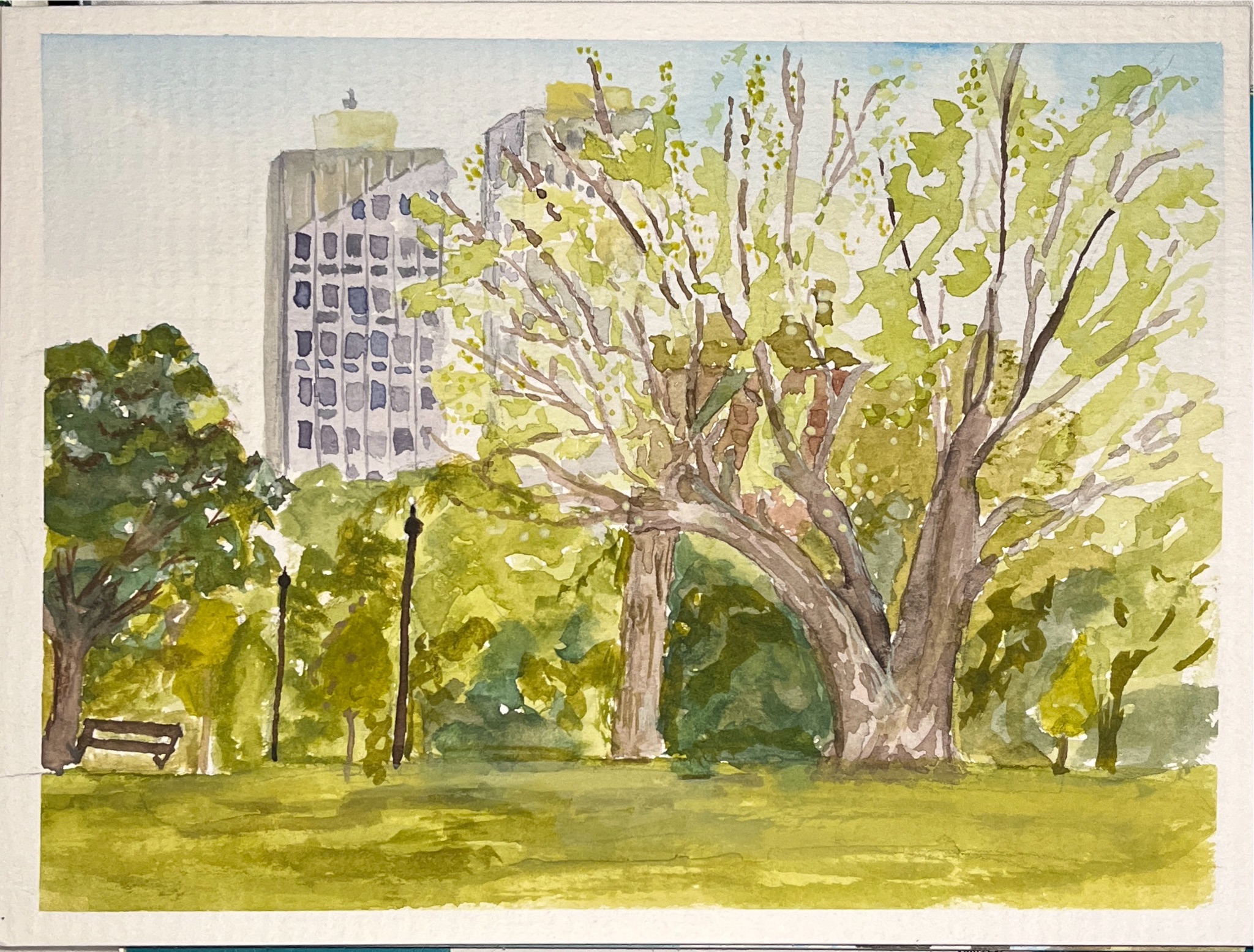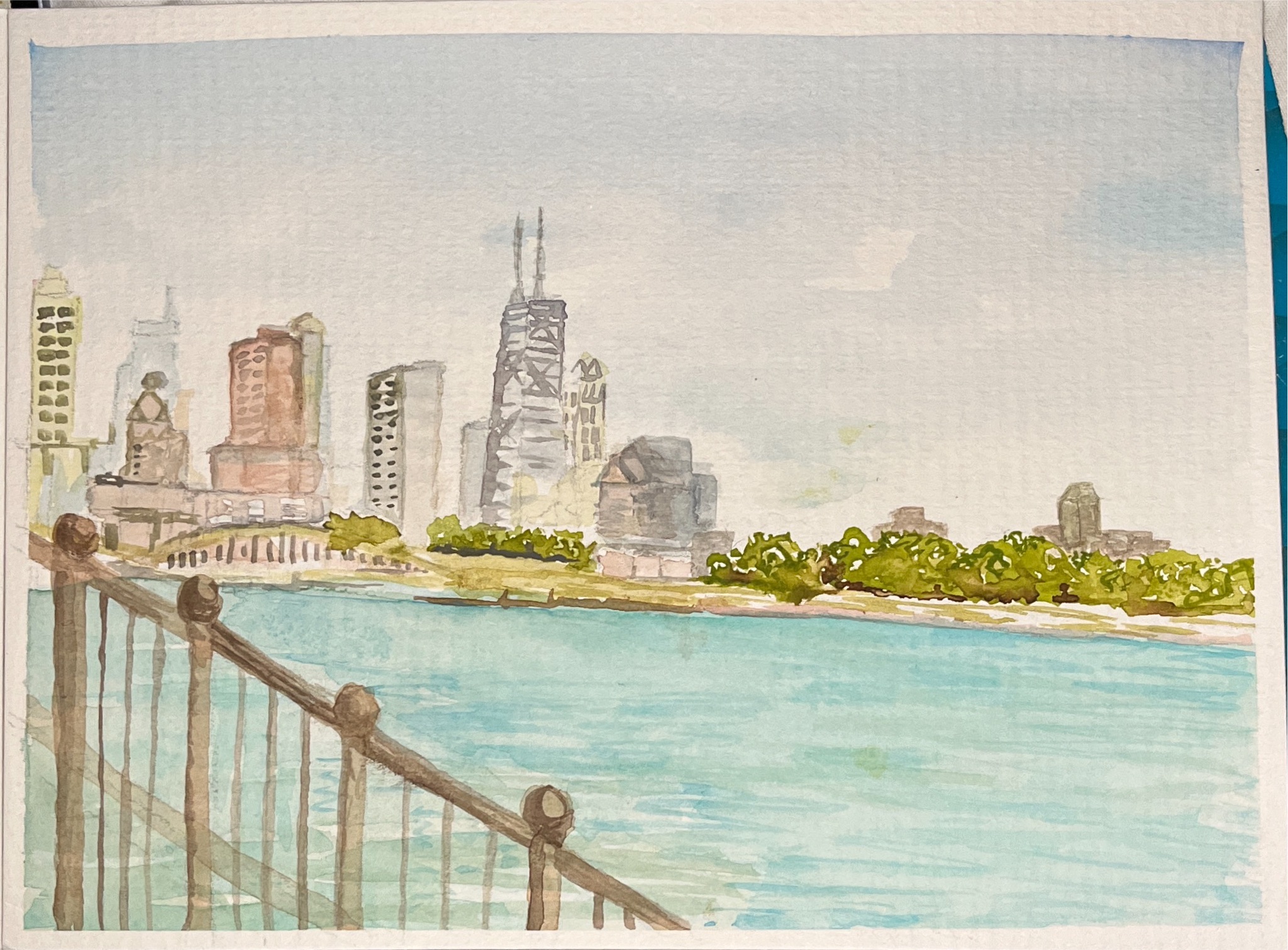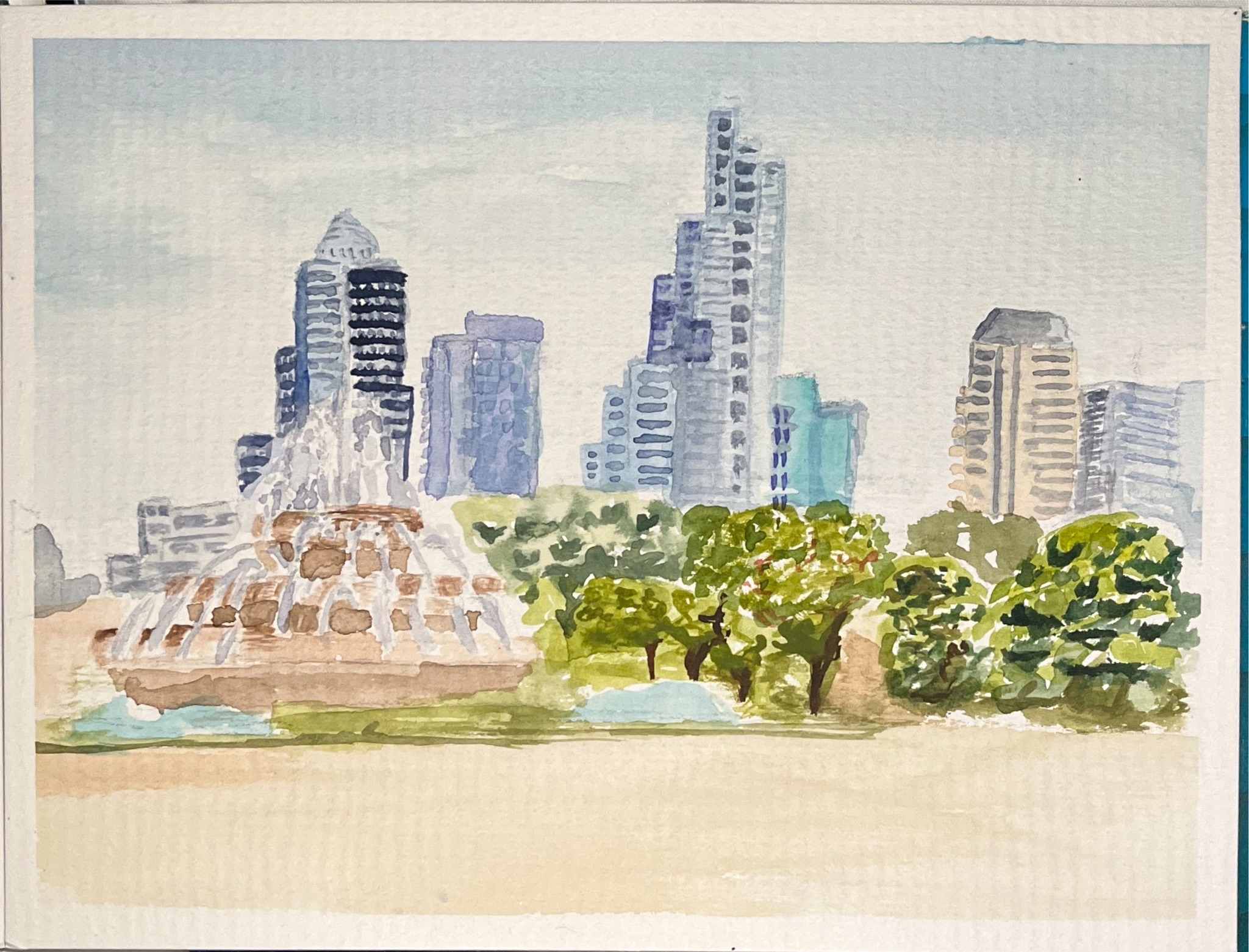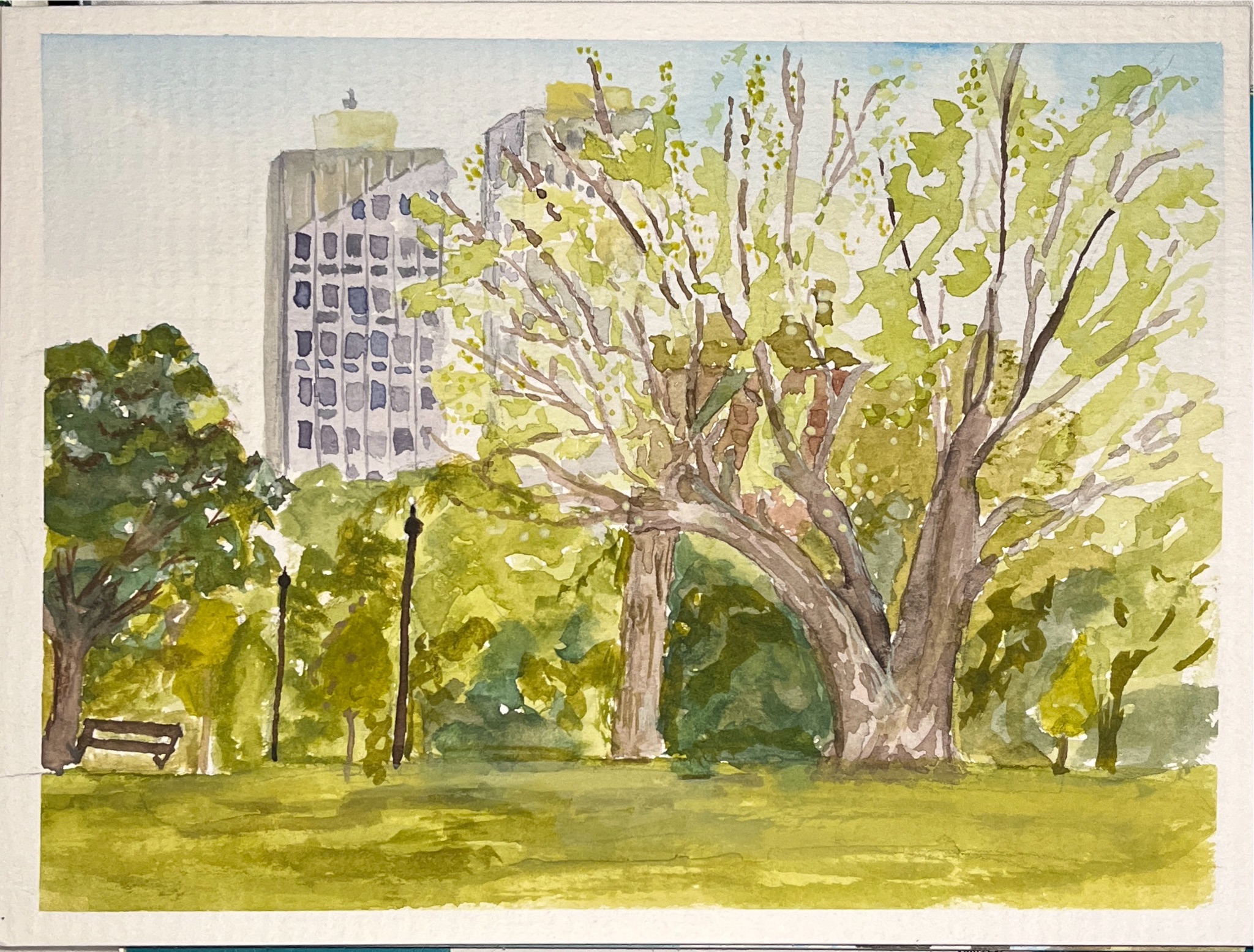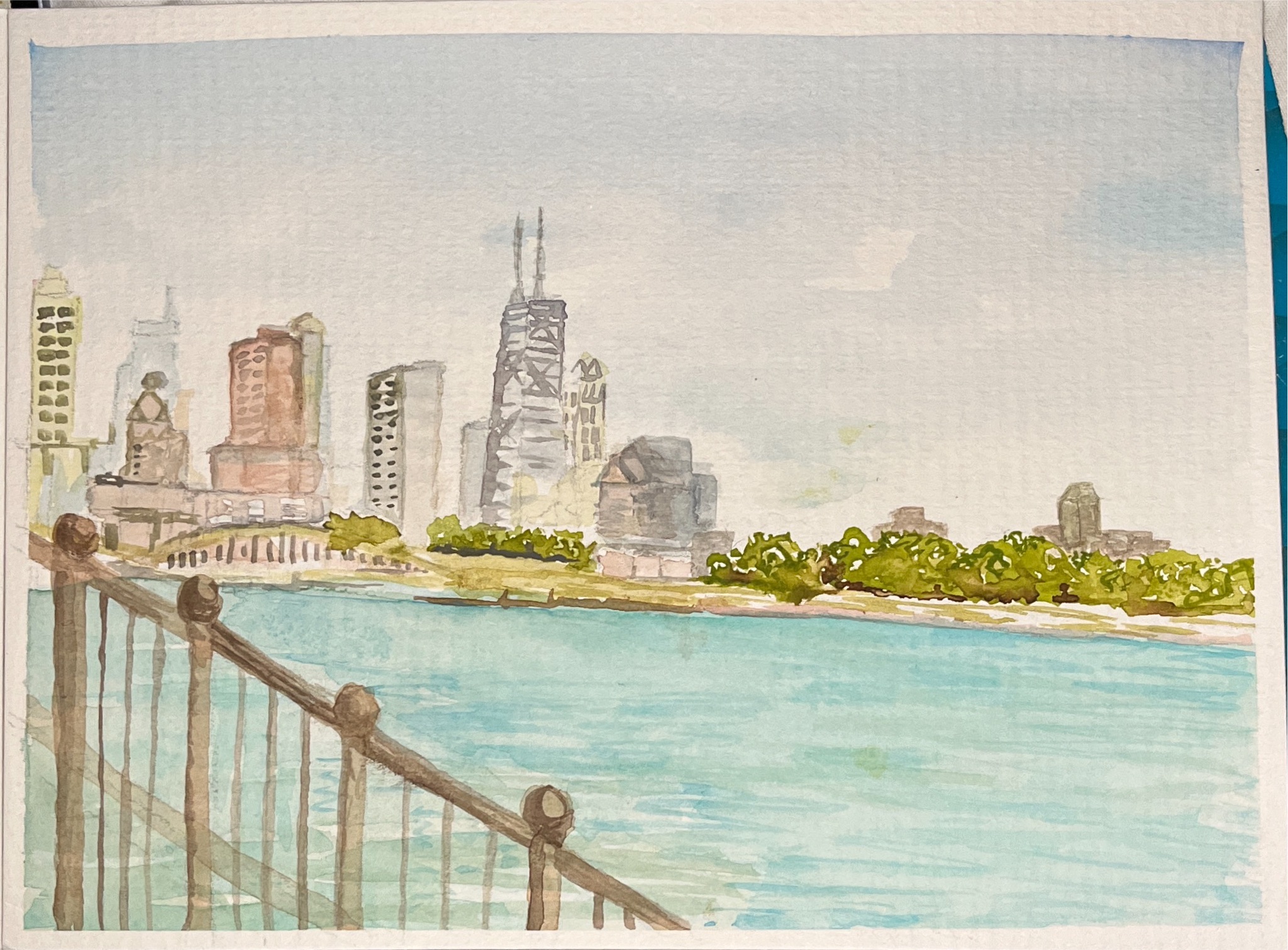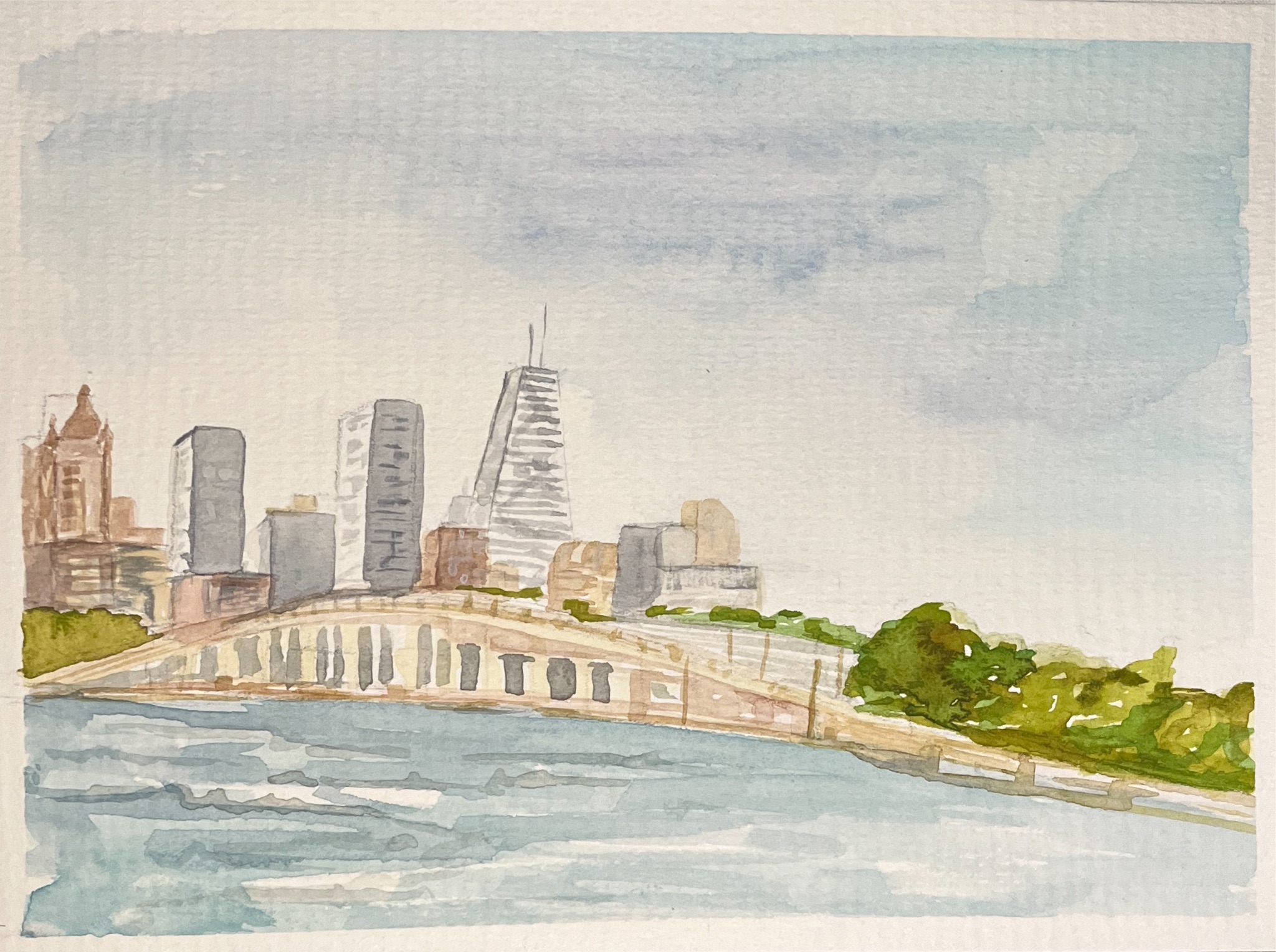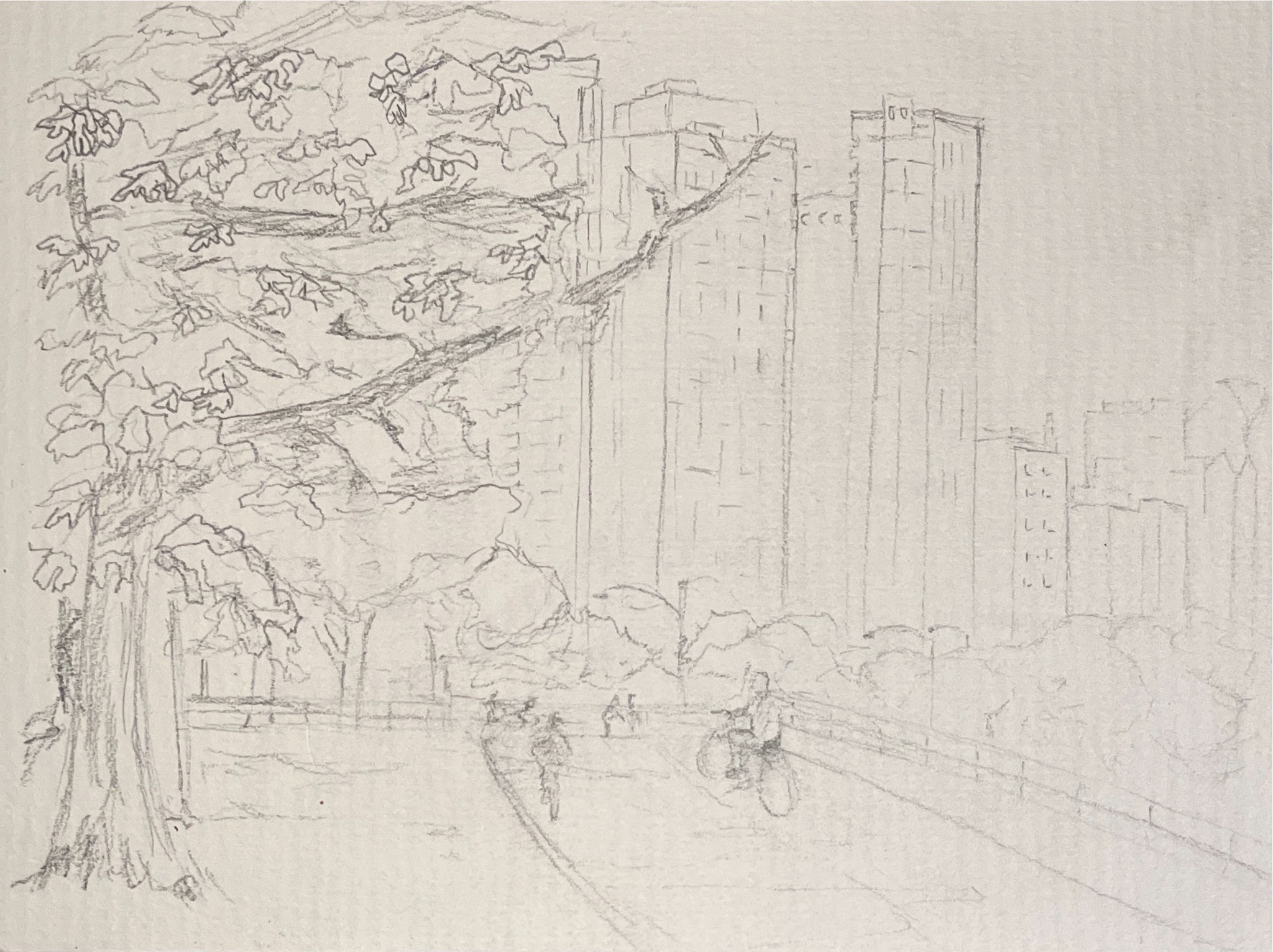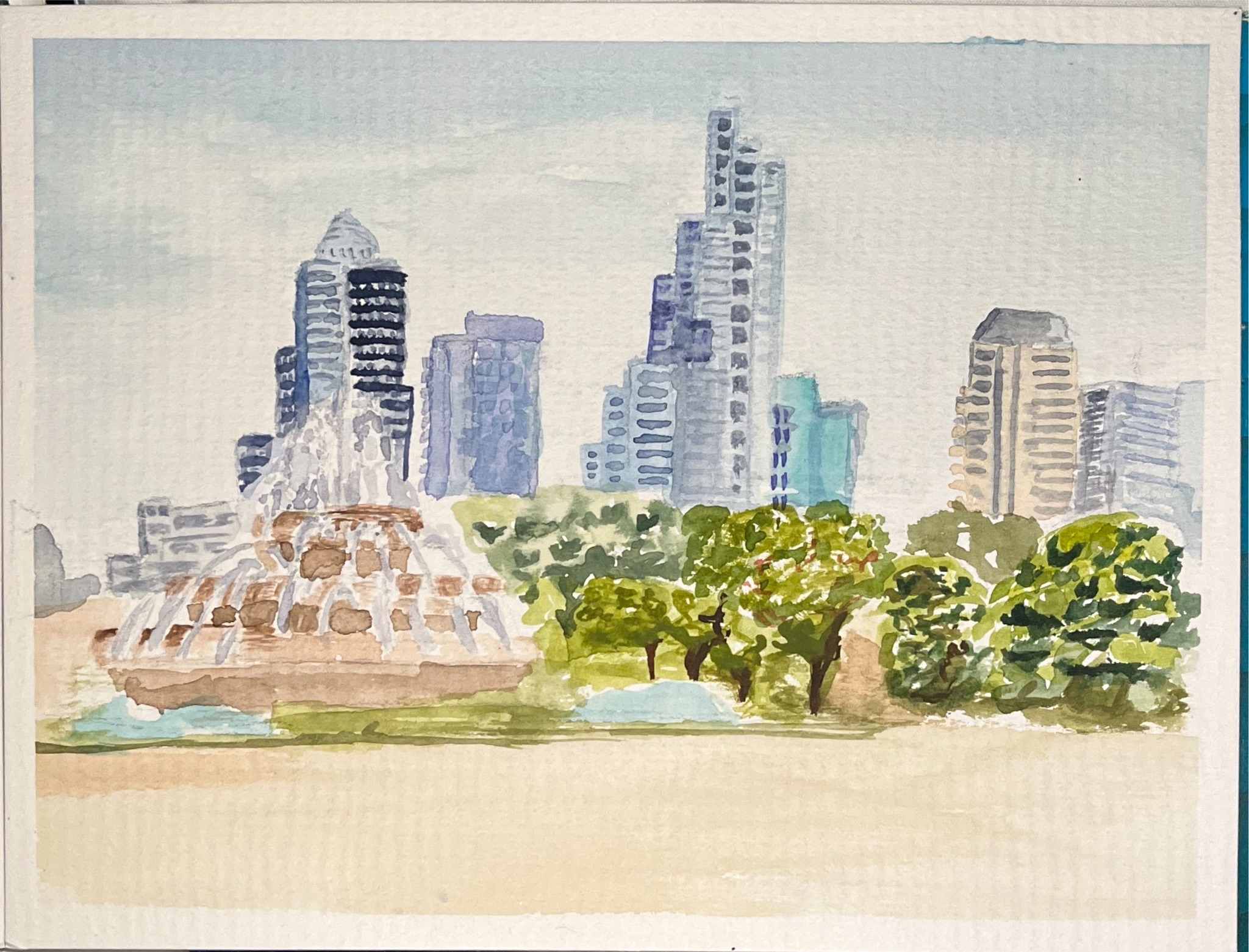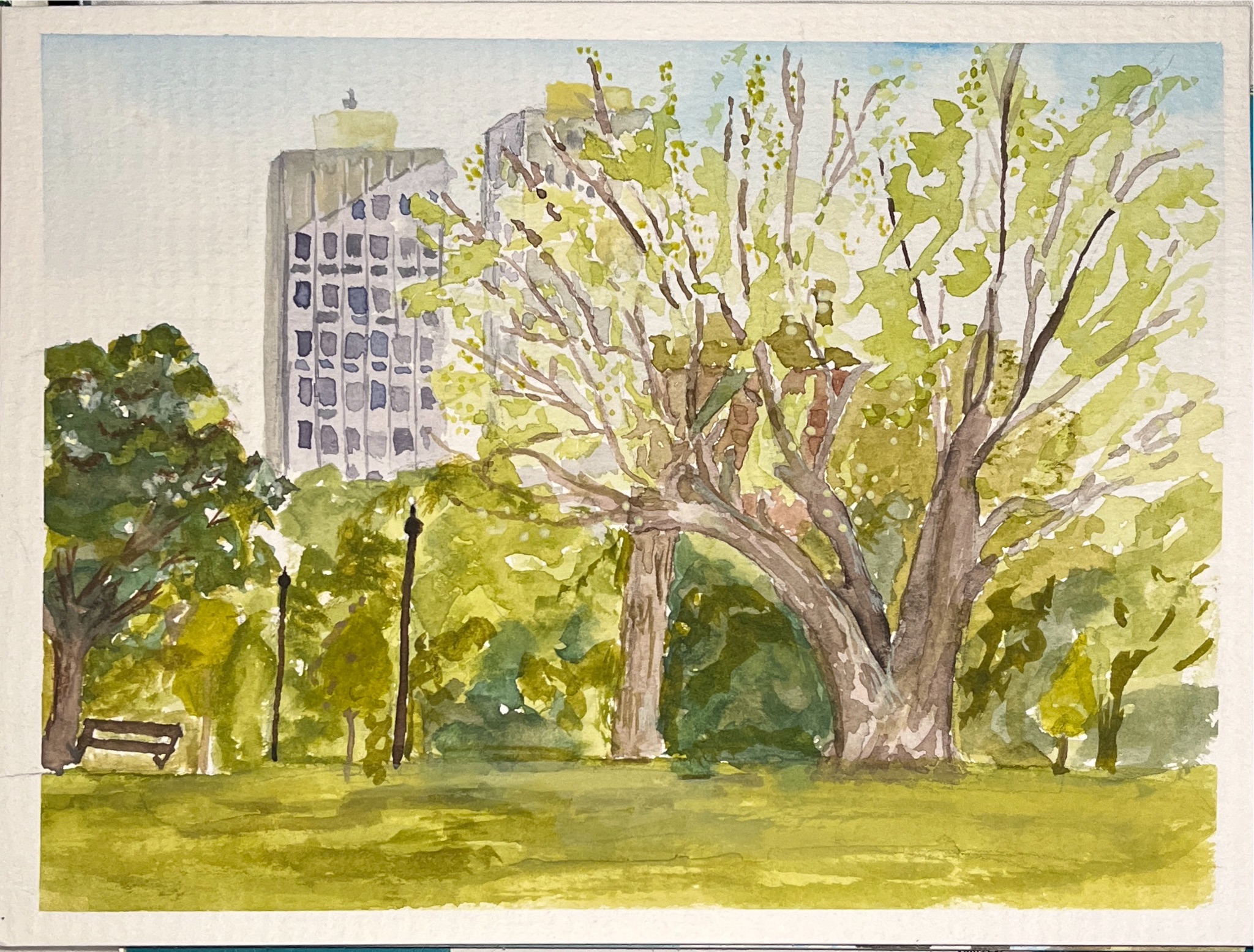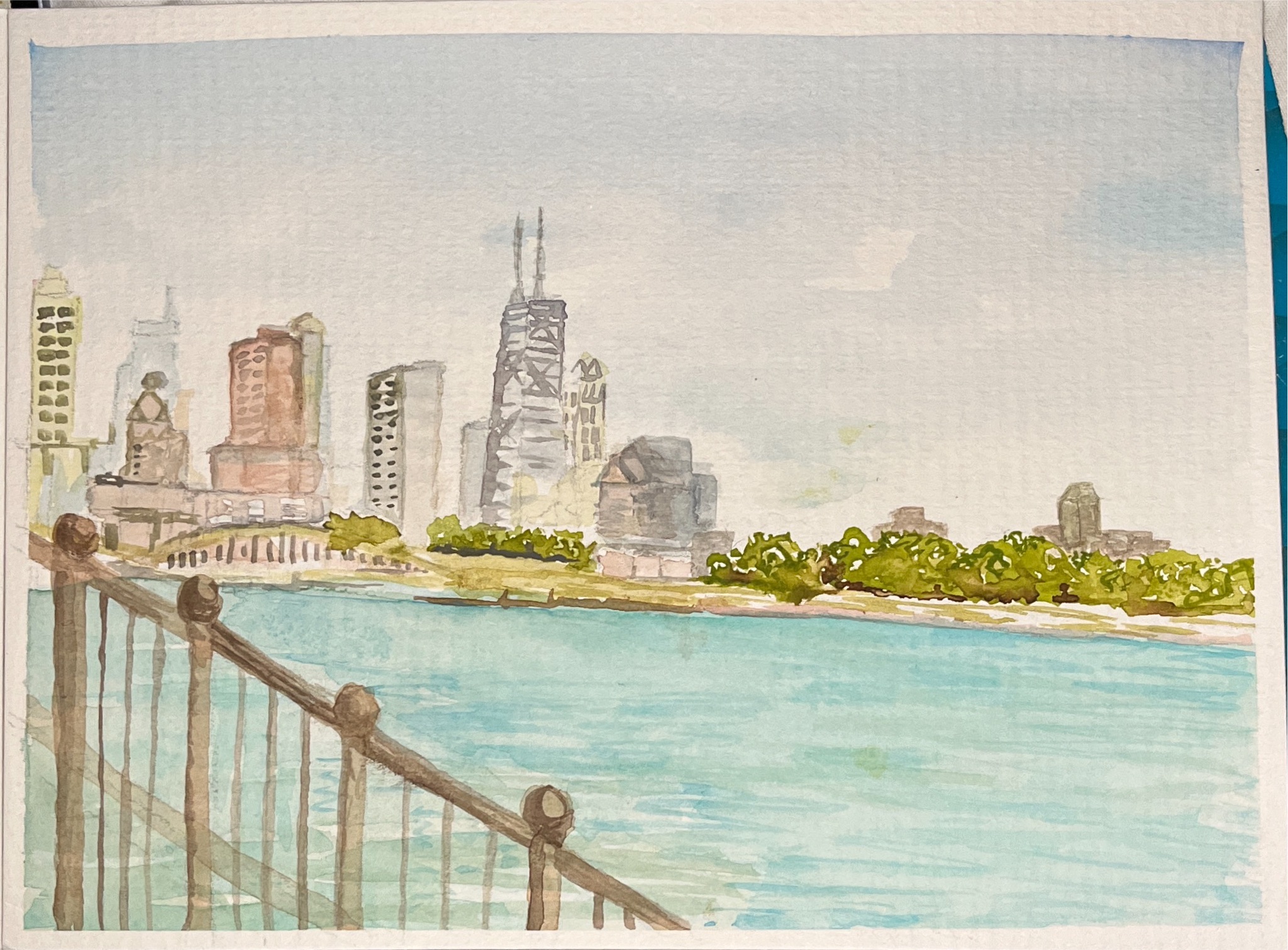 A collection
I was able to complete a total of 31 paintings in the course of three months. But as soon as it started to get too warm in Texas, it became unmanageable to continue my practice.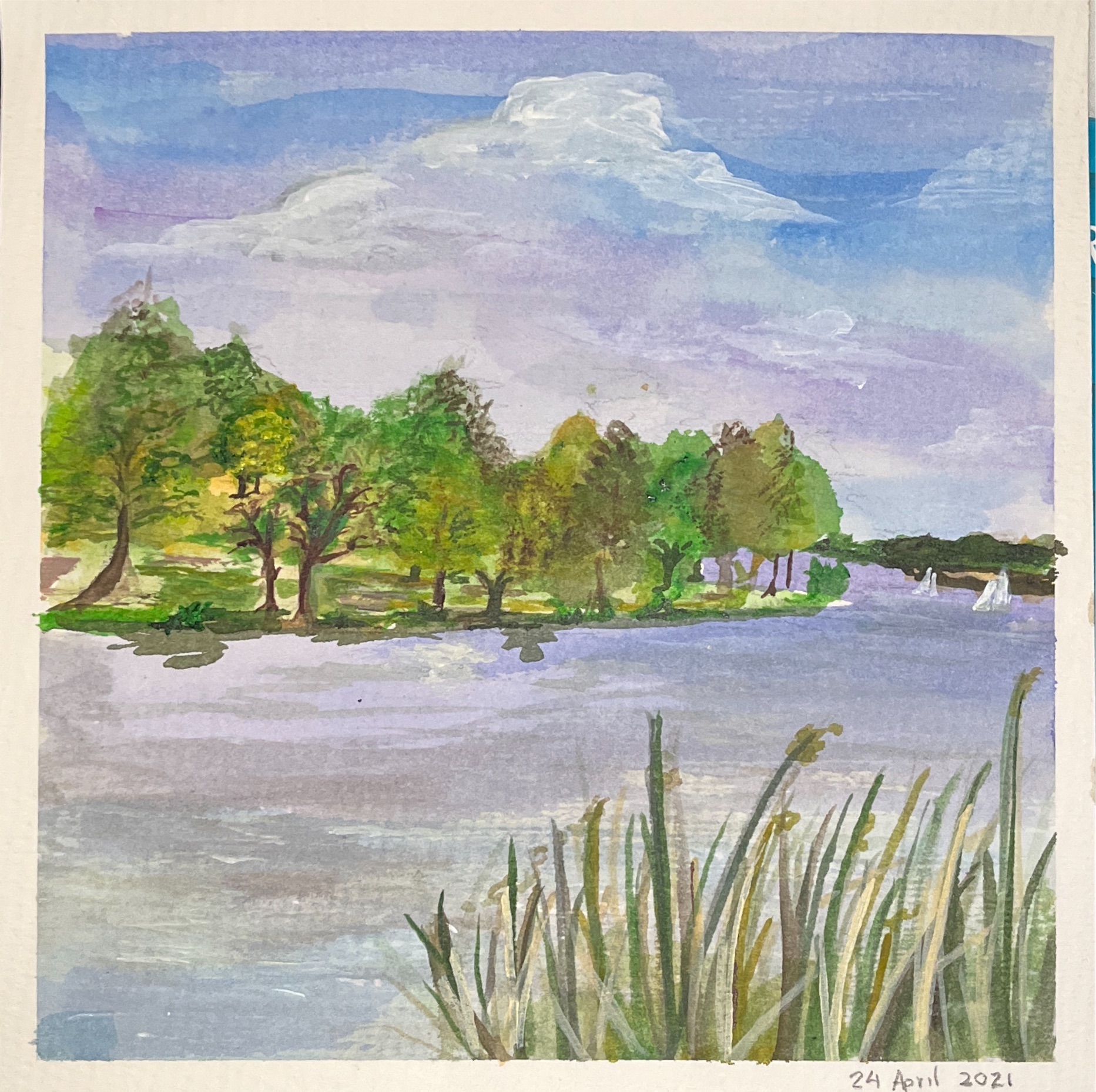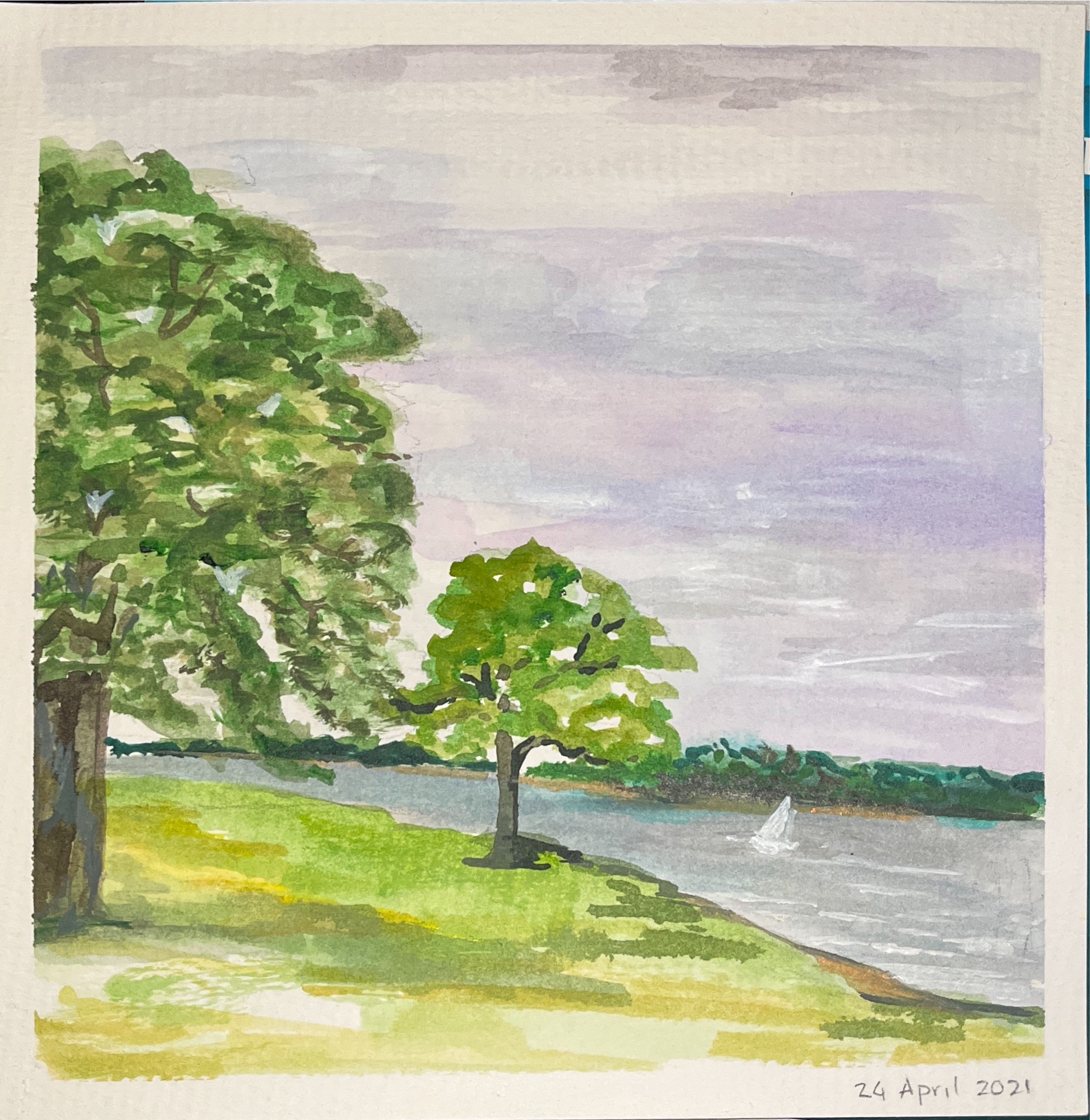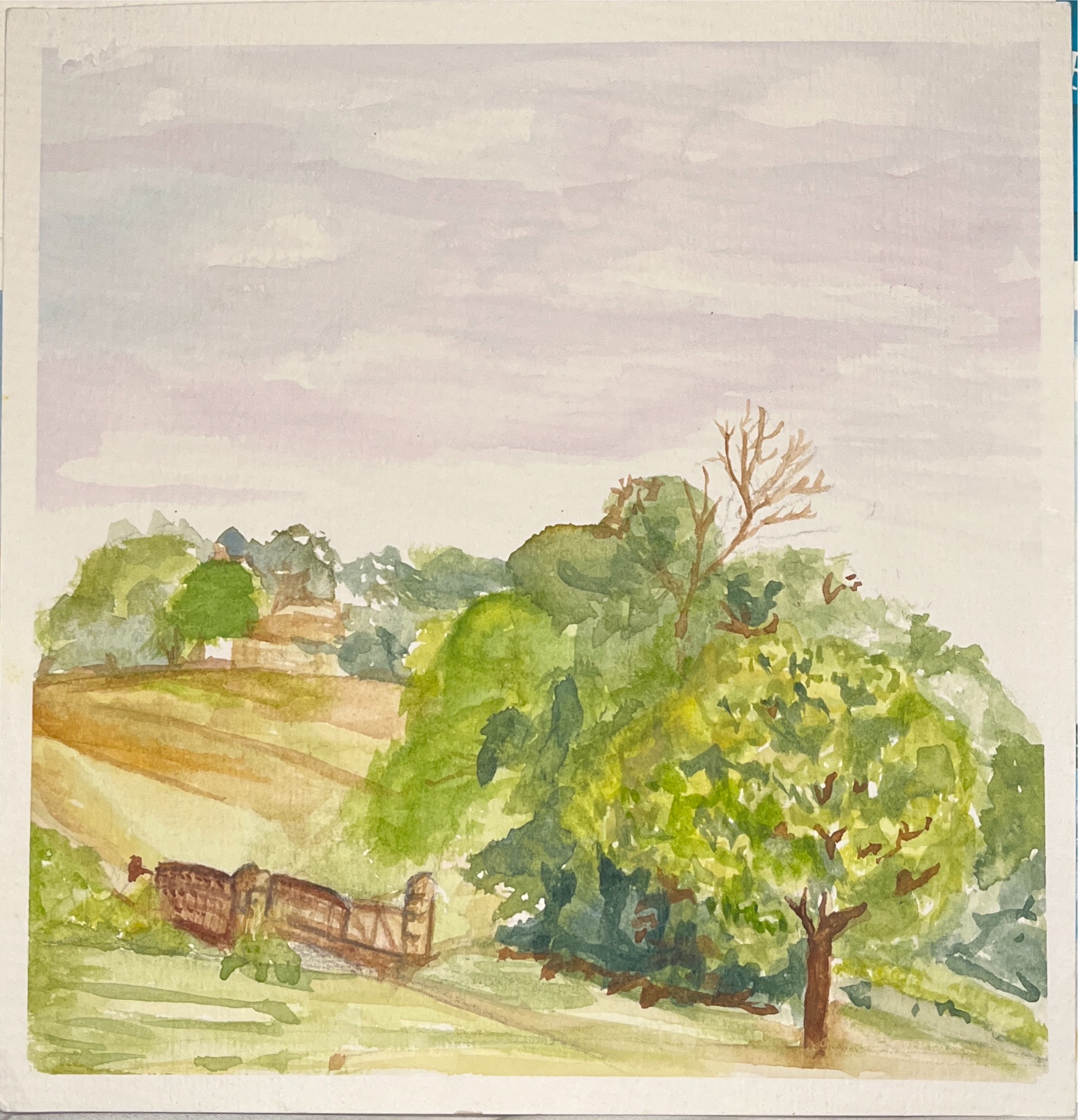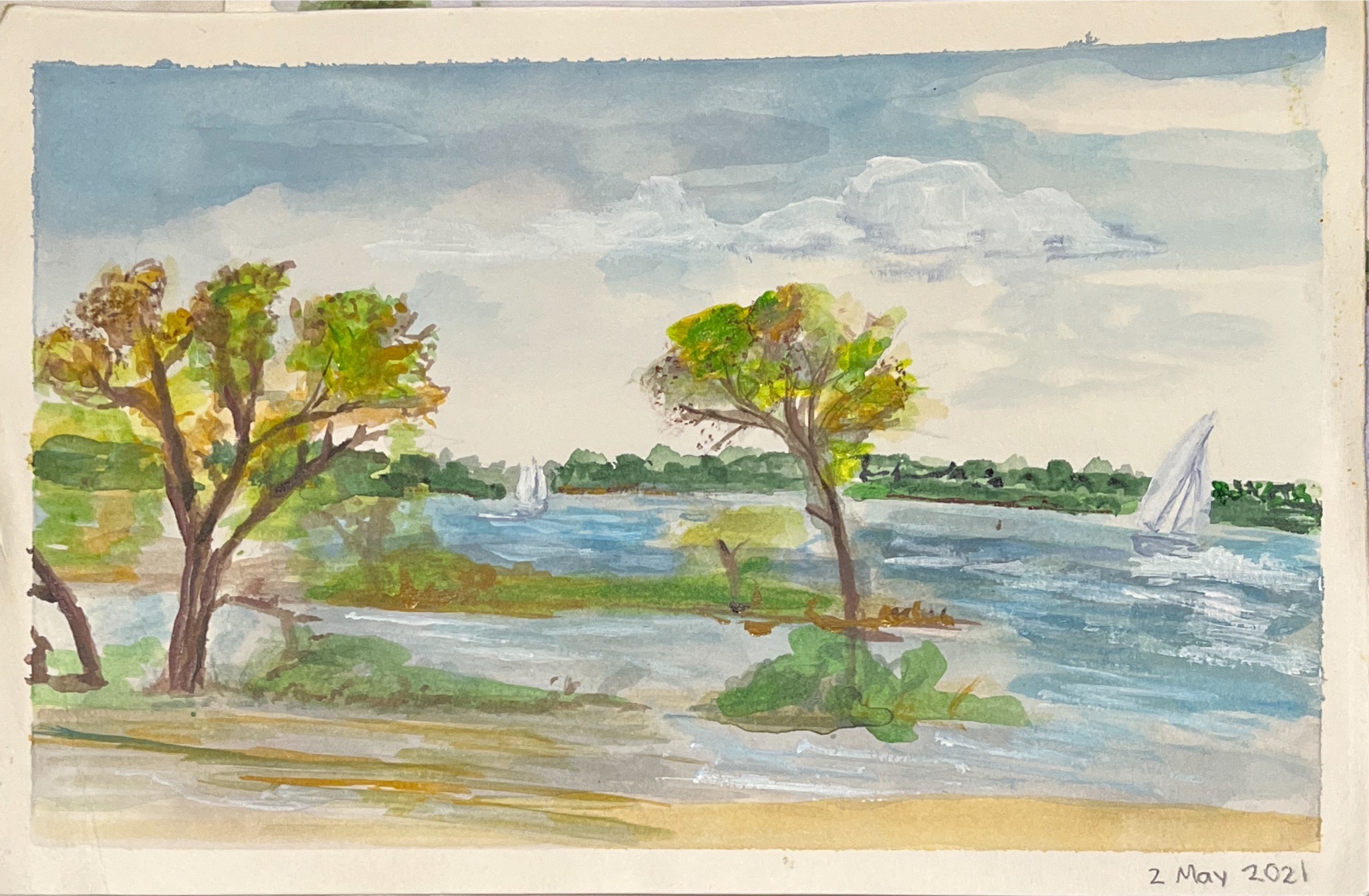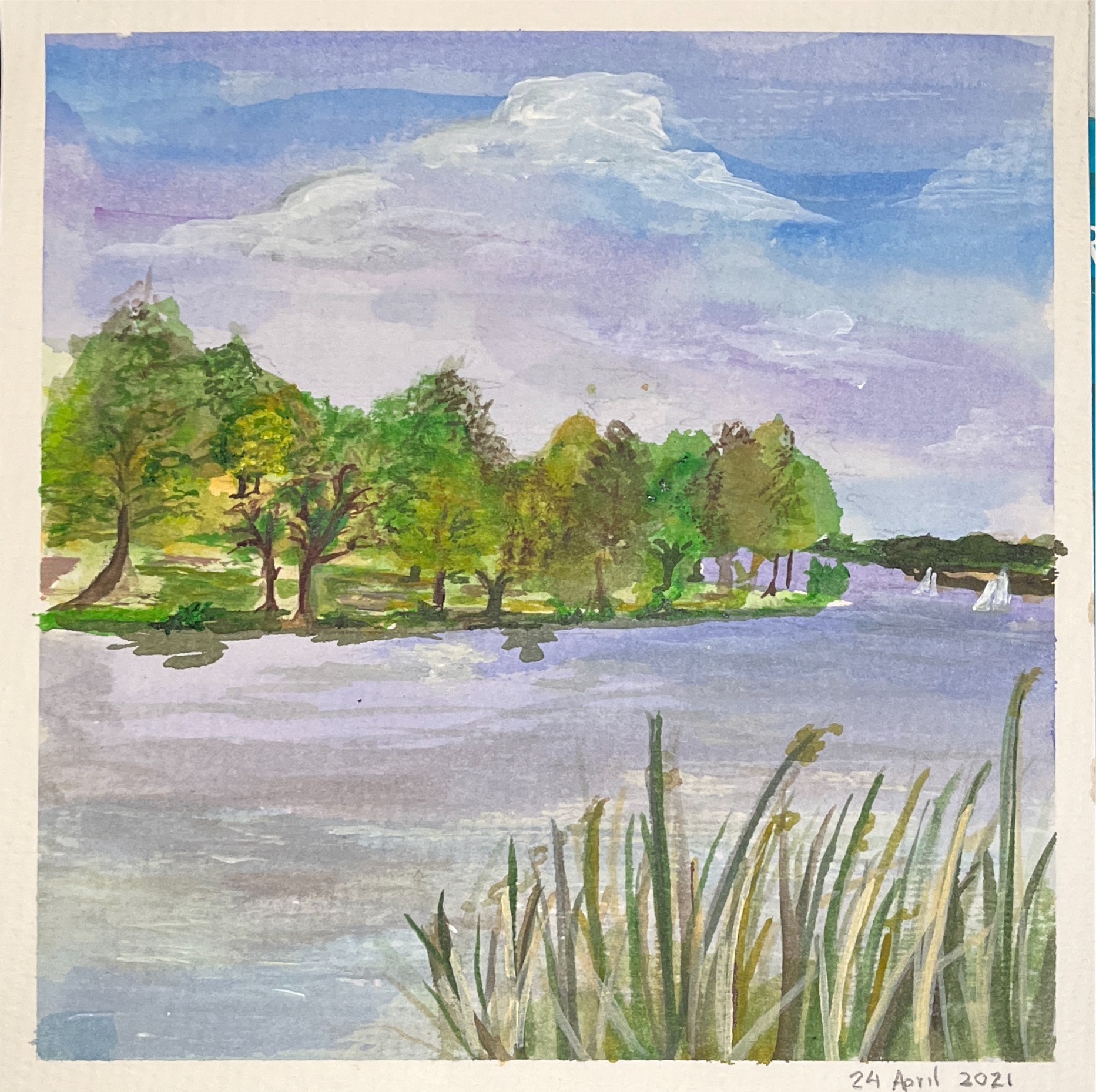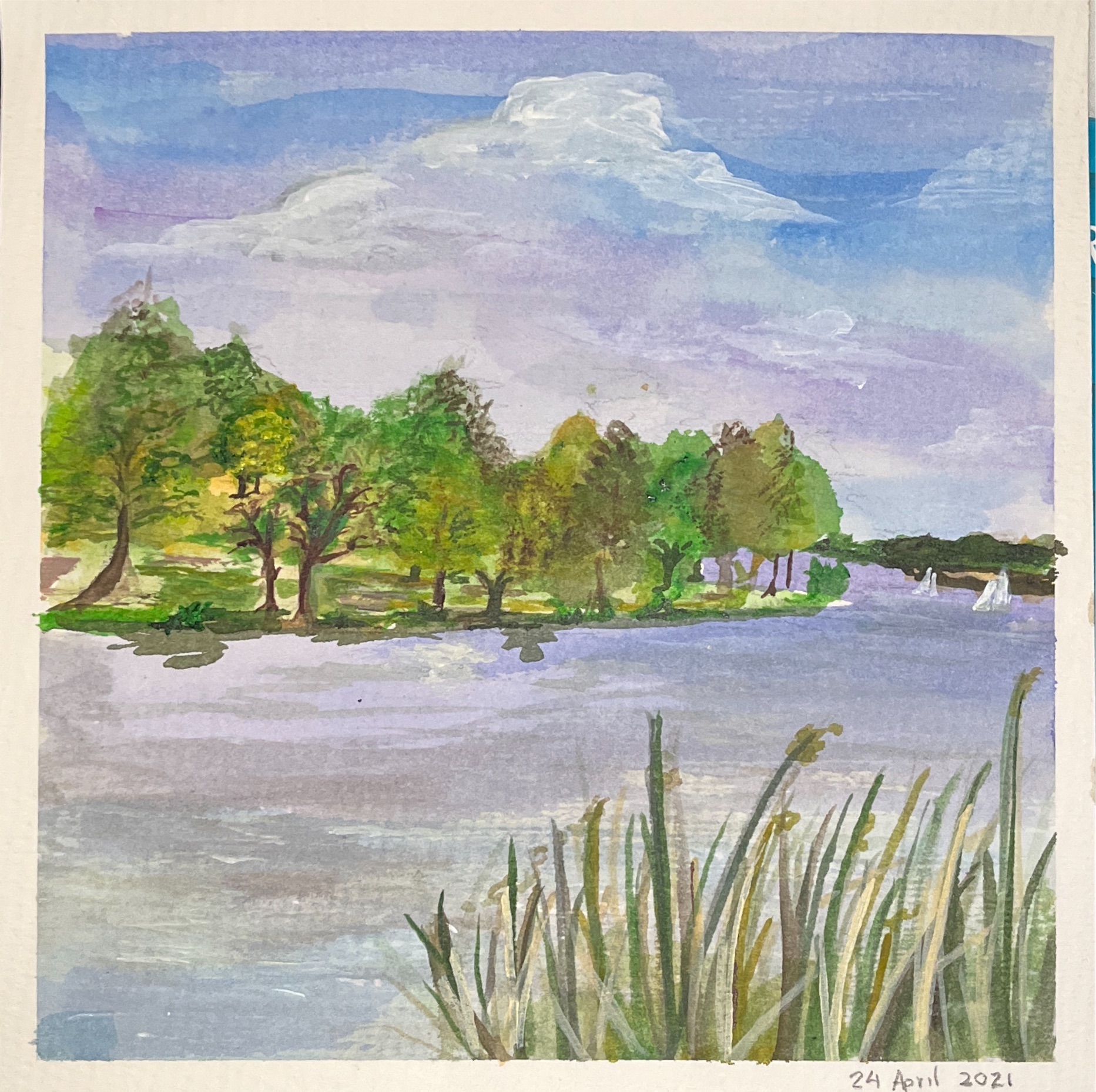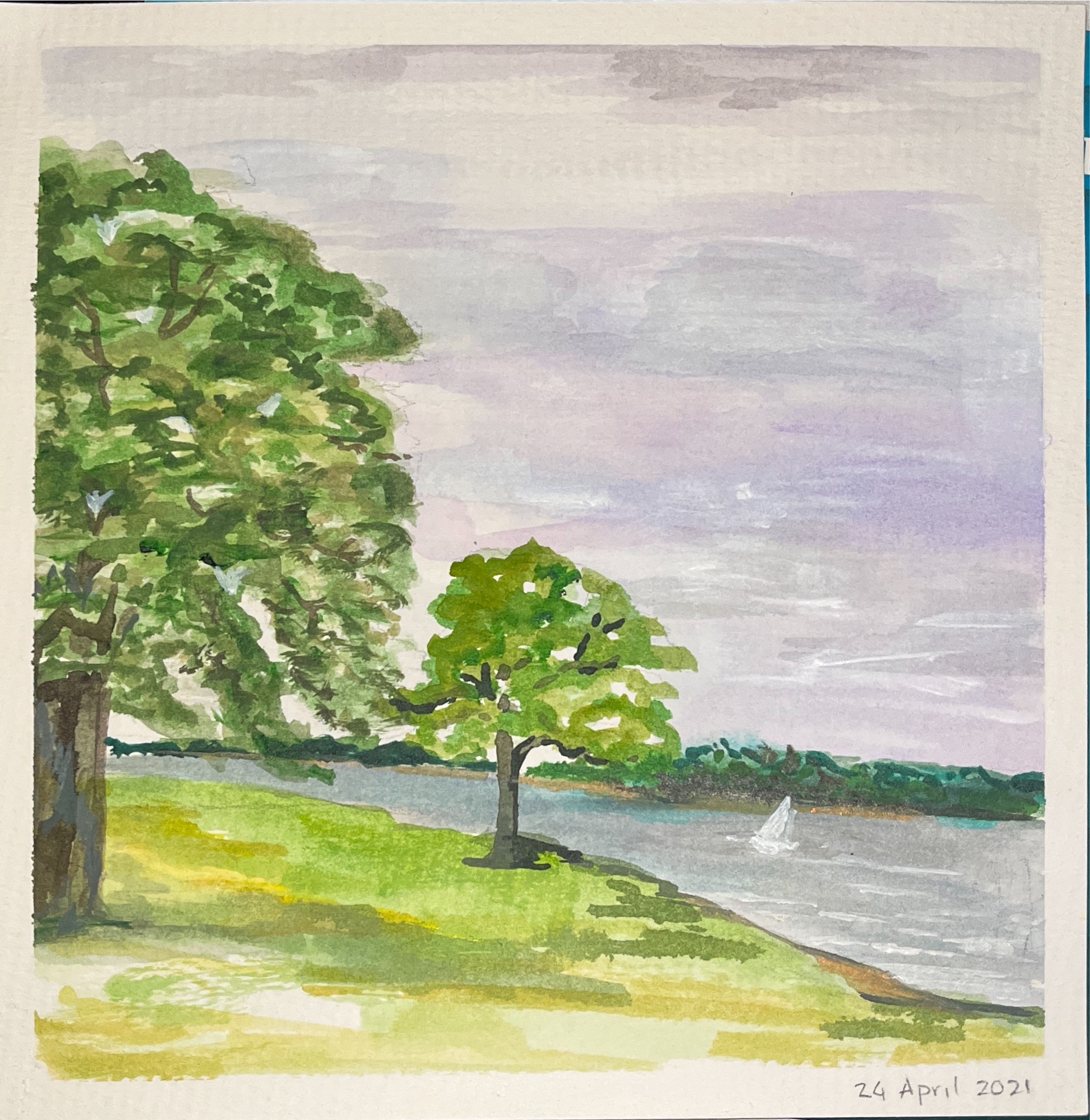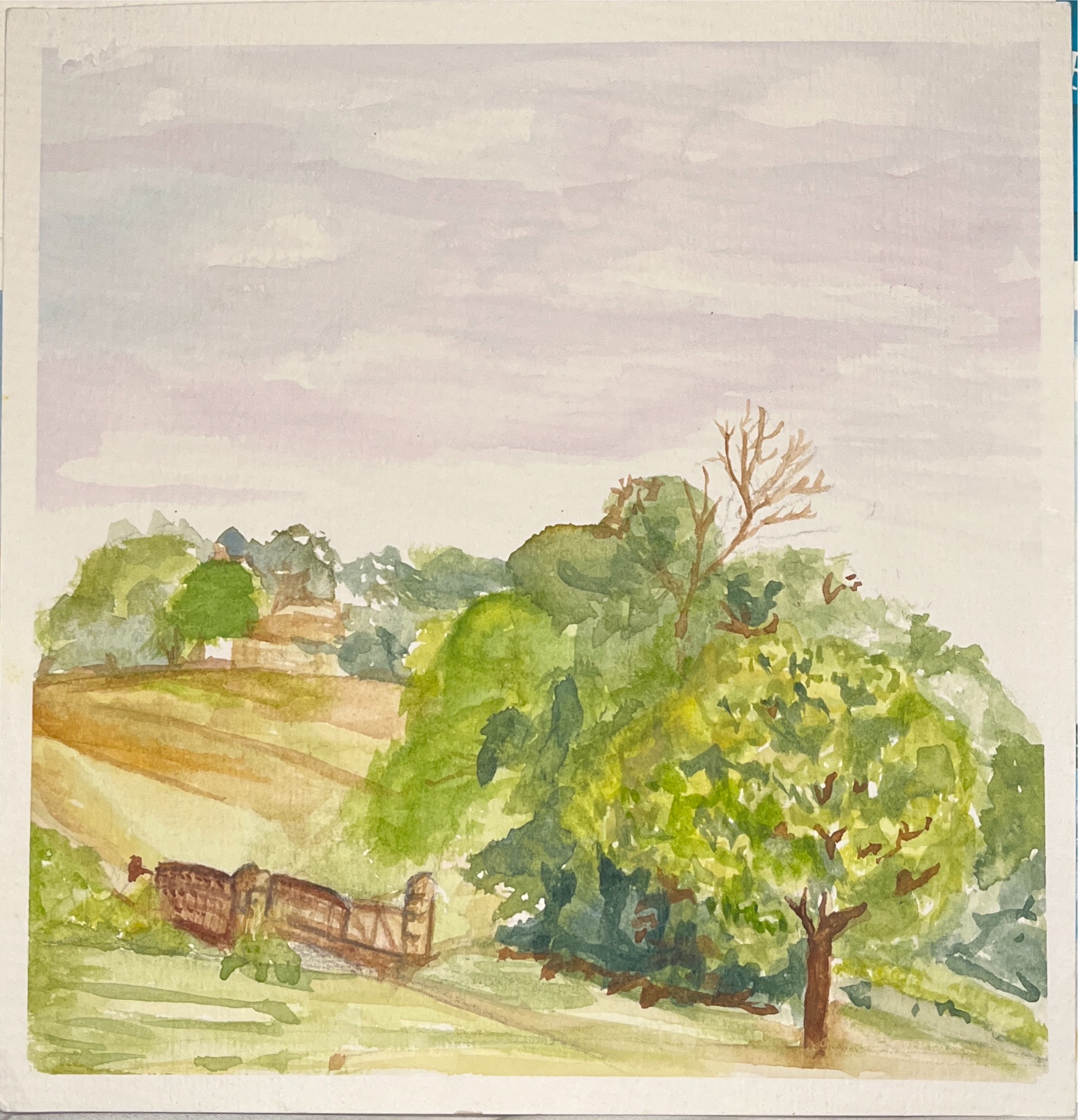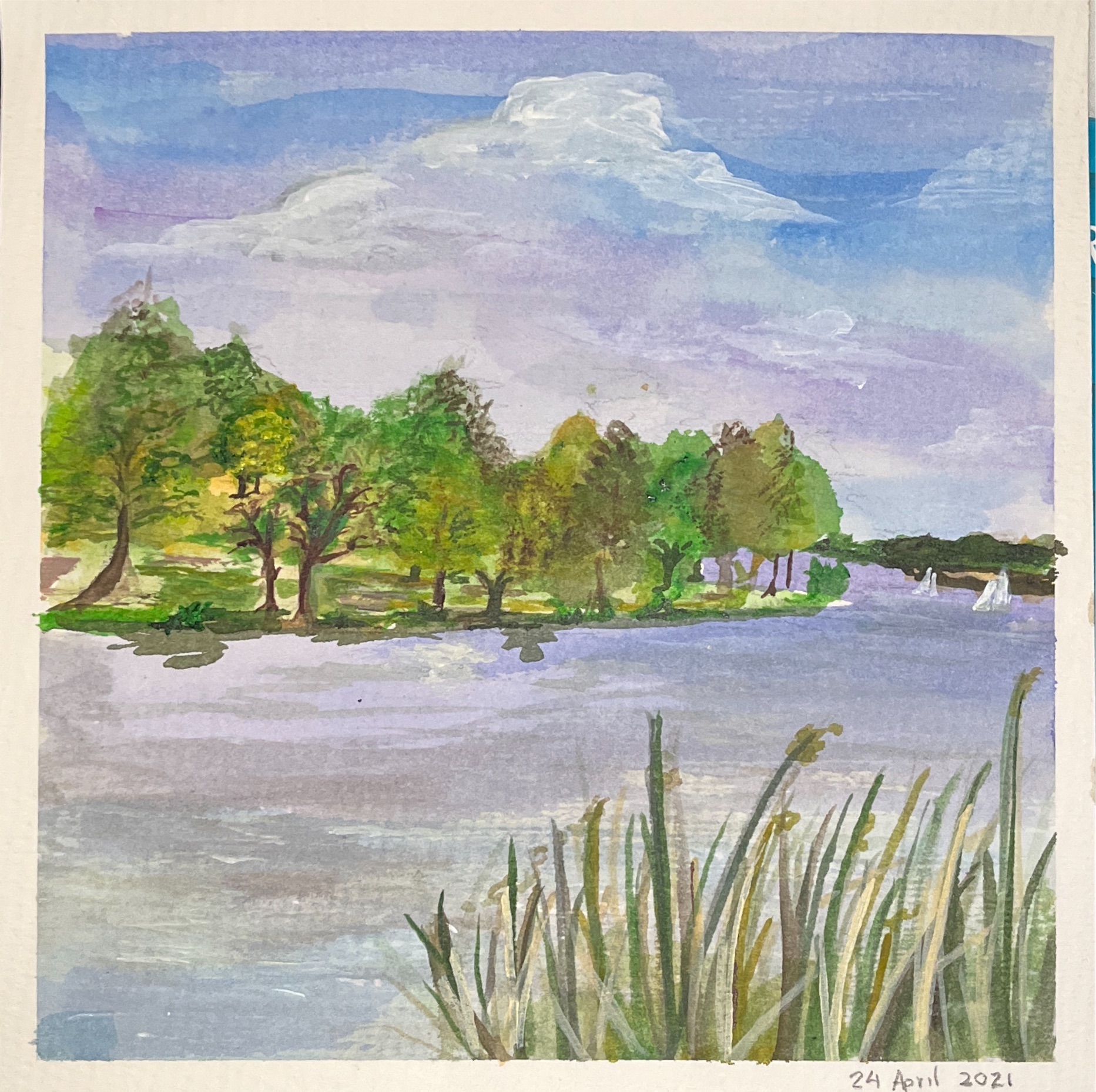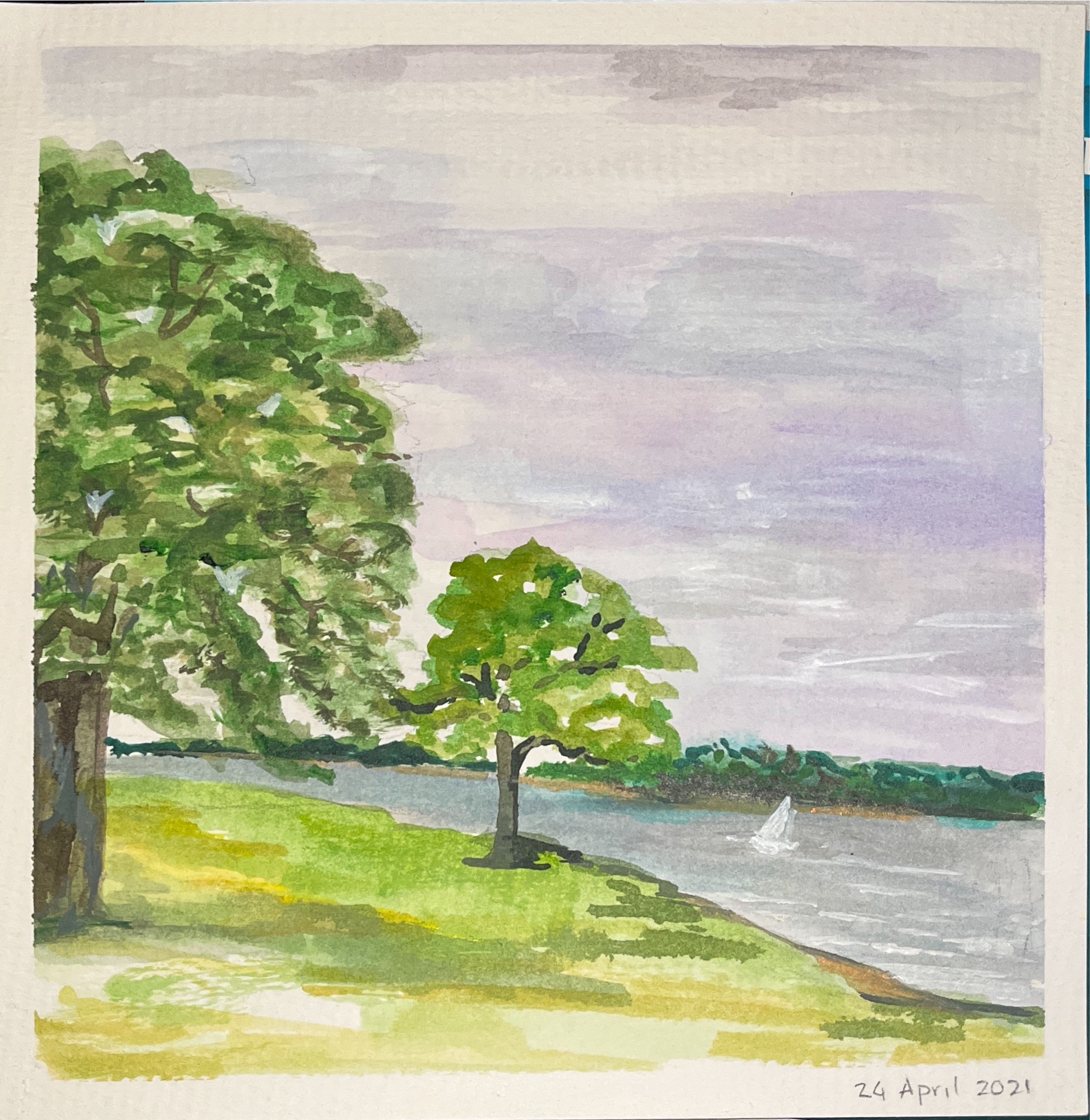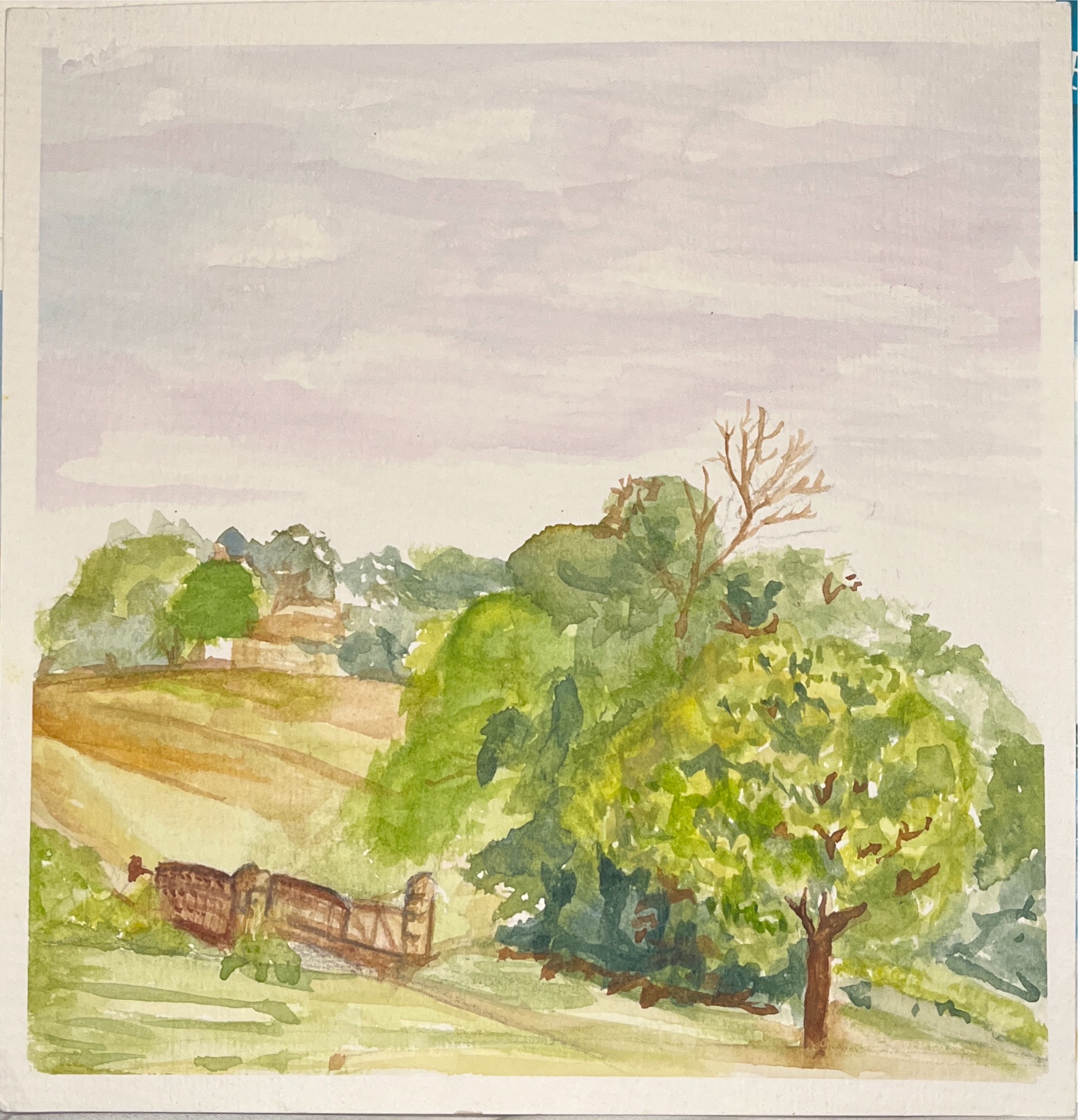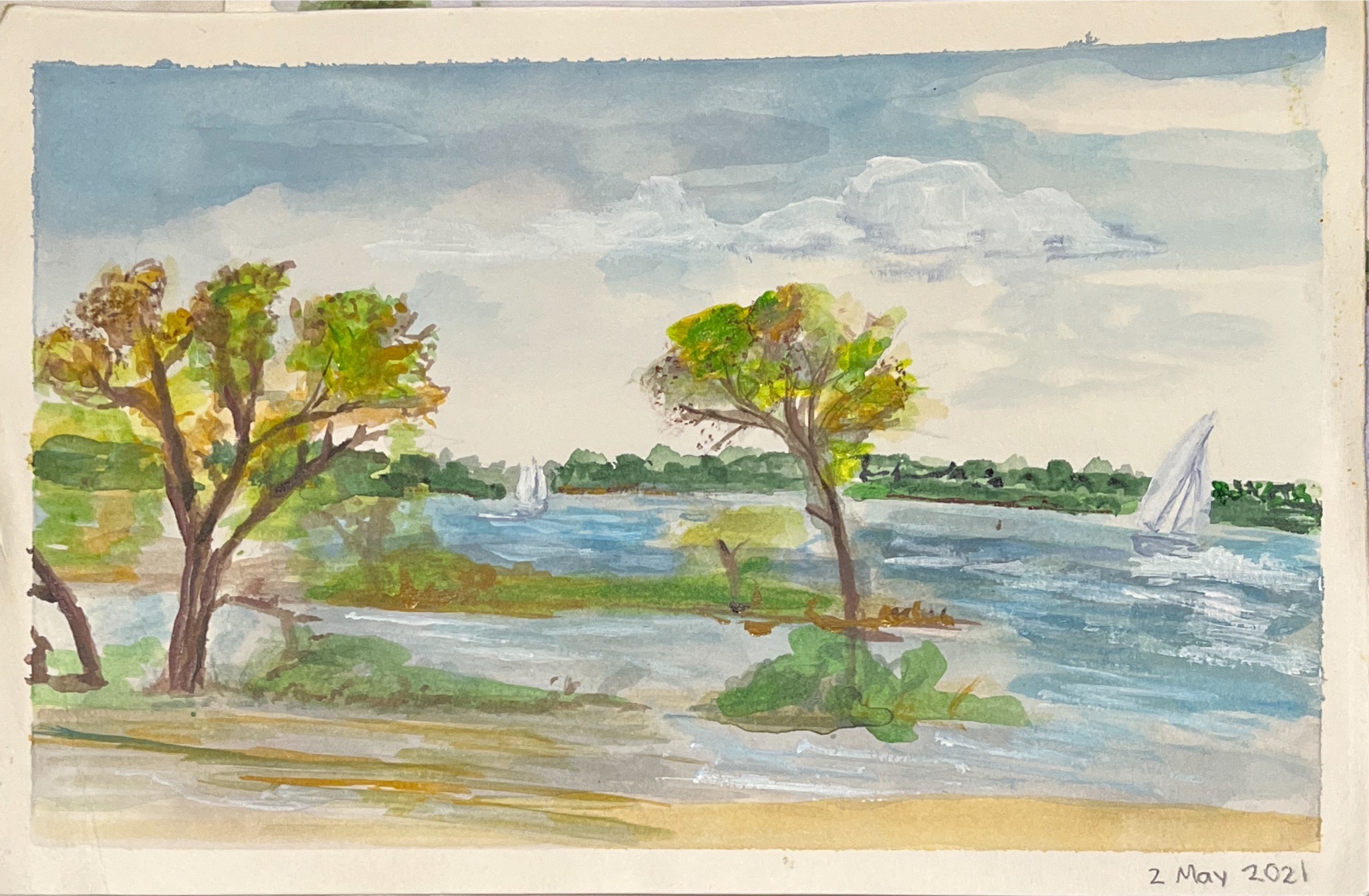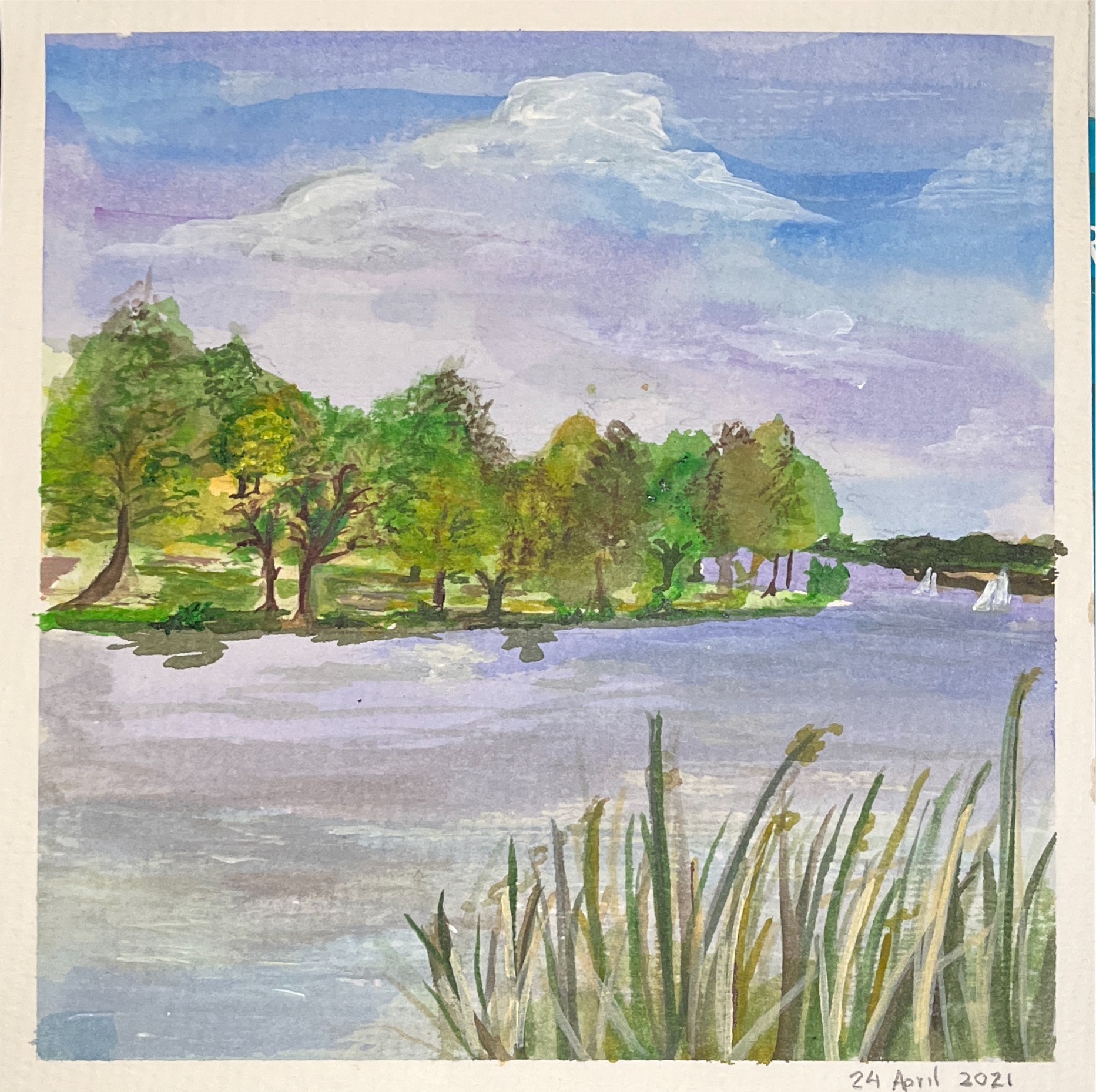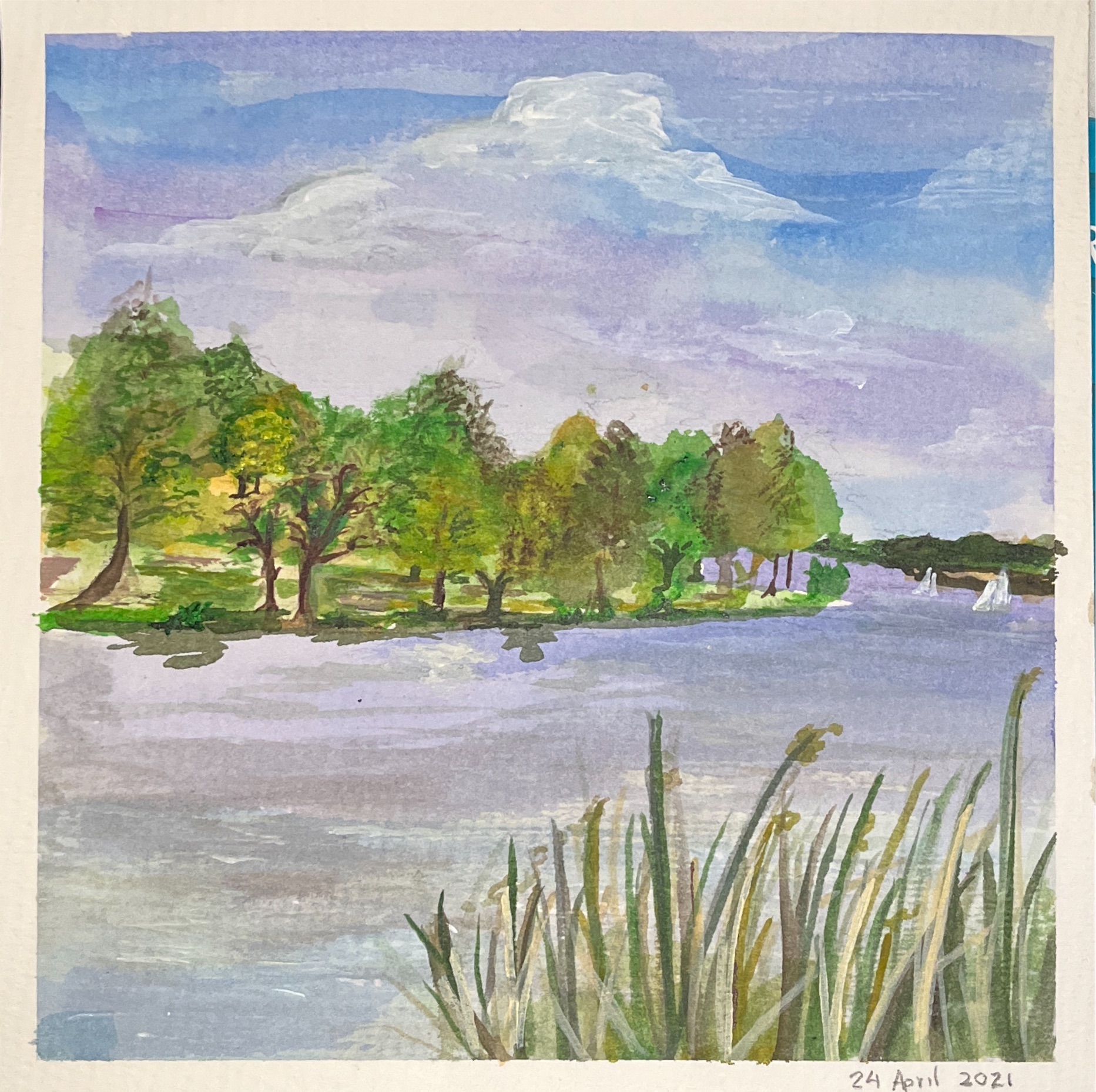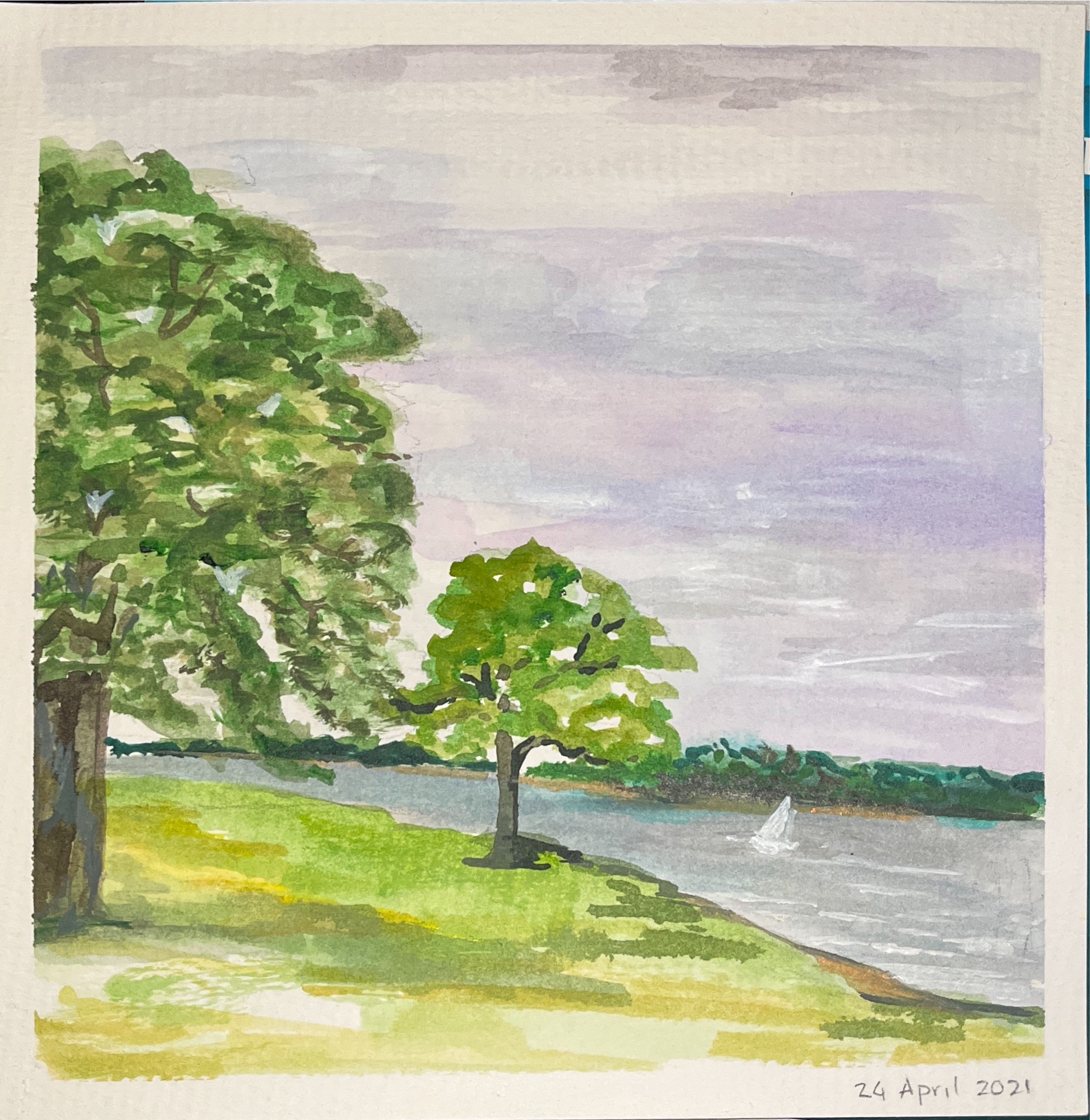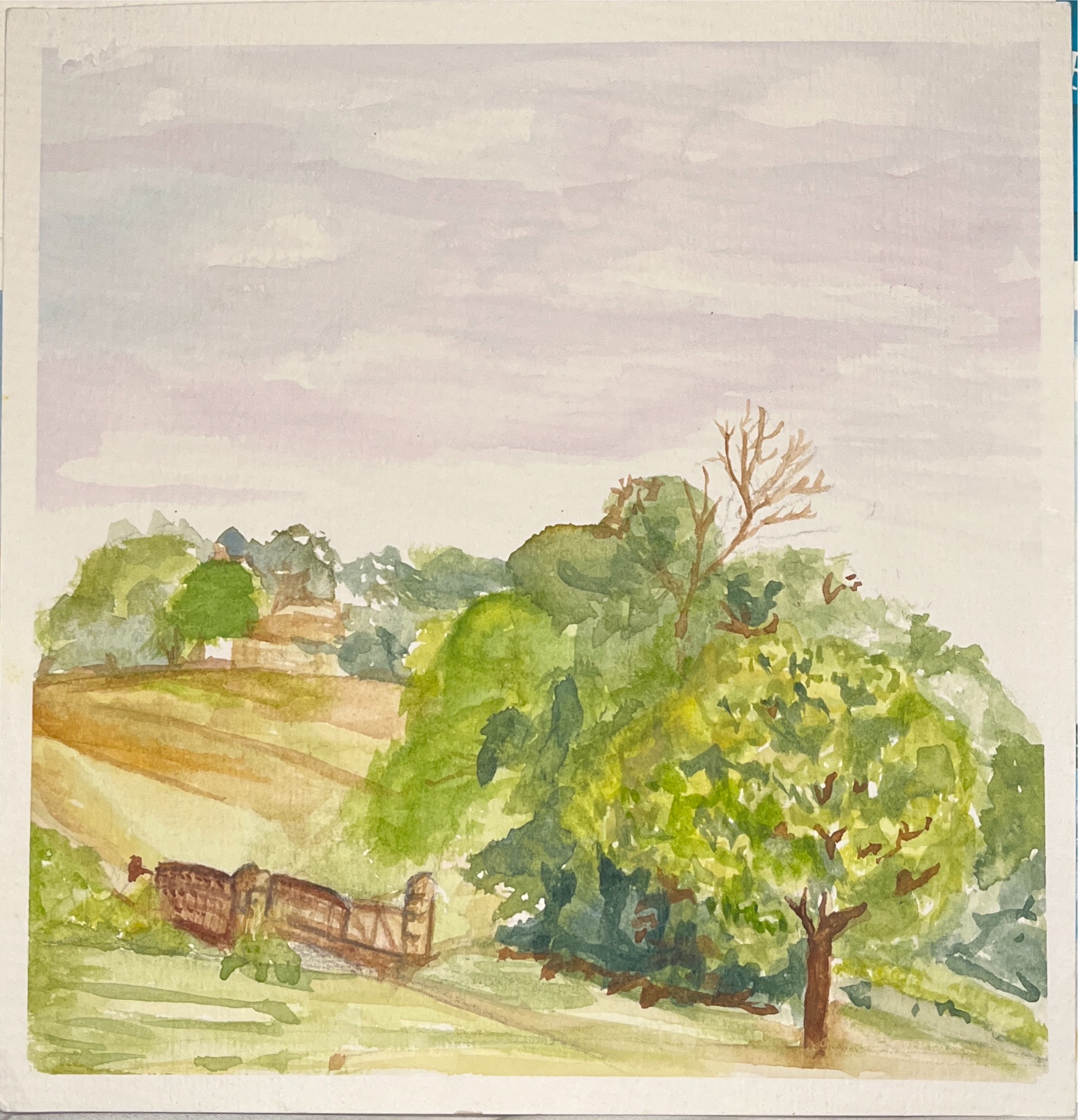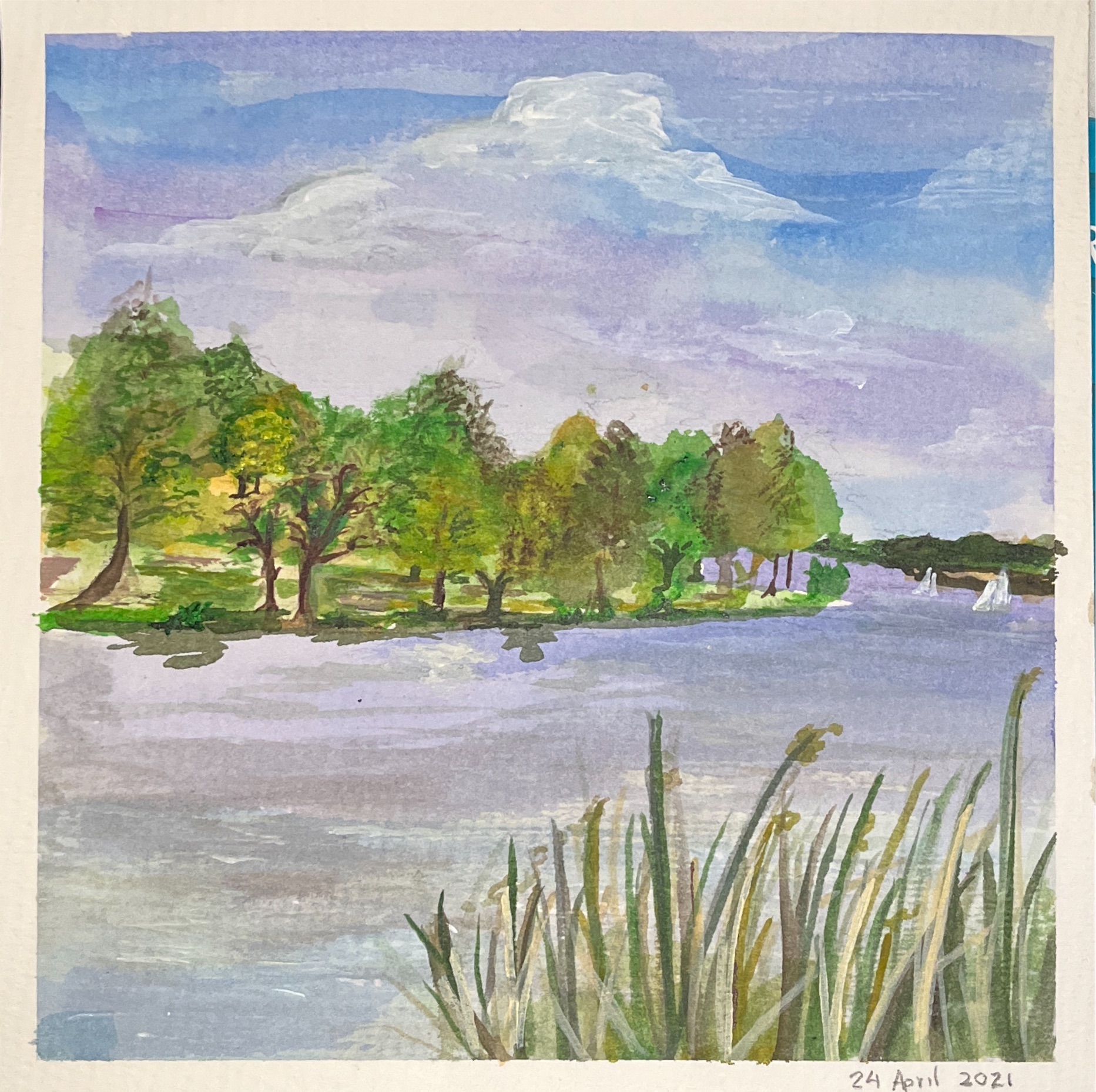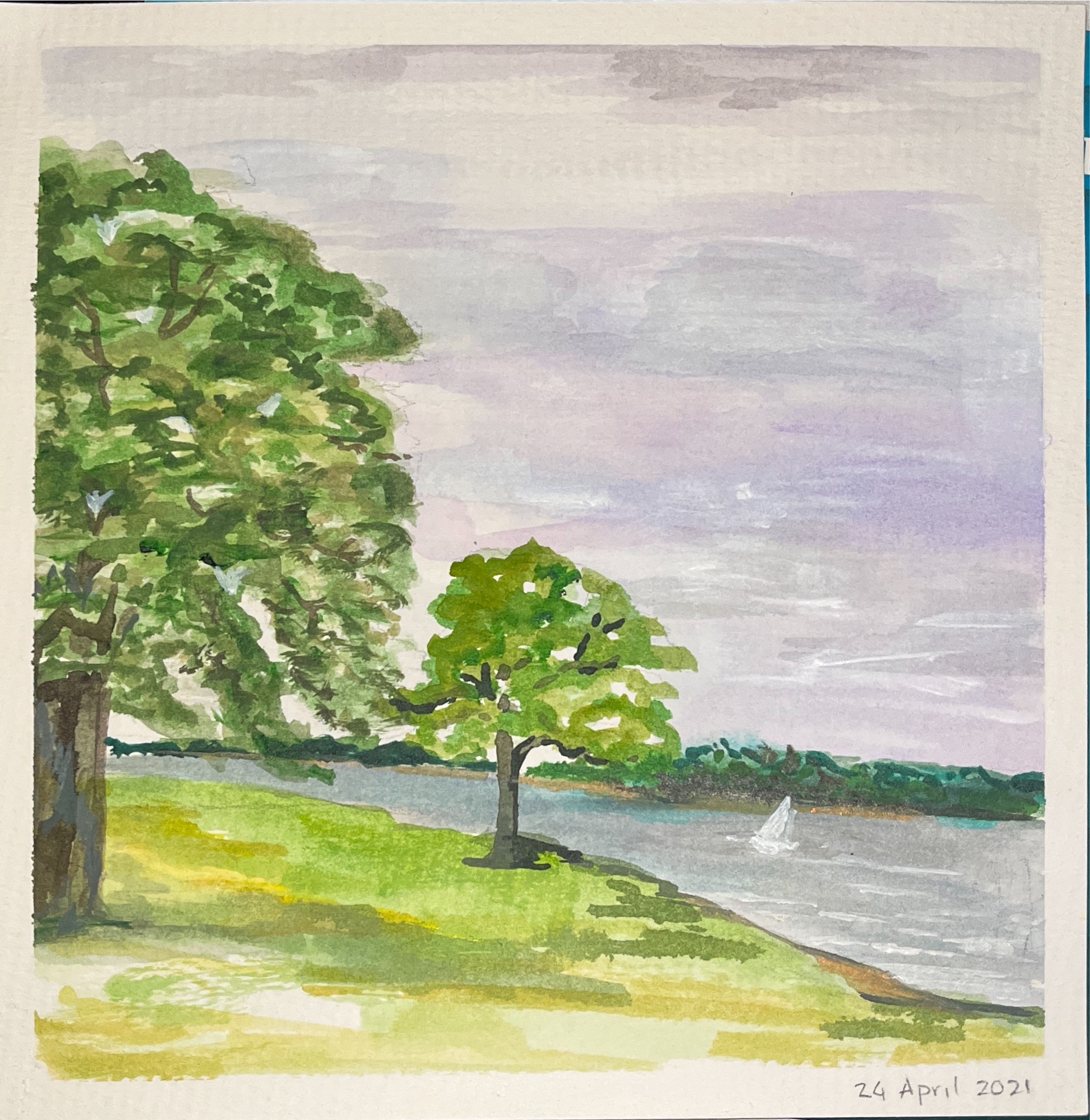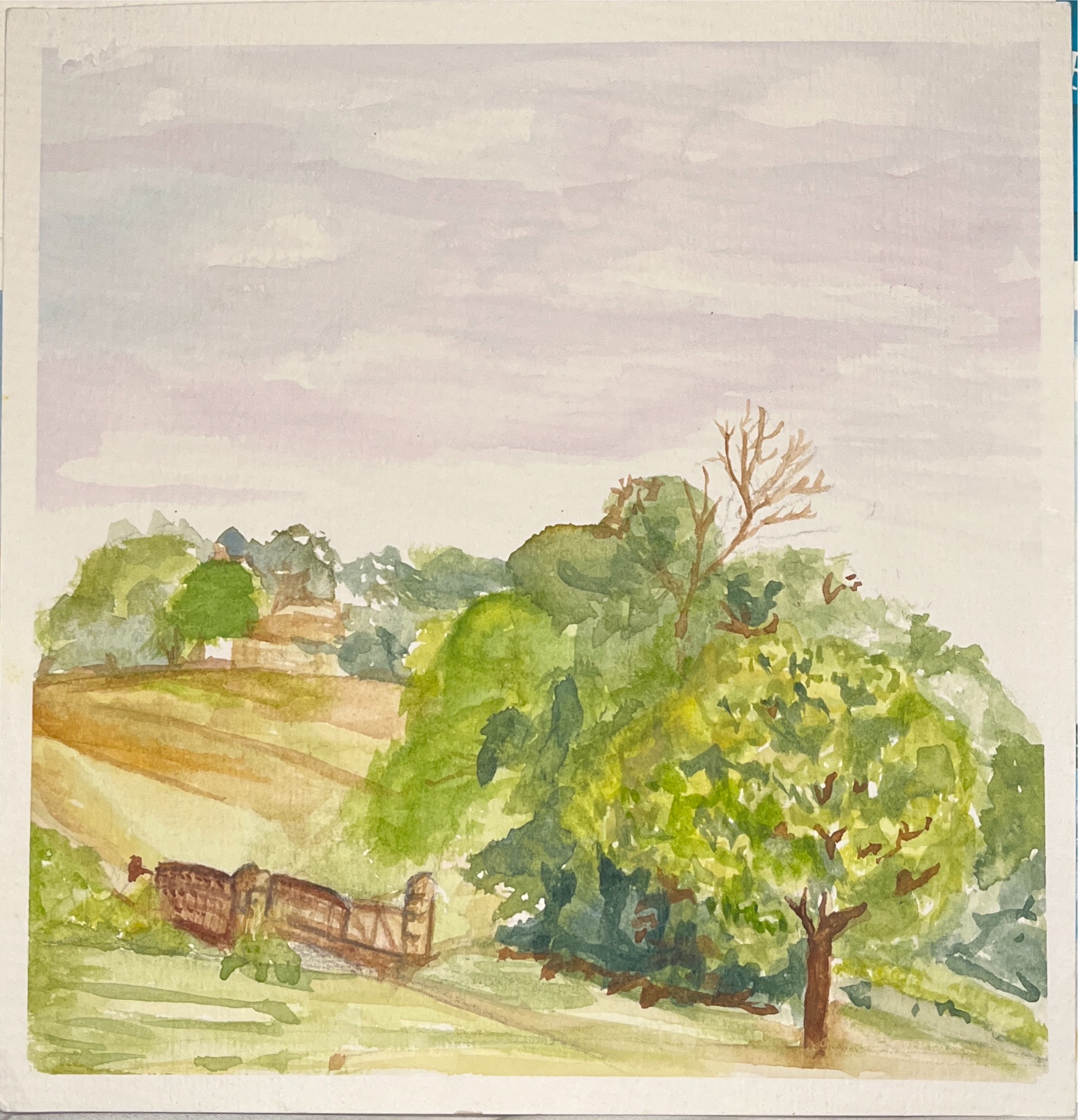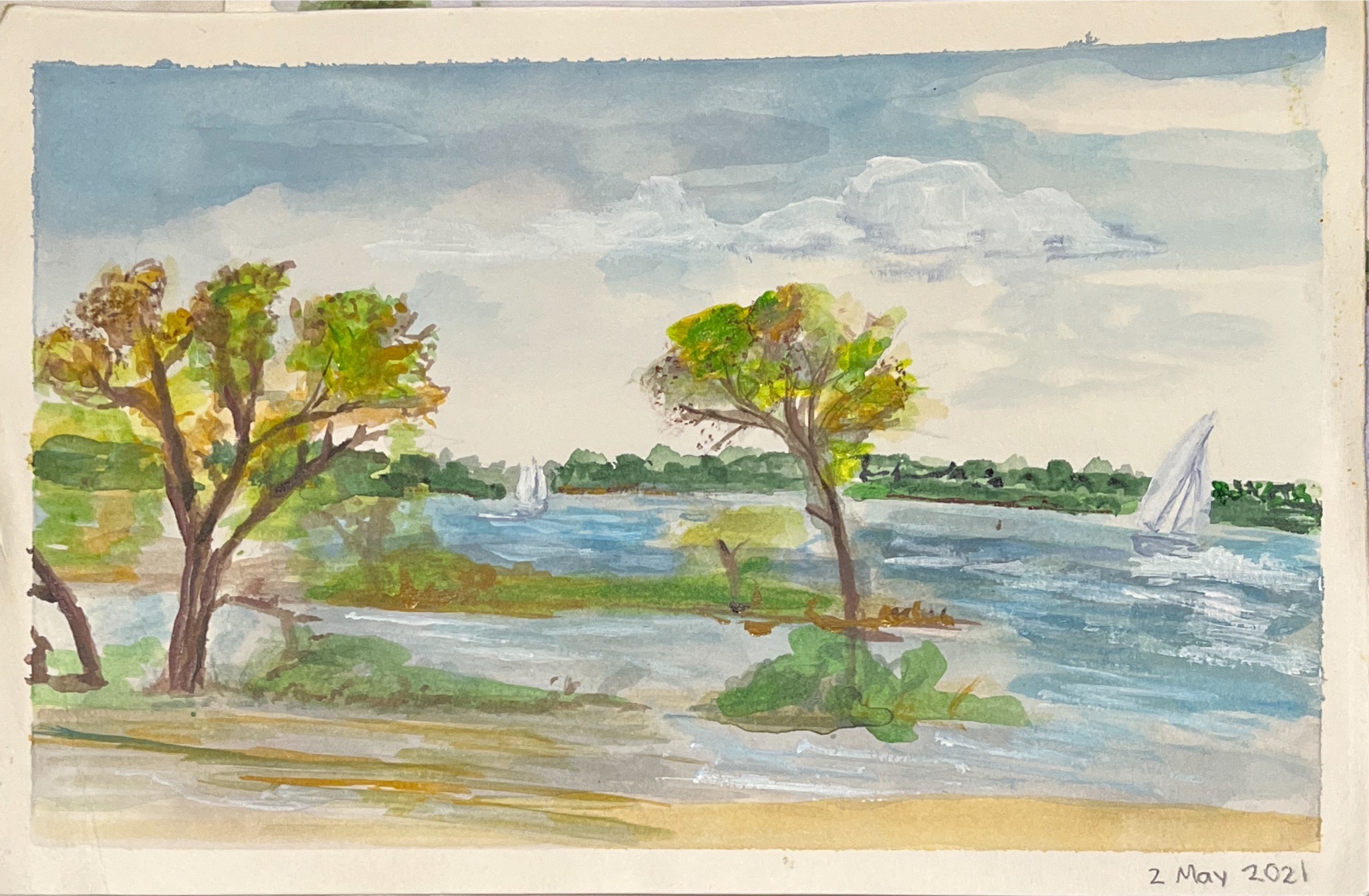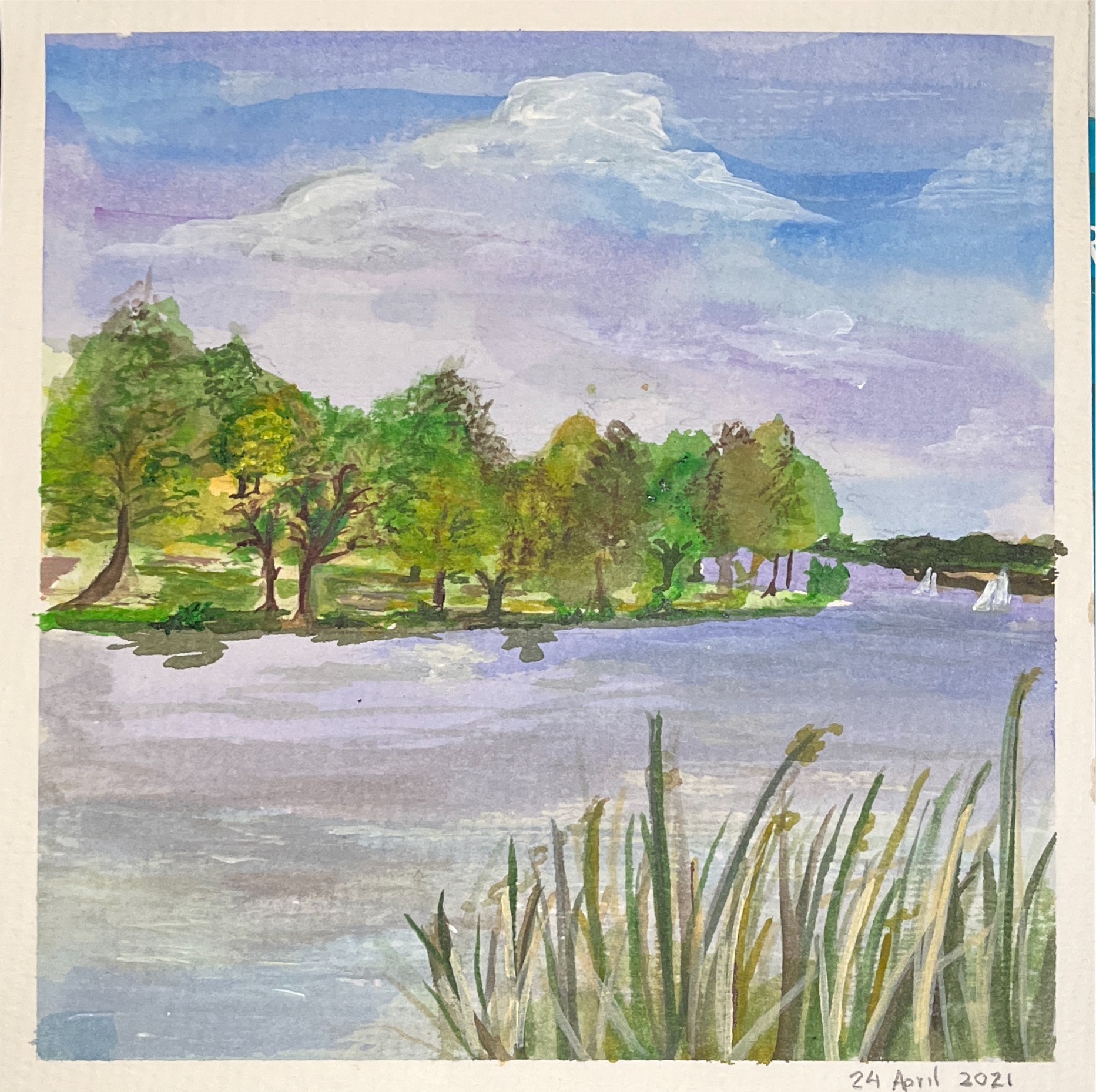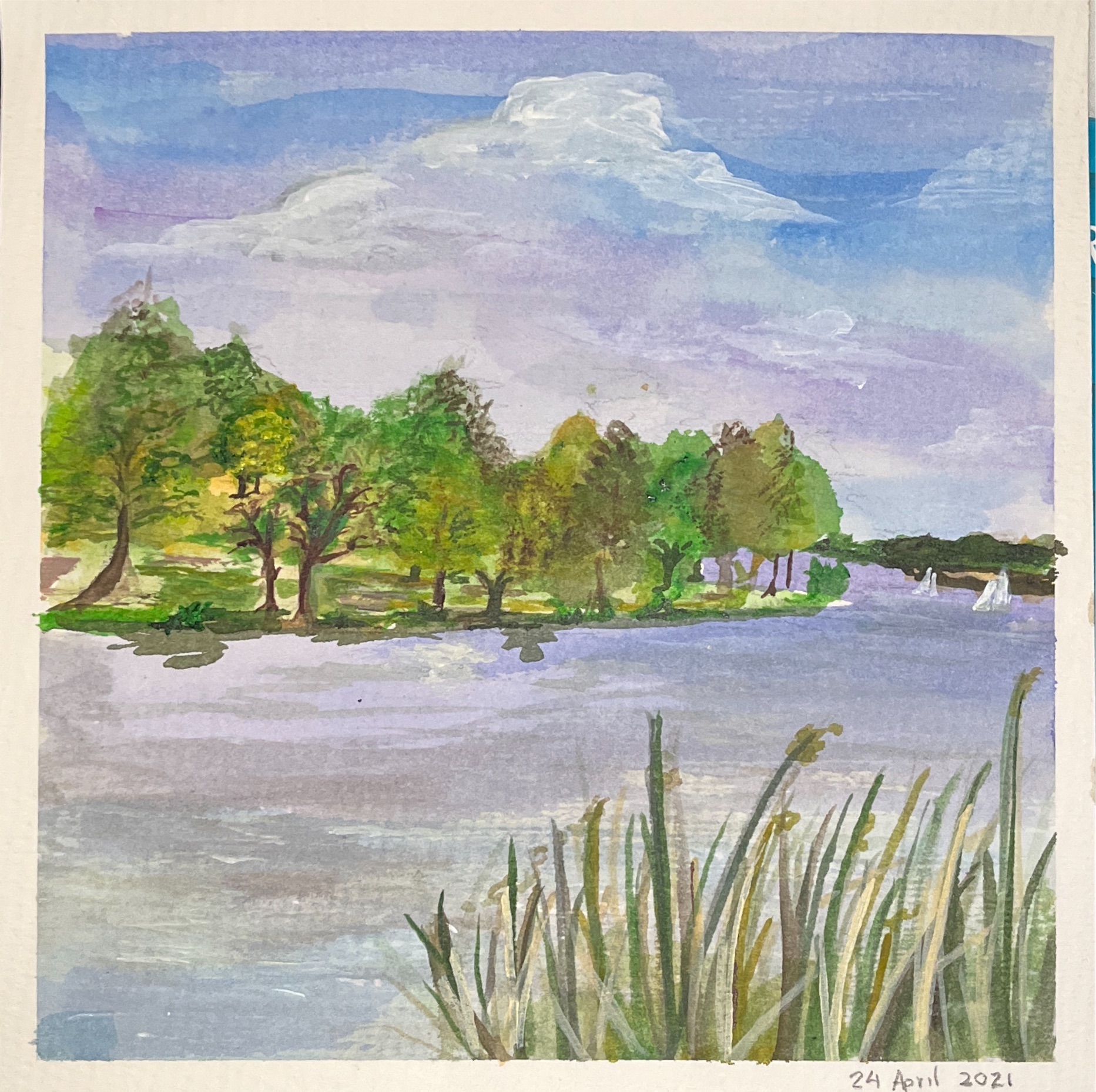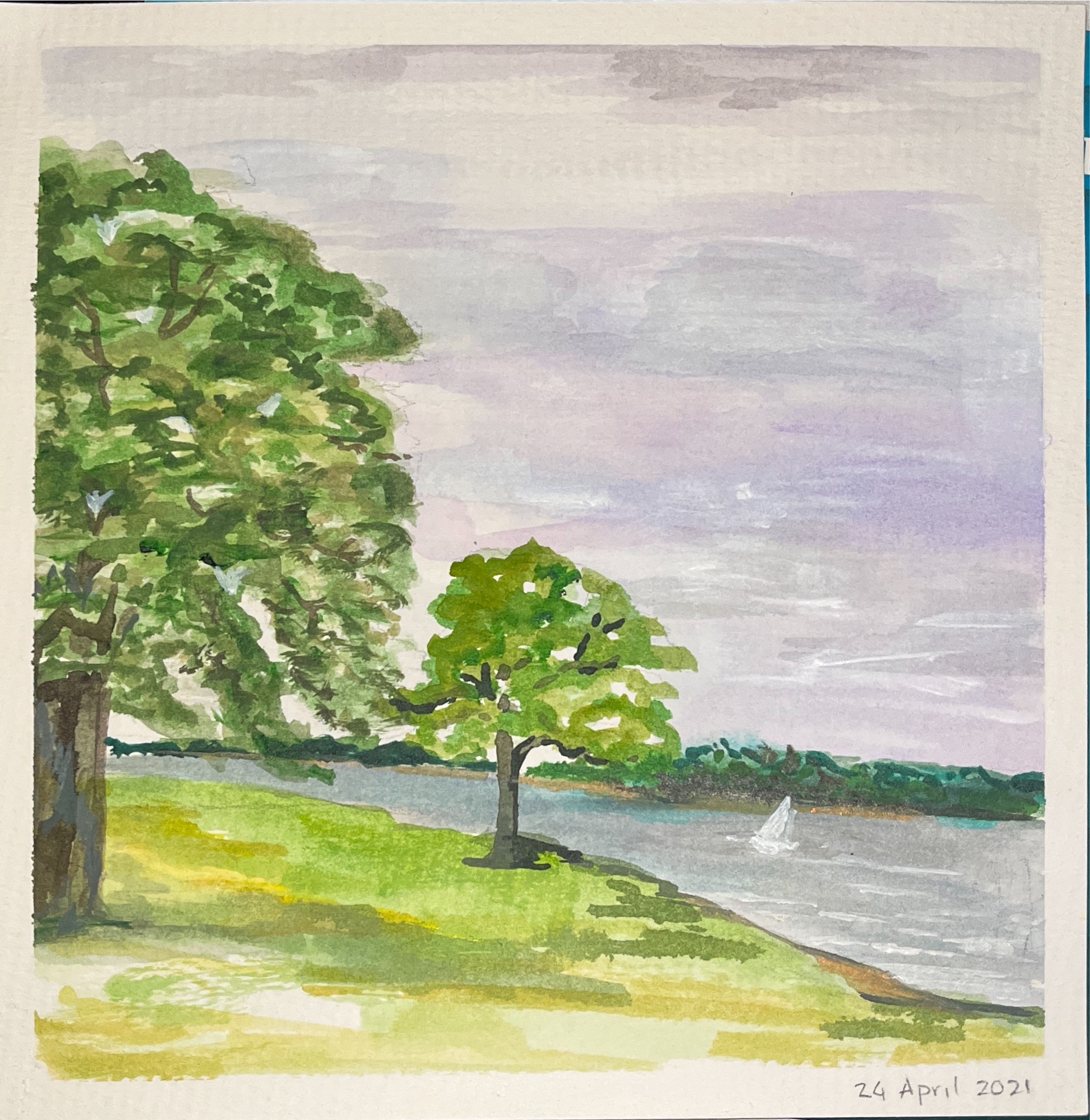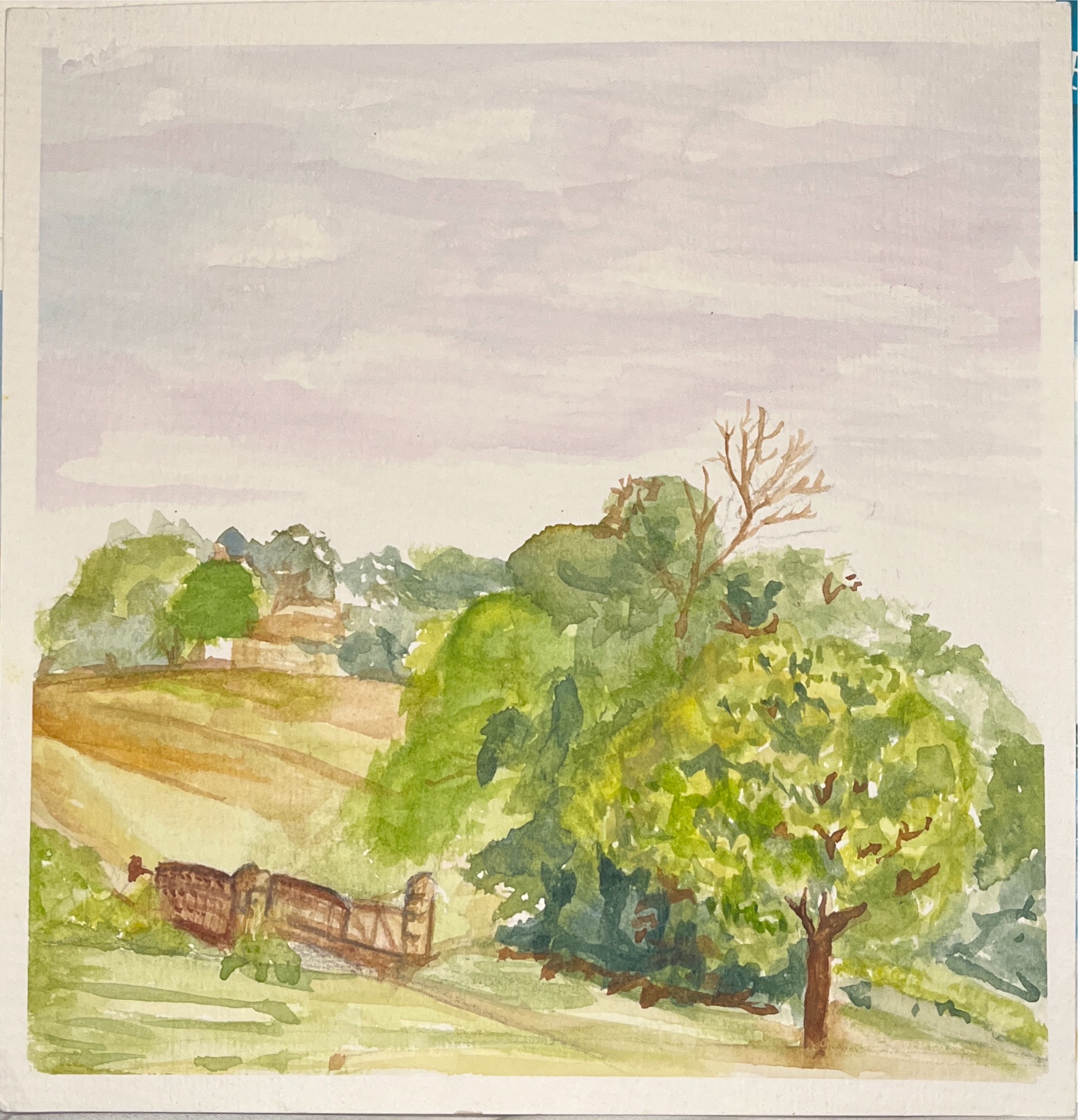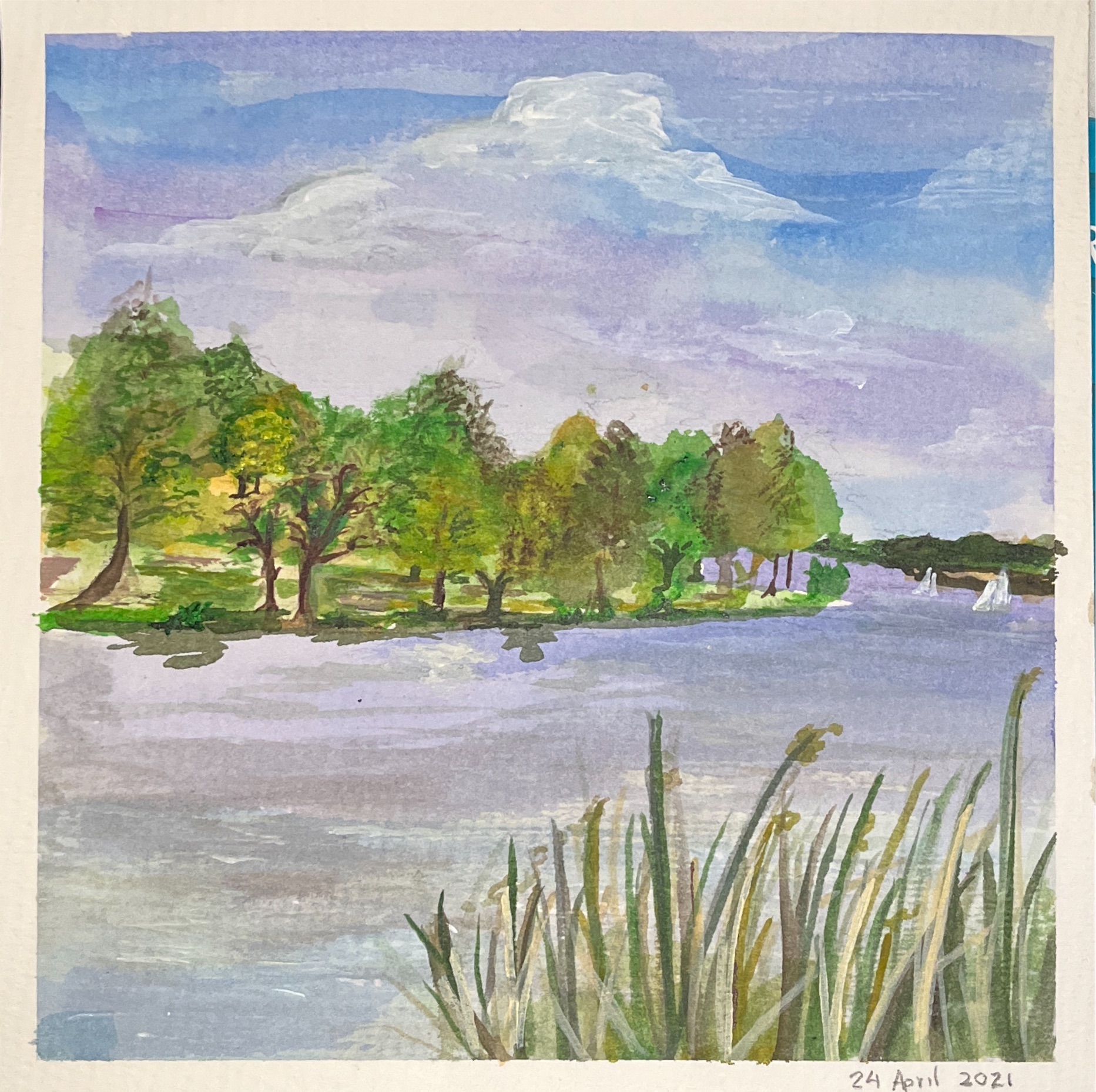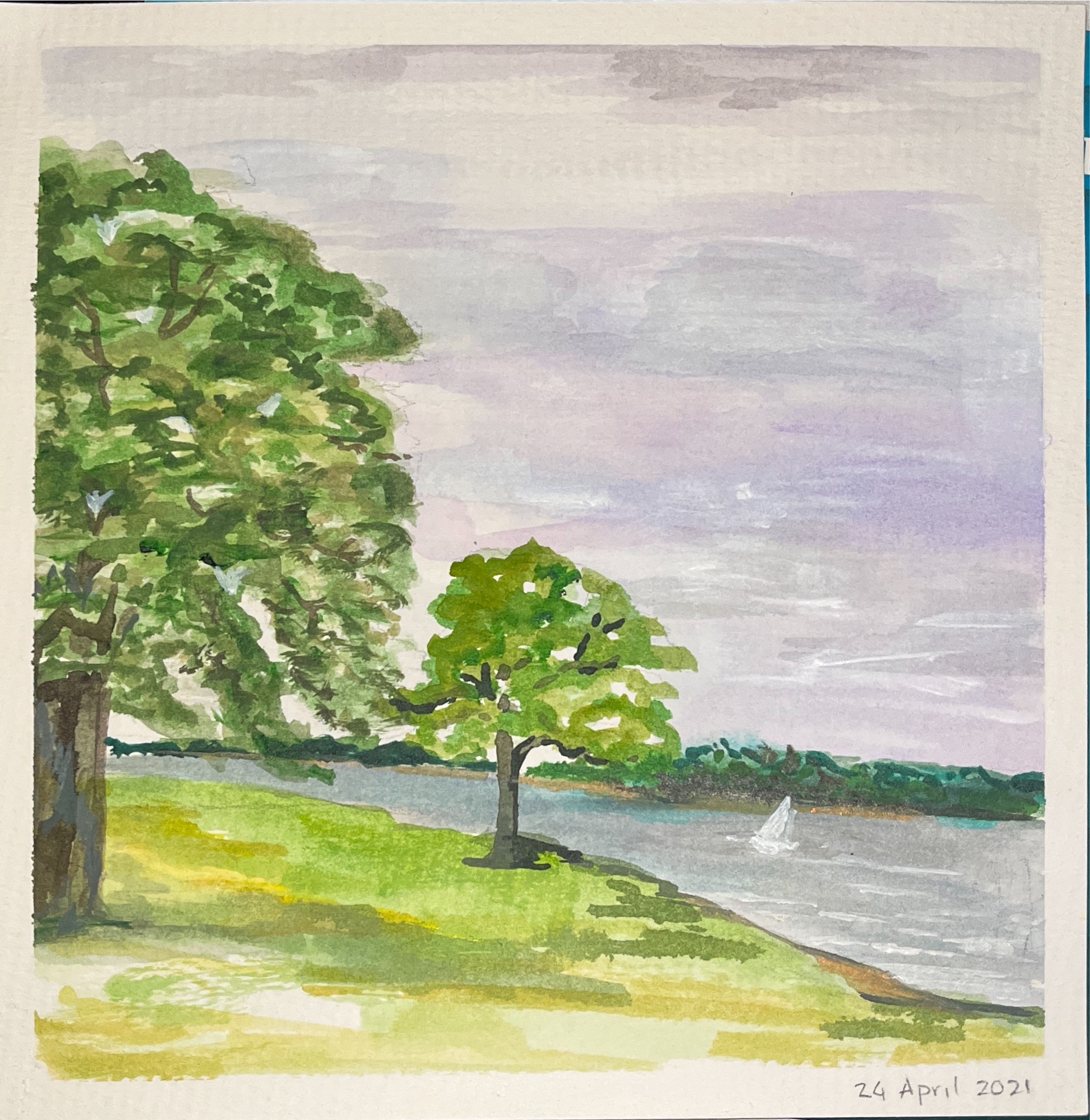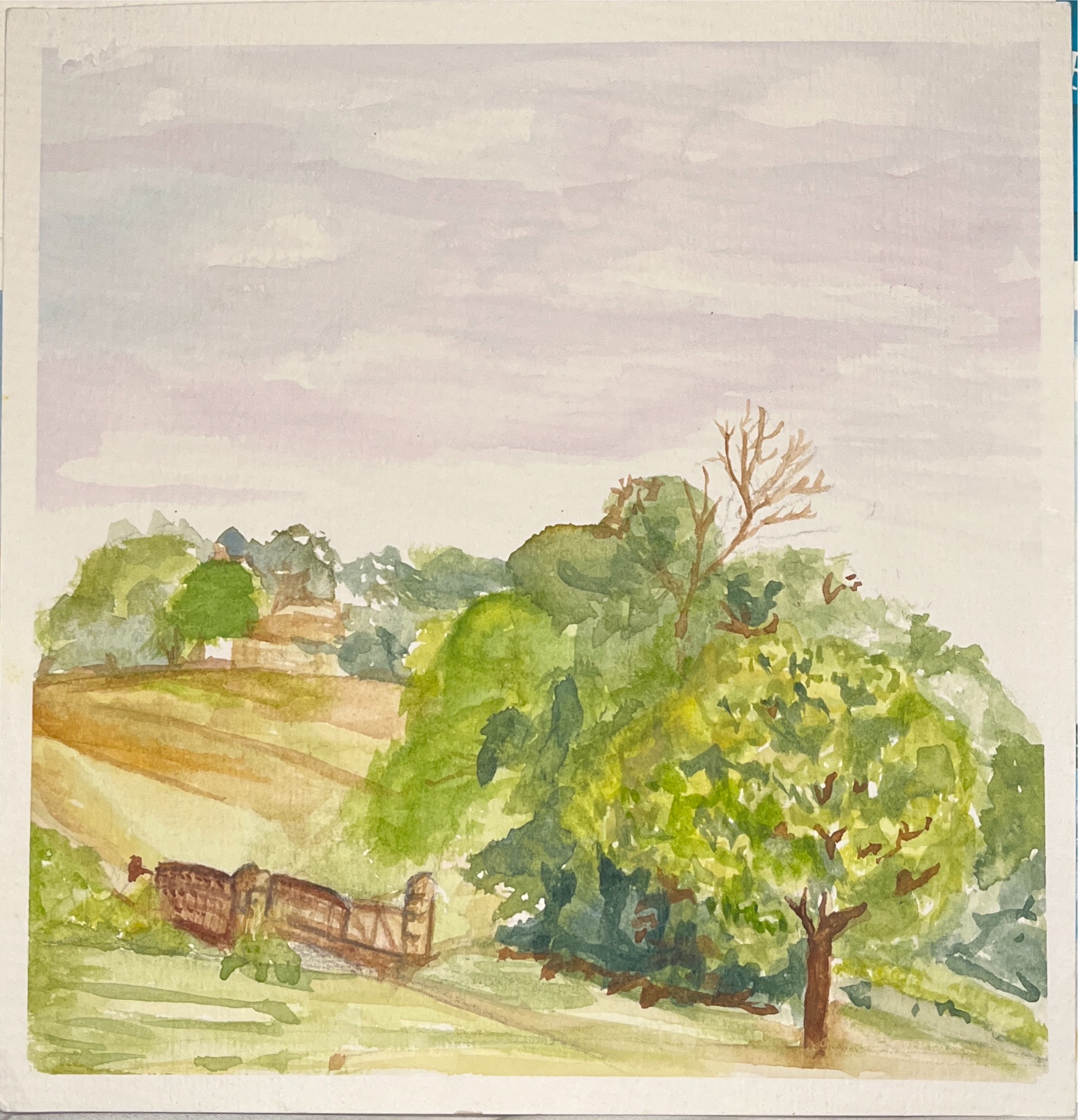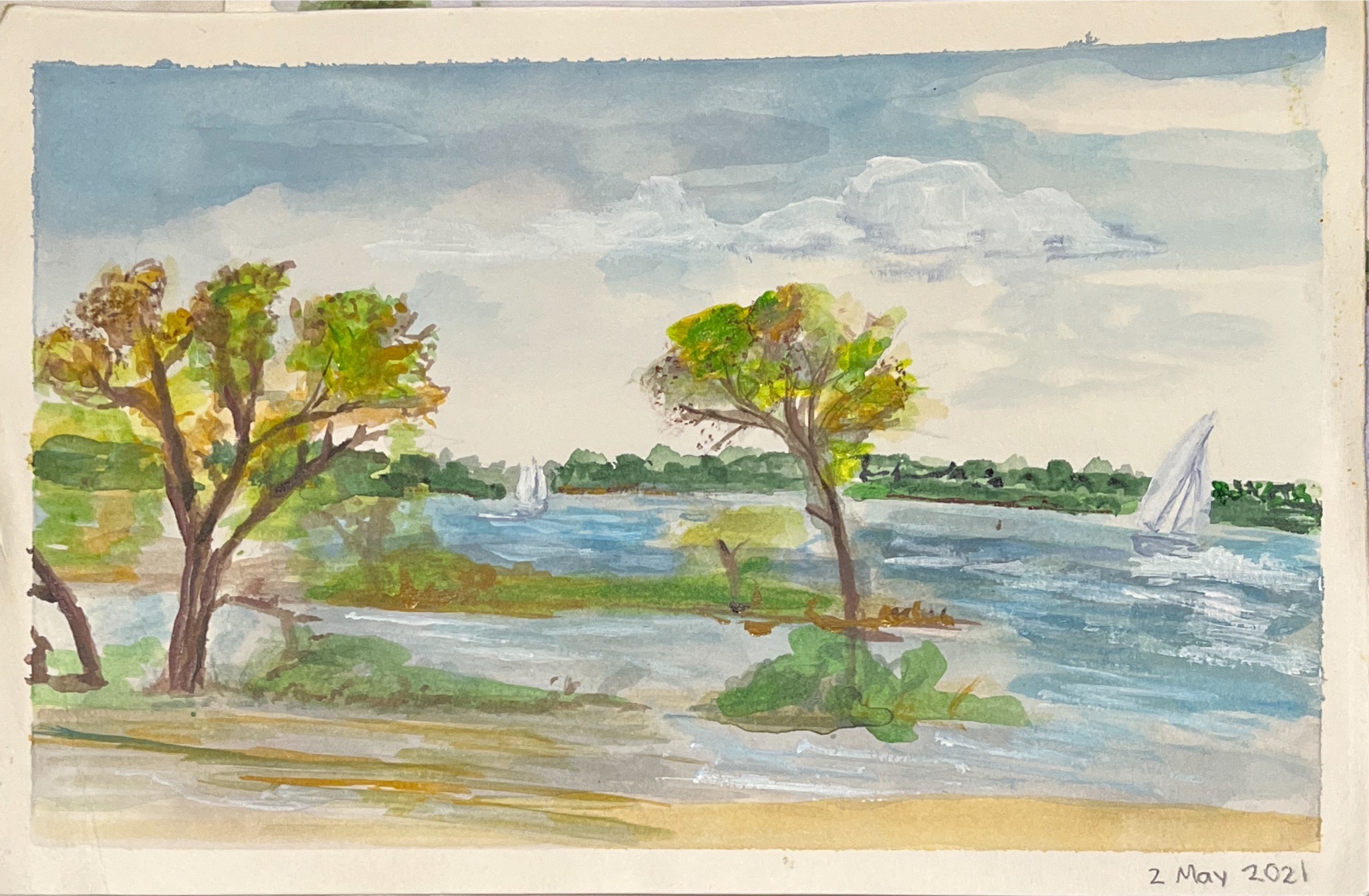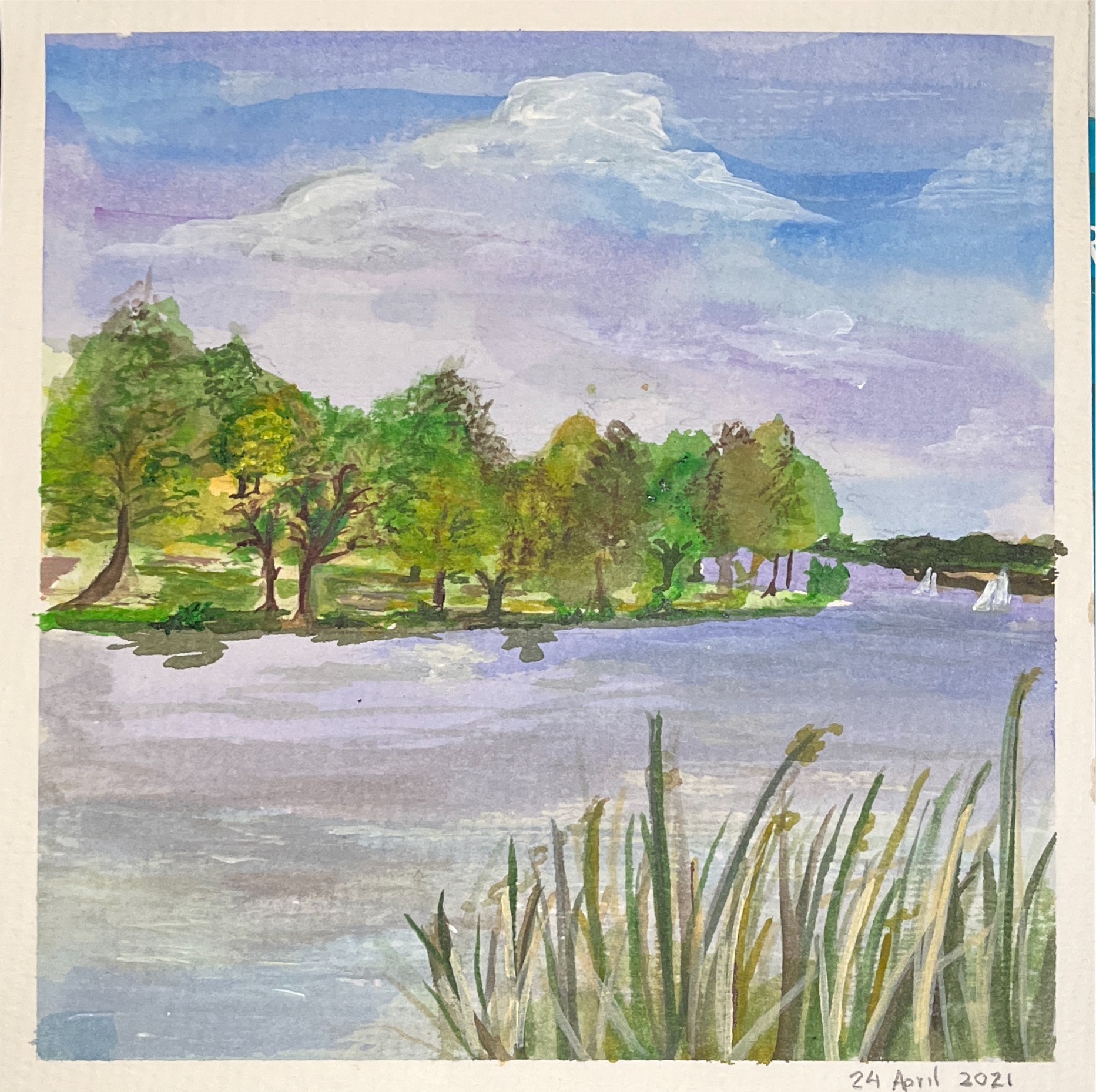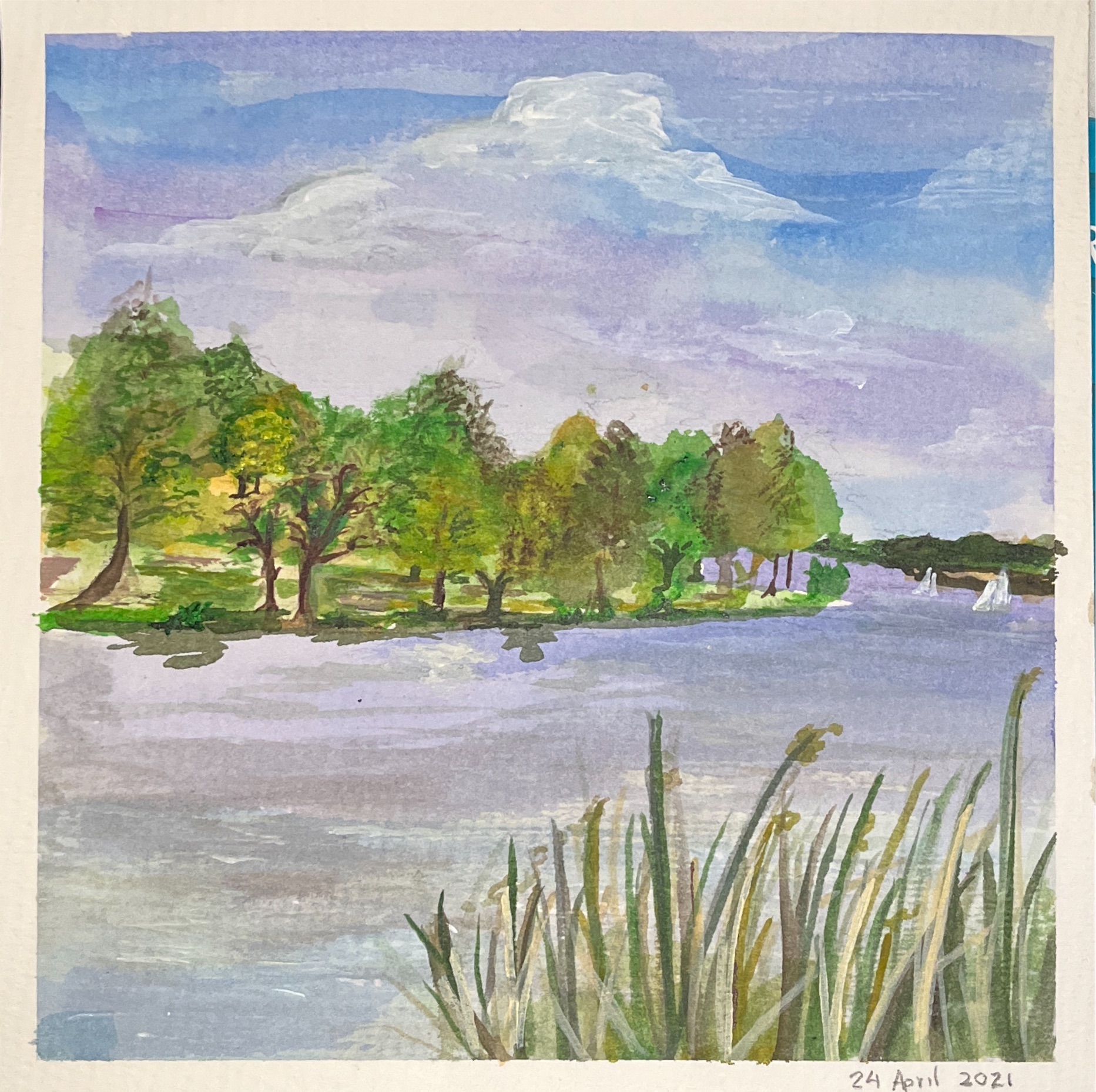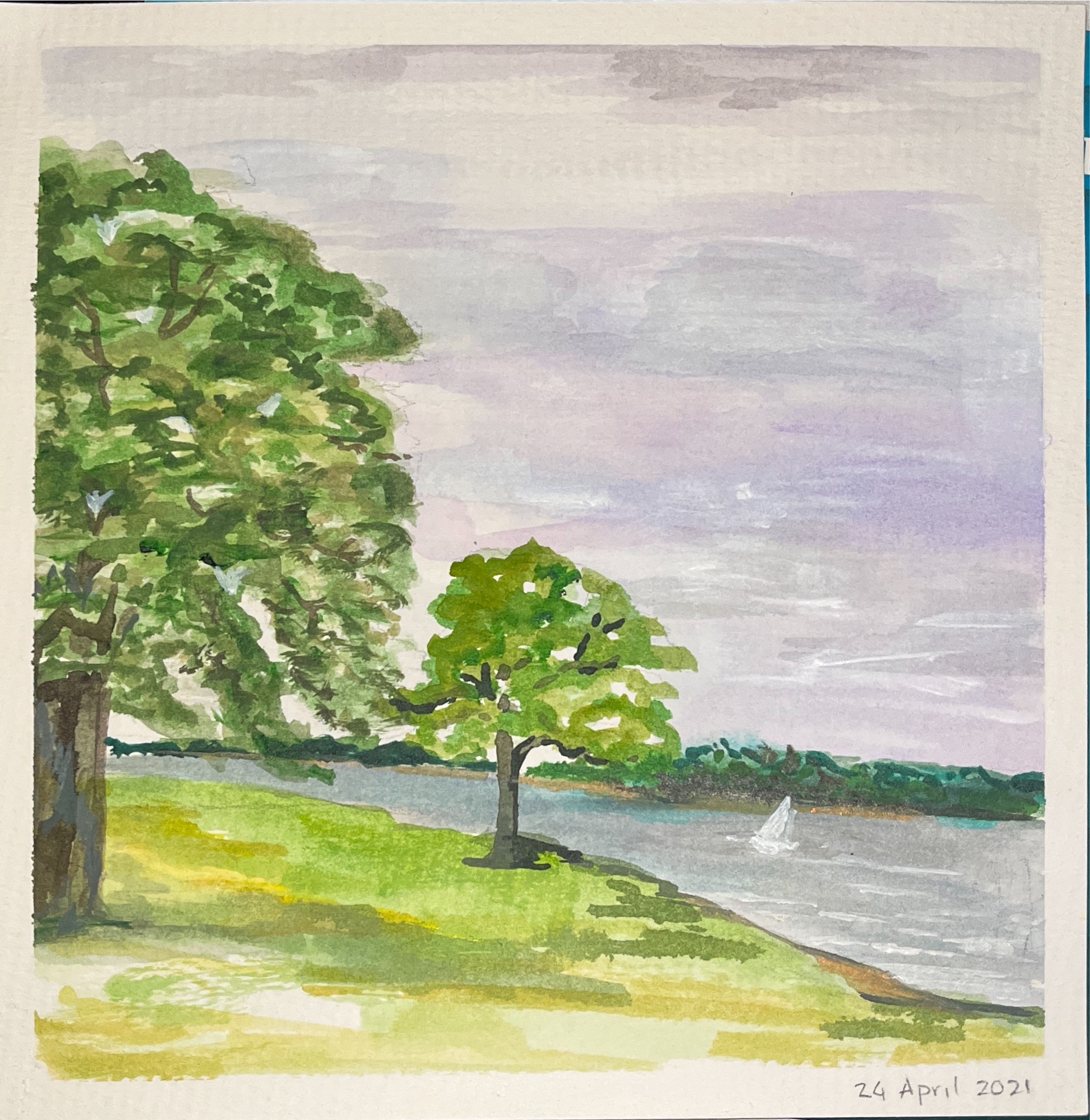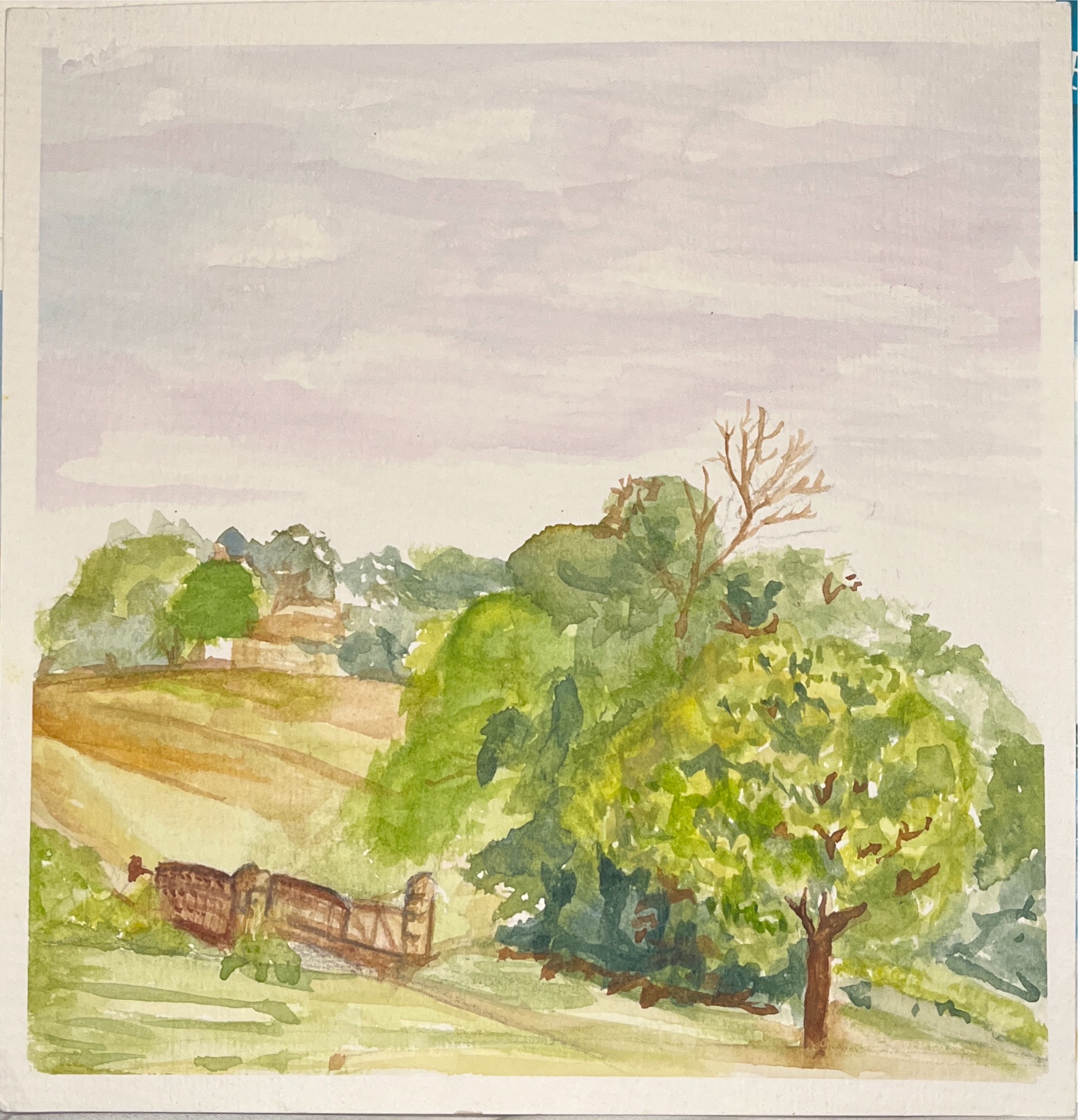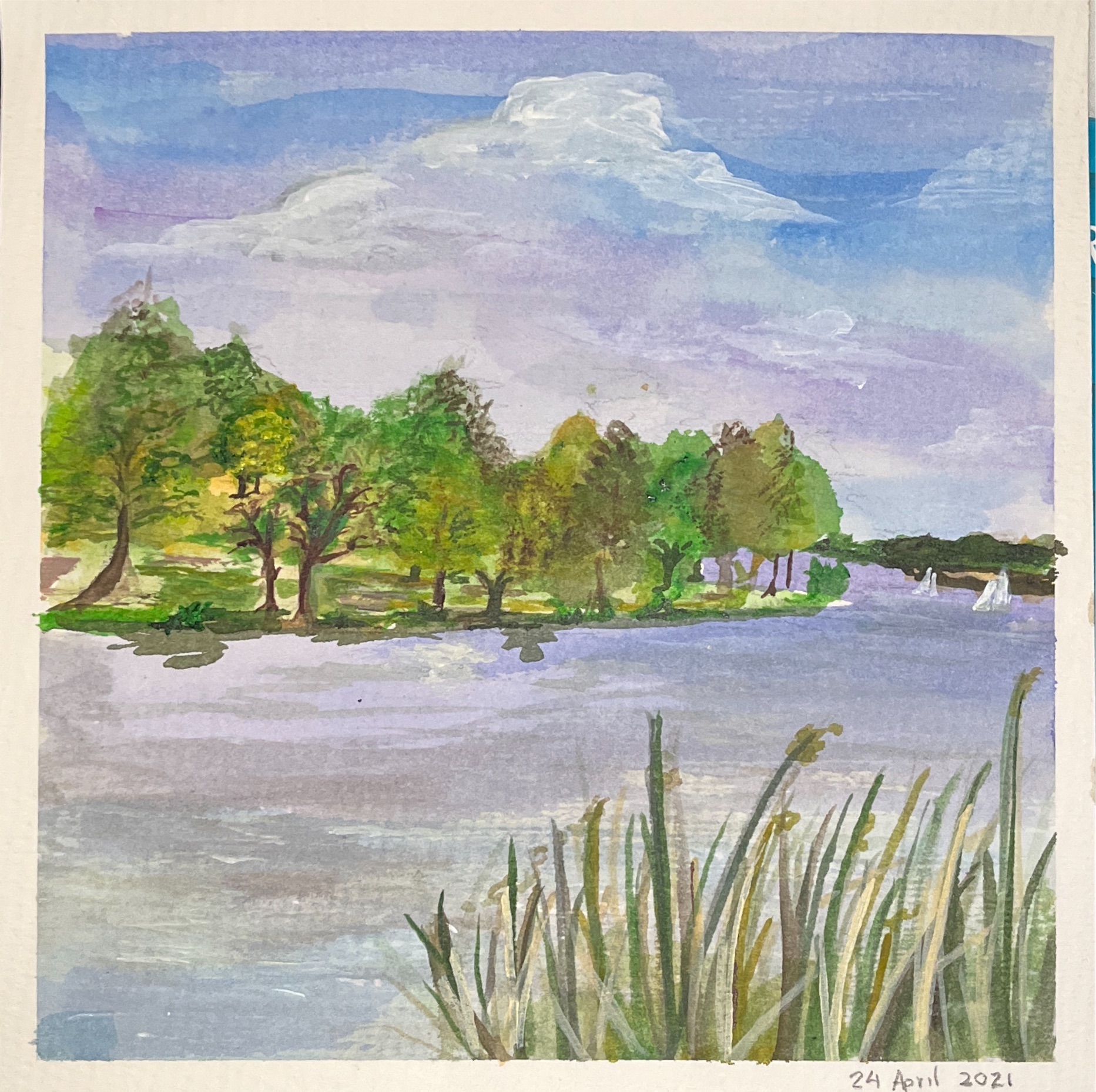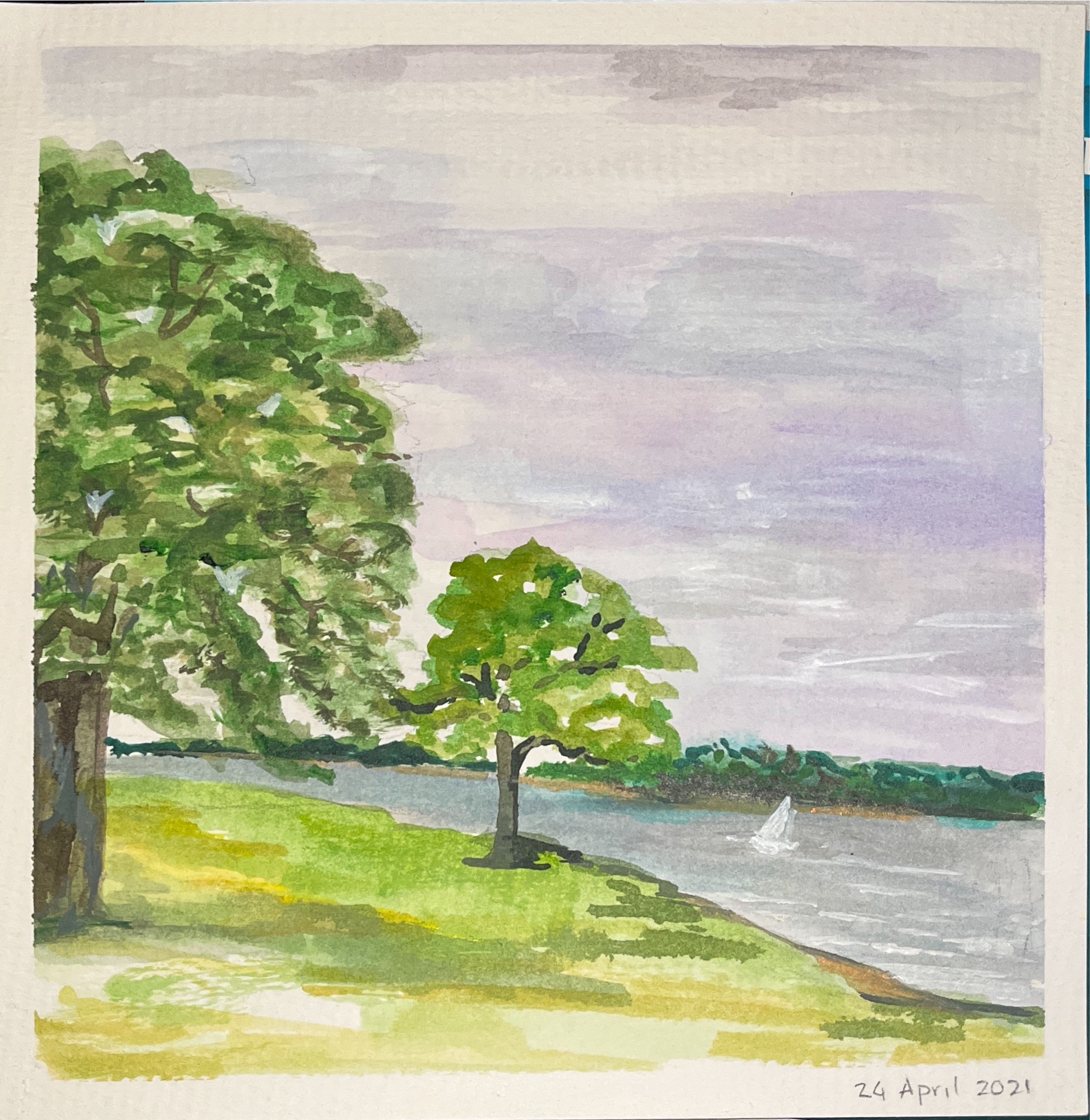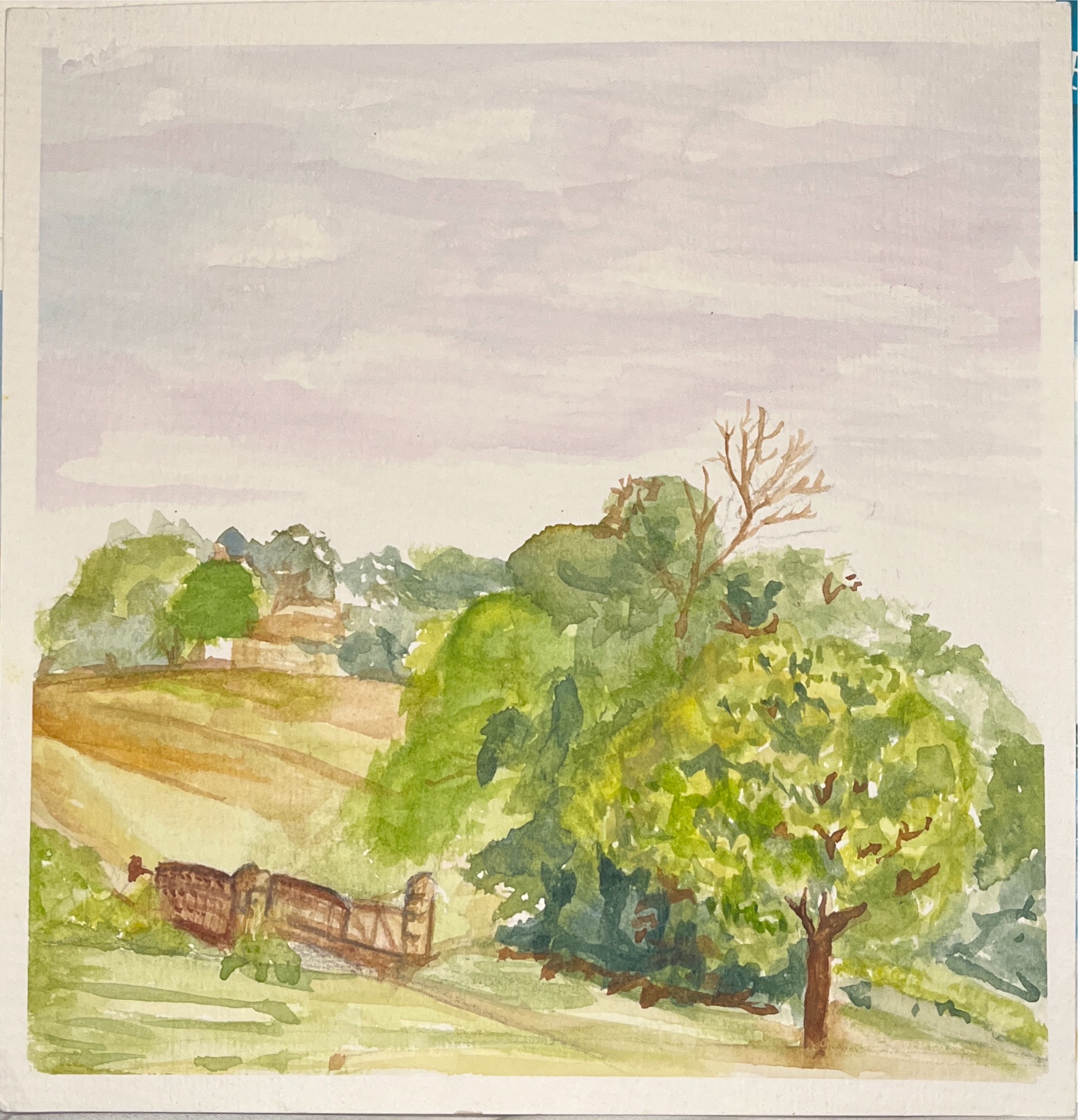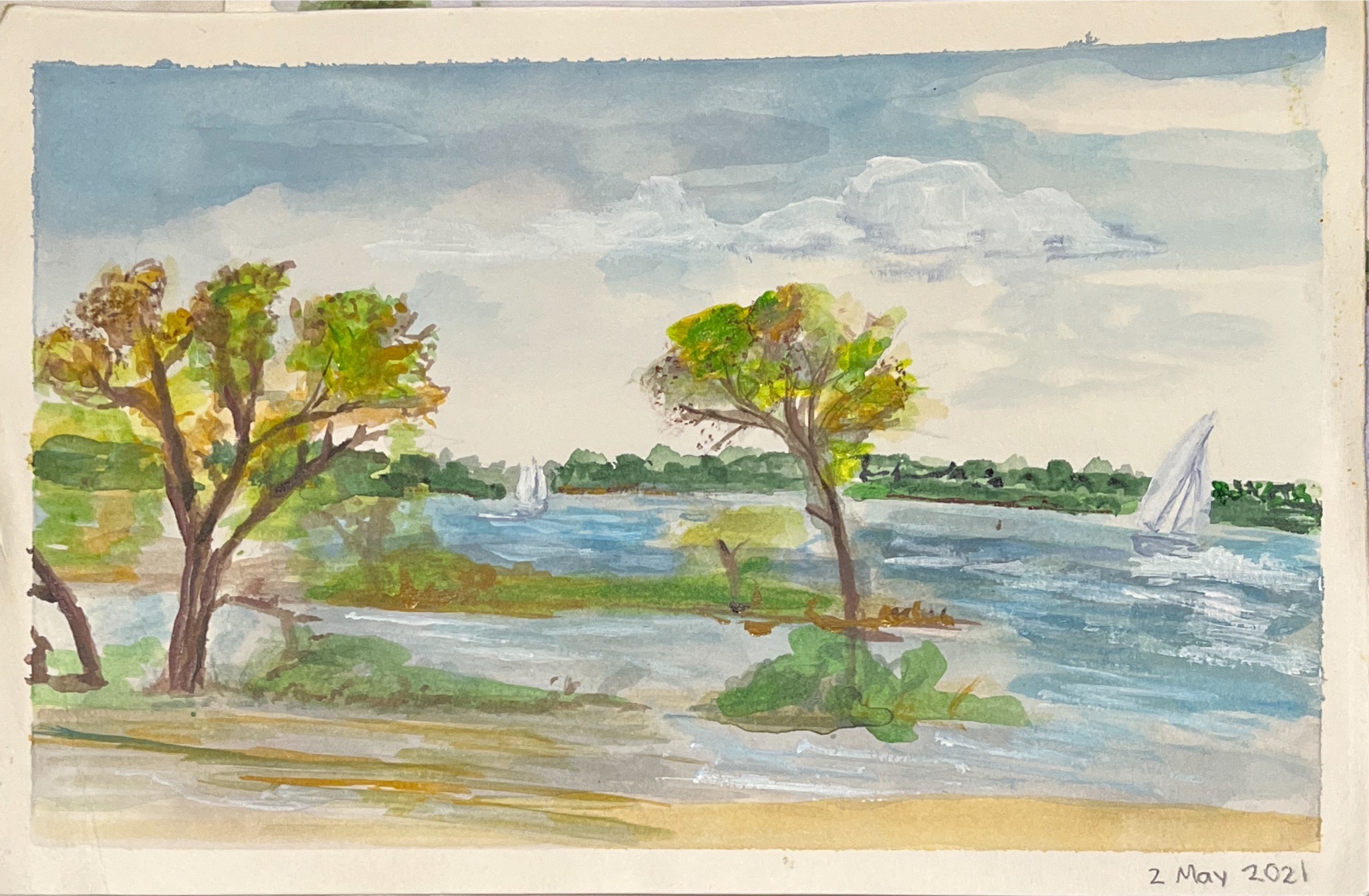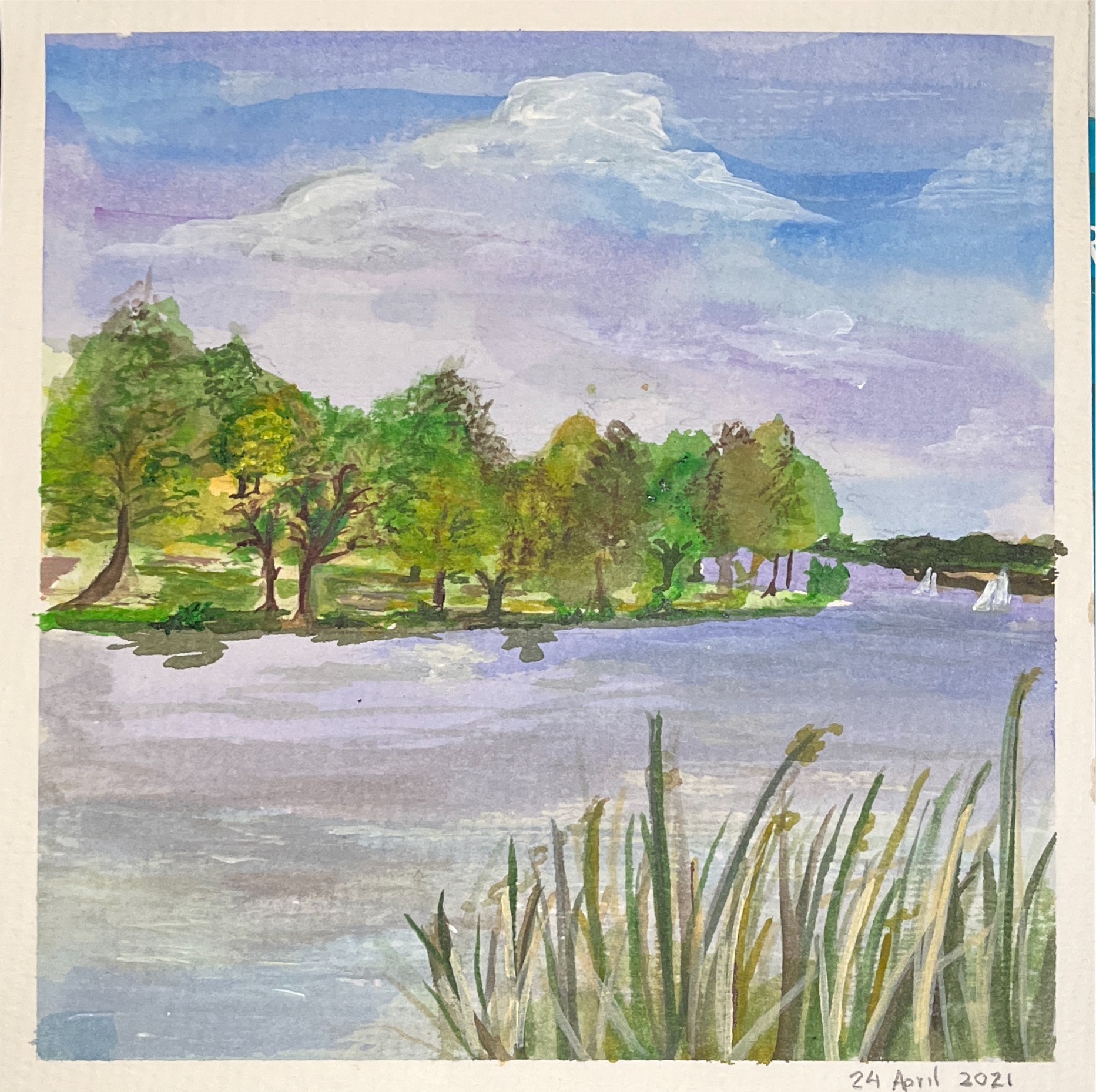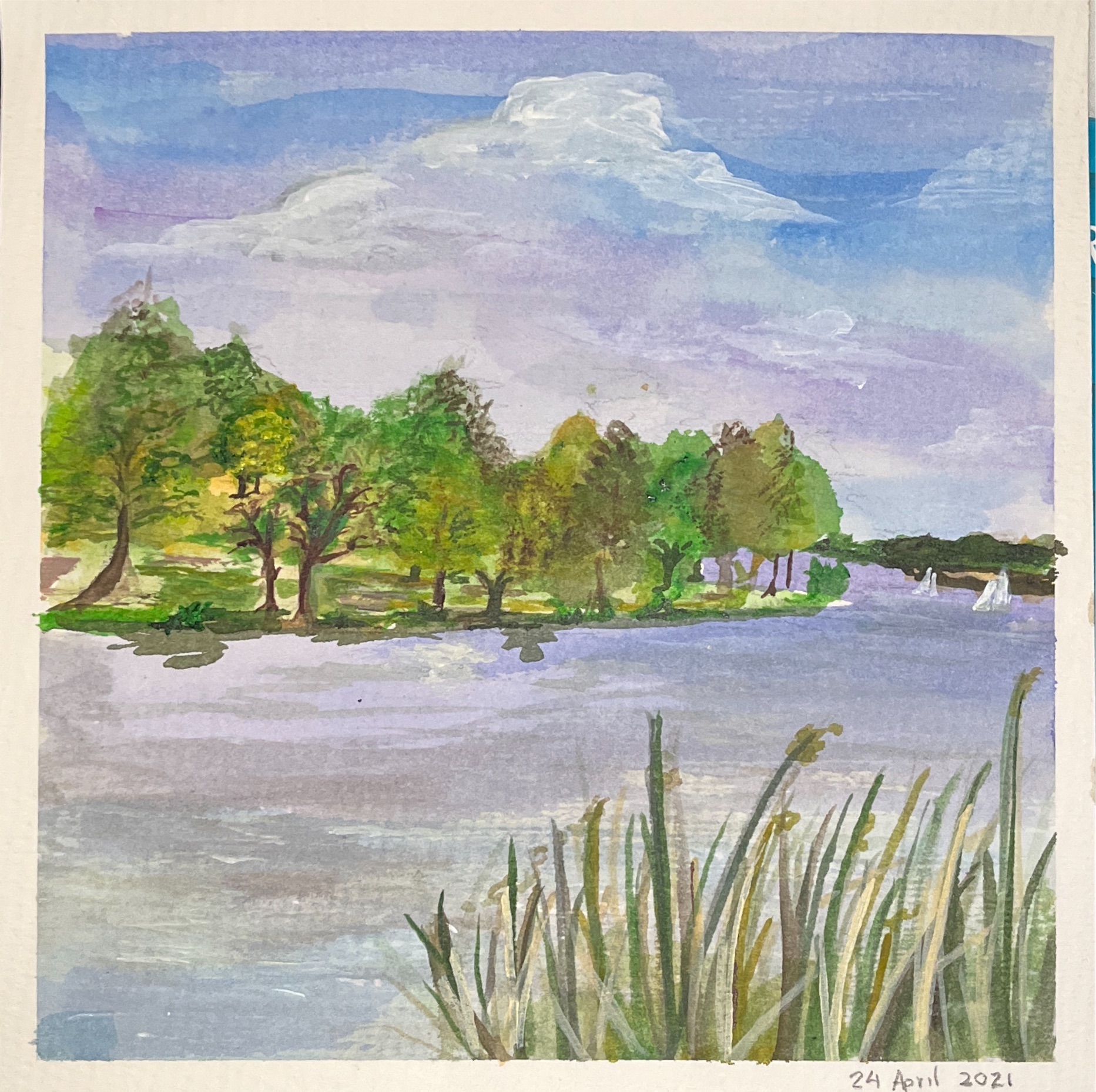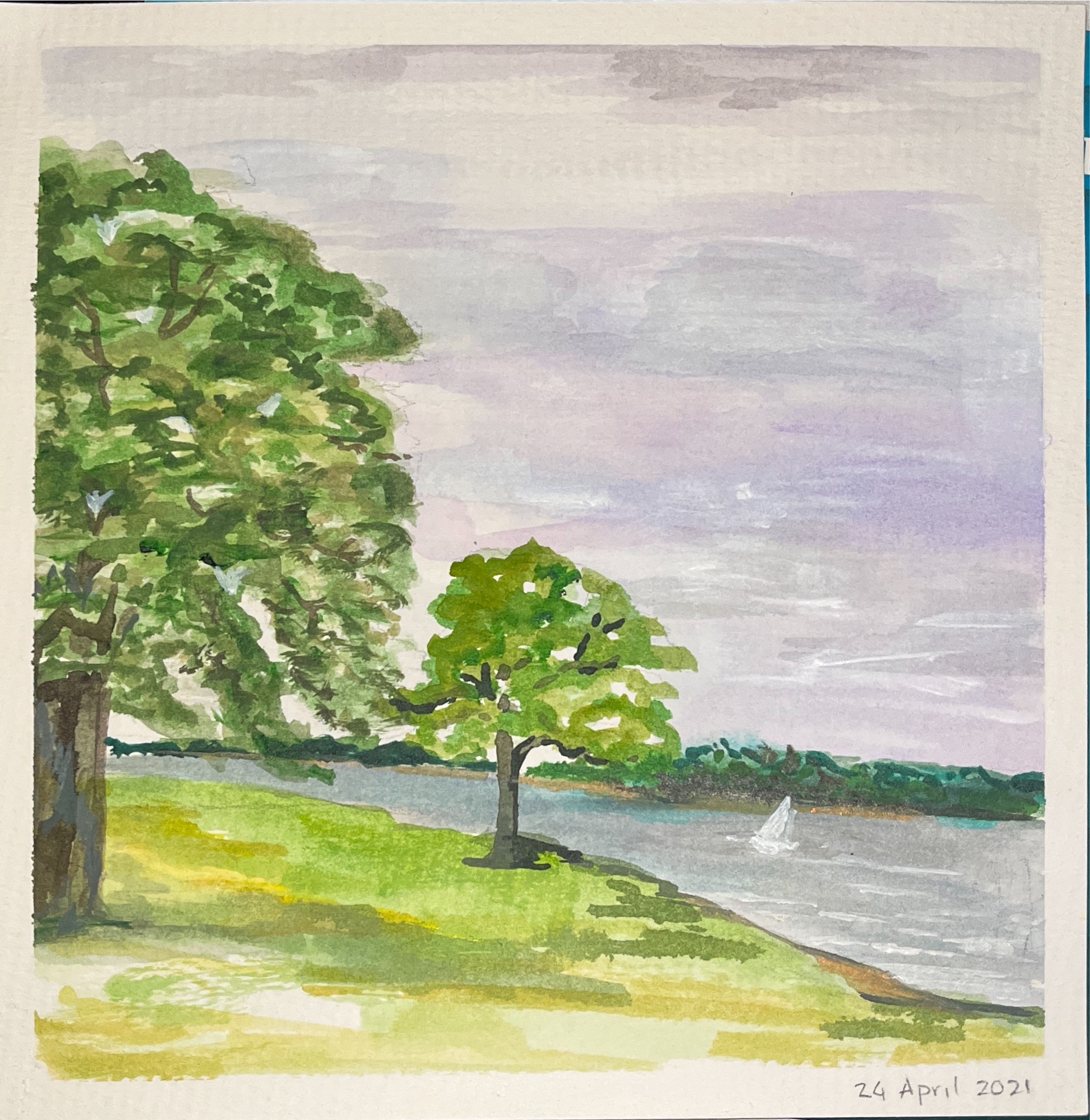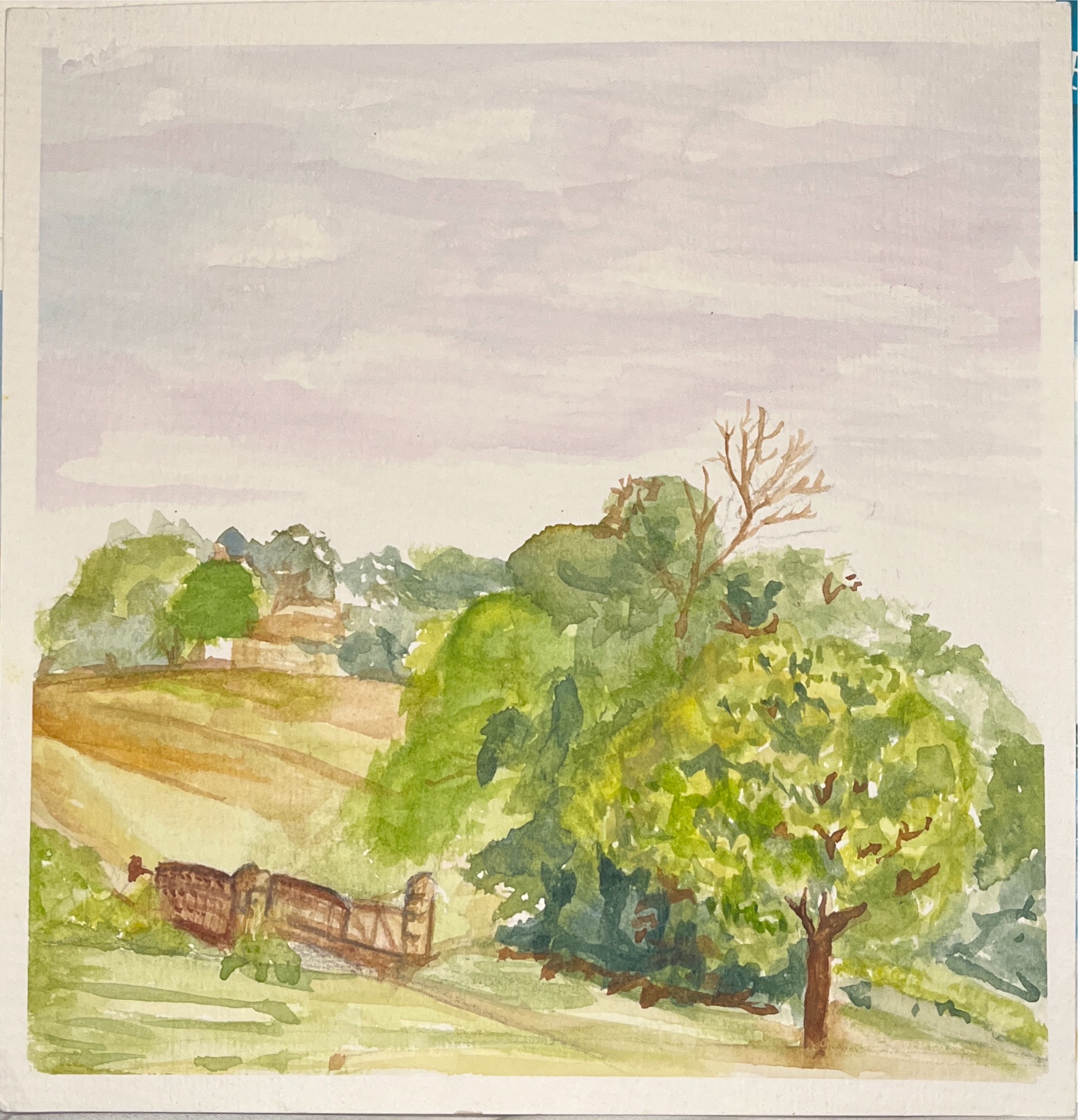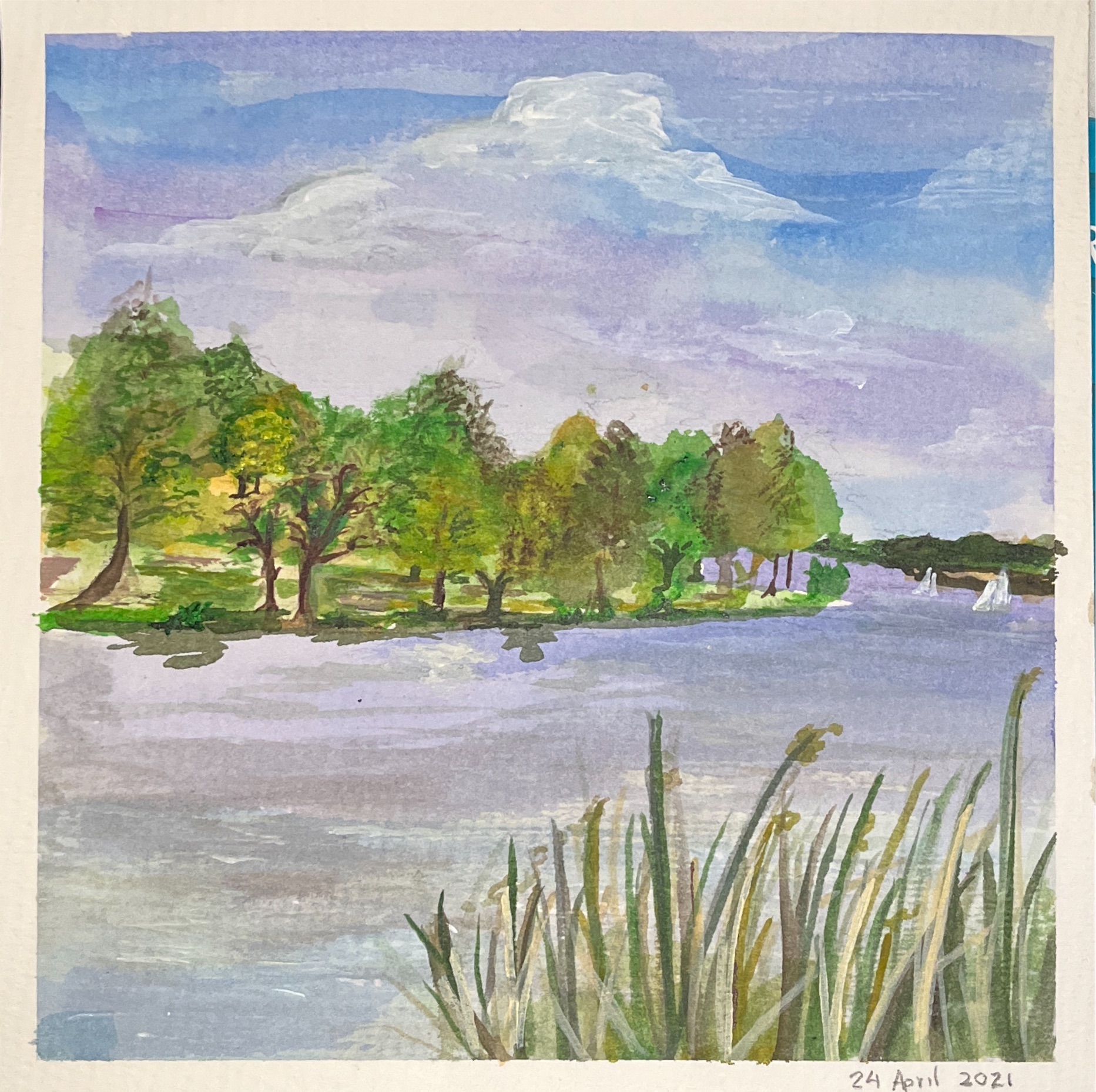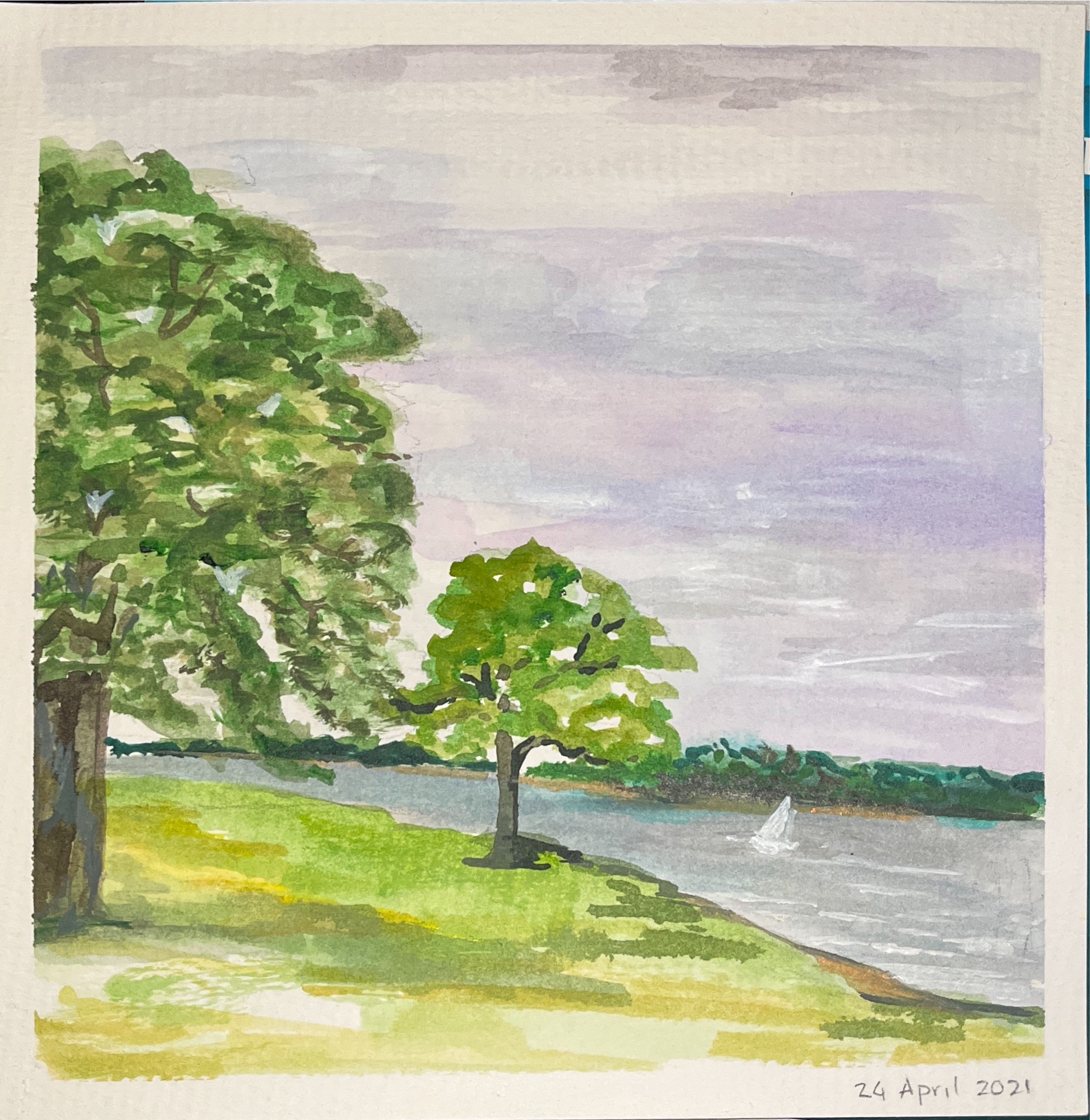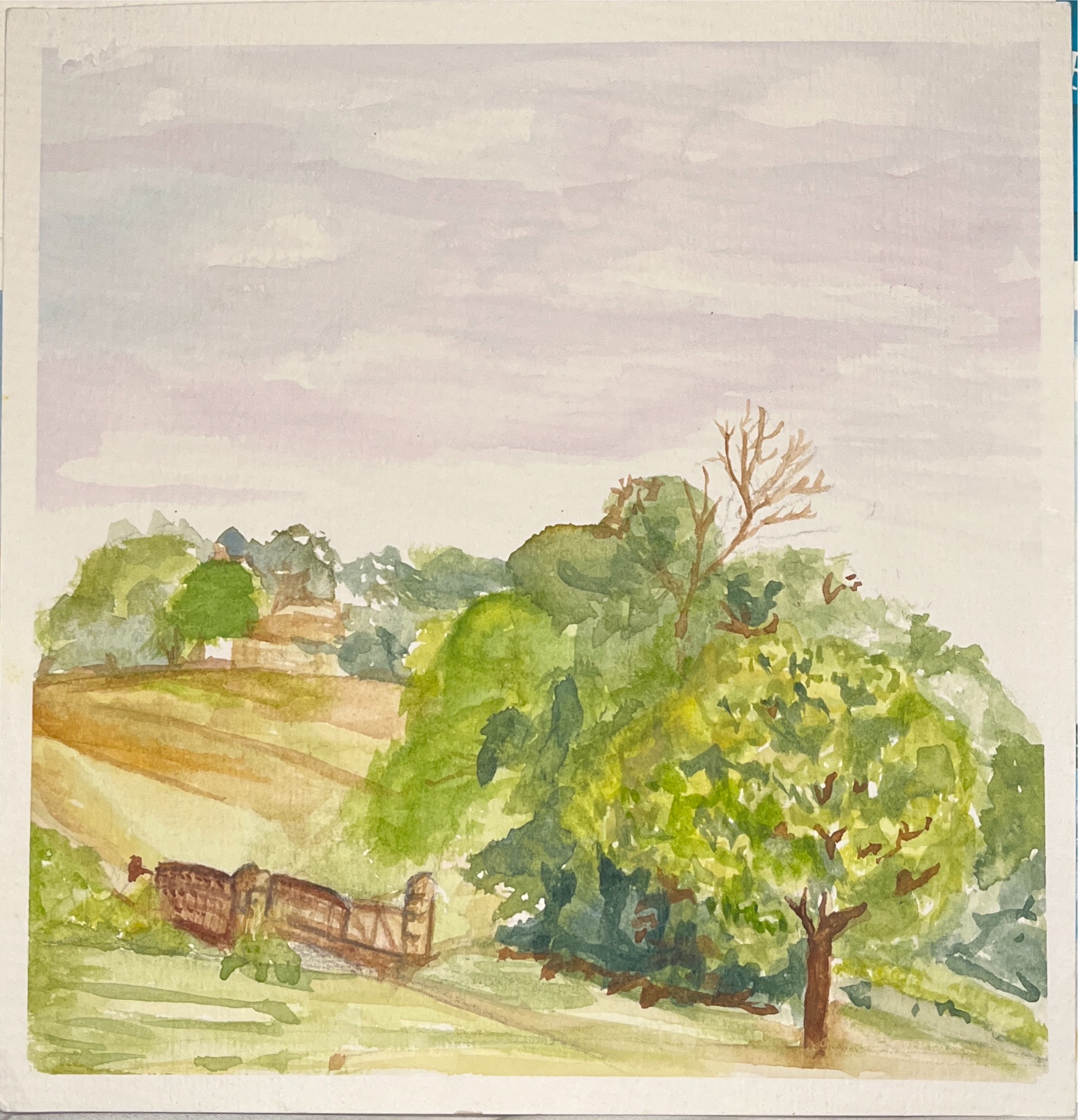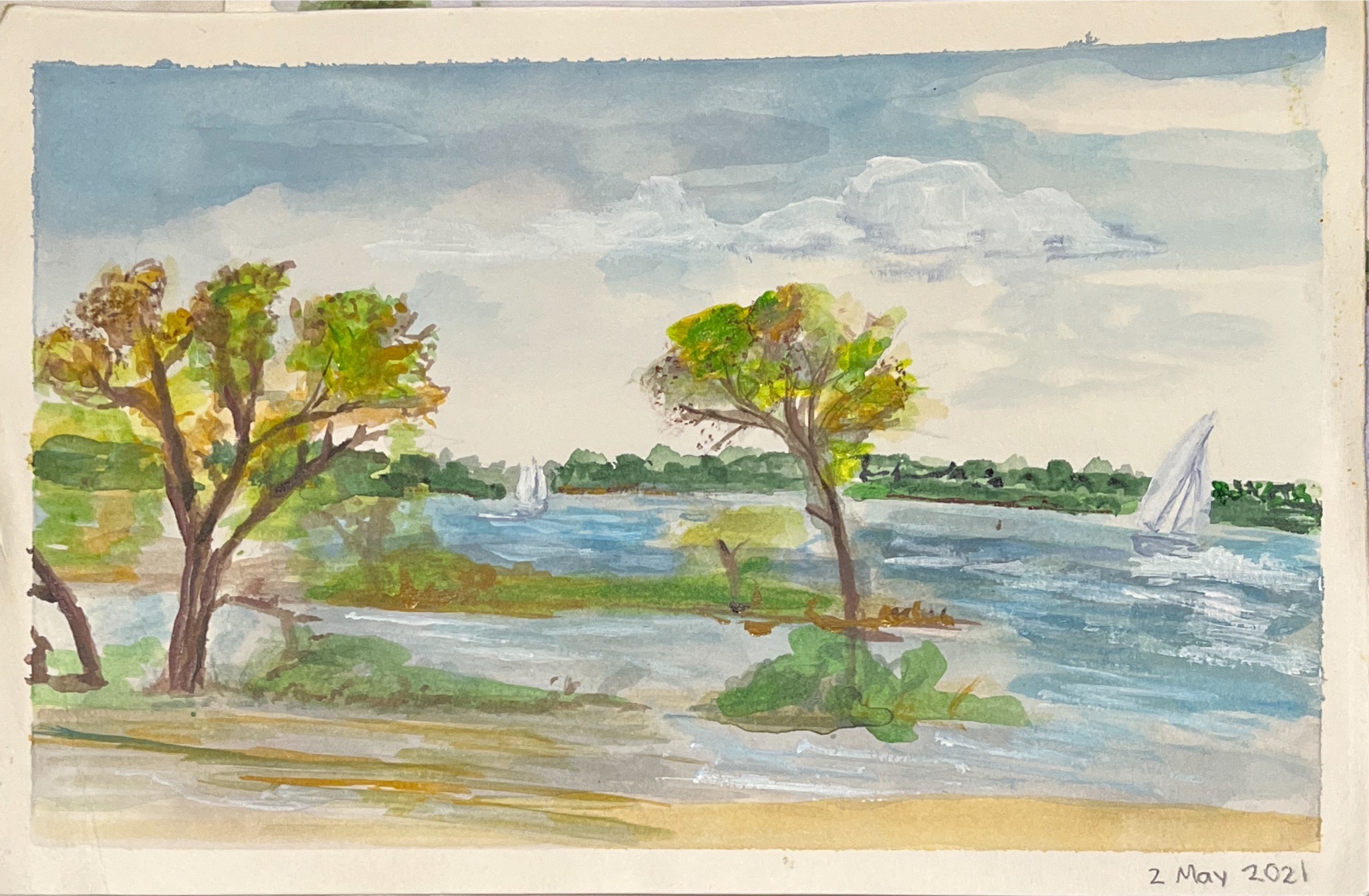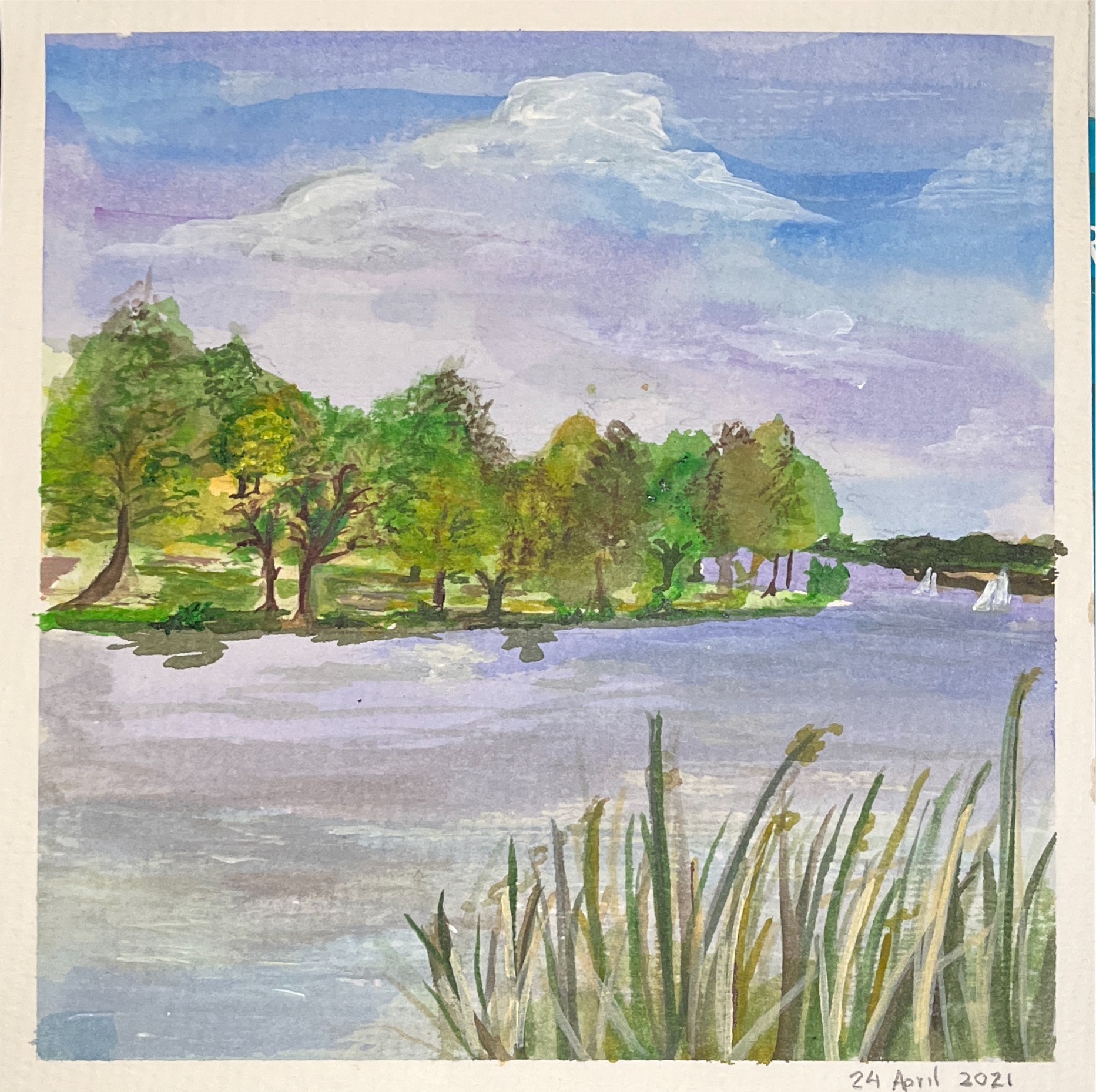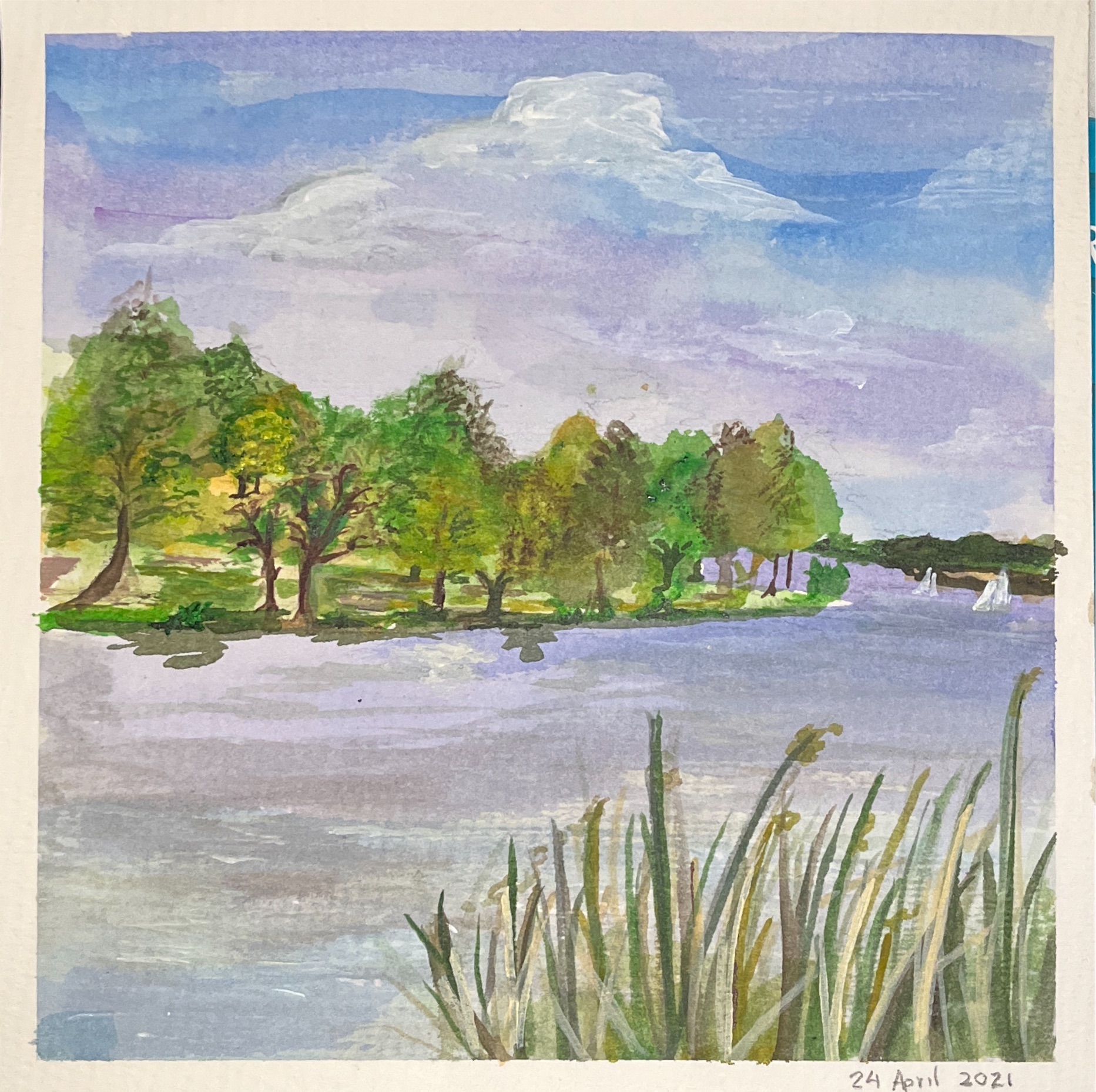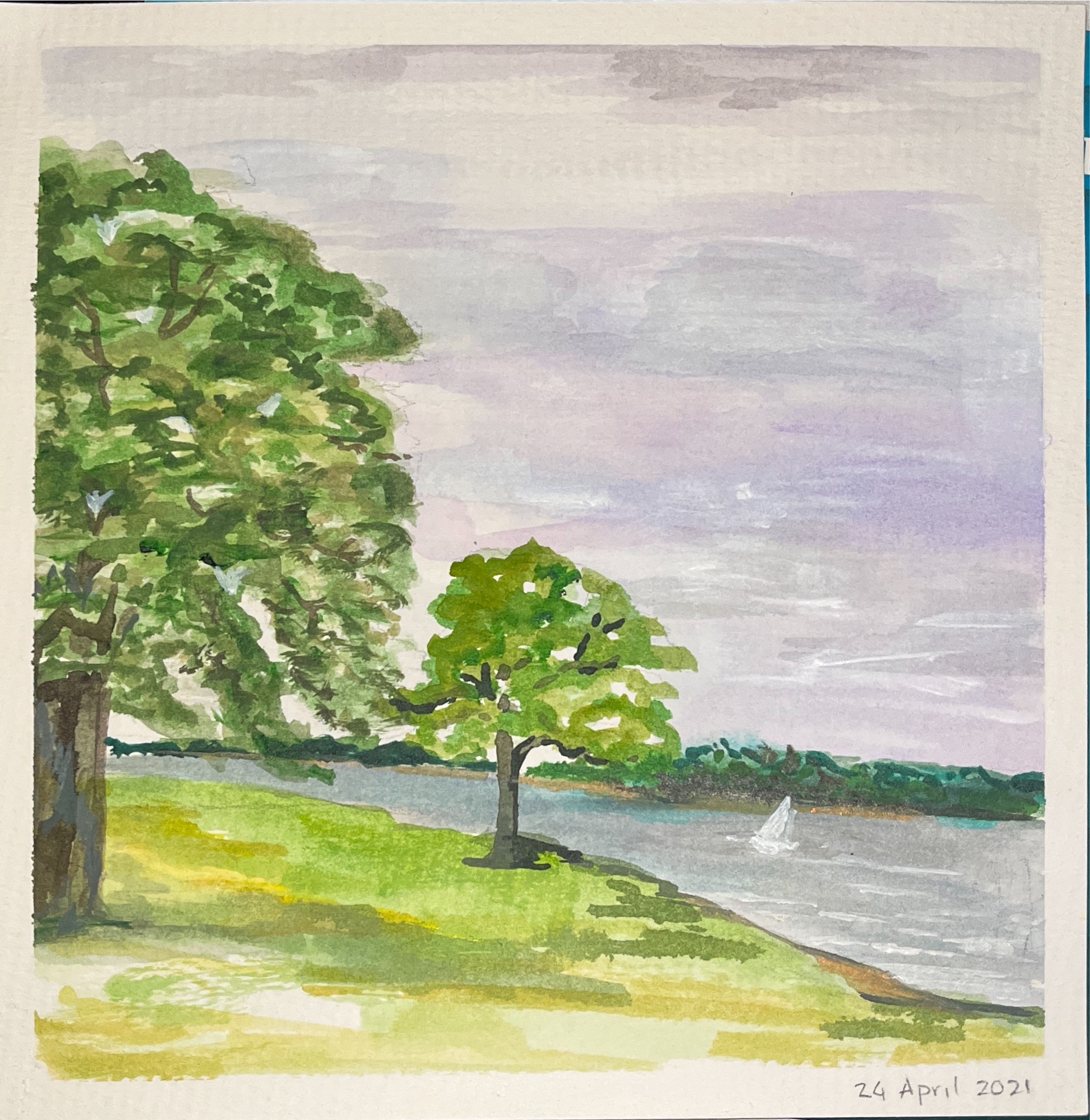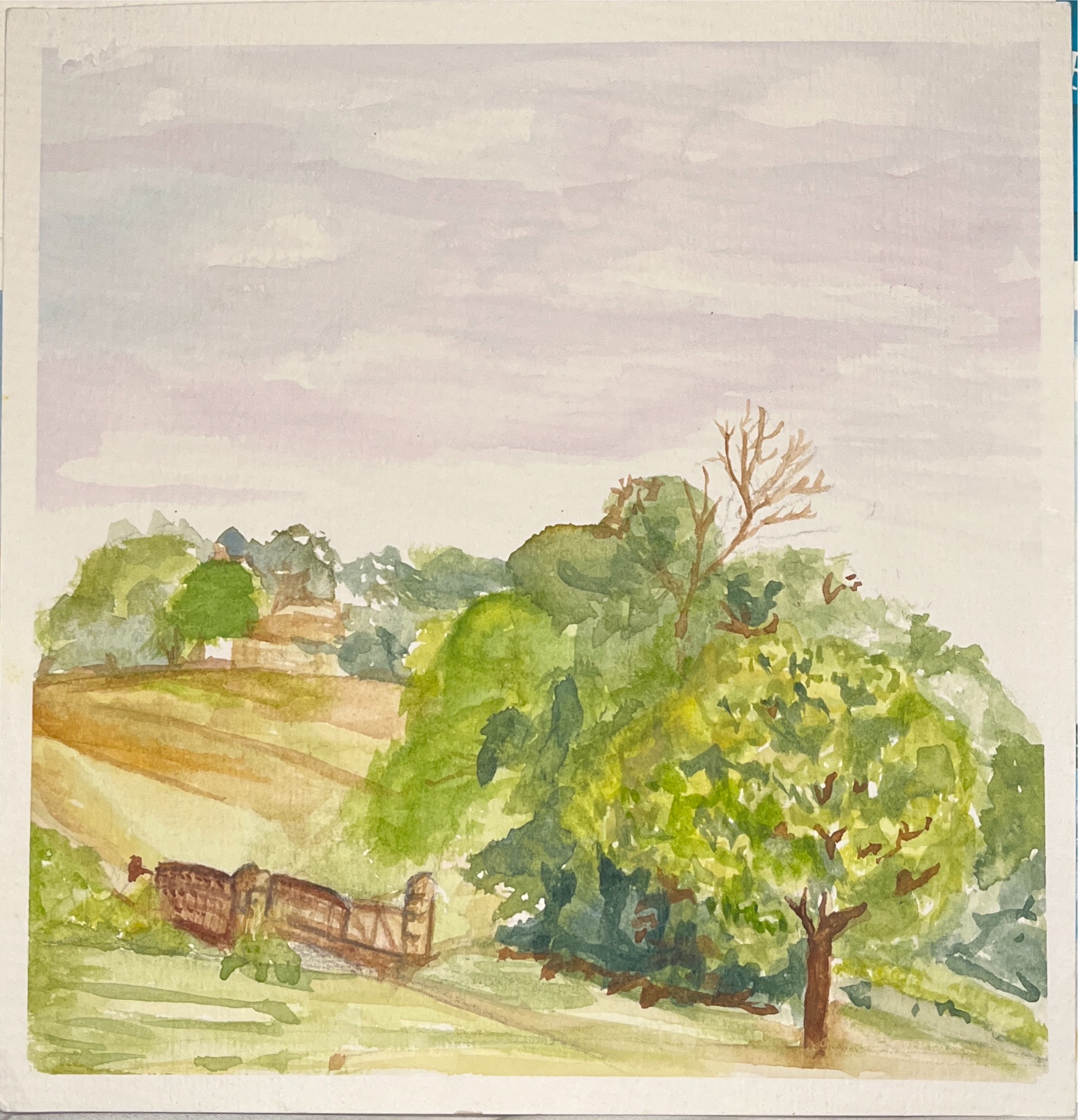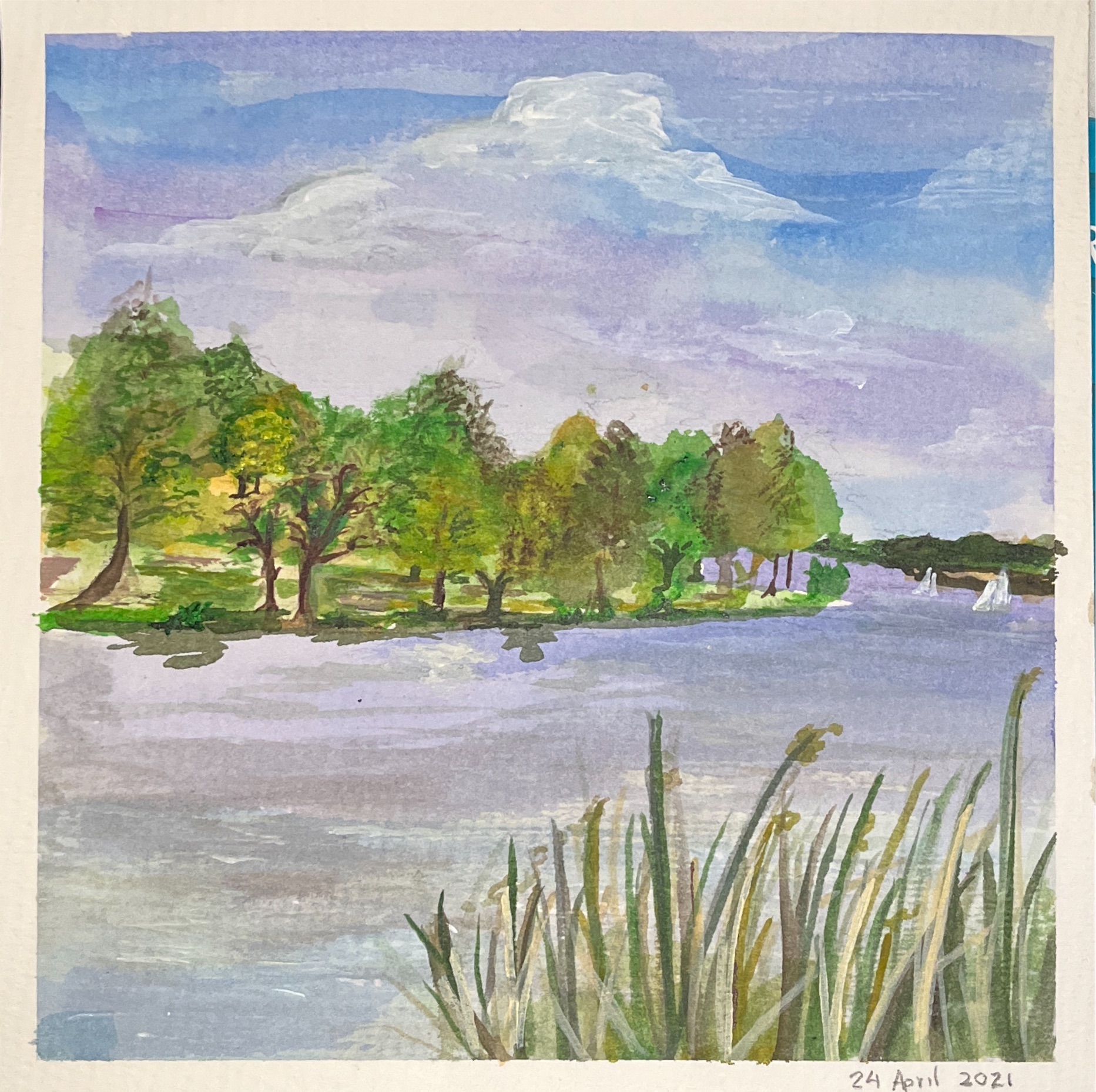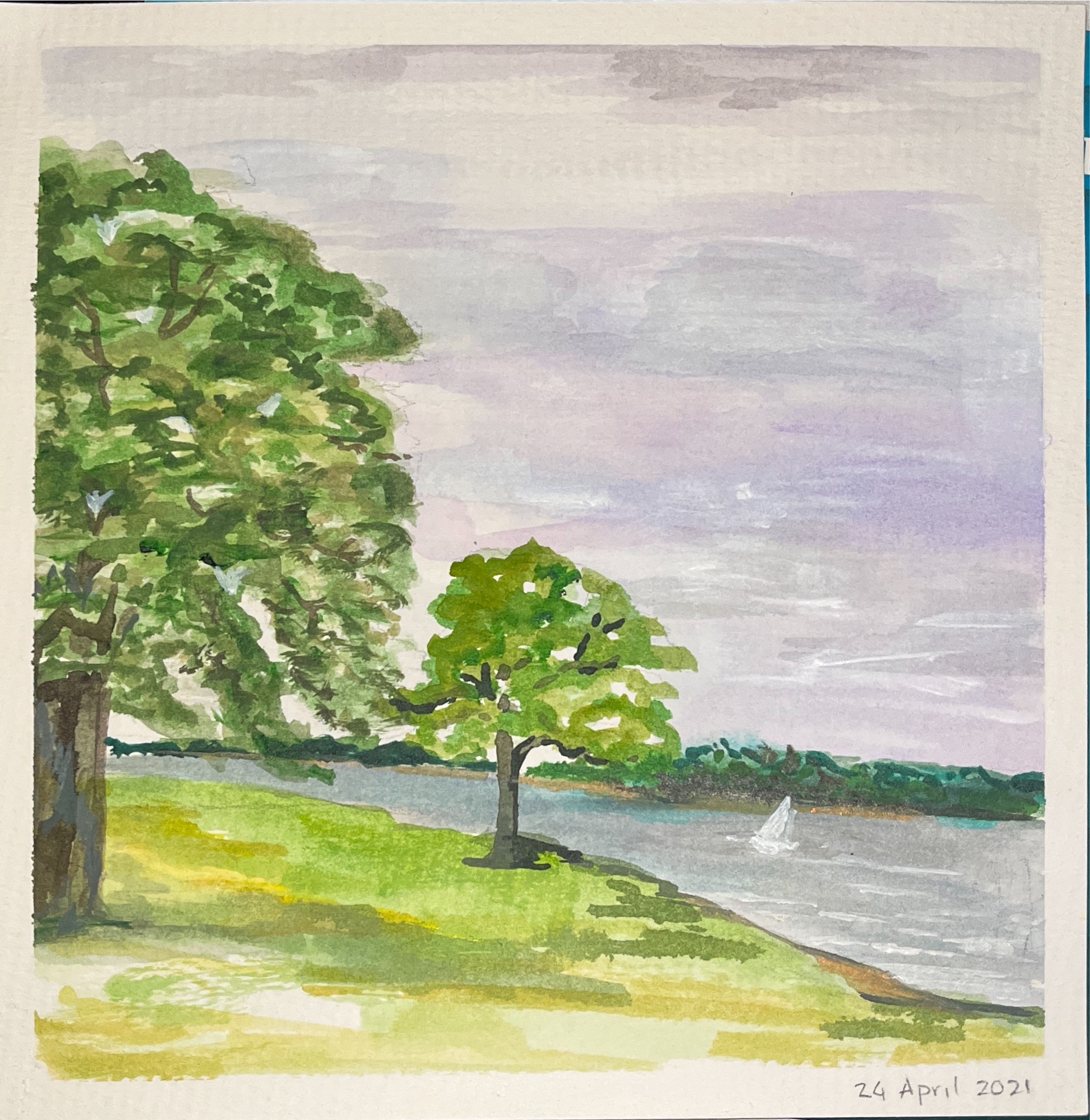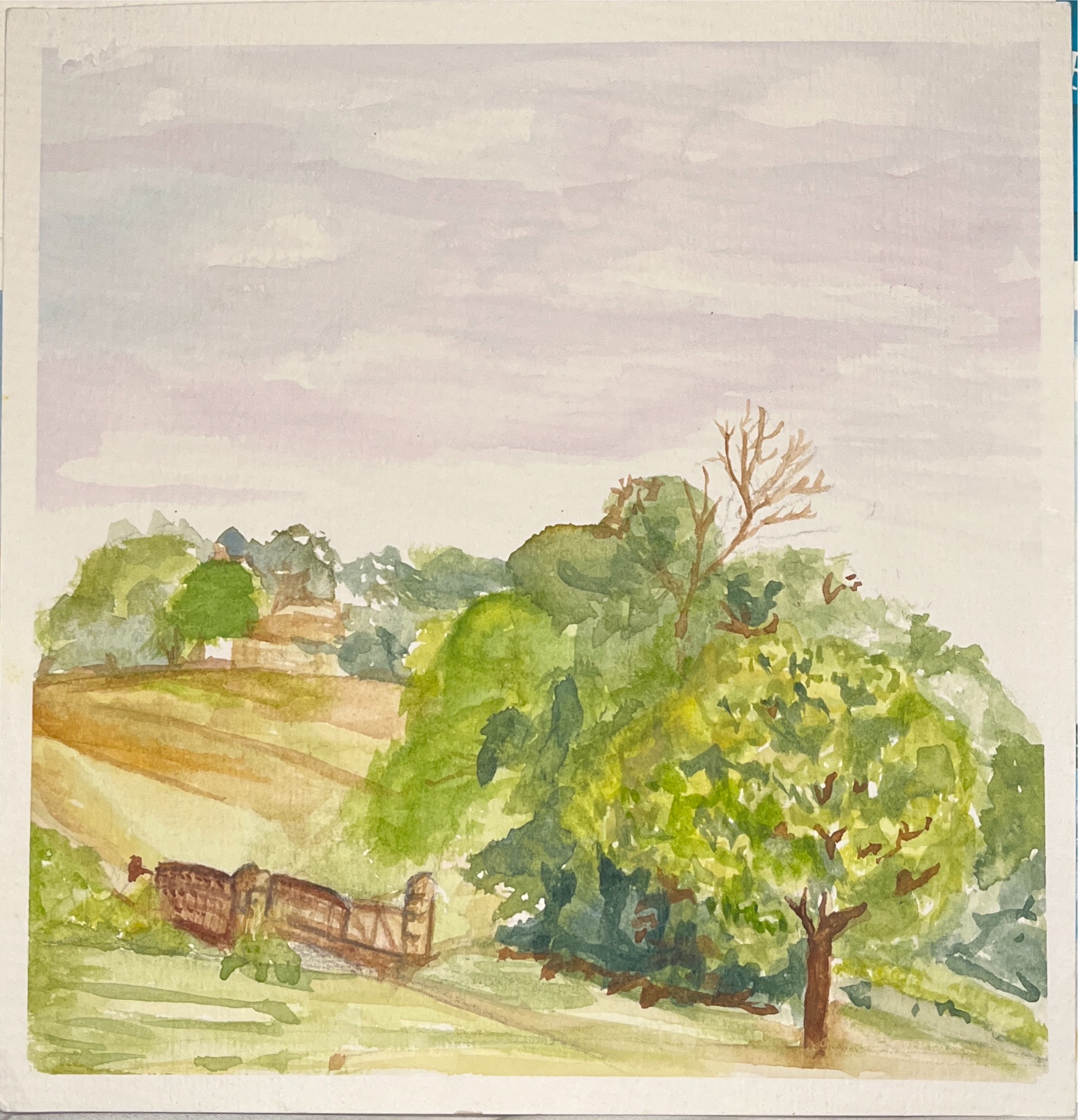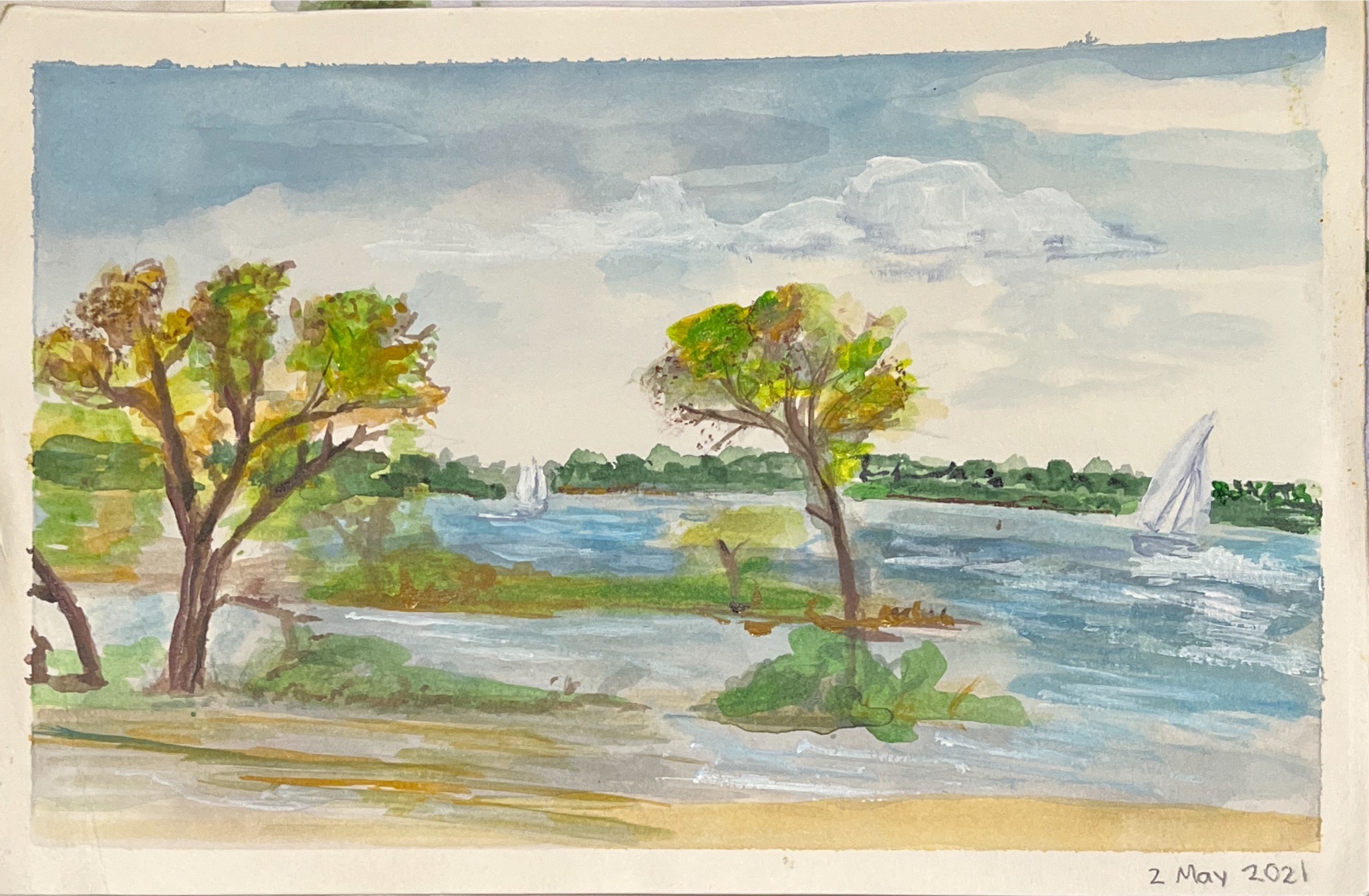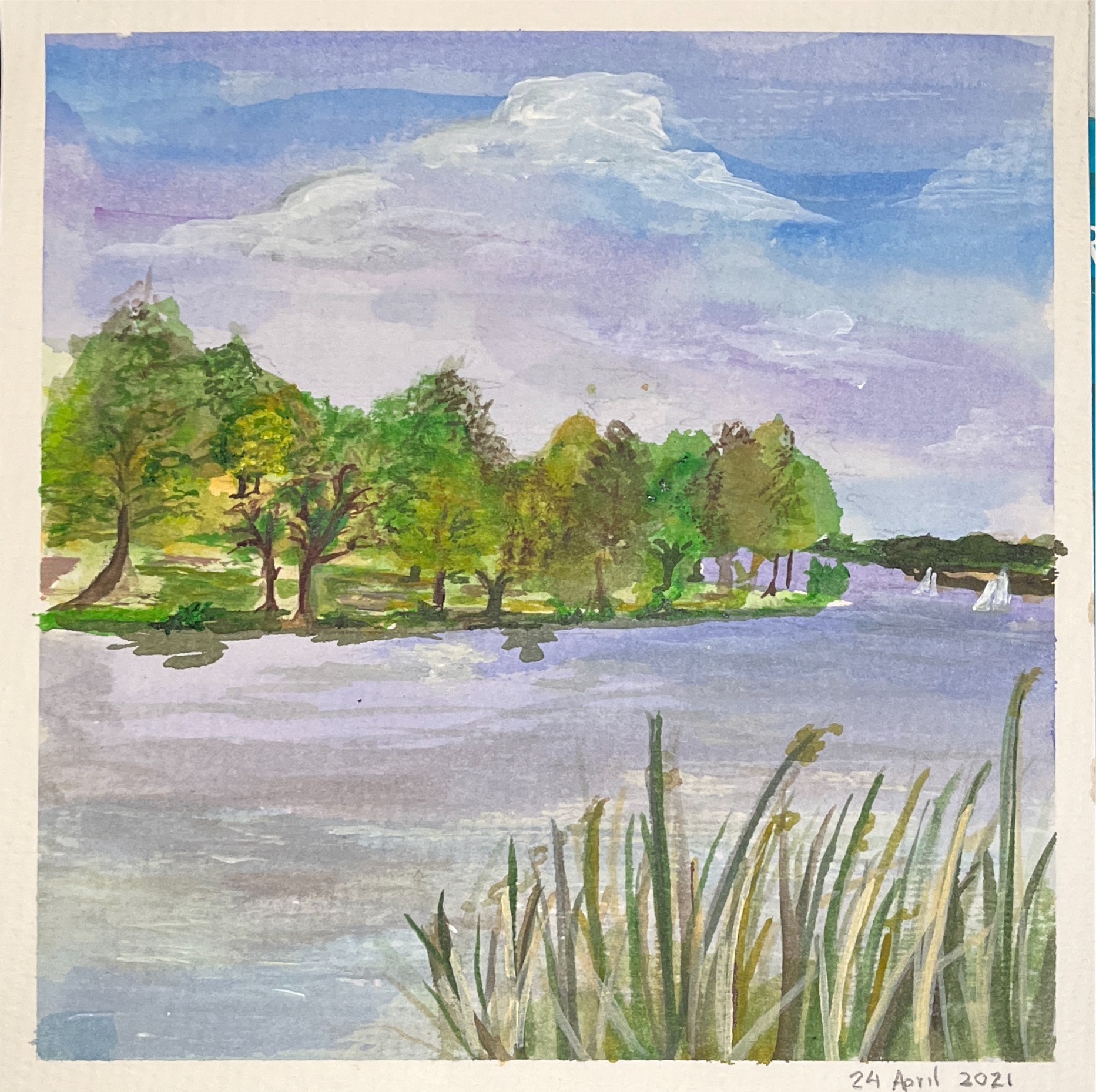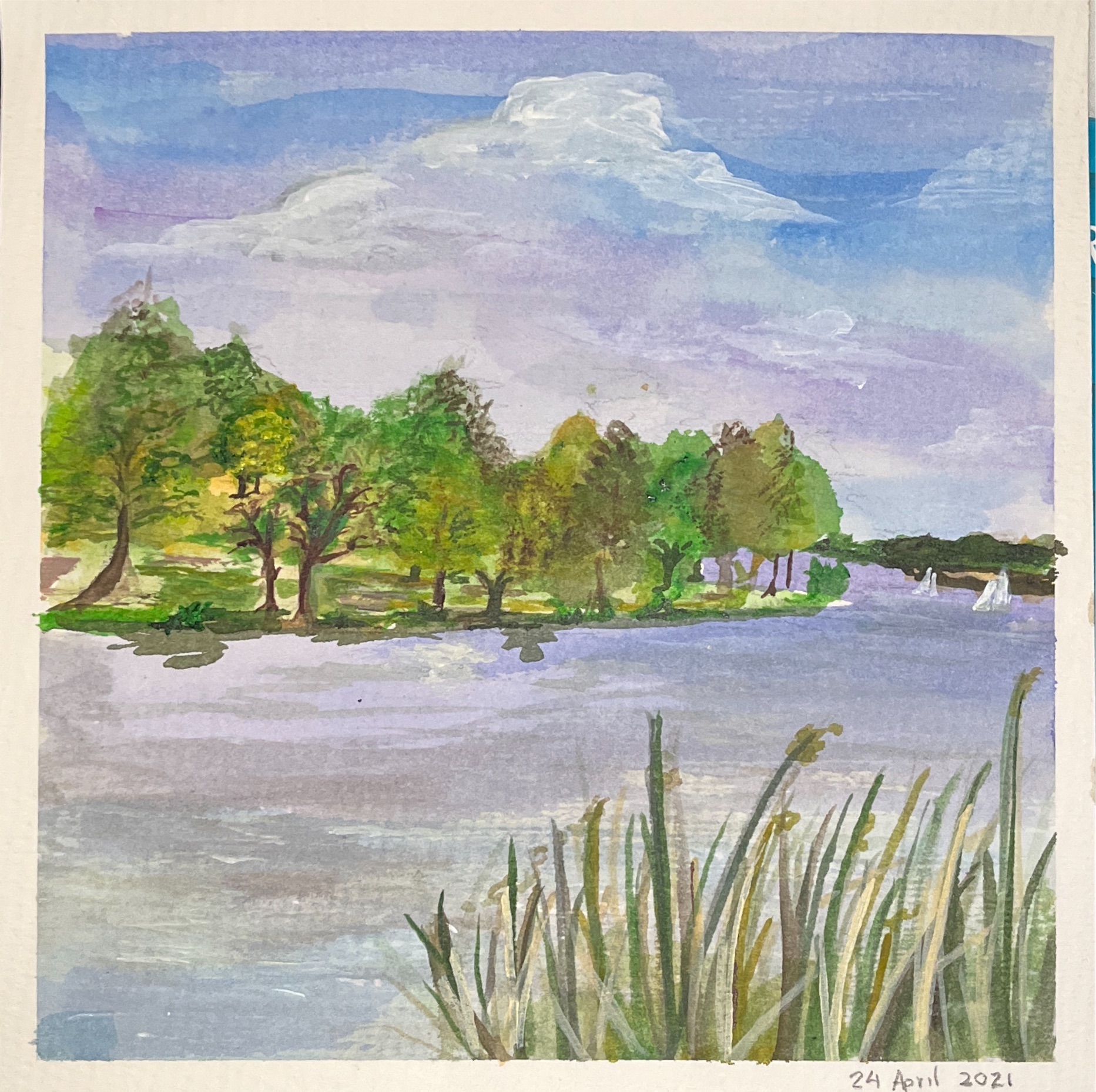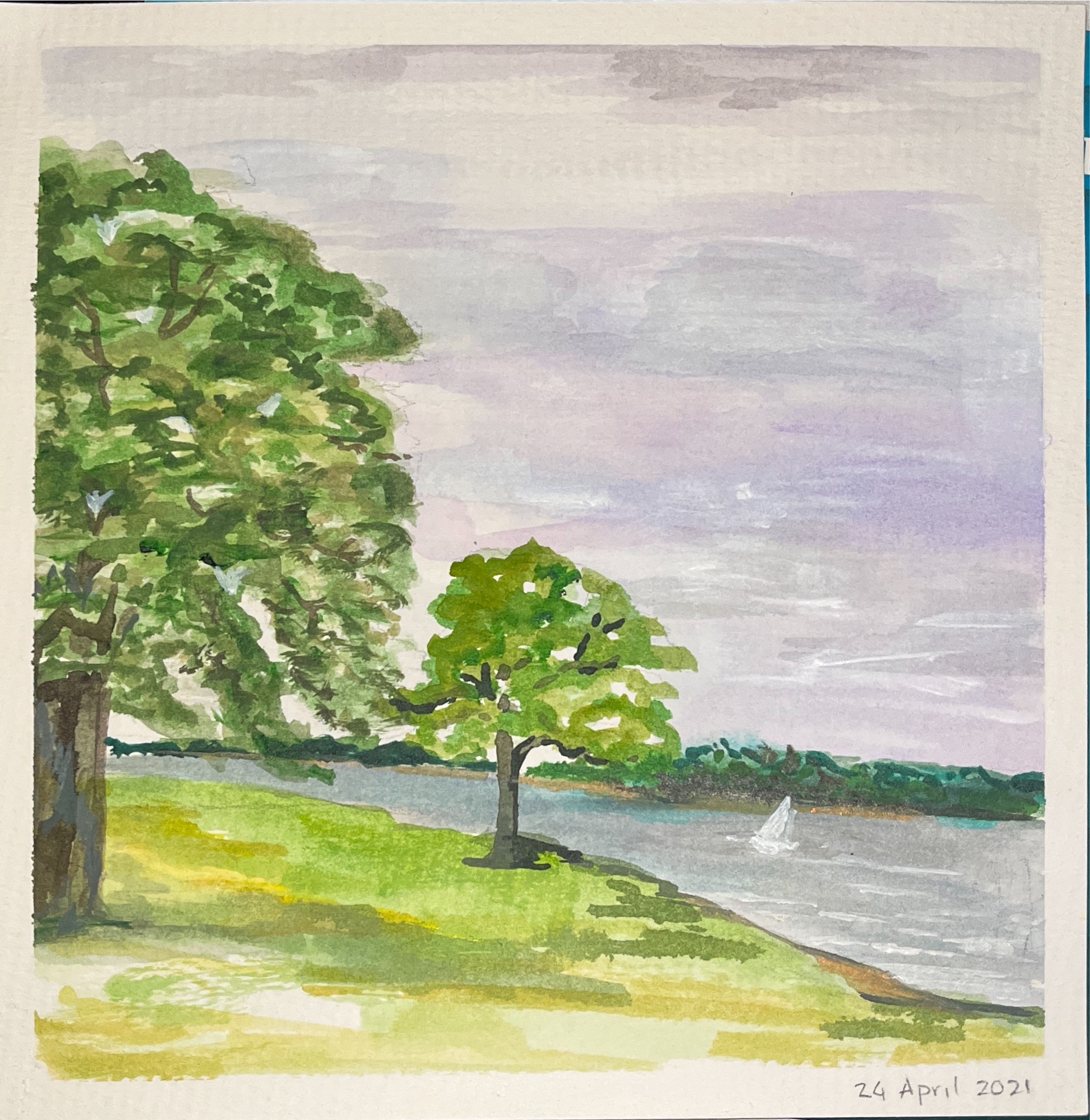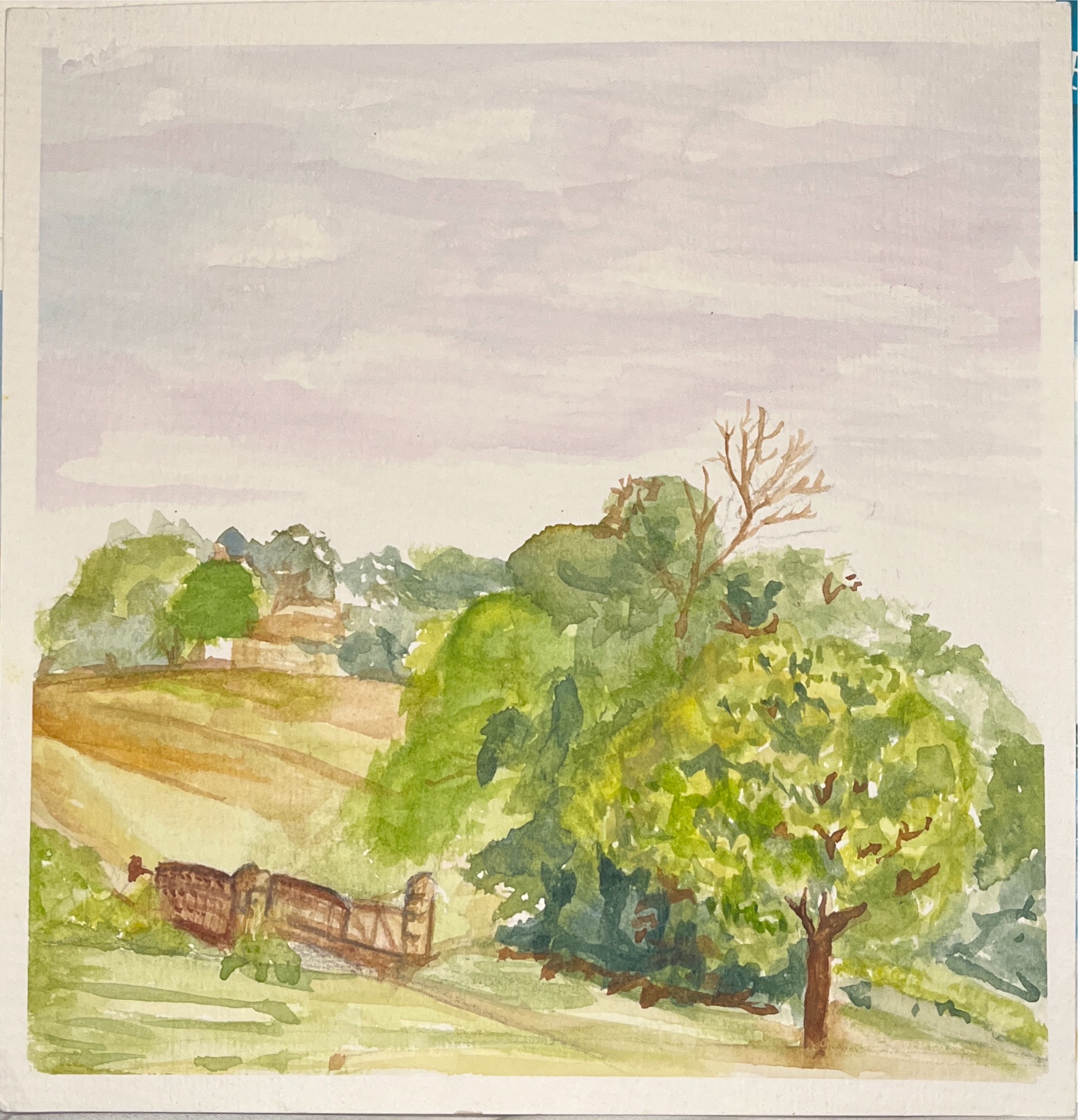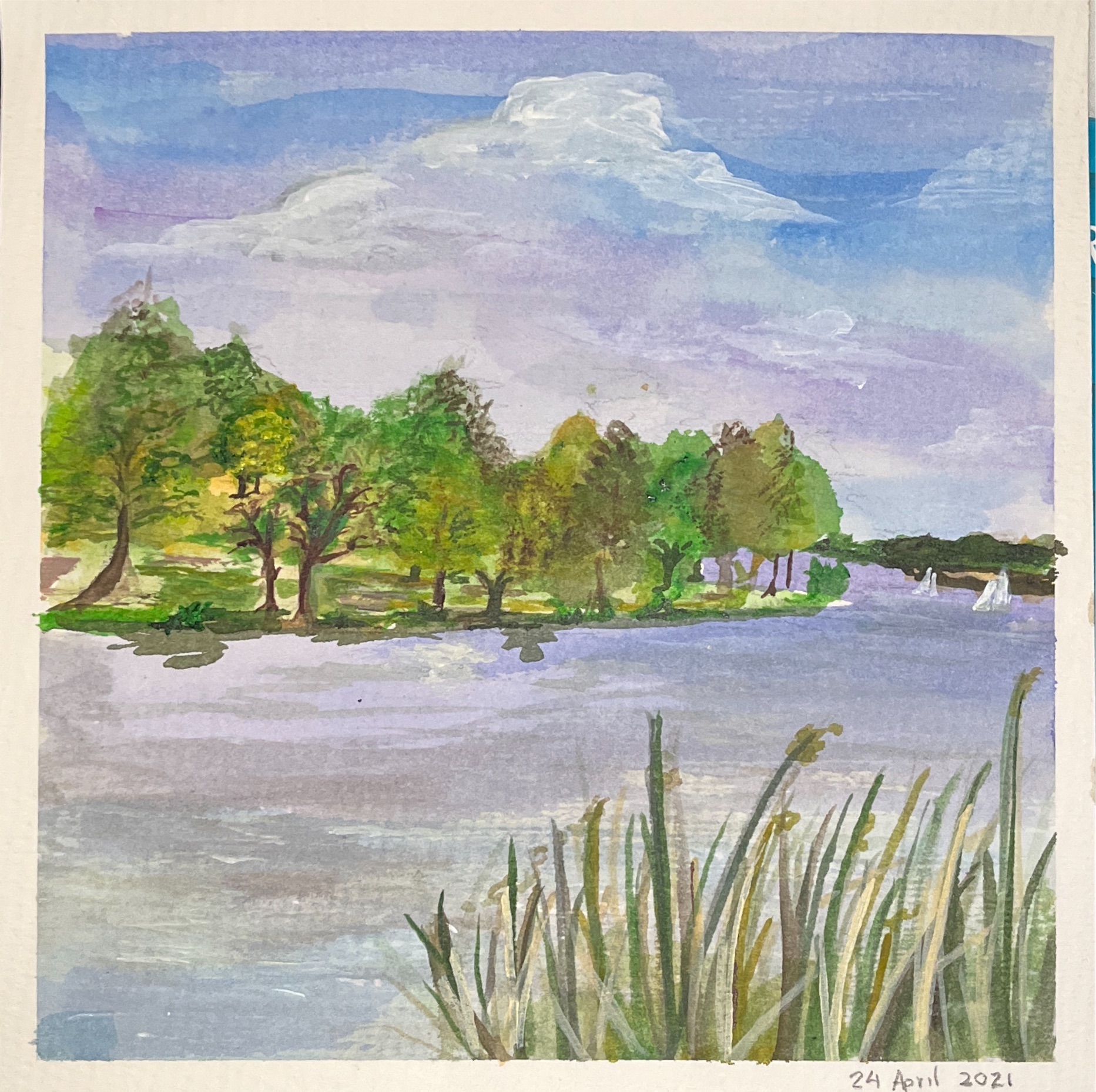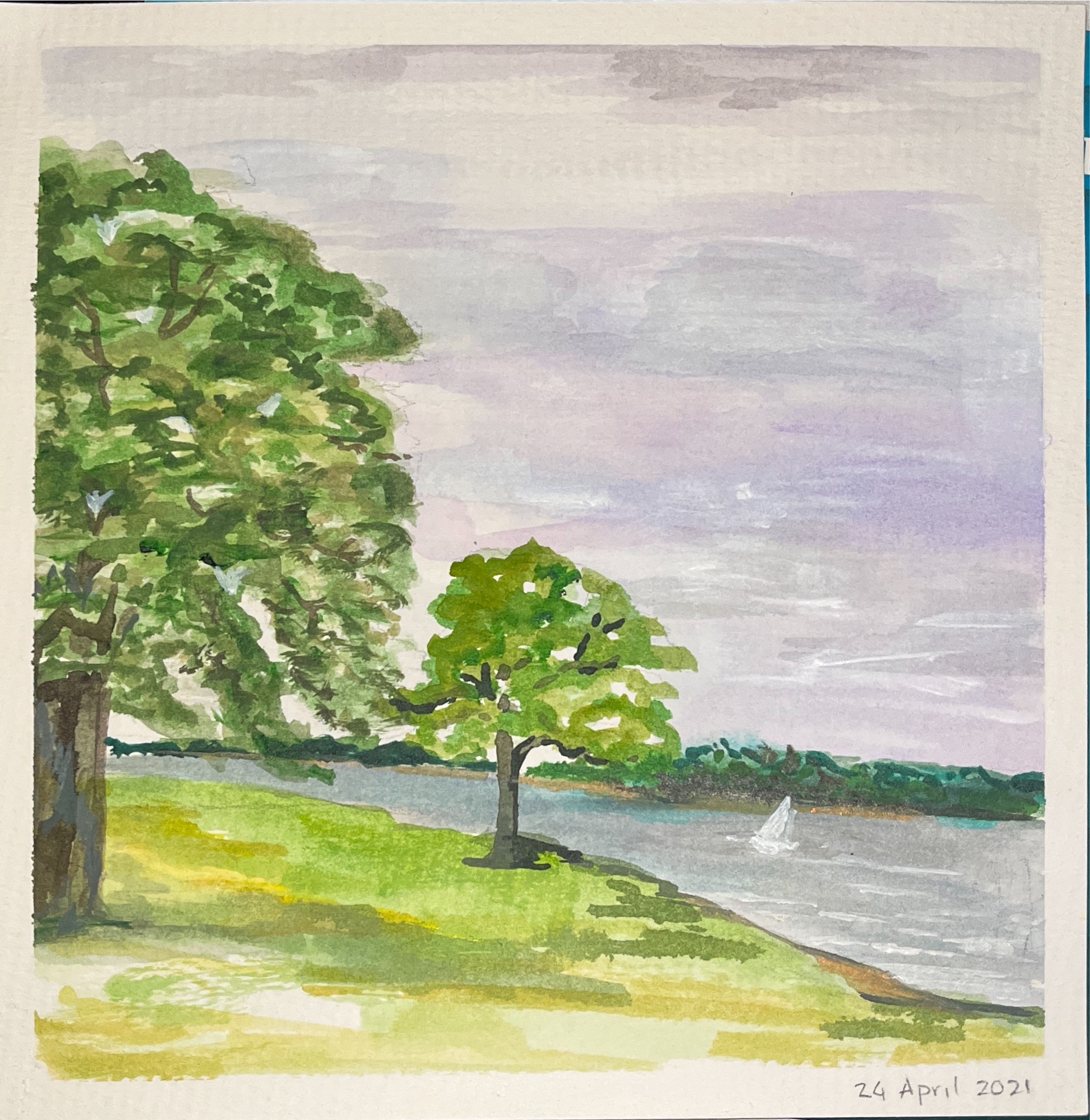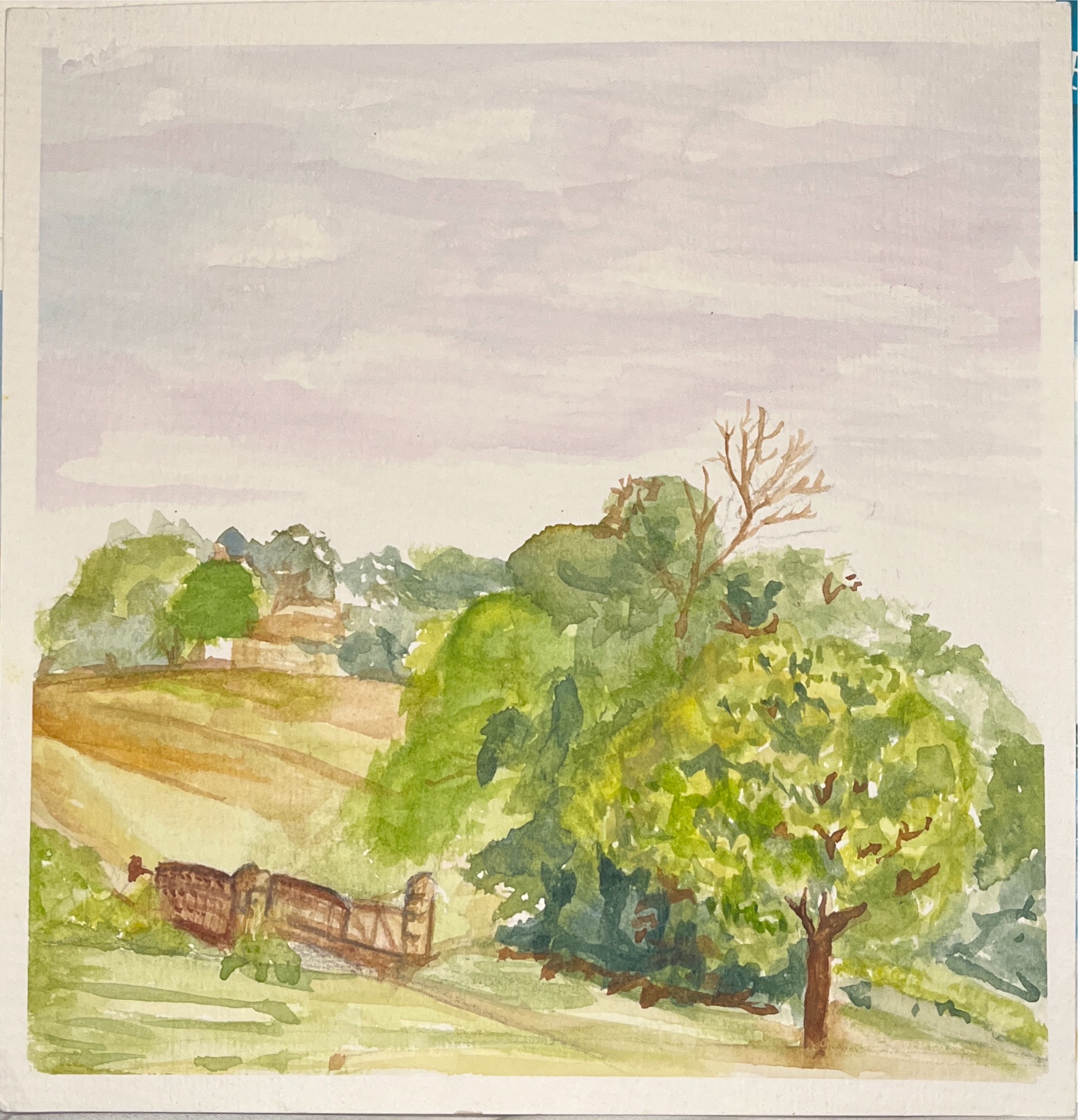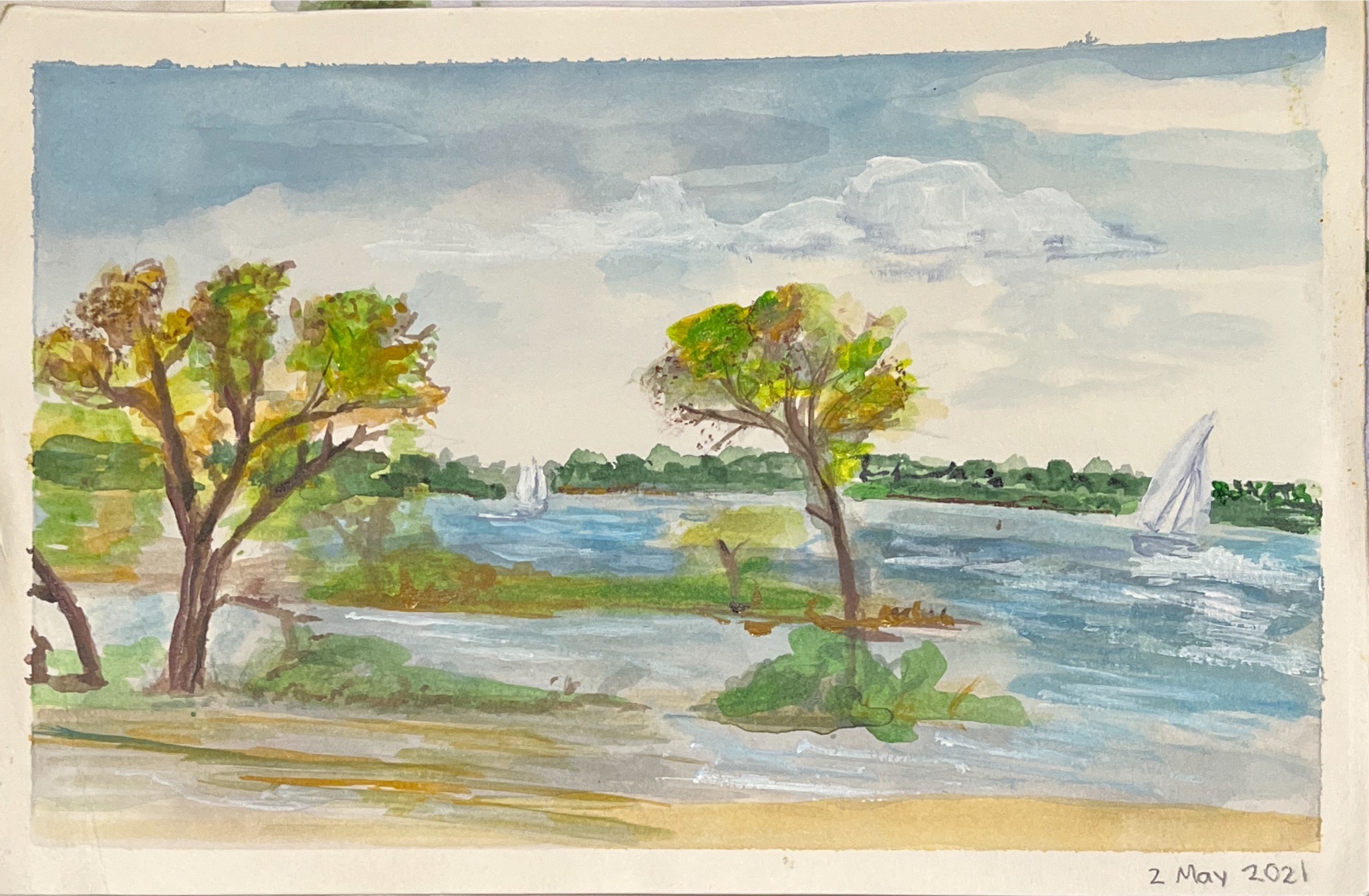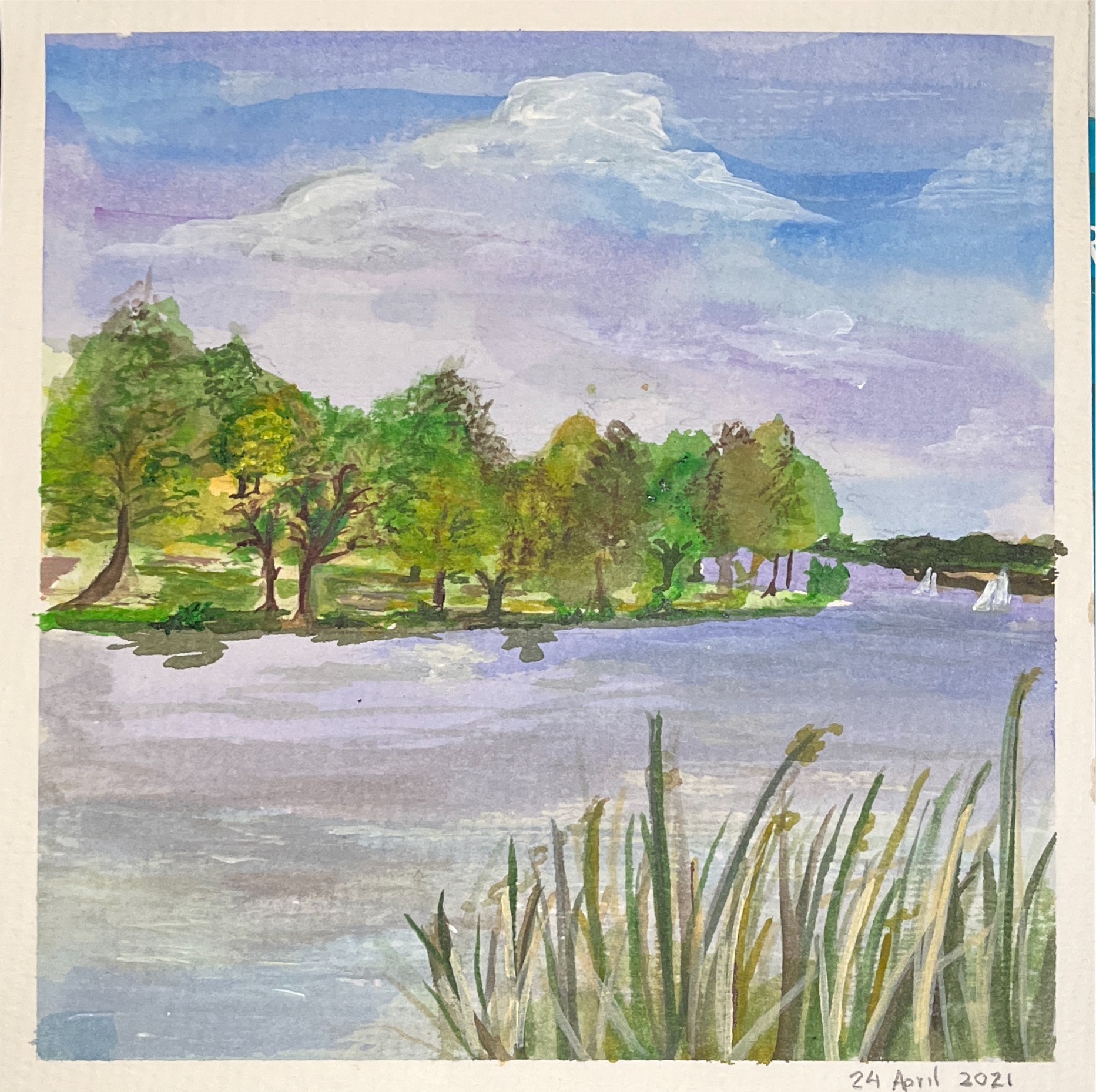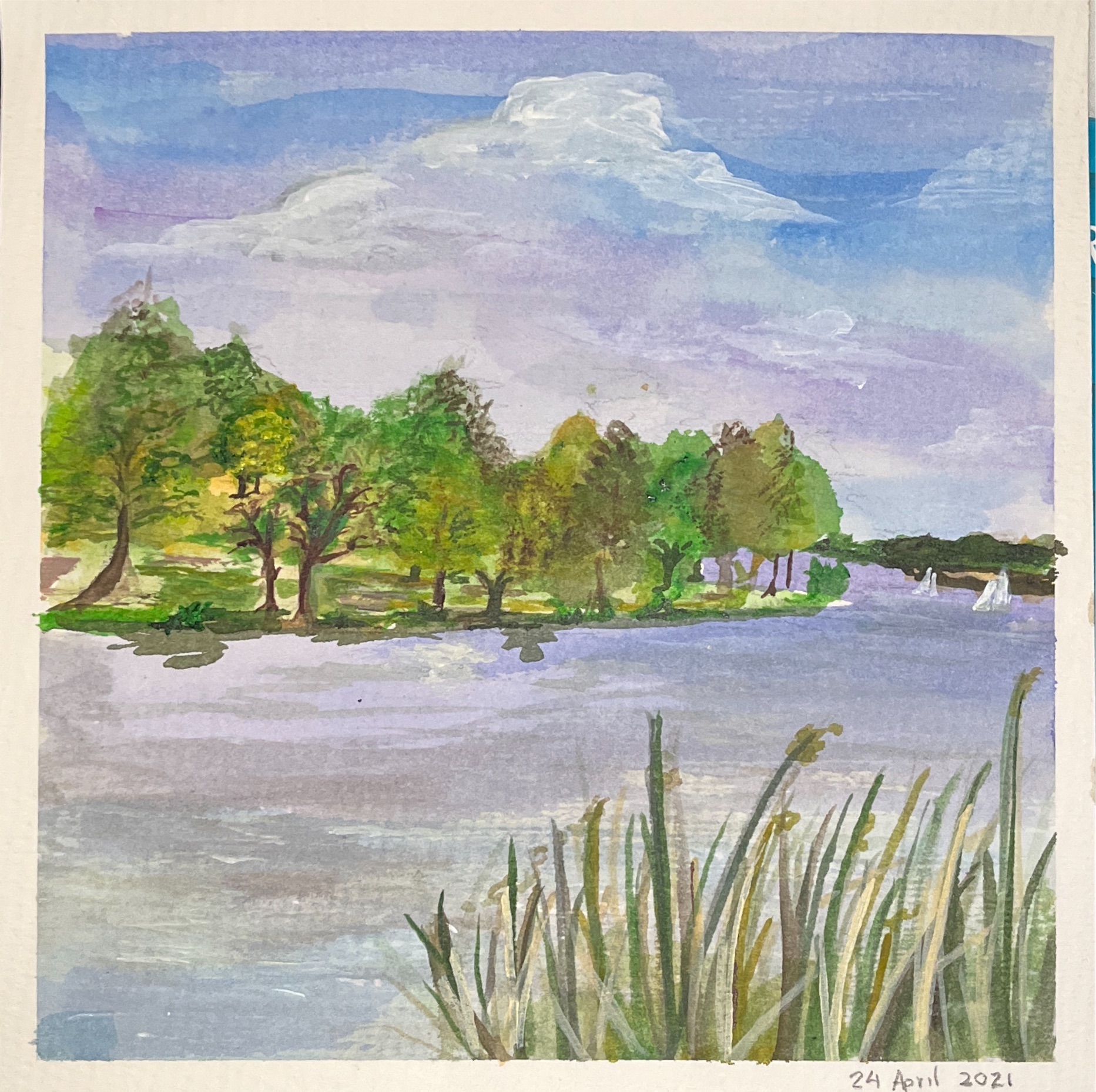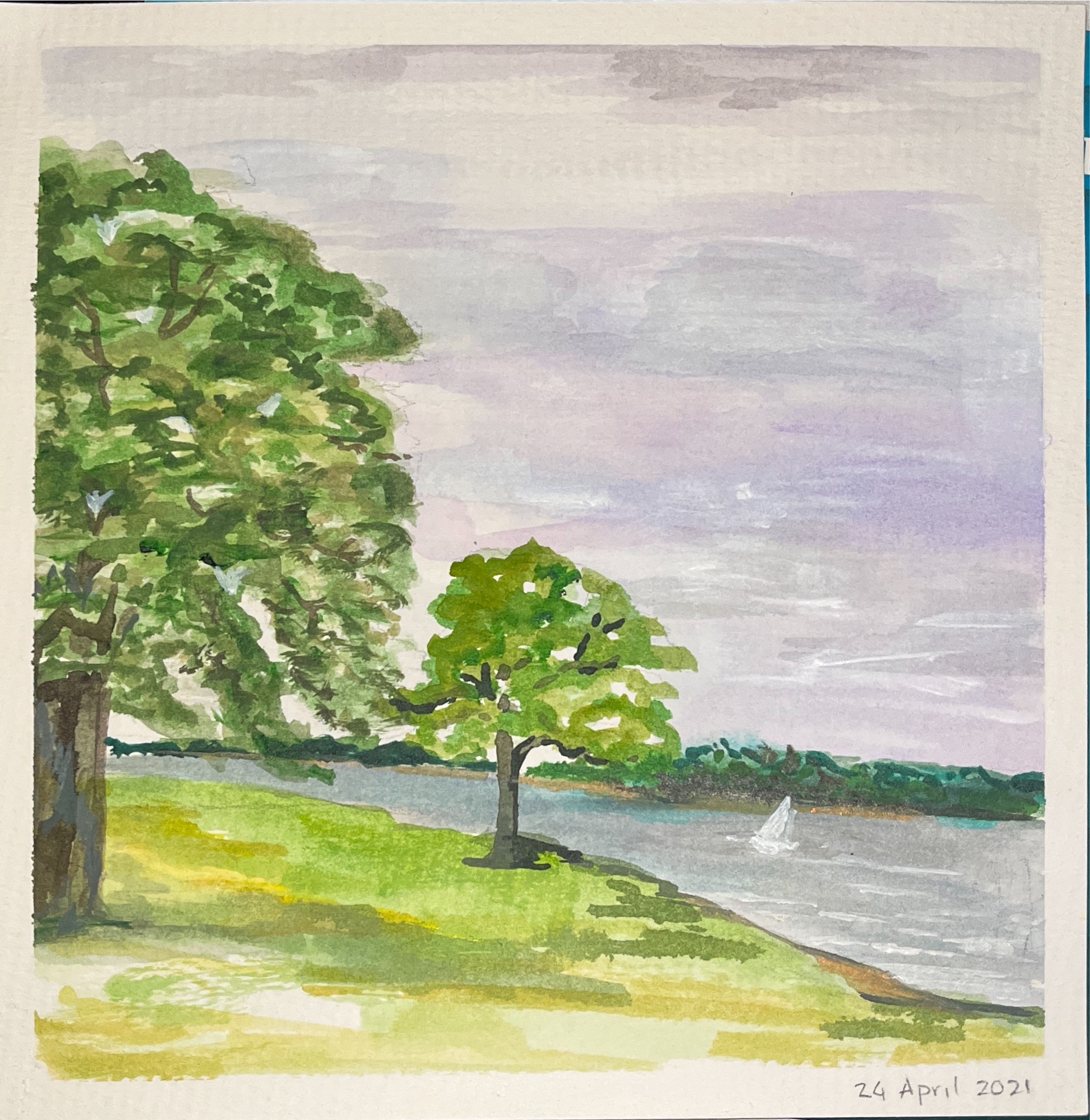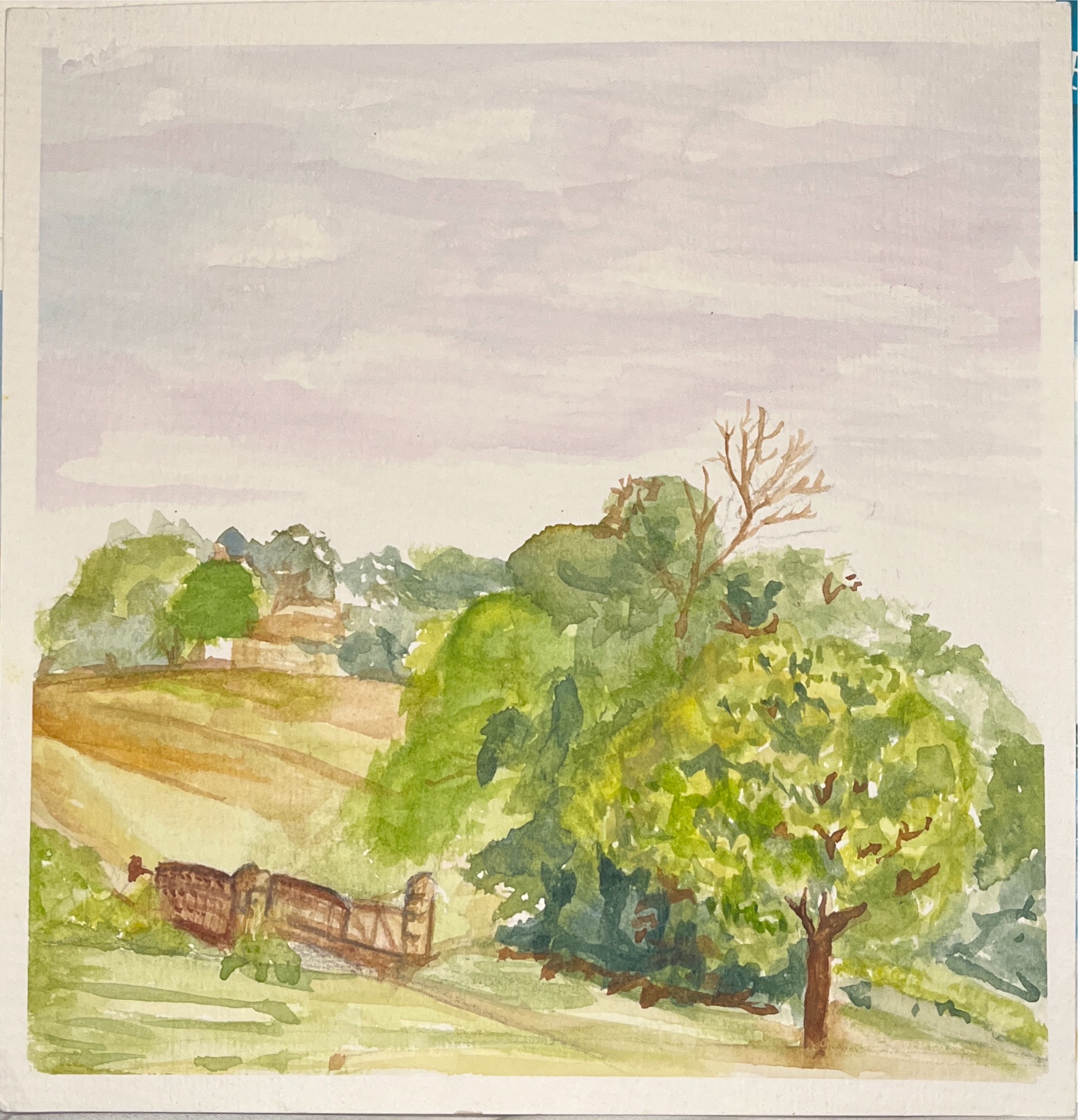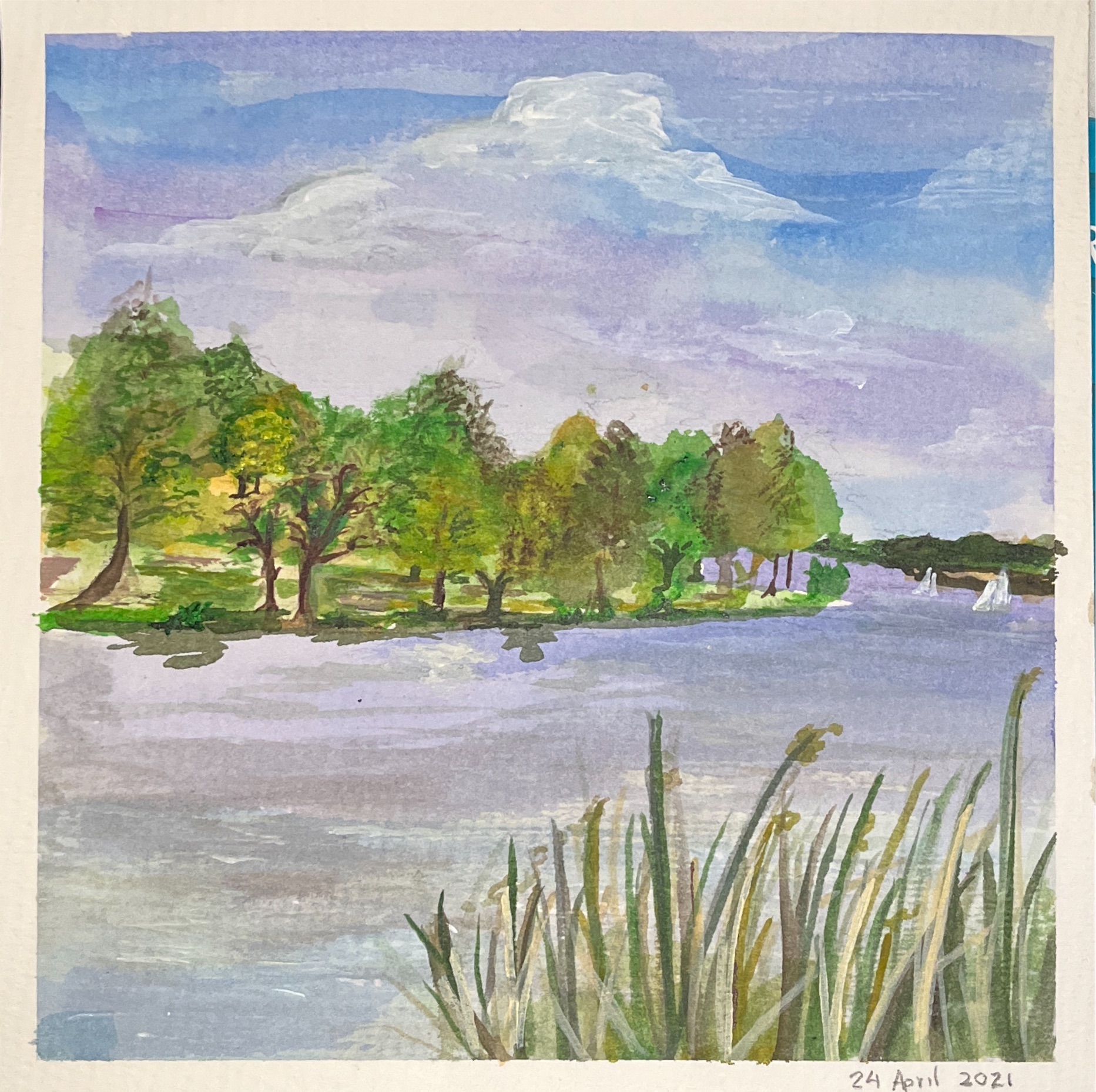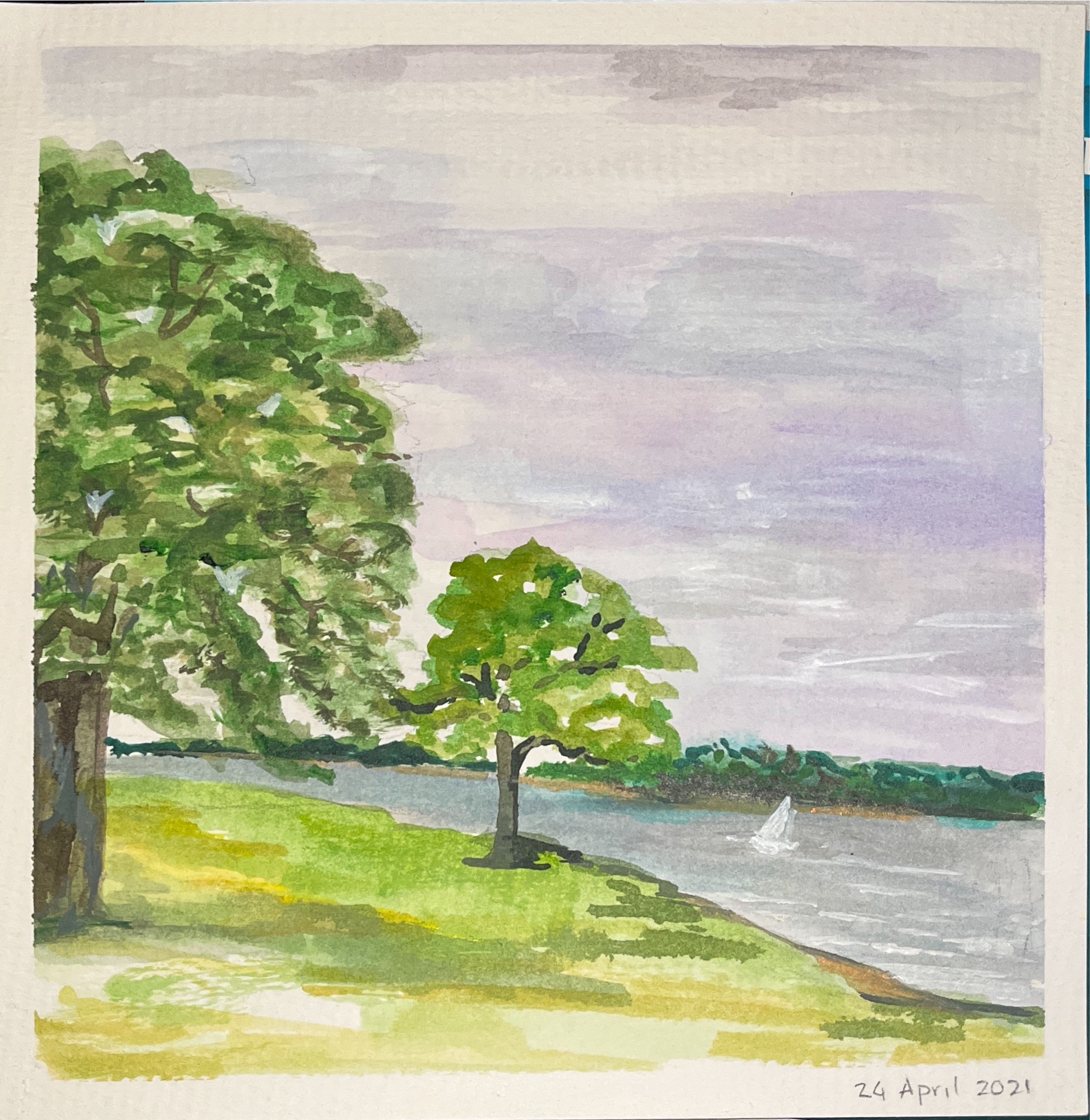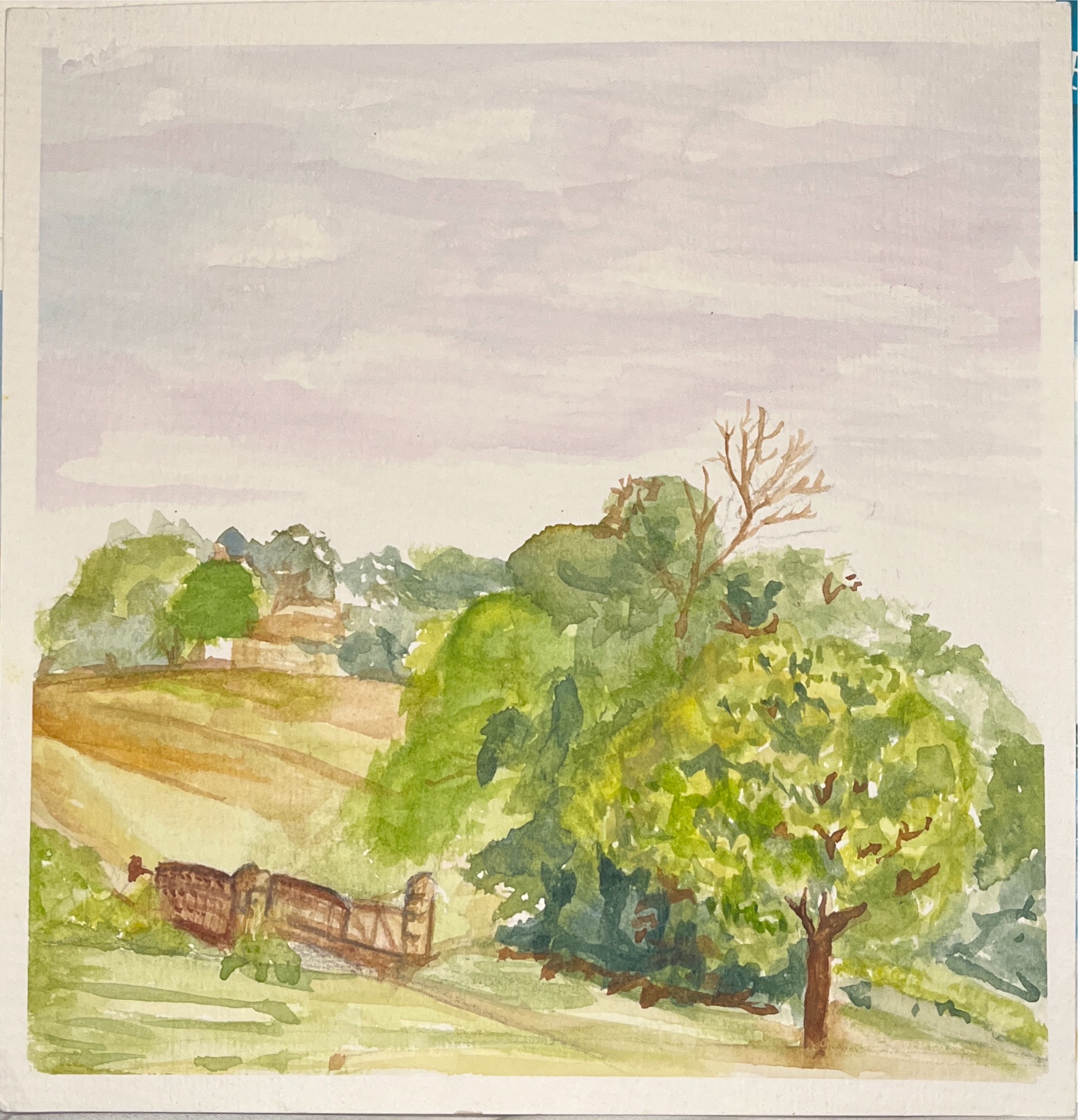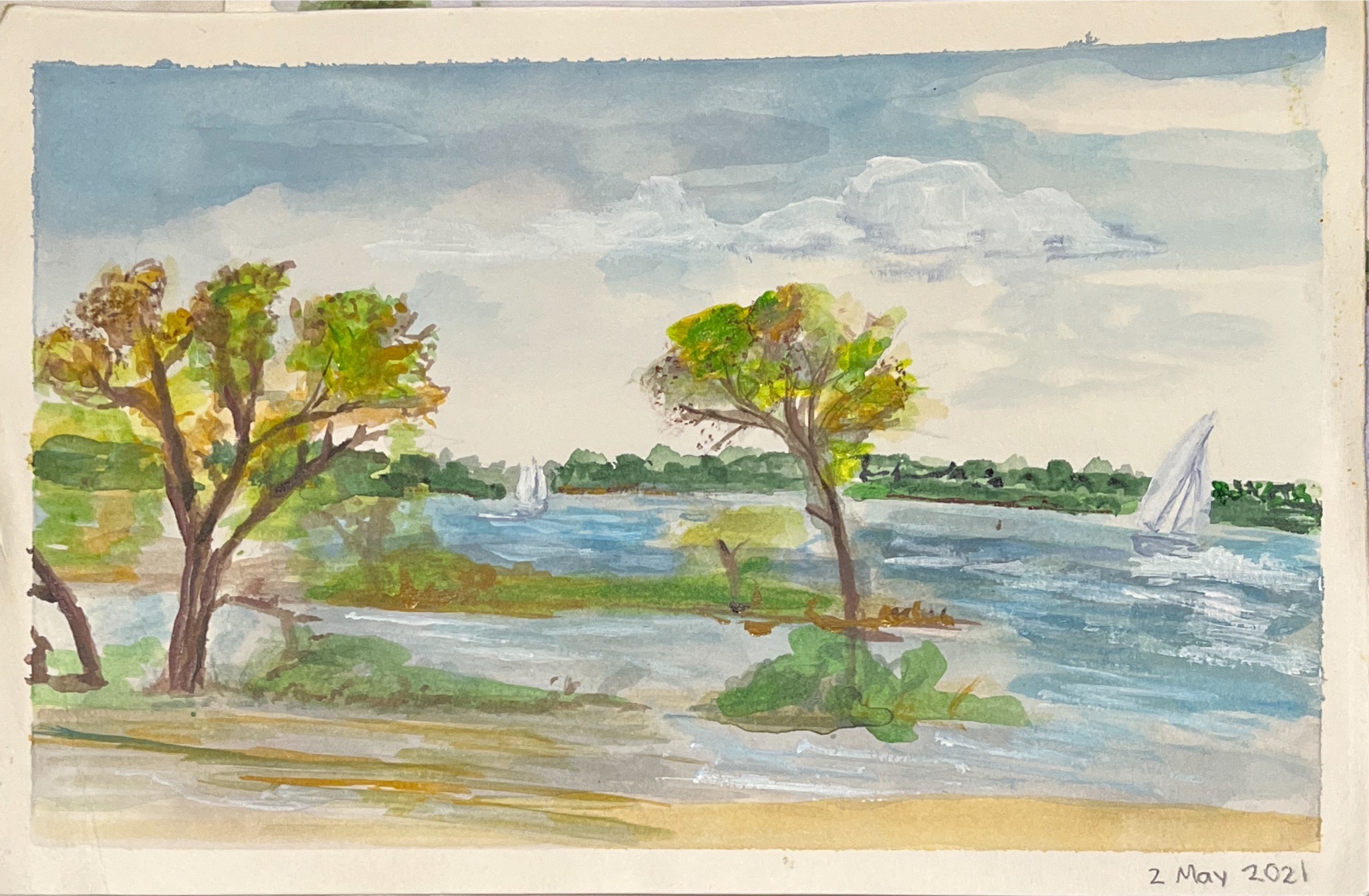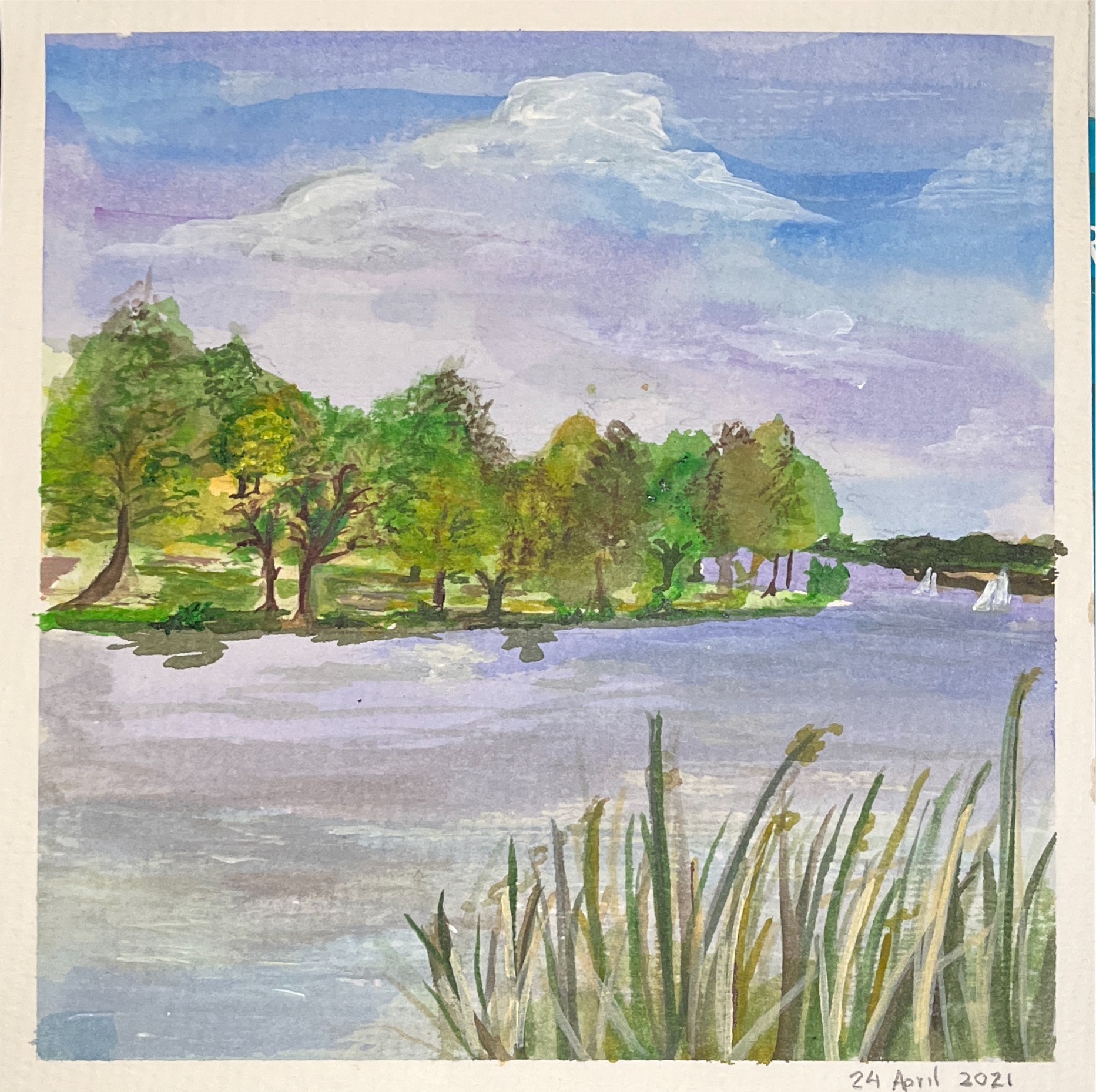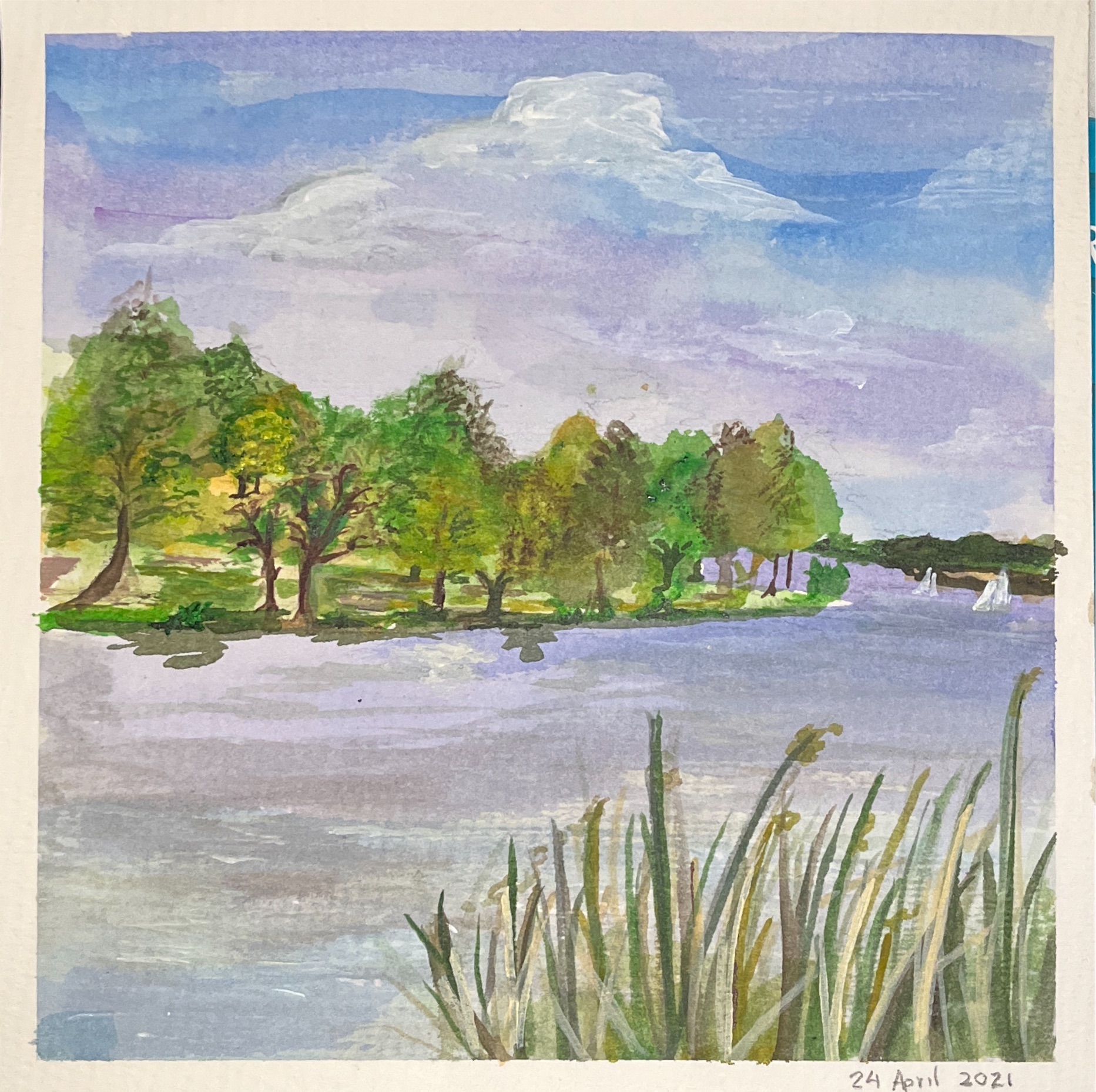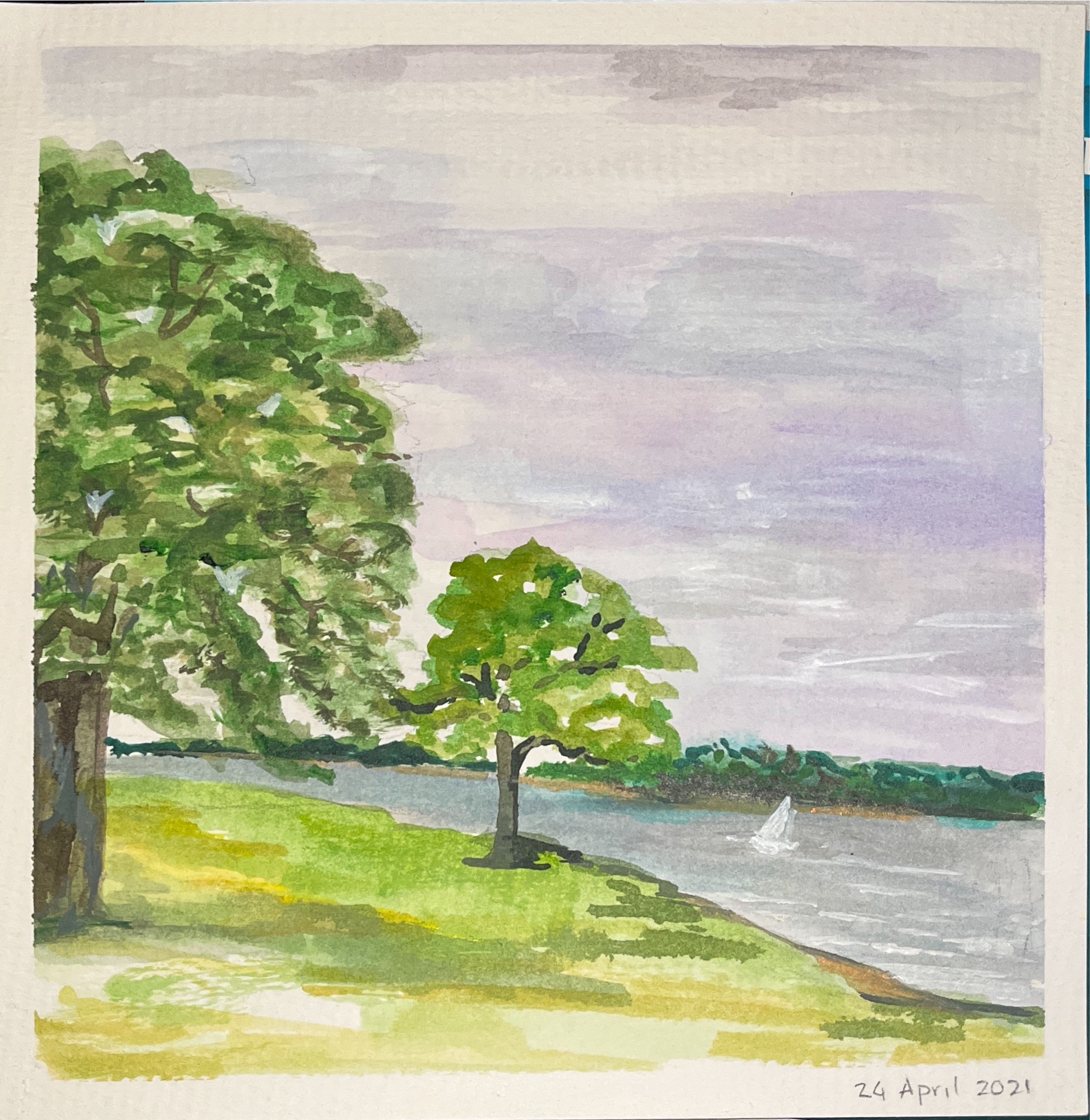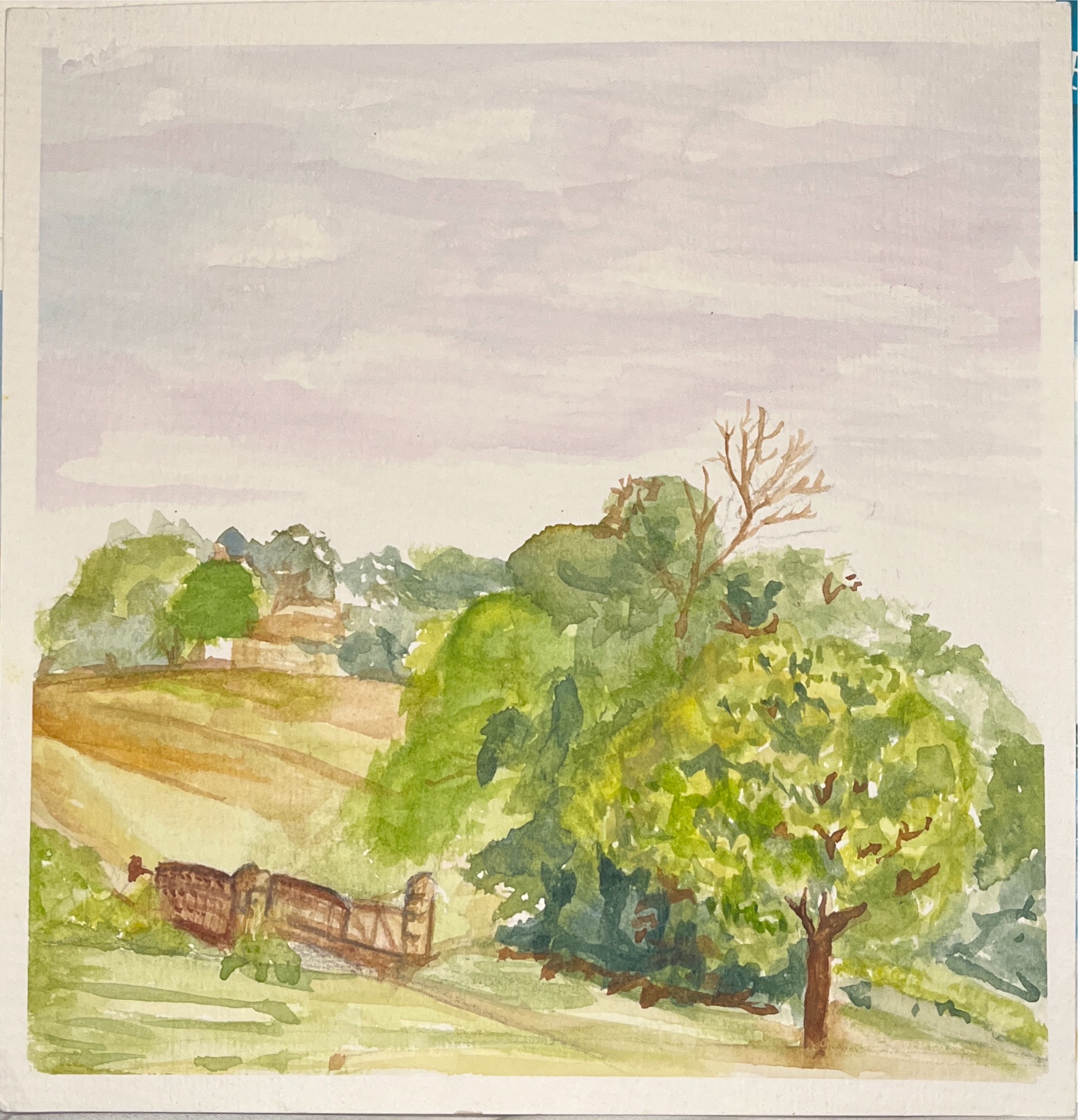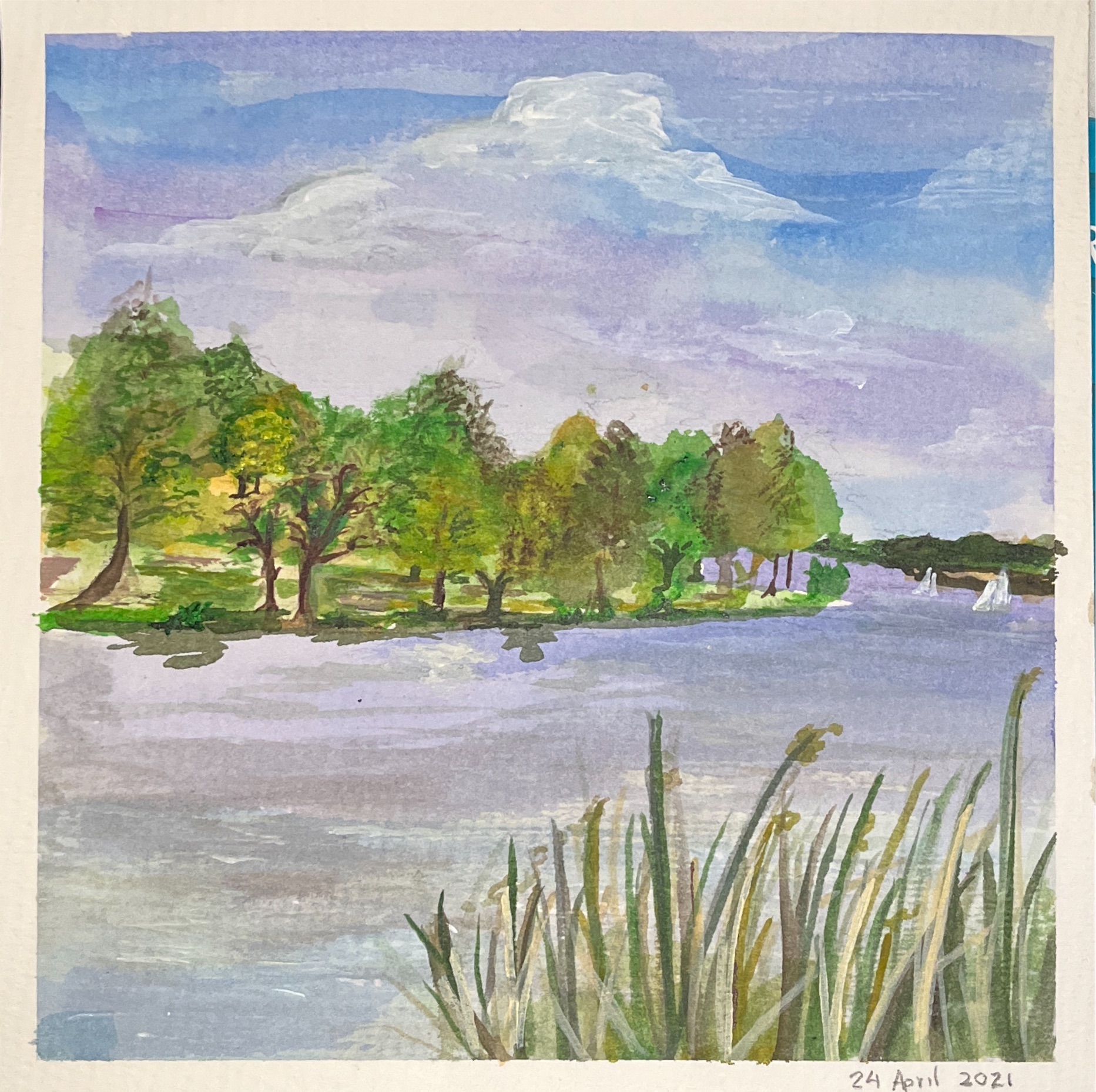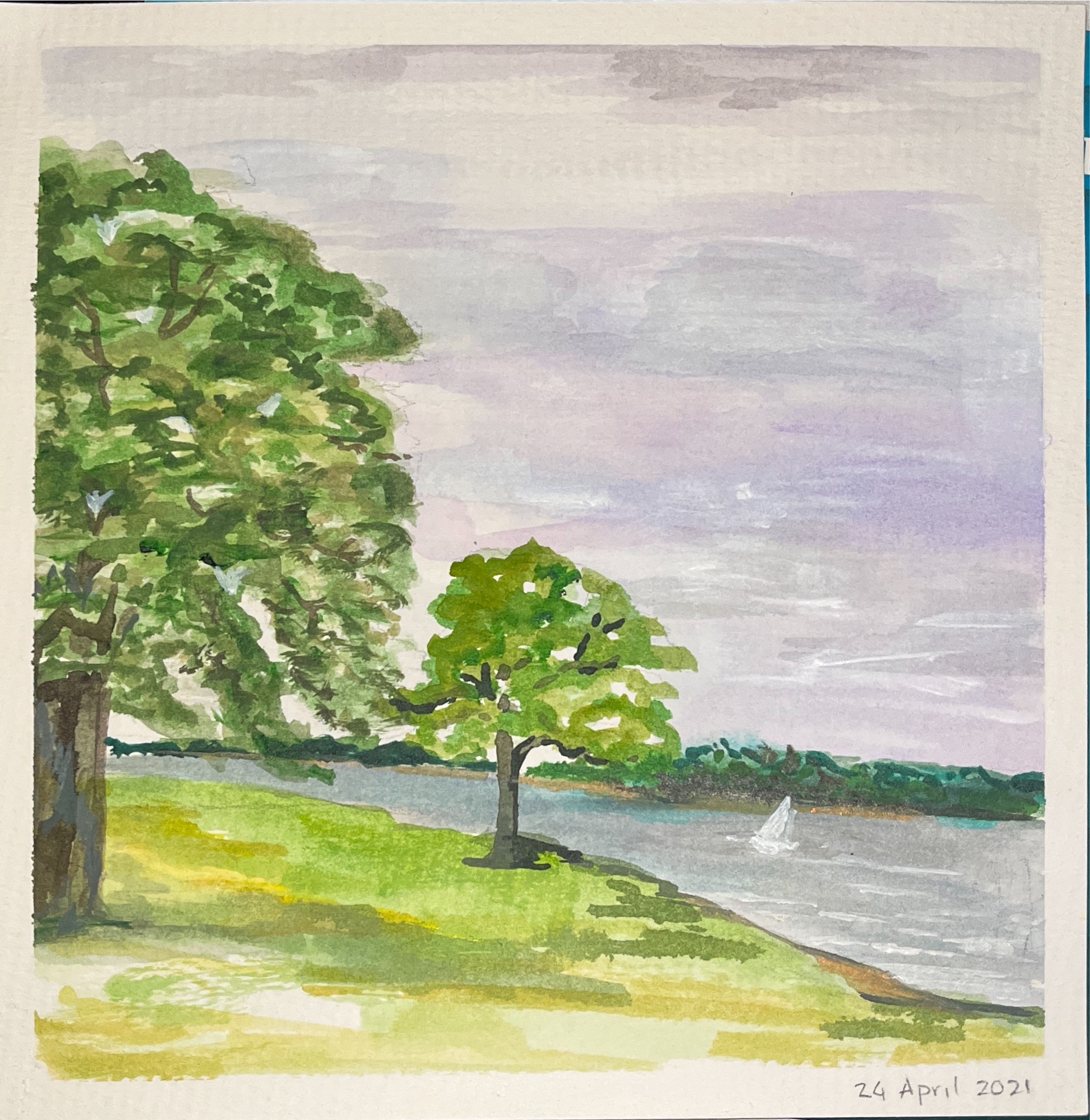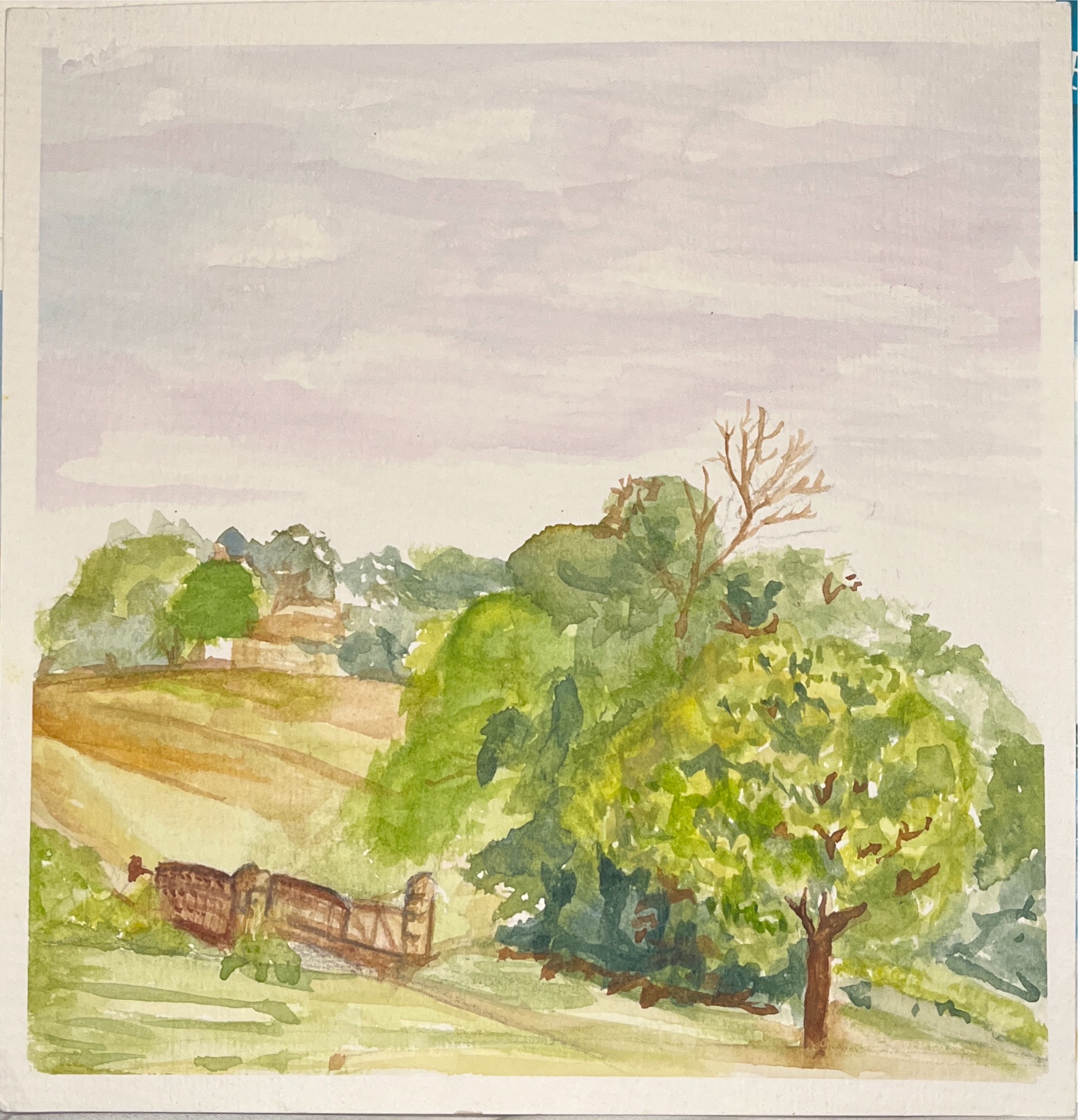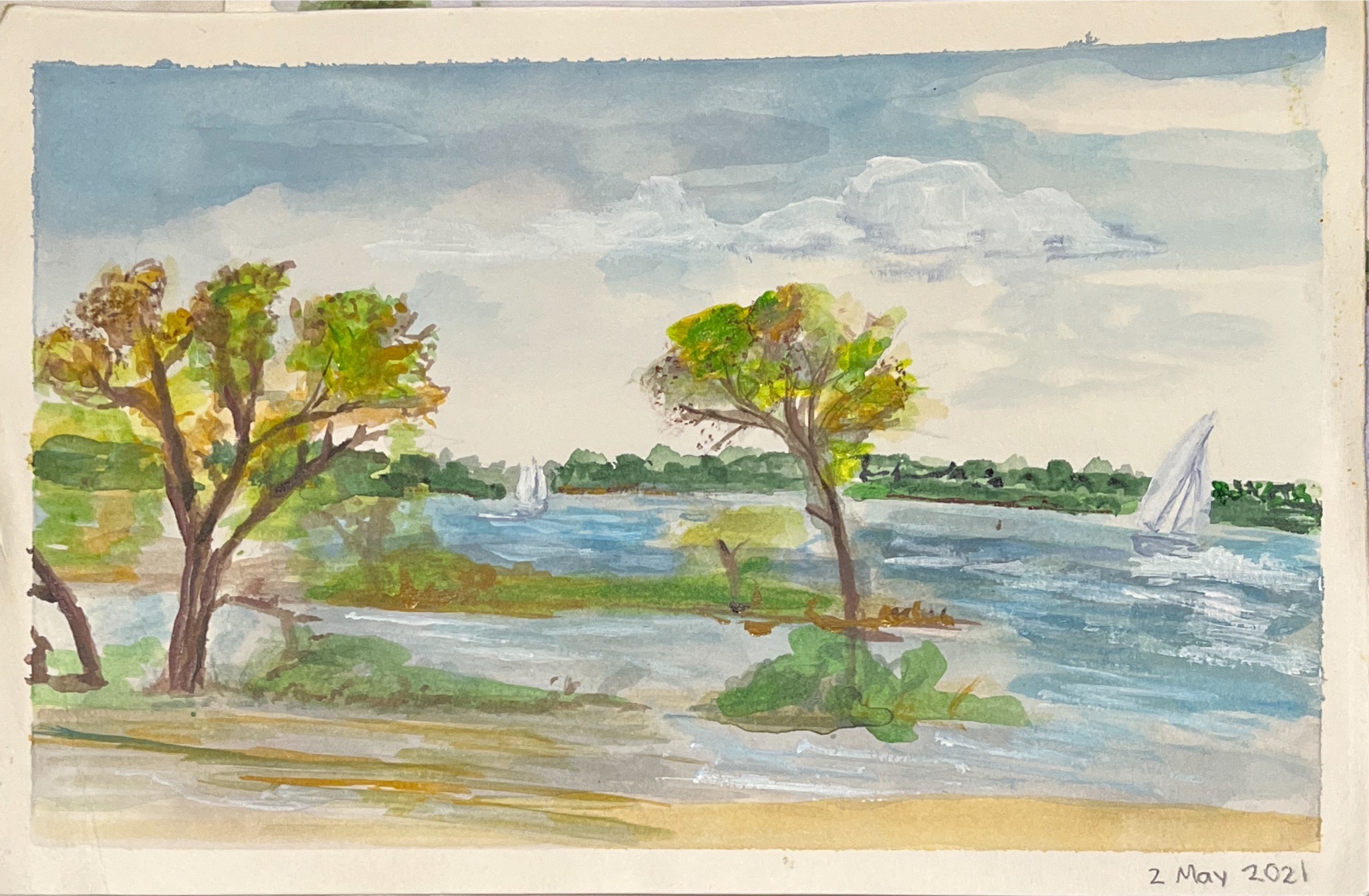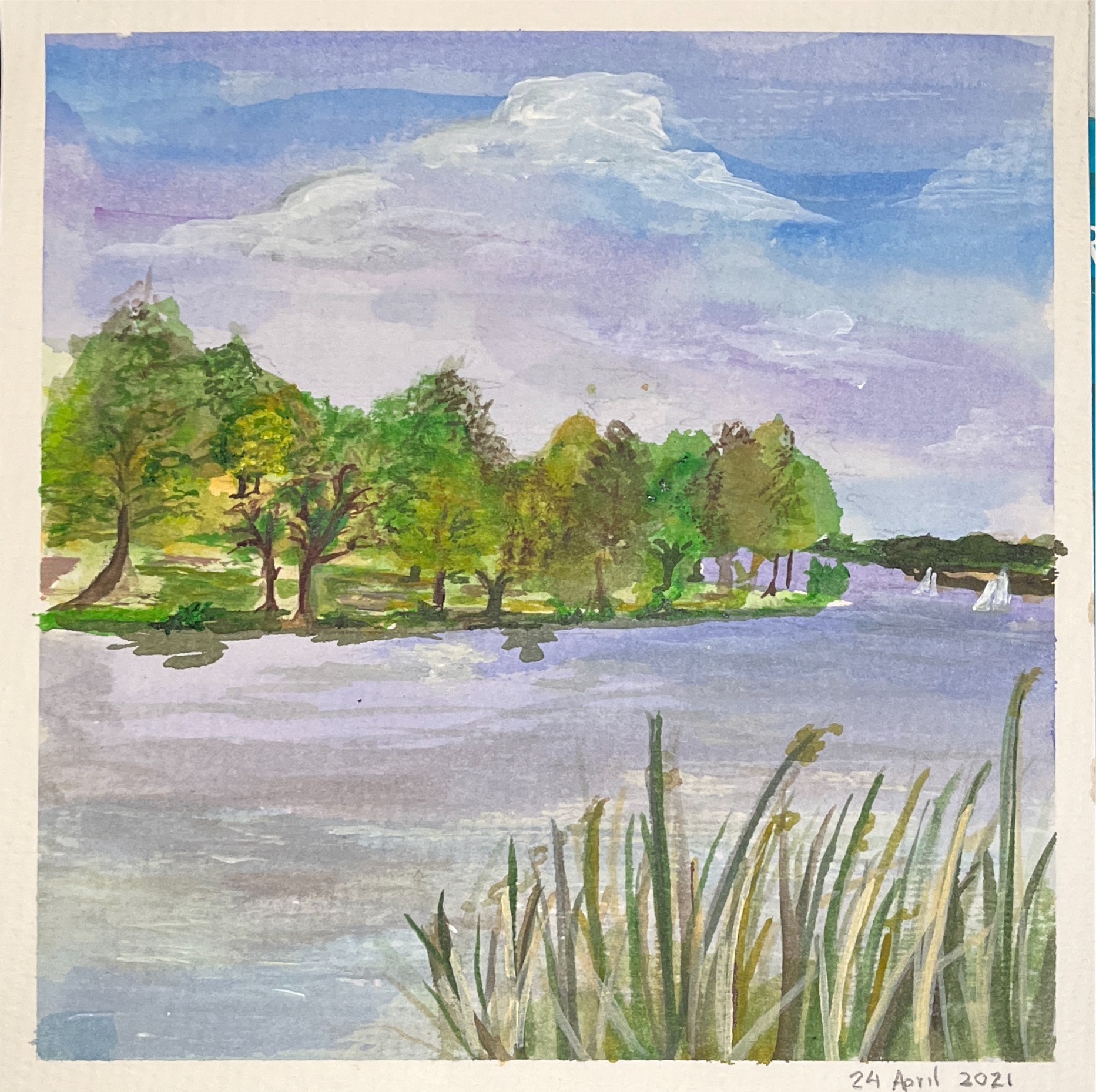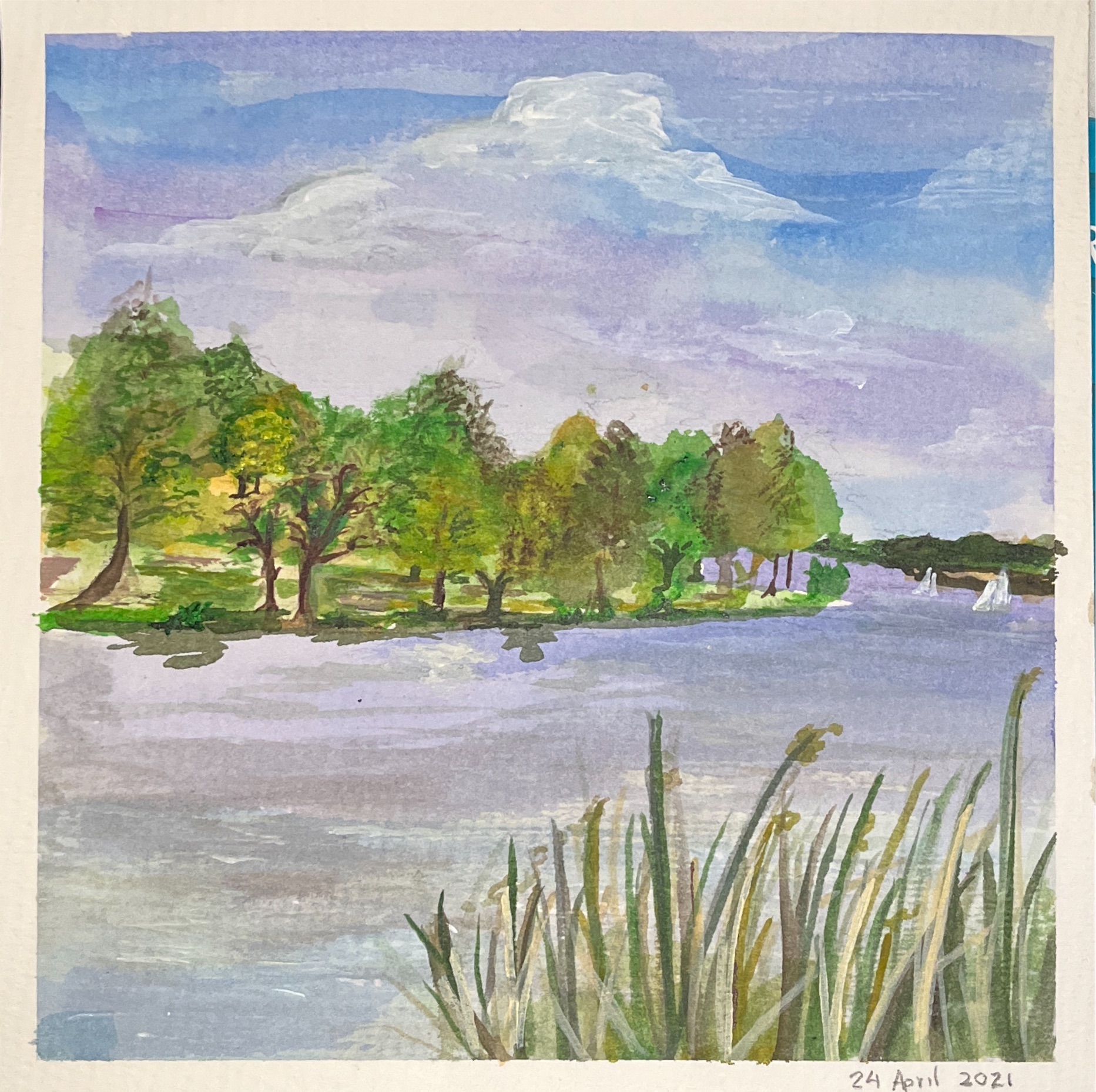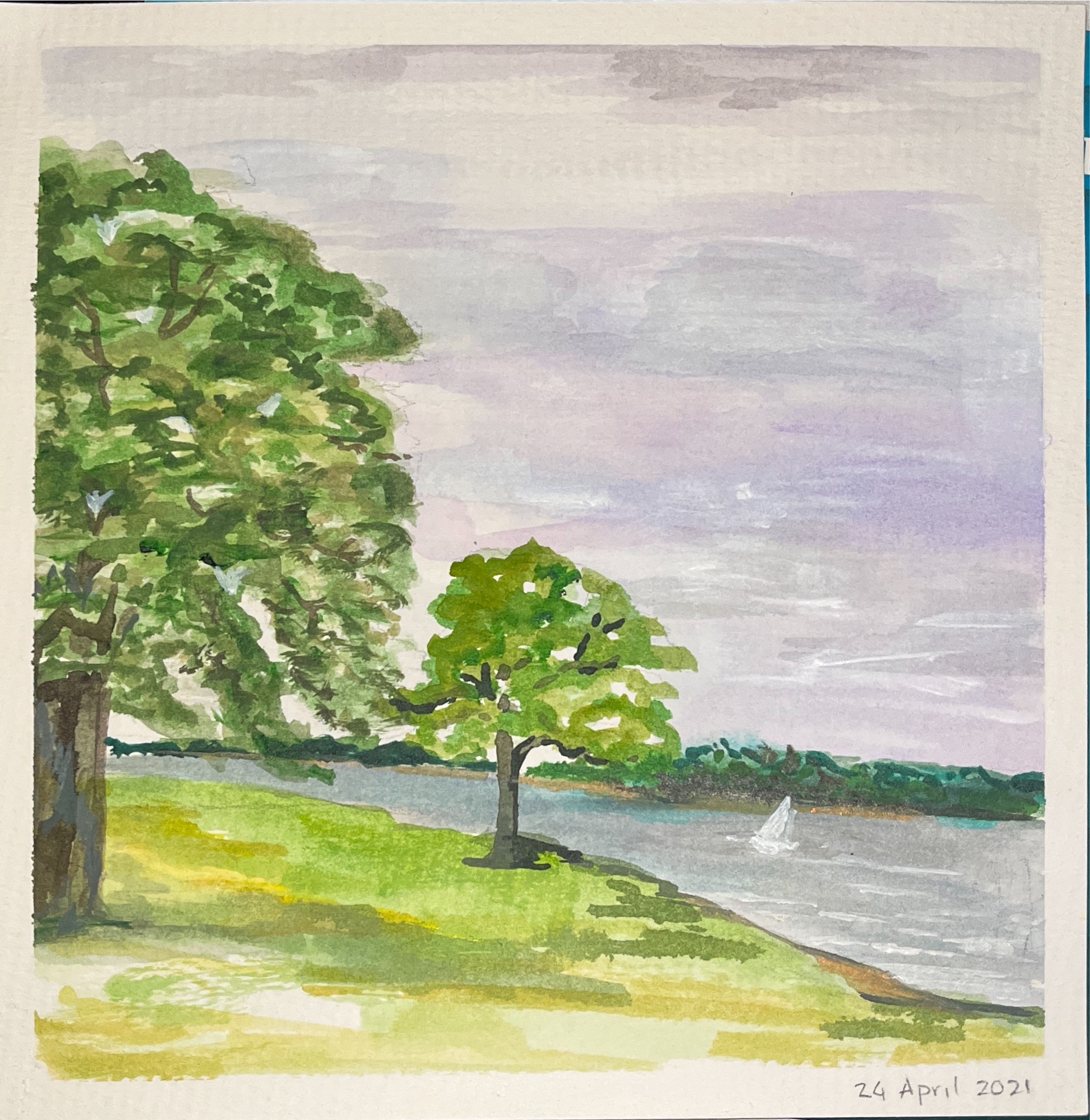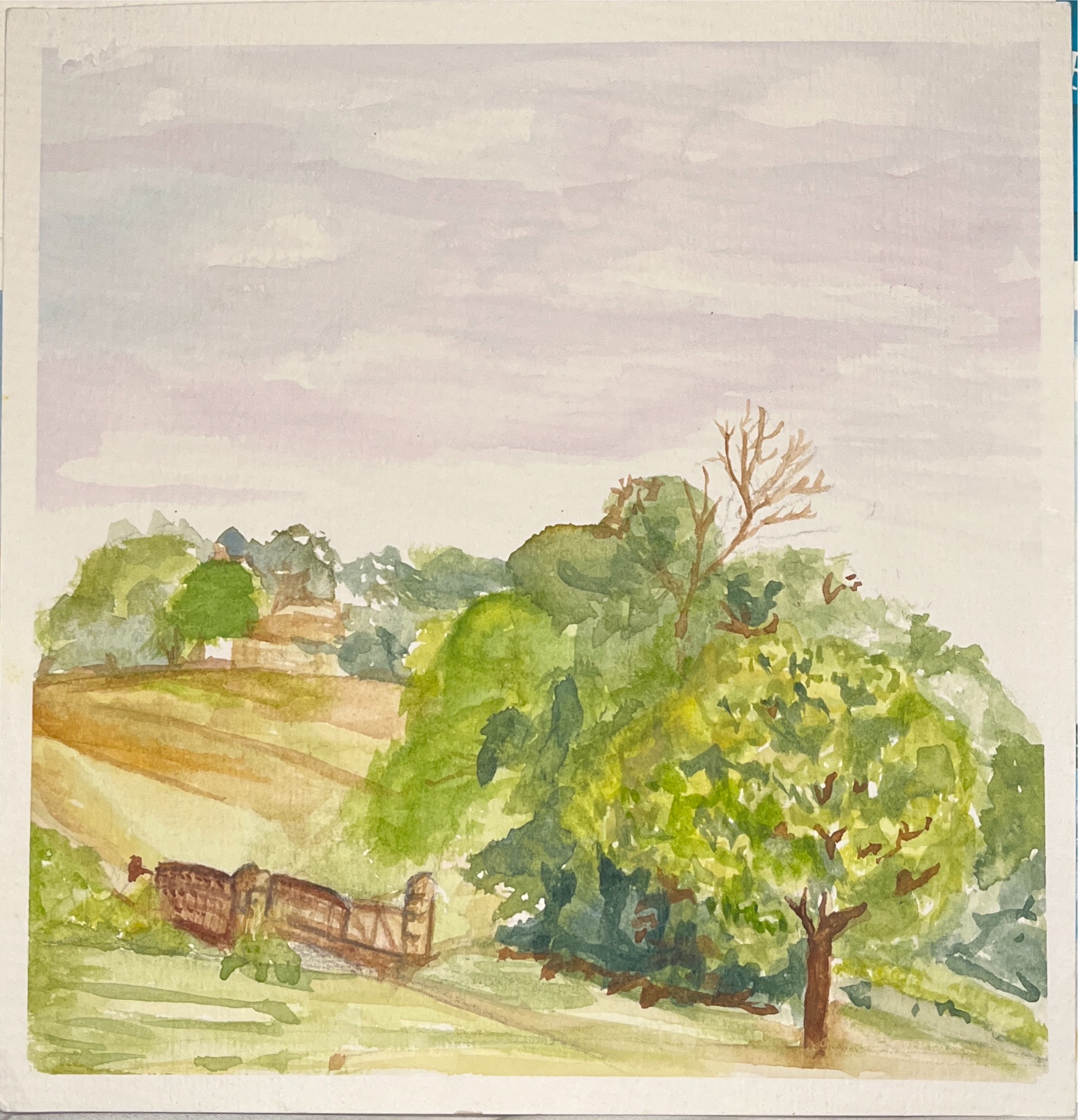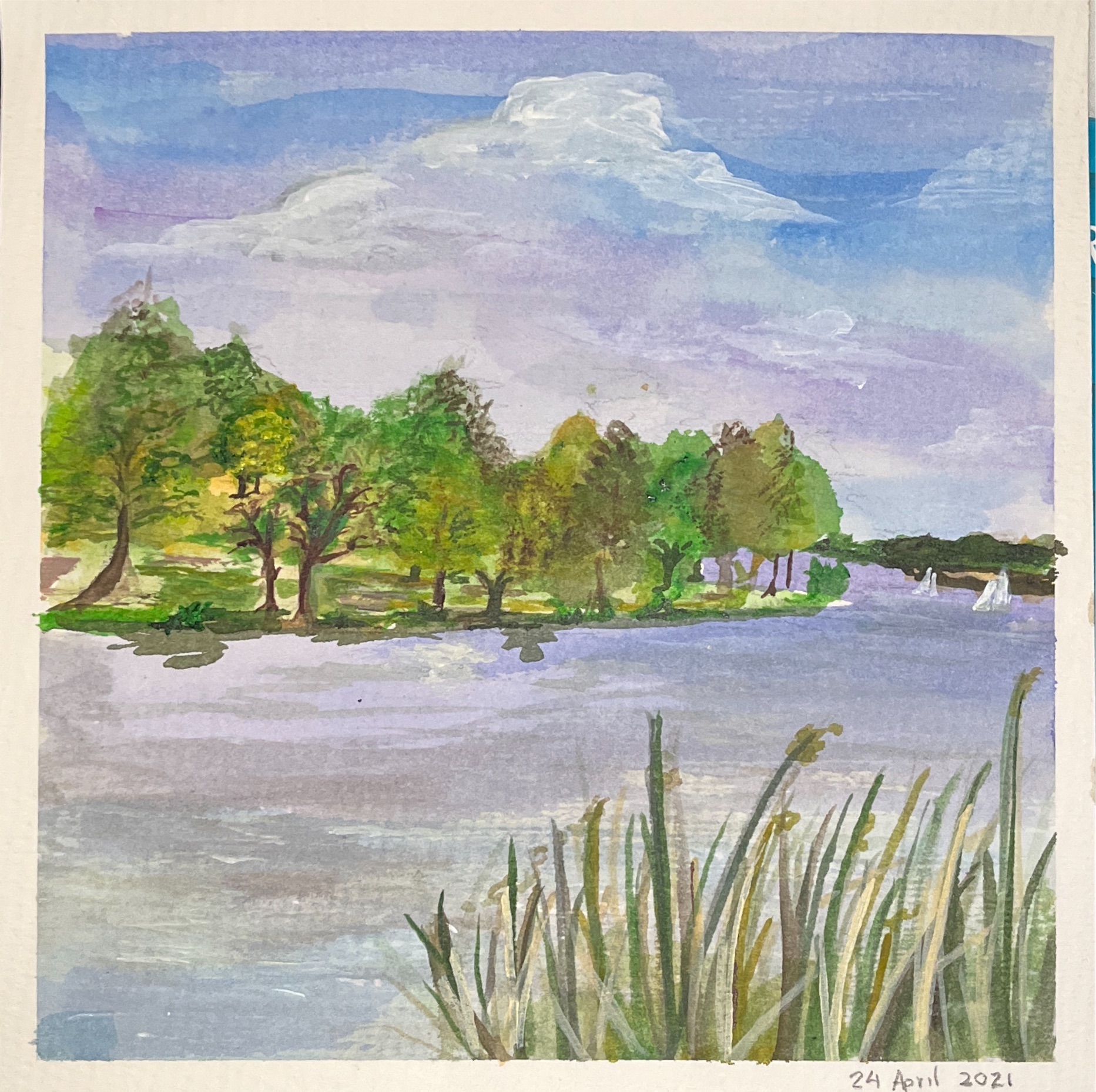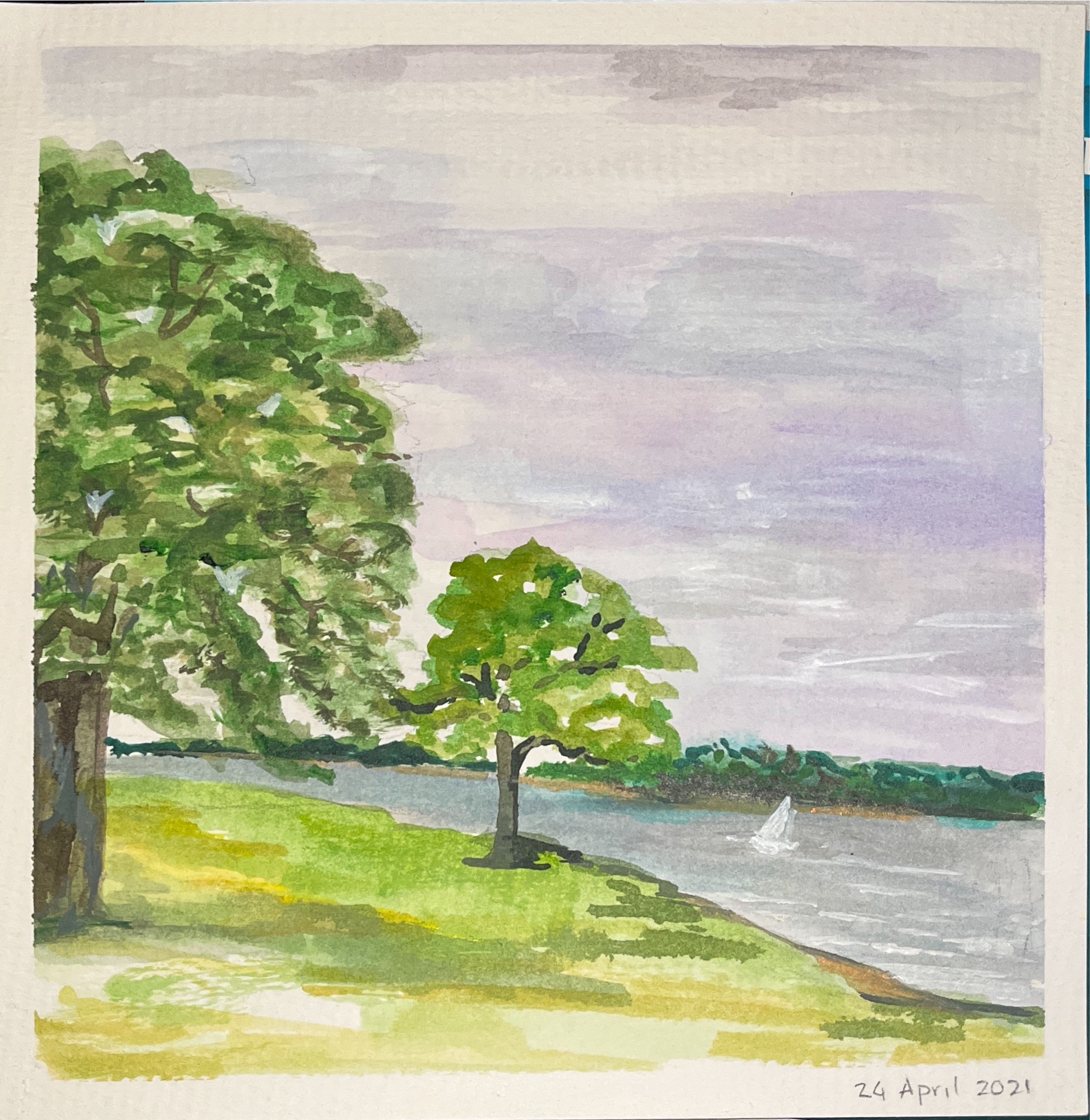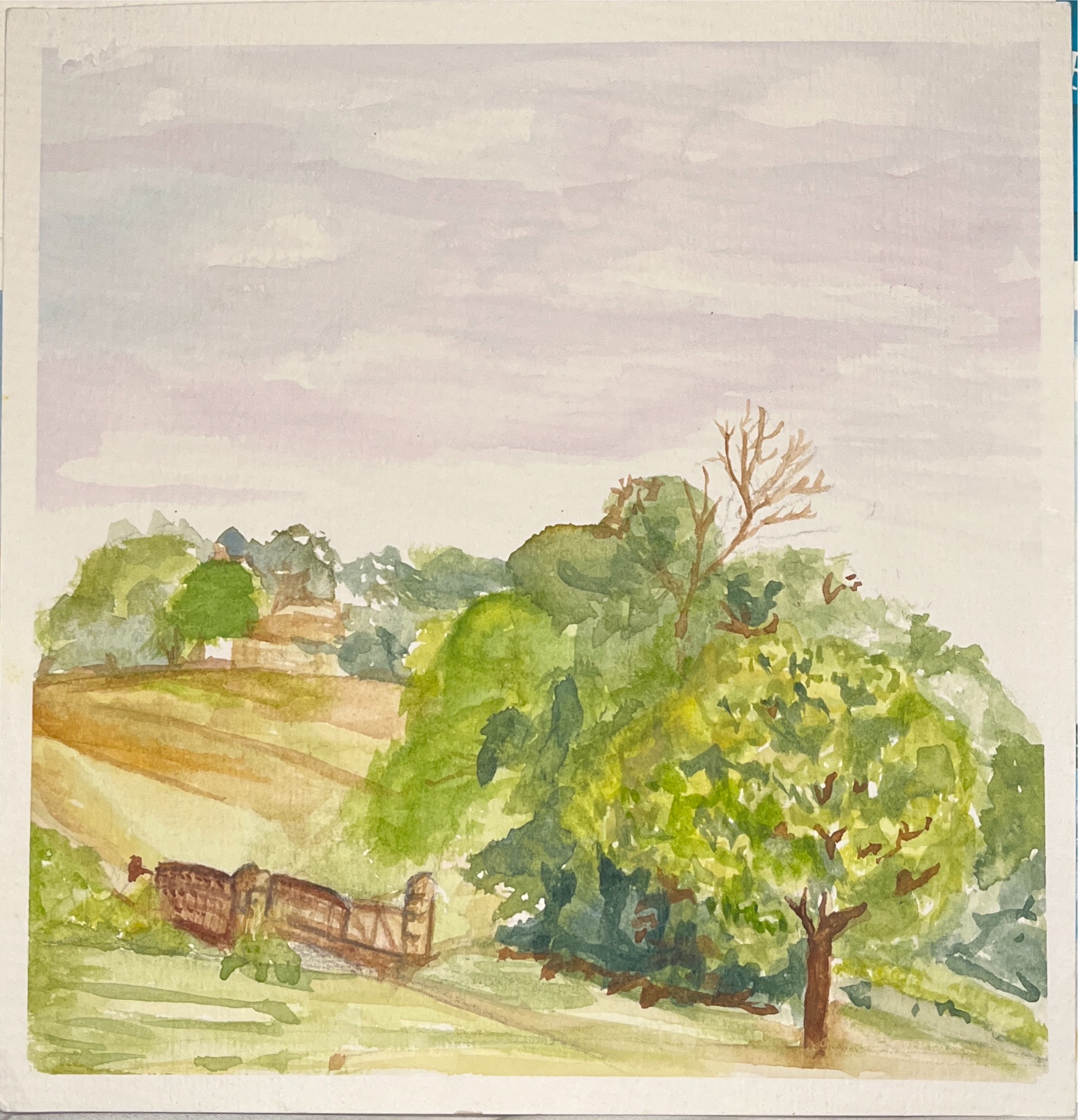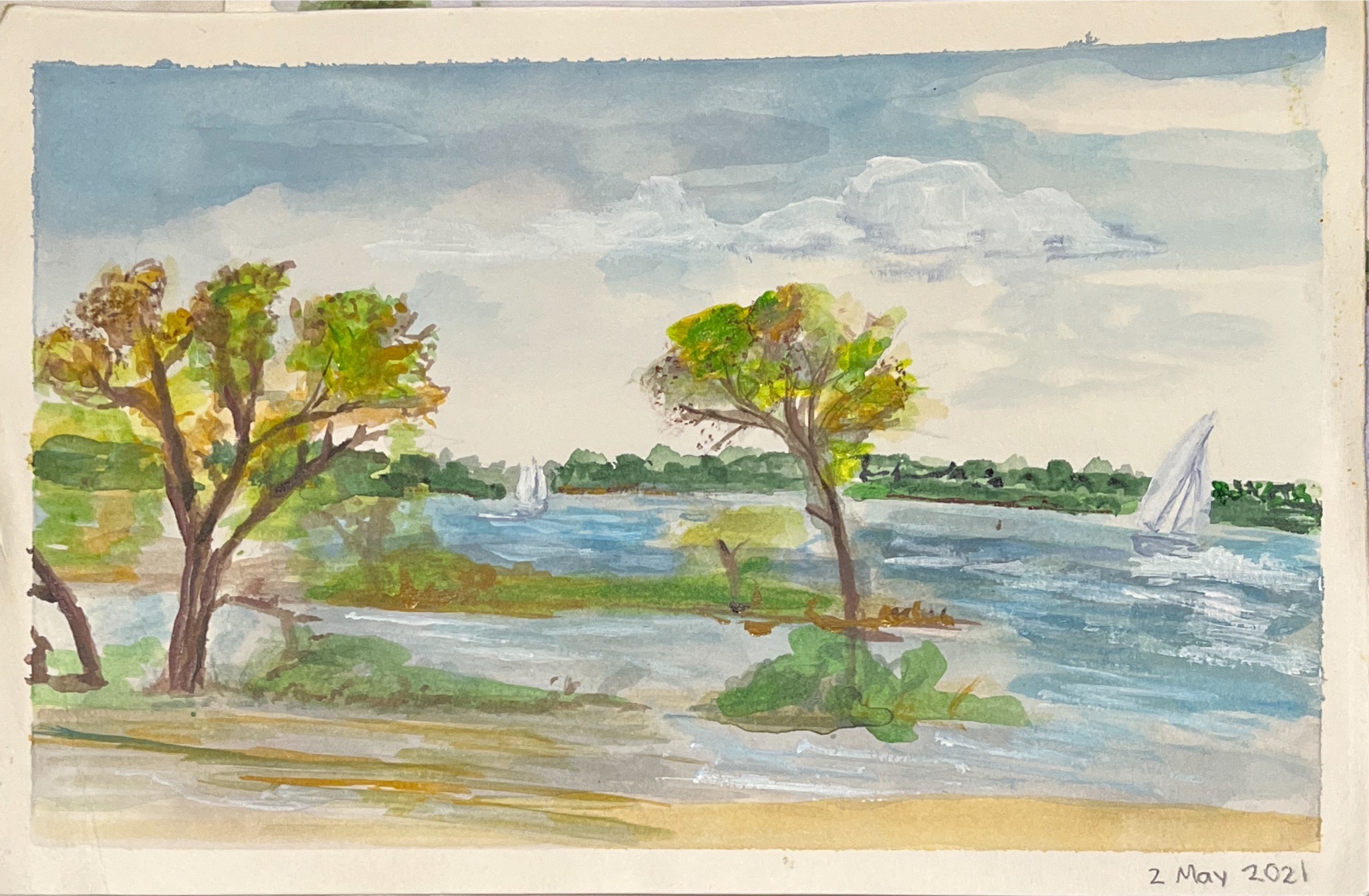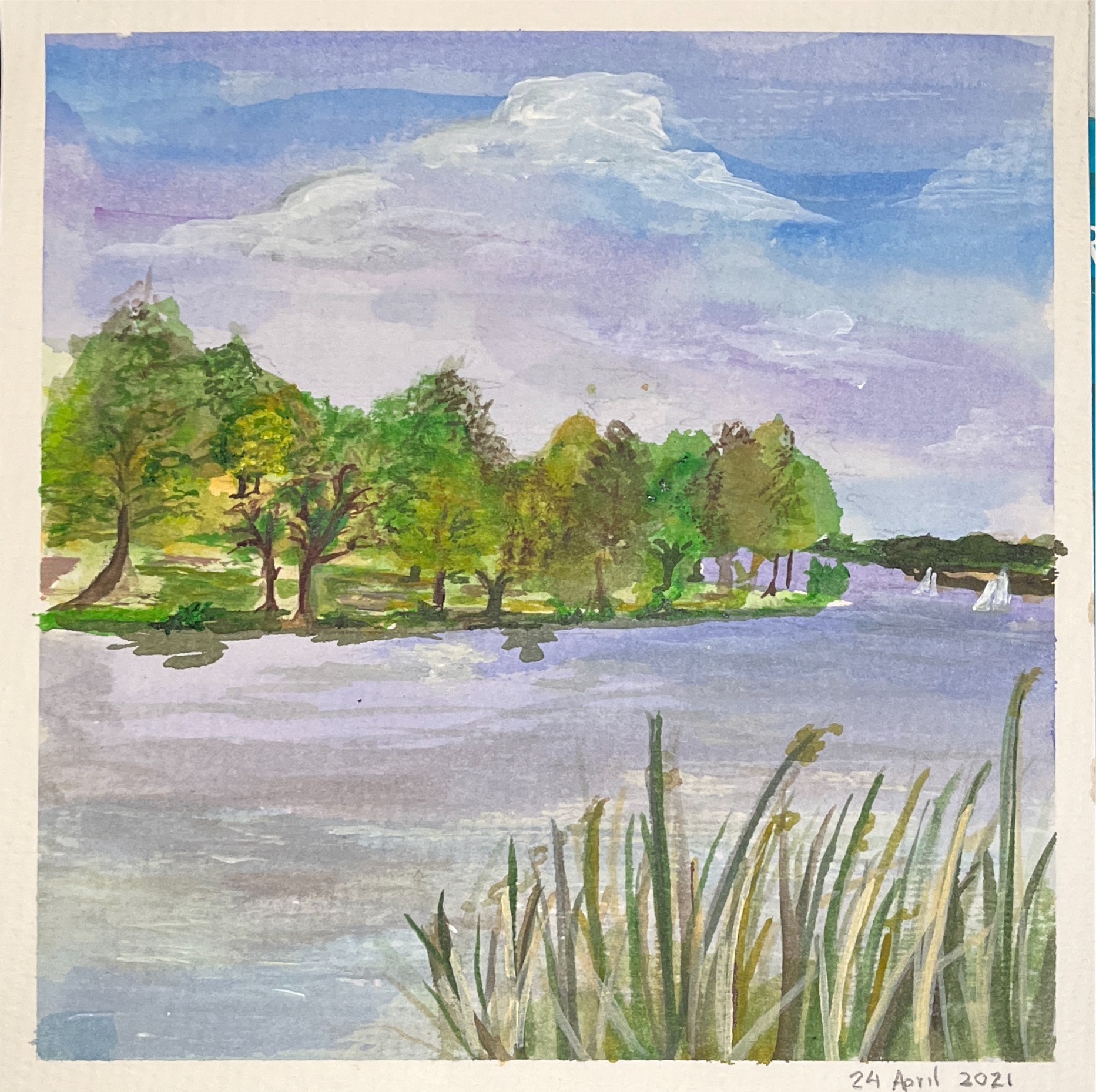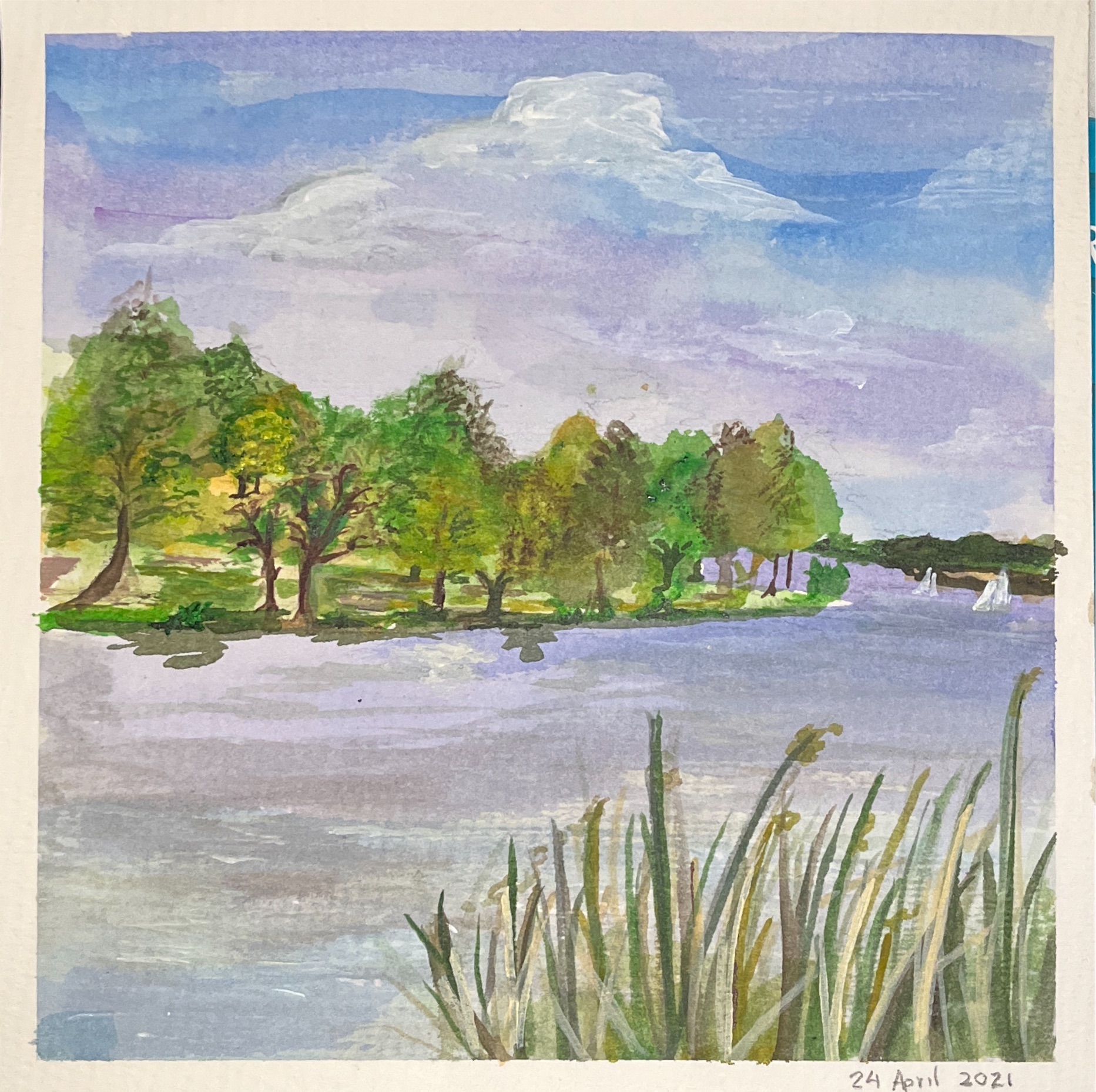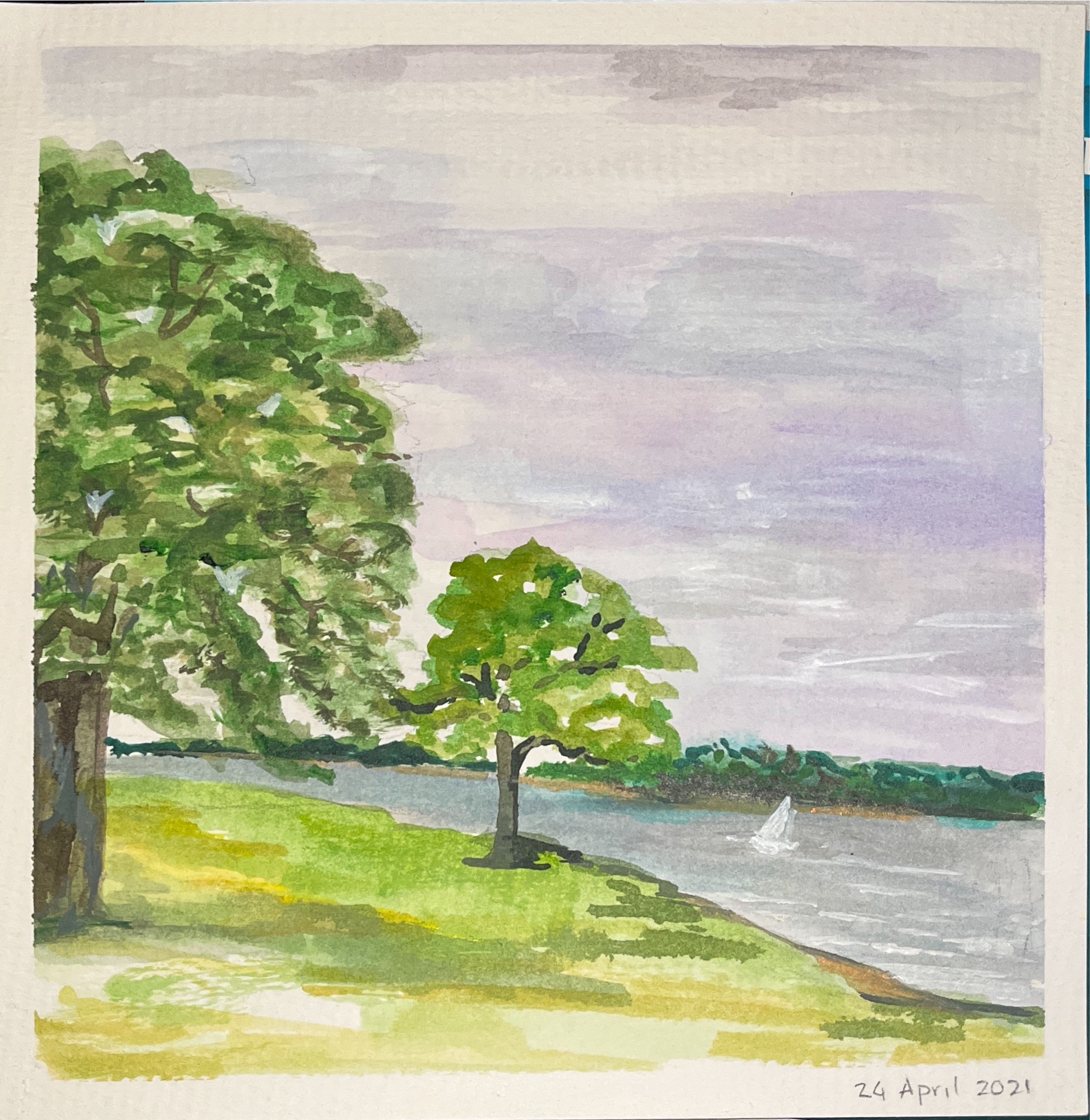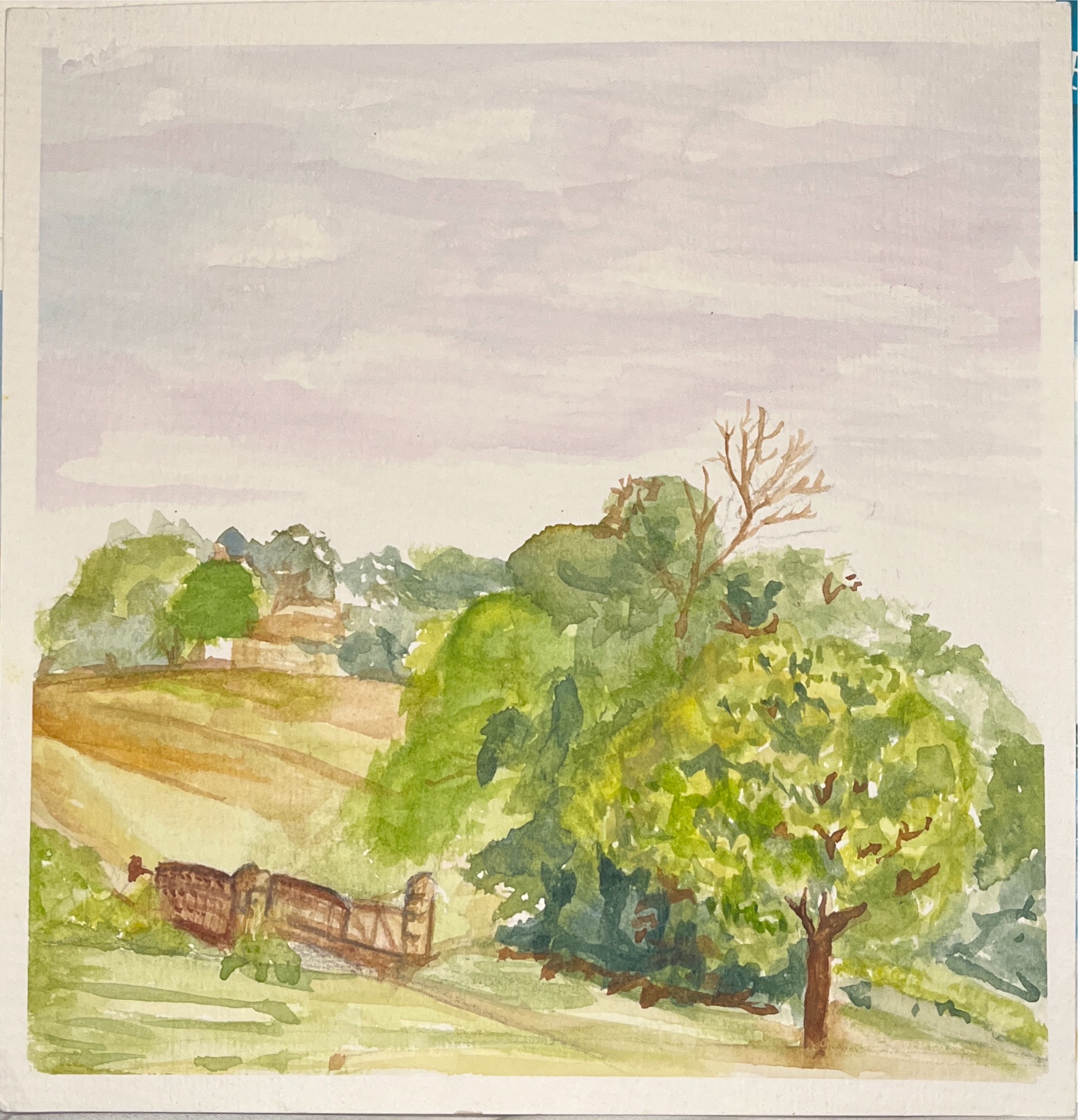 Acrylic details were also useful sometimes but very sparingly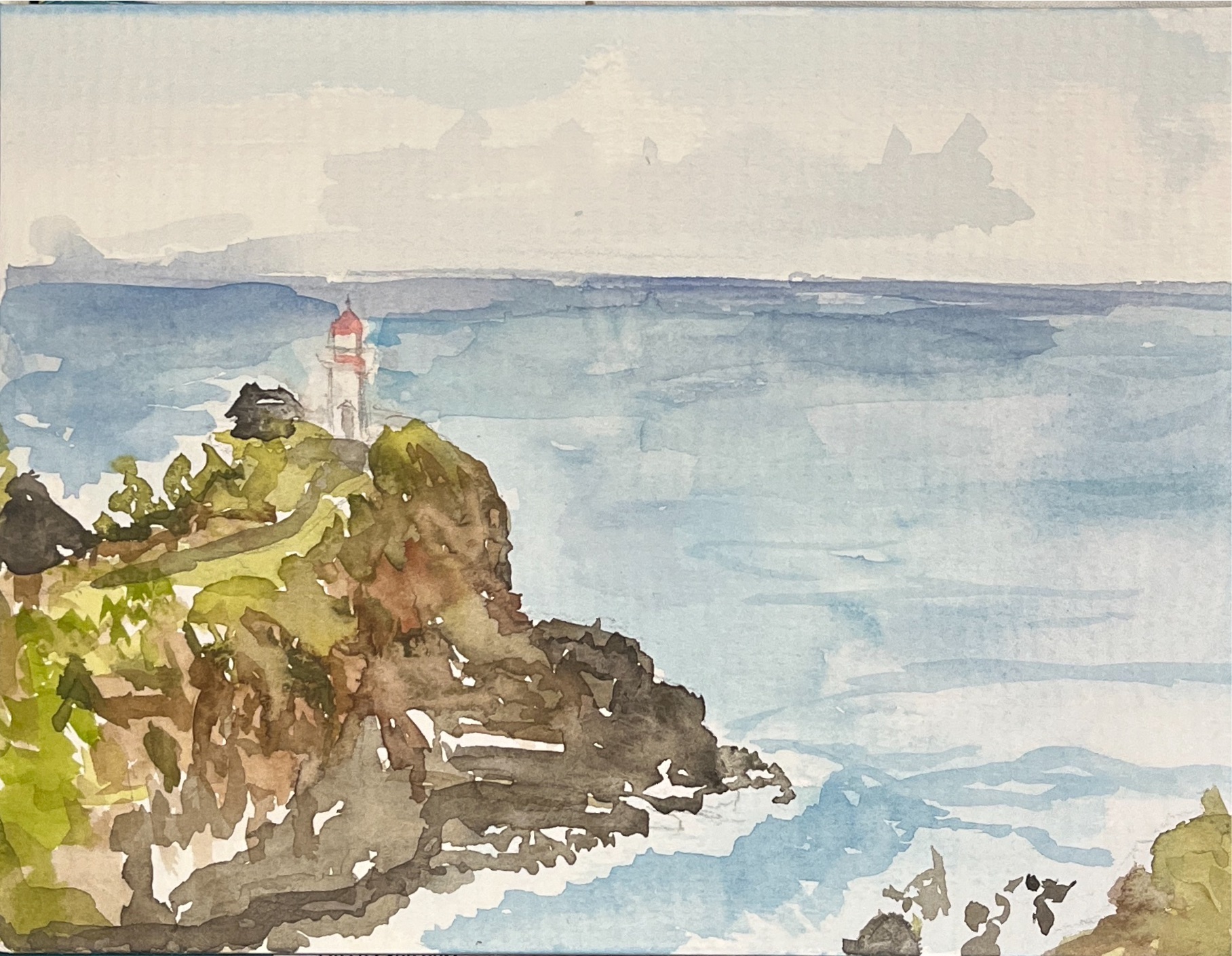 Even faster
I've since tried to cut my painting time by trying to do quick 15 minute painting when it's not possible to stay at a place for too long, this has allowed me to practice abstraction and to capture the most important elements of a scenery.